NFL: The 4 Best Fantasy Football Performances From Week 8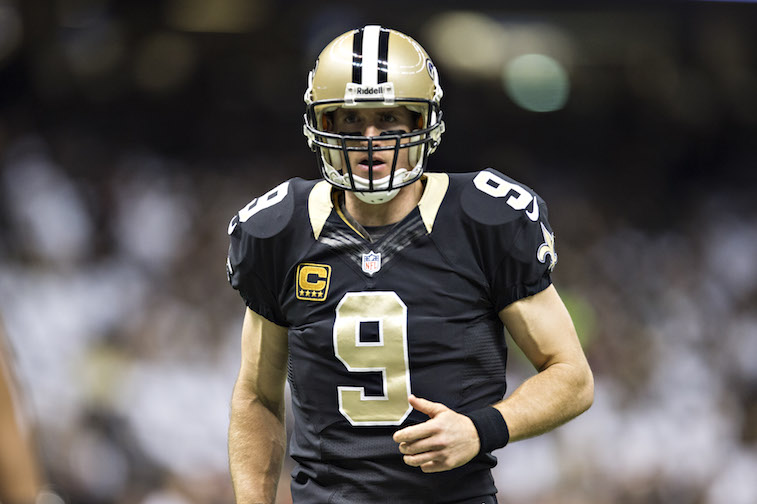 Week 8 of the 2015 NFL season featured another string of absurd contests starting with the New England Patriots' dominating blowout of the Miami Dolphins Thursday night and concluding with the Carolina Panthers' overtime victory over the Indianapolis Colts on Monday Night Football. In the middle of all the action though, one game on Sunday afternoon stood above the rest as the wackiest outing not only of the weekend, but perhaps of the entire season as well.
When the host New Orleans Saints finally, barely outlasted the New York Giants by a score of 52-49, both offensive records and defensive player egos had been shattered. With a game that included a combined score of 101 points, individual statistics for the ages were obviously in play.
It should come as no surprise then that three-quarters of this week's "Best Fantasy Football Performances" come from that very game. Which athletes made the list though and in what order? Well, it's time to find out.
Disclaimer: For the sake of this article, we have excluded kickers, team defenses and individual defensive players. We have chosen the four best from the QB, RB, WR and TE positions.
Honorable mentions: Carson Palmer (Arizona Cardinals), Derek Carr (Oakland Raiders), and Julio Jones (Atlanta Falcons)
4. Tom Brady, QB, New England Patriots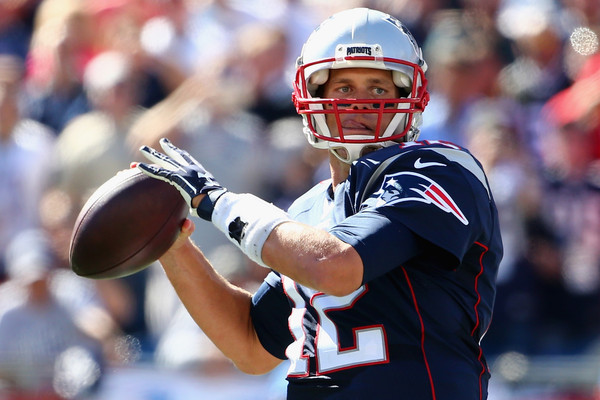 Week 8 statistics: 356 passing yards, 4 touchdowns
It's just crazy the season that Patriots quarterback Tom Brady is having right now. The 38, yes 38-year-old player is having the best campaign of his storied career and amazingly, his Week 8 output was maybe his best of 2015.
"Tom Terrific" sliced apart the Miami defense, tossing for 356 passing yards and four touchdowns. In any other week, Brady's numbers would have easily given him at least the No. 2 spot in the countdown, if not No. 1. (More on that a bit later.)
No. 12 — who made our countdown back in Week 2 — has been the most consistent QB in the whole league all year long and was at is best last Thursday. With his performance, Brady likely earned owners in a standard Yahoo! Fantasy Football league at least 30 points.
3. Odell Beckham Jr., WR, New York Giants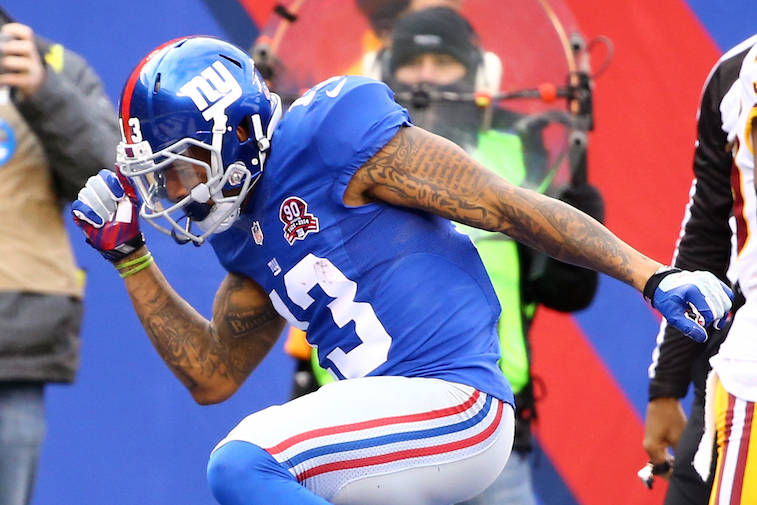 Week 8 statistics: 8 receptions, 130 receiving yards, 3 touchdowns
So, we can probably assume that Odell Beckham Jr.'s hamstring is just fine then can't we? The freakishly athletic Giants wide out co-starred in Sunday's thriller in New Orleans, hauling in a league-leading three touchdown passes.
Beckham Jr. had a season-high eight receptions for 130 yards and obliterated a suspect Saints secondary. The yardage total was the second-highest of 2015 for OBJ and he nearly doubled his TD catches. After two somewhat underwhelming games coming into Sunday, Beckham Jr. put to rest any questions of him not being a serious WR1.
With No. 13 in your lineup last weekend, you likely earned between 30 and 35 fantasy points in a non-PPR league. If points per reception do count additionally, you're looking at between 35 and 40 points.
2. Eli Manning, QB, New York Giants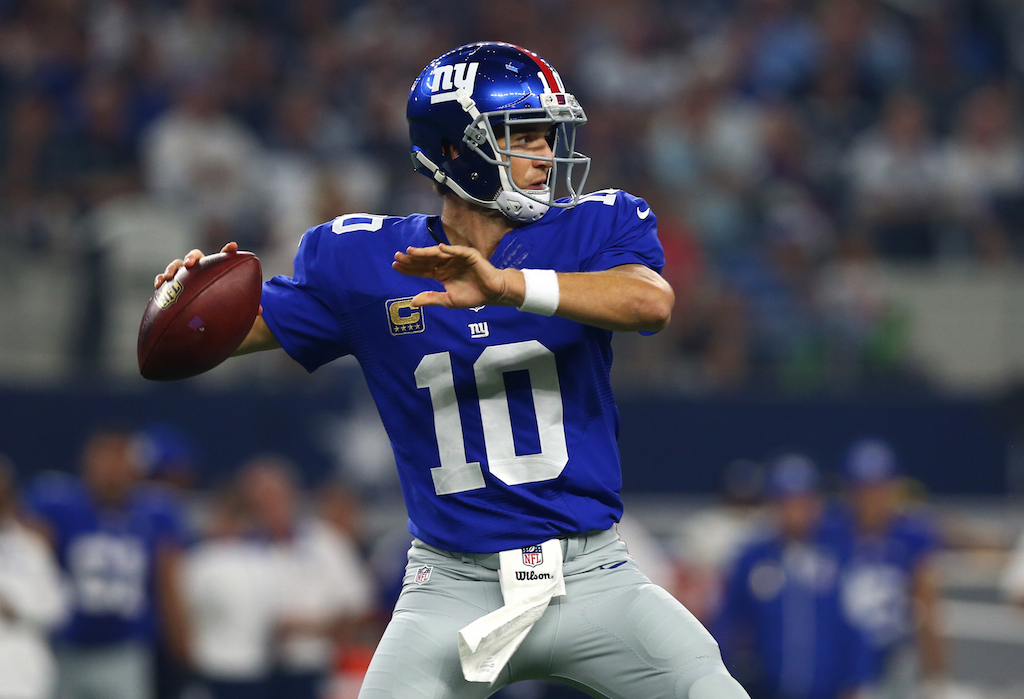 Week 8 statistics: 350 passing yards, 6 touchdowns
Eli Manning has had two games this season where he did not throw a touchdown. He threw four interceptions between Weeks 4 and 6. His most recent game though showcased the "Good Eli"; the very, very good Eli.
In completing a very efficient 30 of 41 pass attempts, Manning racked up 350 yards through the air – his second highest amount of 2015. Here's where it gets crazy though; the man leading Big Blue in an up-for-grabs NFC East connected on six touchdowns Sunday. To make it a nearly perfect afternoon, Manning did not throw a single interception.
If the younger Manning was your guy last weekend, he most likely got you nearly 40 fantasy points.
1. Drew Brees, QB, New Orleans Saints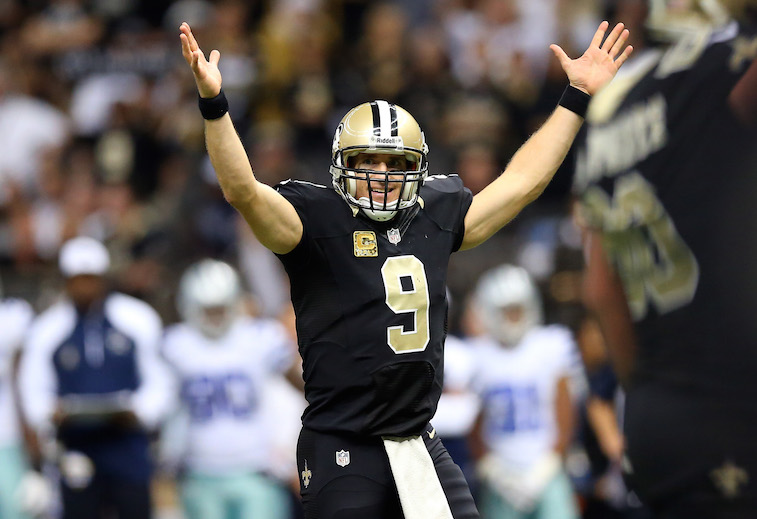 Week 8 statistics: 505 passing yards, 7 touchdowns
For a quarterback to throw two interceptions in a contest and still make this slideshow, it would have to take something truly special. For a two-pick day to result in a No. 1 ranking in the "Best Fantasy Football Performances" post, he would have had to do something simply legendary. Ladies and gentlemen, we have Drew Brees.
Remember when we said last week that Lamar Miller's Week 7 game against the Houston Texans should maybe be considered the best individual fantasy football performance of 2015? Yeah, scratch that. If your a football fan who likes offense, you LOVED the Saints and Giants going for 101 points. Amazingly out-dueling Manning in the contest was Brees, who went a solid 39-for-50 and posted 505 passing yards. He also threw for a NFL record-tying SEVEN touchdowns. To absolutely no surprise, Brees led the league in passing yards and touchdowns in Week 8.
With Brees in the fold, you almost assuredly won last weekend's head-to-head match up. In a standard Yahoo! Fantasy Football league, No. 9 garnered between 45 and 50 points. Good luck beating that in Week 9.
All data courtesy of NFL.com and Pro-Football-Reference.com.
Follow Victor on Twitter @vbarbosa1127.