NFL: The 4 Biggest Reasons Why the Patriots Lost
This wasn't the way it was supposed to end. Despite Tom Brady's previous struggles playing in Denver and his more recent ups and downs in head-to-head matchups against Peyton Manning, most assumed the New England Patriots would take care of business on Sunday. They were going to somehow find a way and few were giving Manning and the Denver Broncos a chance, even at home for the AFC Championship game.
Instead of TB12 going for an unprecedented fifth title in Super Bowl 50 — which is now less than two weeks away — the much-maligned Manning will be attempting to even his record on the sport's biggest stage to 2-2. Although the final tally of Sunday's Pats/Broncos tilt showed 20-18, Gary Kubiak's club outplayed Bill Belichick and company in nearly every phase of the game. The fourth quarter provided for a thrilling finish, but New England just didn't have enough to overtake the suffocating Denver defense.
In hindsight, "didn't have enough" may not completely cut it actually. Here are the four main reasons why the Patriots lost in the 2016 AFC Championship game.
1. Stephen Gostkowski's missed extra point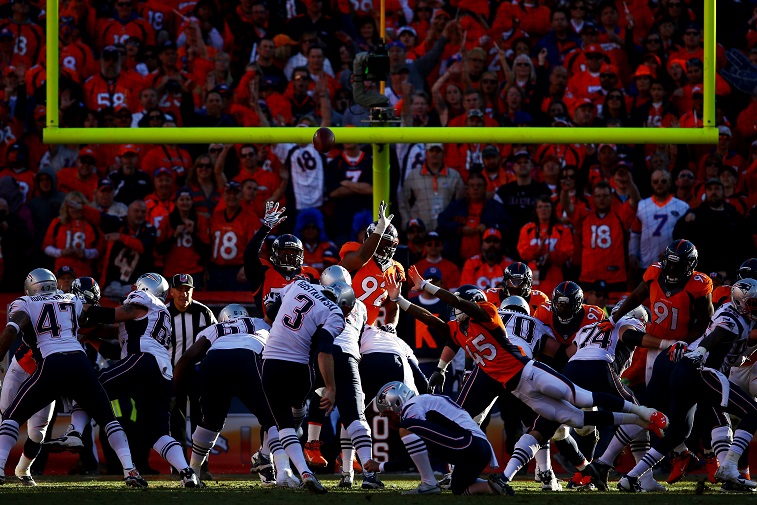 It may not have seemed like the biggest deal at the time, but Patriots kicker Stephen Gostkowski's missed extra point with 1:49 left in the first quarter ended up costing the team dearly on Sunday. Moments after Steven Jackson had taken in a one-yard rushing score to make it cut the Broncos lead to 7-6, Gostkowski missed wide right on his attempt to knot it up early. New England never held a lead in this game and in the end, after Brady and Rob Gronkowski hooked up for a marvelous touchdown late in regulation to bring it within two, they were forced to go for a two-point conversion.
If Gostkowski — who hadn't missed a PAT since his rookie season in 2006 — had connected on the early point-after, then (if all went according to plan) he would have had the chance to kick another PAT in the waning minutes of the fourth quarter to make it 20-20. Now, there's always the chance that tied at 20 with under a minute left, the Broncos could have run back the ensuing kickoff for a game-winning touchdown, thrown up a successful Hail Mary (though they probably would have taken a knee before that), or ended up with the victory in overtime anyways, but the early missed PAT made the task of preventing OT significantly easier for Denver. Gostkowski should still be considered the best kicker in the game, but this one hurts mightily for Patriots nation.
2. Lack of a rushing attack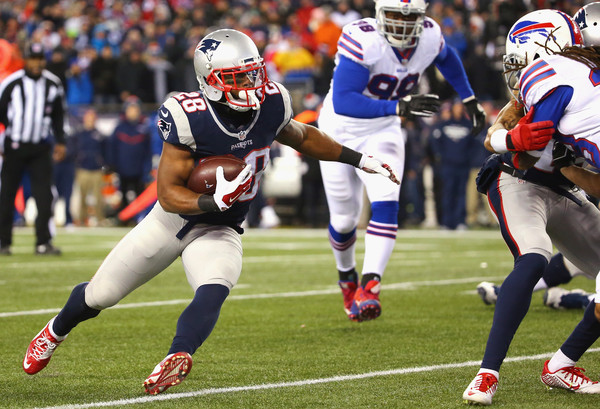 Tom Brady led the Patriots' ground game with a whopping 13 rushing yards against the Broncos. Yikes. Even an aerial attack as dangerous as New England's needs at least some consistency and success on the ground in order to balance out their offense. While Denver's 99 yards on 30 total carries was nothing to sneeze about, it was far better than the Pats' 44 yards on 17 attempts.
With both Dion Lewis and LeGarrette Blount long gone, New England had been forced to employ a running back crew including James White (pictured above), Steven Jackson, and Brandon Bolden among others. White had some excellent performances out of the backfield, but really only as a pass-catching back. Jackson, despite his short TD run against Denver, looks over the hill, and Bolden picked up just 12 yards on five carries in the big game. Simply put, without Lewis and Blount, the Patriots were unable to mix things up enough and never fooled Wade Phillips's defensive unit.
3. Offensive line's failure to protect Tom Brady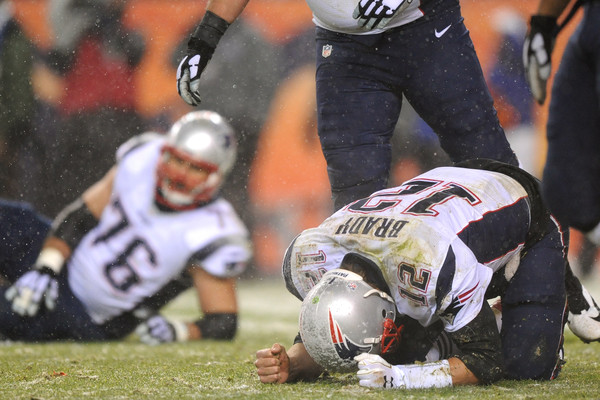 Brady was hit very hard and very often during this two-point loss. According to NFL.com, TB12 was hit 19 times in the contest, the highest figure taken by a quarterback since Charlie Frye of the Cleveland Browns suffered 20 hits from the Baltimore Ravens in a 2006 game. The heavy pass rush enforced by the Broncos did a multitude of things to swing the game in their favor.
First, it hurried Brady's passes to a point where he was bound to make a mistake or two. He went just 27-of-56, threw two interceptions, and was sacked four times. Second, it gave the Patriots receivers limited time to finish their route and/or find a way to get open for a reception. With a defense as talented as the Broncos is on both sides of the ball, the pressure on Brady only enabled the Denver secondary to stick with their man (or zone.) The Broncos stifling D was prominently on display especially in late-downs. The Patriots converted just two out of 15 third down attempts, while the Broncos went 6-of-17. Manning was solid in this one, particularly in the first half, and you can't forget about Owen Daniels's two touchdown catches. However, it'd be hard not to give the game ball to Von Miller, who finished the day with 2.5 sacks, four tackles, and an interception.
4. The Week 17 loss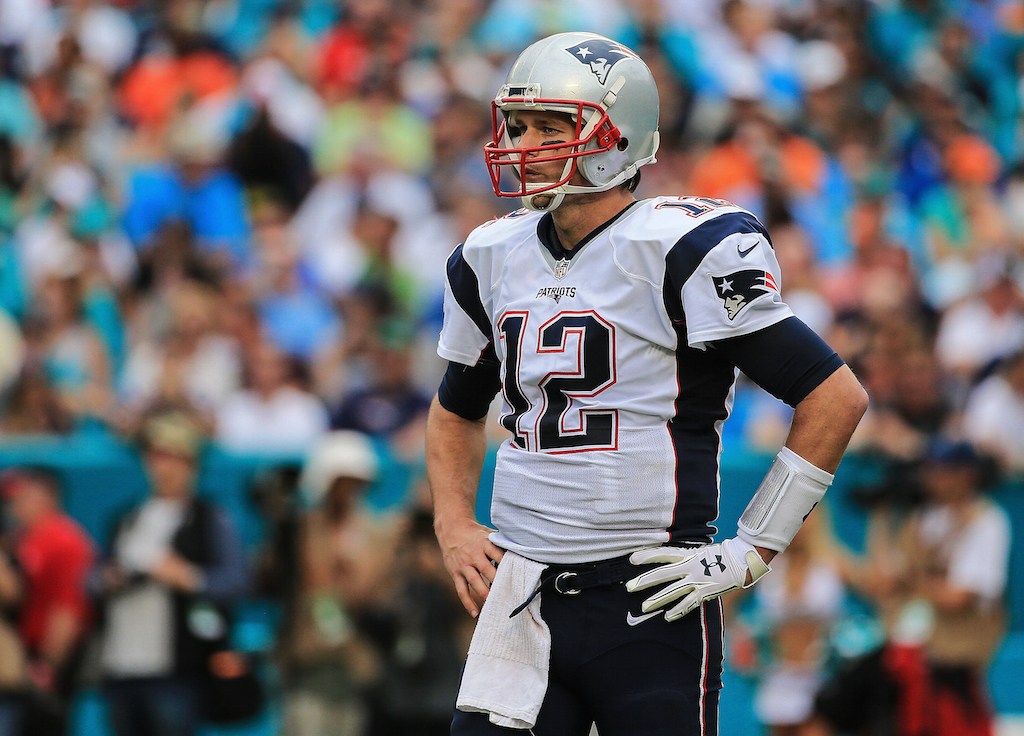 Some may hate this argument, but we're buying it. The Patriots 20-10 defeat at the hands of the Miami Dolphins back in Week 17 may have cost the team a shot at playing in Super Bowl 50. Lots of folks will claim that a game that occurred a full three weeks before the AFC title game would have no impact on its outcome. We're on the other side of it.
Entering Week 17, the Patriots stood at 12-3 and the Broncos were 11-4. With an early-afternoon road game between Miami and New England, Denver would have the fortune of knowing by their kickoff whether they still had a shot at the No. 1 seed in the AFC. Stunningly, the Patriots fell flat in Florida, showing little to no care about securing home-field throughout the playoffs. The Broncos then took care of business against the San Diego Chargers and thus had home turf this past weekend.
Sure, a situation like this is always going to be a double-edged sword. Let's say the Pats did go for it, throwing their starters out there for all four quarters against the Dolphins. There's always the chance that a vital player gets injured and misses the playoffs. It appears that Belichick and his crew took the safe approach, as Brady attempted just 21 passes and Gronkowski and Julian Edelman both sat, and it's hard to blame him for that. Looking back nearly a month later though, you can very well make a solid case that if the Patriots entered as the No. 1 and had faced Manning in Foxborough, they would be the ones heading to Super Bowl 50 against the Carolina Panthers.
Statistics courtesy of NFL.com, Pro-Football-Reference.com, and ESPN.com.
Follow Victor on Twitter @vbarbosa1127.