NFL: The 4 Most Disappointing Fantasy Football RBs So Far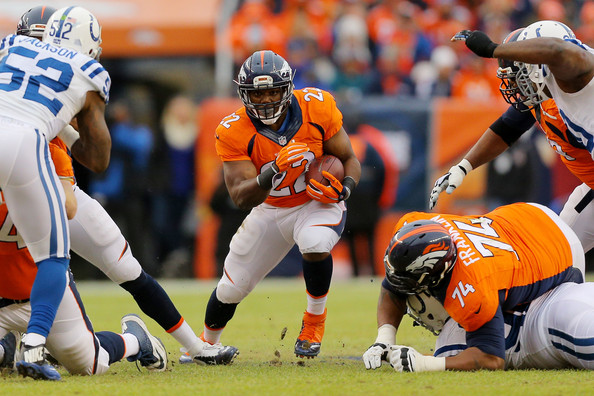 We're nearly a quarter of the way through the 2015 NFL regular season and some teams have clearly stood out from the rest, whether negatively or positively. In fantasy football land, there are a host of players who one could argue has been the MVP thus far. Tom Brady, Aaron Rodgers, Julio Jones, and Jamaal Charles have all had spectacular first three games, racking up the stats for their fantasy owners.
Meanwhile, the four players featured in this post have been, for the most part, colossal failures so far this fall. Most fantasy football league champions need at least a decent quarterback and a solid group of wide receivers. A consistent kicker, reliable tight end, and some smart/lucky waiver-wire pickups are crucial to success as well.
Like in the real games though, the most active player on a fantasy team is typically a running back. If you want to make a run at the 'ship — let alone make the playoffs — it's pretty much imperative that you have at least one reliable running back. A solid RB2 and a nice FLEX option are helpful too.
So, while Charles and Adrian Peterson have been perhaps the best RBs in the fantasy football world in 2015 (for the last two weeks), there are many who have faltered through week three. The quartet of guys in this piece came in this season with tremendous expectations; they were almost undoubtedly first- and second-round draft picks across the board. Whether it's an injury or just plain stinking up the joint, these four athletes — through week three — have been the most disappointing running backs in fantasy football so far.
Dishonorable mentions: LeSean McCoy (Buffalo Bills), Jonathan Stewart (Carolina Panthers), and Lamar Miller (Miami Dolphins)
4. Jeremy Hill, RB, Cincinnati Bengals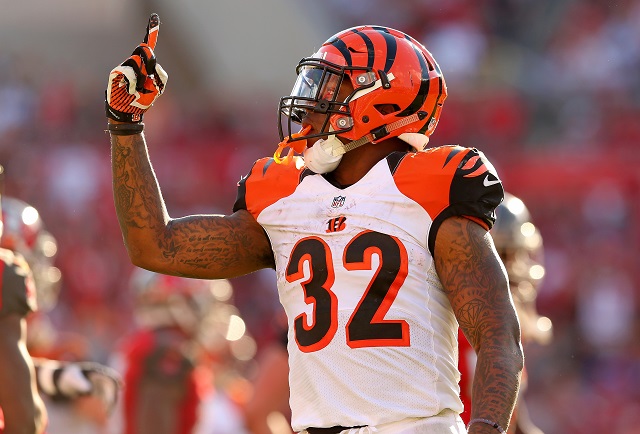 Statistics through week three: 41 rushing attempts, 123 rushing yards, two rushing touchdowns, two fumbles
To close the 2014 regular season, Cincinnati Bengals running back Jeremy Hill posted three straight games of 100-plus rushing yards and added three touchdowns as well. The tide seemed to be shifting in the team's running game and 2015 was expected to be the year where Hill officially took over the starting job from Giovani Bernard.
Entering this season — depending on the size of your fantasy football league — Hill seemed to be a trendy second-round pick and even appeared to have the ceiling of a late first-round snag in larger groups. Then in week one against the Oakland Raiders, Hill gained a pedestrian 63 yards rushing on 19 attempts. His longest carry of the day (and of the season to this point) was for 11 yards. Hill's fantasy performance was severely inflated from two short touchdown runs though and owners could have a smile with their RB1 at that point.
The last two games for the 22-year-old have been bad though, very bad. He had 10 carries for 39 yards against the San Diego Chargers in week two and coughed up two fumbles, both of which Cincinnati lost. Hill was benched for a period of time and came back in week three with a brutal 21 yards rushing on 12 carries. Bernard out-gained and out-touched Hill 49 to 21 and 13 to 12 respectively in the most recent contest. Bernard now ranks fifth in the league with 235 rushing yards while Hill is mired in 34th behind the likes of Bishop Sankey, Doug Martin, and three quarterbacks. It looks like we've got a running back competition brewing in Ohio.
3. DeMarco Murray, RB, Philadelphia Eagles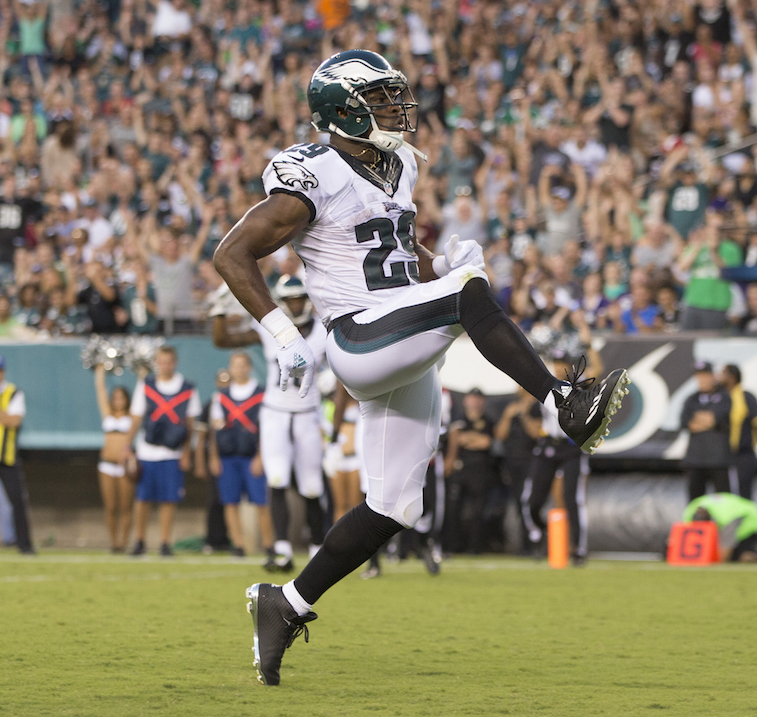 Statistics through week three: 21 rushing attempts, 11 rushing yards, one rushing touchdown
11 rushing yards on 21 rushing attempts. Is that even possible???
Philadelphia Eagles "prized" off-season acquisition, running back DeMarco Murray, has been a disaster in his first two games sporting the green and white. Mercifully perhaps, Murray was injured in week three — the Eagles first win of the year by the way — and it's questionable whether he'll return for a divisional match up versus the Washington Redskins on Sunday.
Only two things save Murray from being the worst of the worst to begin 2015. Number one, he does have nine receptions for 64 yards and a touchdown thus far. Second, last year's league-leading rusher was indeed expected to drop off a bit this year due to his extensive usage in Dallas last season. Nobody expected this rough of a start for Murray though.
Those who took a flier on number 29 as their first-round pick have been utterly repulsed so far. The good news for Murray-owners is that it's still early in the season, and he's still on the right side of 30. It's easier said than done, but fantasy football players are advised to stay patient with Murray.
2. Marshawn Lynch, RB, Seattle Seahawks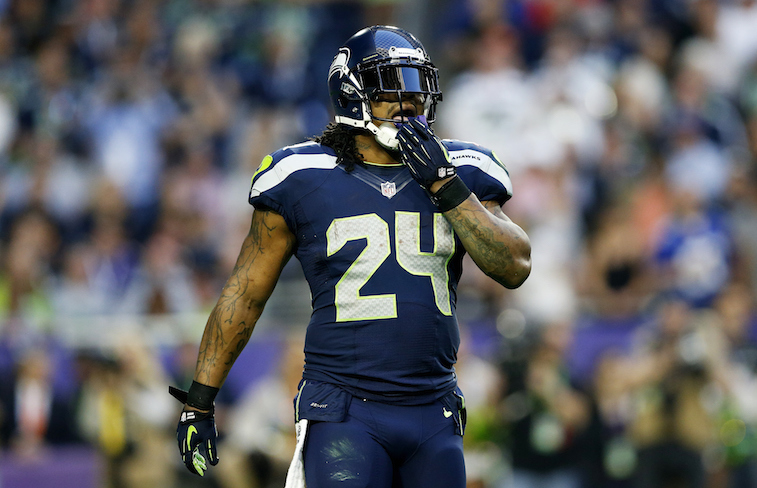 Statistics through week three: 38 rushing attempts, 128 rushing yards, zero rushing touchdowns
Beast Mode has been anything but that so far this month. Seattle Seahawks running back Marshawn Lynch put together a decent week against the division rival, St. Louis Rams, but his fantasy numbers have been troublesome ever since.
After getting 18 carries for 73 yards and posting five receptions for another 31 yards, Lynch had a solid 104 all-purpose yards to begin. The media-shy guy has been nursing a hamstring injury lately and the effects are evident. In week two against the Green Bay Packers, Lynch picked up just 41 yards on 15 rushing attempts. Week three was an appearance cut short by the injury, but five rushes for a measly 14 yards is terrible no matter how you put it.
He's currently questionable for Monday night's tilt with the Detroit Lions, but after Thomas Rawls' breakout performance on the ground in week three — the Seawhawks' first victory as well — there is certainly cause for concern for fantasy players with Lynch on their team. A consensus top-five, if not top-three draft pick coming into the season, number 24 has been the second most disappointing fantasy football running back in 2015.
1. C.J. Anderson, RB, Denver Broncos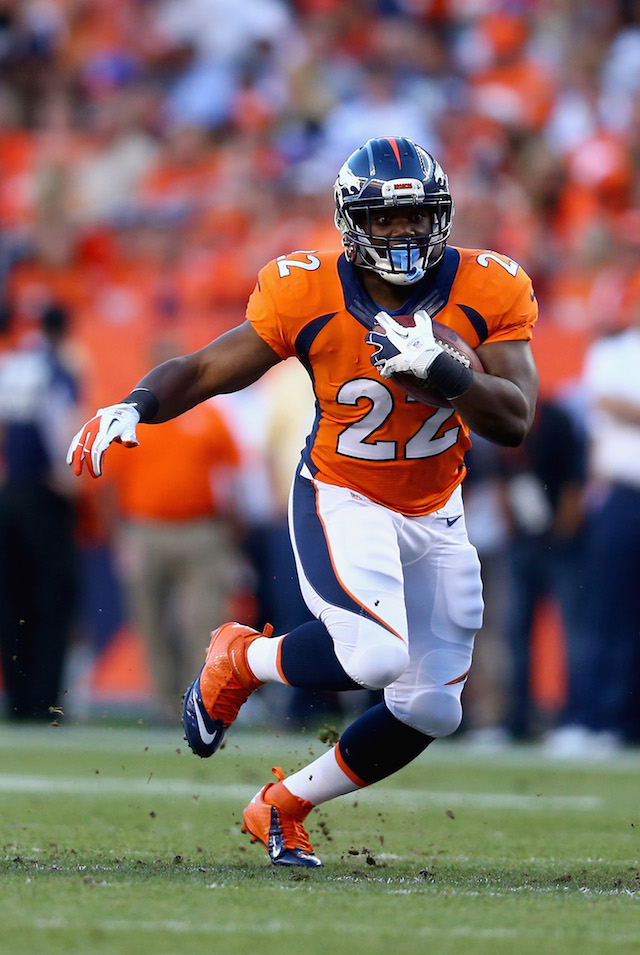 Statistics through week three: 32 rushing attempts, 74 rushing yards, zero rushing touchdowns
Much like Hill, the Denver Broncos' C.J. Anderson entered this season coming off of a tremendous finish to 2014. Anderson notched all eight of his rushing touchdowns in the last six games last season (including two "hat-tricks") and picked up a 167-yard rushing game and a 168-yard rushing game in back-to-back late November meetings.
Like Hill, Anderson seemingly had taken control of the starting position in the Denver backfield. Both Hill's Bengals and Anderson's Broncos have started off 2015 with 3-0 records. That's the good news. Like with Cincinnati's lack of contribution from their feature back, Denver has gotten virtually nothing from Anderson.
Week one against the Baltimore Ravens would probably be classified as his "best" game so far. The numbers? 12 carries for 29 yards and four receptions for 19 yards. It's only gotten worse for Anderson. Week two featured another dozen carries, this time for a total of 27 yards, while he hauled in a grand total of one catch for two yards. Most recently, Anderson picked up 18 yards on eight rushes and nine yards on one catch against the Detroit Lions. In his defense, the bulky back has been battling a myriad of injuries in the young season and he's still just 24 years old. The bottom line though, is that the popular draft pick has been brutal thus far.
All data courtesy of NFL.com, Pro-Football-Reference.com and ESPN.com.
Follow Victor on Twitter @vbarbosa1127.