NFL: The 5 Best Pass-Catching Running Backs in History
While still seen in the NFL today (think Darren Sproles), the pass-catching running back peaked in the 1990's and early 2000's. These all-purpose players helped the NFL shift away from the "three yards and a cloud of dust" days of yore and into five-wide, shotgun spread attacks that you see on your television today.
Each of the five pass-catching running backs of all time proved to be match-up nightmares, in that they could always overpower diminutive defensive backs, while also being too fast for linebackers to contain in space. With all options covered, a heady running back would simply leak out into the flat, take in a swing pass, and head off to daylight up the sideline.
5. Larry Centers
Larry Centers stood 6-foot-nothing, weighed in at a stout 225 pounds, and appeared to have no neck. In other words, he fit the profile of the typical blocking fullback to a tee. Centers, however, was one of the most sure-handed receivers in the game, and closed out his 14-year career with 827 receptions for 6,797 yards and 28 touchdowns,  while only picking up 2,188 yards and 21 touchdowns on the ground.
Centers popularized the circle route, where he would release out of the backfield across the line of scrimmage, and curl back towards the quarterback, in front of the linebackers. In doing so, Larry Centers would work the soft zone underneath, to move the chains. In 1995, Centers hauled in 101 receptions for 962 yards. Often lost in the shuffle during his time (he only went to the playoffs twice from 1990 and 2002) when juxtaposed against the likes of Tom Rathman, Darryl "Moose" Johnston, or even Lorenzo Neal, Centers made his bones in Arizona and Washington. In 2003, New England picked the 35-year old Larry Centers off the proverbial scrap heap, and he won one Super Bowl before immediately retiring.
4. Roger Craig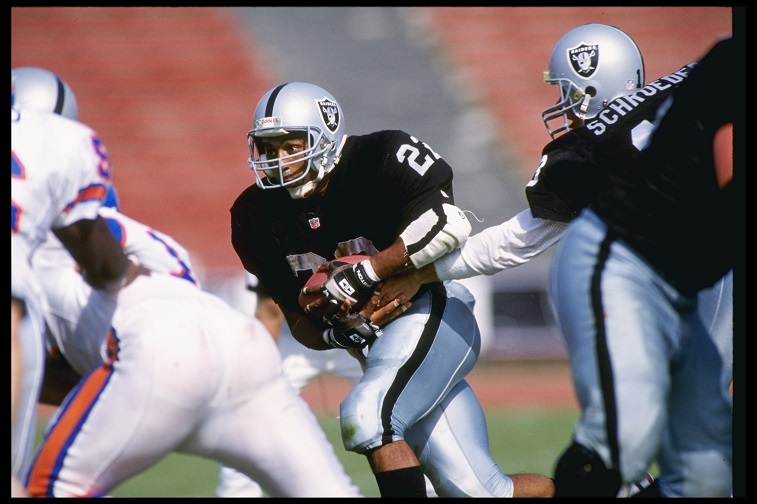 Roger Craig remains somewhat underrated, a byproduct of sharing the spotlight with Joe Montana and Jerry Rice in San Francisco. As a dual threat, Craig set the standard for future franchise backs like Ricky Watters and Frank Gore. The West Coast offense demands versatility out of its backfield, to run, block, and catch. In 1985, Roger Craig actually led the NFL in receptions, with 92,  and that season, he went for over 1,000 yards in both rushing and receiving — to date, Marshall Faulk is the only other member of this exclusive 1,000/1,000 club.
In 1988, Roger Craig led the NFL in yards from scrimmage, after racking up 1,502 yards on the ground and 534 yards through the air. He was especially effective on swing passes into the flat, where he would catch the ball on the move, and bowl over defensive backs at the chains.  In all, Craig was part of three Super Bowl teams. In Super Bowl XX, he ran for 71 yards and caught 8 passes for 101 yards to pace the 49ers against the Cincinnati Bengals. This Super Bowl, however, will always be remembered for Joe Montana marching his team right down the field and hitting John Taylor for the game winning score, with 34 seconds left on the clock.
3. LaDainian Tomlinson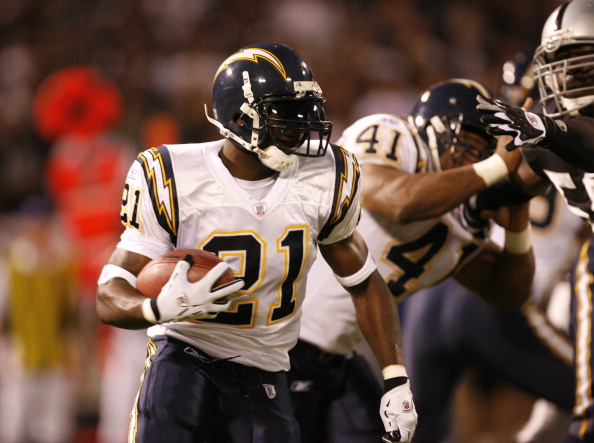 LaDainian Tomlinson was the most complete back of his era — he could run with speed, agility, and power. As a receiver, Tomlinson was also always a threat to catch the ball out of the backfield, or even split out wide of the formation. Working together, Norv Turner and LT popularized the concept of "touches," or getting the ball to a playmaker, in any way possible.
In the passing game, Tomlinson worked best out of screen passes and wheel routes. When setting up screens, Drew Brees and (later) Philip Rivers would invite the blitz up the field, before lofting a touch pass over to LT. From there, Tomlinson would go to work, setting up his blocks, and weaving through traffic. On wheel routes, LaDainian Tomlinson would simply streak past slower linebackers and safeties, for the big play.
In 2003, LT hauled in 100 catches for 725 yards. For his career, Tomlinson racked up 624 receptions, 4,772 yards, and 17 touchdowns, through the air. In all, LT was good for 18,456 yards from scrimmage, which still ranks as 5th of all time. LaDainian Tomlinson was often hailed as the greatest fantasy football of all time, a bit of a backhanded compliment as this staggering statistical productivity did not exactly translate into winning. LT never advanced beyond the AFC Championship Game, a grim reminder that football is a team sport no matter how good you are.
2. Thurman Thomas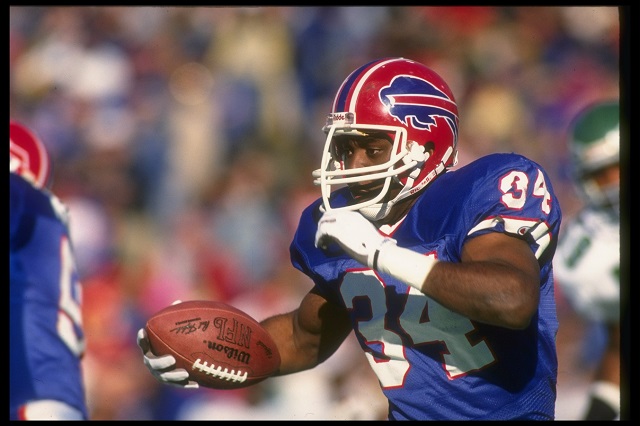 Thurman Thomas helped spark the "K-Gun," — a no-huddle offensive attack called by quarterback Jim Kelly — in Buffalo. Thomas was especially effective off counters, draws, traps, and screen passes, misdirection plays that showcased a versatile running back. When working against a mismatch, Jim Kelly would often audible out of a set play at the line of scrimmage and motion Thomas into the slot. In his prime years Thomas averaged more than ten yards per catch, showing himself to be a real threat within the passing game, rather than an afterthought or outlet.
Also of note: Thomas took home NFL MVP honors in 1991, over Barry Sanders and Emmitt Smith, getting the nod as the most dominant offensive force in football. Thomas did lead the league in yards from scrimmage four straight seasons between 1989 and 1992… but this stretch largely coincided with Thomas and the Bills losing four consecutive trips to the Super Bowl.
In retrospect, the Super Bowl losses largely overshadowed Thurman's otherworldly talents and real status as a prime time player. Thurman Thomas still holds the record for most receptions by a running back in a playoff game, with 13, against Cleveland in the 1989 AFC Divisional Playoffs. In Super Bowl XXV, Thomas had 55 receiving yards tacked onto 135 rushing yards, before Scott Norwood took the field for his final kick.
1. Marshall Faulk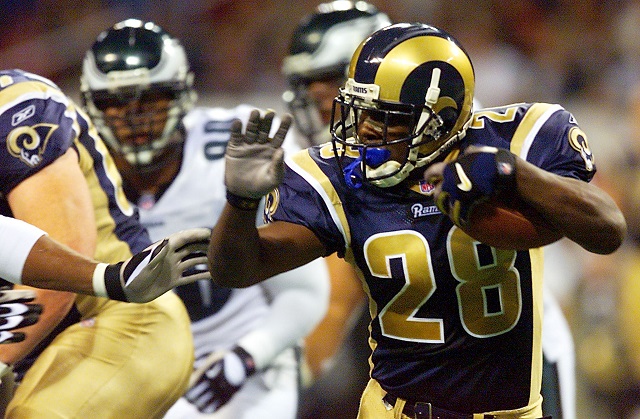 After landing in St. Louis, Marshall Faulk emerged as the lead character in helping Kurt Warner, Isaac Bruce, Torry Holt, Dick Vermeil, and Mike Martz produce the Greatest Show on Turf. His career 19,154 yards from scrimmage still ranks as fourth, behind only Jerry Rice, Emmitt Smith, and Walter Payton. Like we mentioned earlier, to date only Roger Craig and Faulk have topped 1,000 yards in both rushing and receiving in a single season.
Faulk actually spent much of his time split out wide of the formation, where he would easily humiliate linebackers attempting single coverage, out in space. After motioning out of the backfield, Faulk would often run quick outs and slant routes, with the same agility as any starting wide receiver.
And the numbers back it up, too — Faulk topped 80 receptions through five consecutive seasons between 1998 and 2002, in Indianapolis and St. Louis. In all, Faulk caught 767 balls for 6,875 yards, and 36 touchdowns. It wasn't so long ago that you could see a crowd, home or away, hold its collective breath every time that he caught the football, as this electric performer could take any routine out pattern or swing pass to the house for six.