NFL: The 5 Best Players of the 2015 Season
The 2015 NFL season, like every season before it, was filled with a plethora of standout performances across the league. Of course, many of the usual suspects put together strong showings from Week 1 through Week 16, but there were definitely a few who deserve extra recognition for their outstanding overall achievement, both in terms of their individual play and for how critical they were to their team's success. Without further ado, here are the top five players in 2015.
5. J.J. Watt, Houston Texans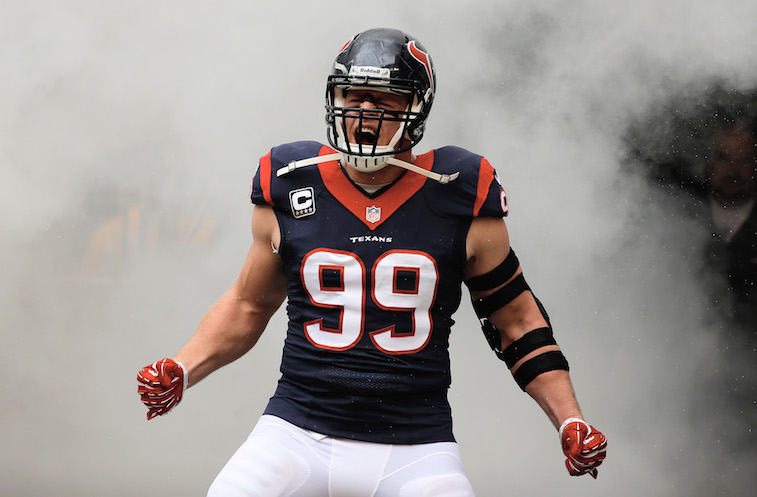 It was more of the same in 2015 for the league's best defensive player despite dealing with a groin injury and a fractured left hand as he still started all 16 regular season games, recording 76 tackles, an NFL-leading 17.5 sacks, eight passes defended, and three forced fumbles. This helped the Houston Texans defensive end earn his fourth straight Pro Bowl nod and likely second straight and third overall NFL Defensive Player of the Year award.
Watt has been a force to reckon with since entering the league. His 6-foot-5 frame and 289 pounds combined with his strength and speed make him the most difficult defensive lineman to guard for opposing players. He has continued to be a major factor despite constant double teams — and even triple teams at times. The 2015 season could be argued as his best year for the simple fact that he was still dominant even with a nagging groin problem and a fractured hand. These are injuries that more than often keep players sidelined for extended periods of time, and Watt continued to play through them without any apparent hindrance. The 26-year-old is a freak of nature, and his 2015 campaign was without question one of the best in the league.
4. Antonio Brown, Pittsburgh Steelers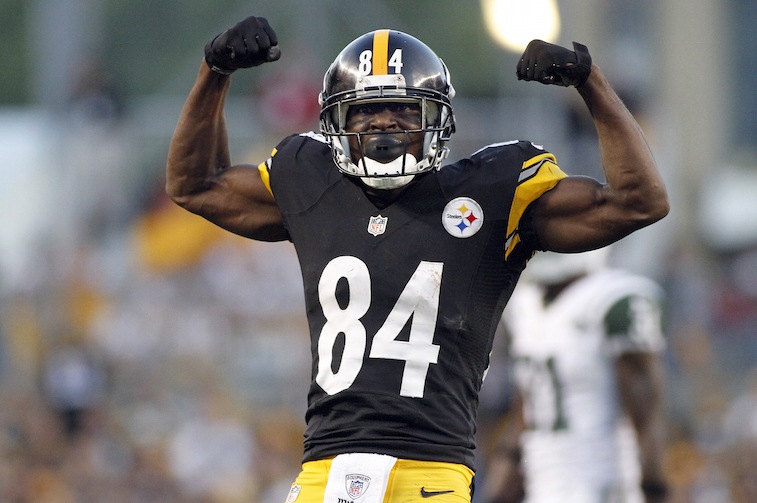 The NFL's top receiver had another stellar campaign putting up the best numbers of his six-year career and posting career-highs in receptions (136) and receiving yards (1,834) along with 10 receiving touchdowns. He finished the season tied for the most catches and was second in receiving yards behind just Julio Jones. These two statistics also shattered his own Pittsburgh Steelers' records of 129 catches and 1,698 yards set in 2014. His 136 receptions also set a pair of NFL records for most receptions in a two-year span (265) and most catches in a three-year stretch (375).
Brown's dominating 2015 season had seven 100-yard games and 13 games with six or more receptions, including five contests with 10 or more receptions. His pair of 16-catch games made him the first receiver to notch two 16-plus reception outings in a single season, and his four games of 175-plus receiving yards in a season is also an NFL record. This was all highlighted by the best game of his career, posting career highs with 17 receptions and 284 receiving yards, which is the ninth most single-game receiving yards total in NFL history.
This adds to what's been a historic three-year stretch for the former sixth-round pick. He became the second player in league history to have more than 5,000 receiving yards over that span. Brown has put himself in some rare air over the last few seasons, and 2015 was no different. 
3. Tom Brady, New England Patriots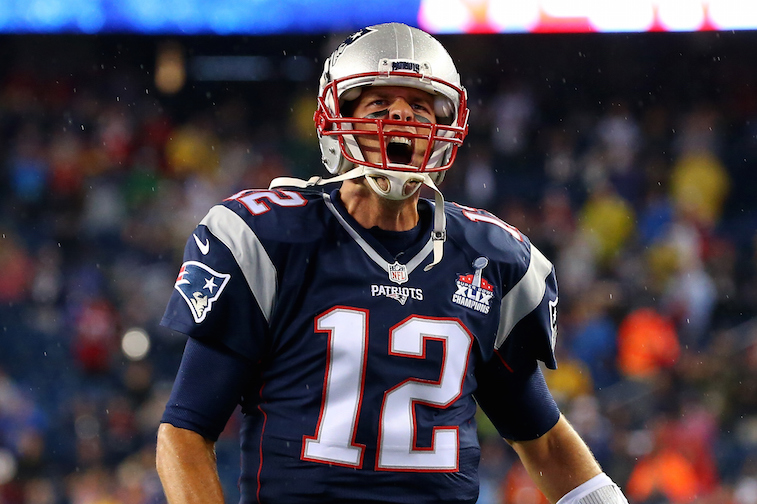 The New England Patriots quarterback put together another impressive season with a league-best 36 touchdown passes with just seven interceptions while throwing for 4,770 passing yards and holding a 102.2 passer rating. Brady once again proved to be the game's best quarterback this year despite dealing with an influx of injuries to his top receiving options — with Julian Edelman, Rob Gronkowski, and Danny Amendola each missing for extended periods of time. The team also lacked a true rushing attack throughout the season, and that only became more troublesome when Dion Lewis suffered a season-ending torn ACL in Week 9, and the team subsequently lost LeGarrette Blount to knee injury in Week 14.
With all that in mind, Brady carried the Patriots' offense on his shoulders and helped them finish tied for the third-best record in the league at 12-4. It's a testament to the type of talent that the 11-time Pro Bowler is, even at the ripe age of 38 years old. He threw for more than 250 passing yards in the first 11 games of the season, including throwing seven games with over 300 passing yards and posting a 90-plus quarterback rating 10 times. All in all, Brady demonstrated that he's still a dangerous quarterback in one of the finest seasons in his career.
2. Julio Jones, Atlanta Falcons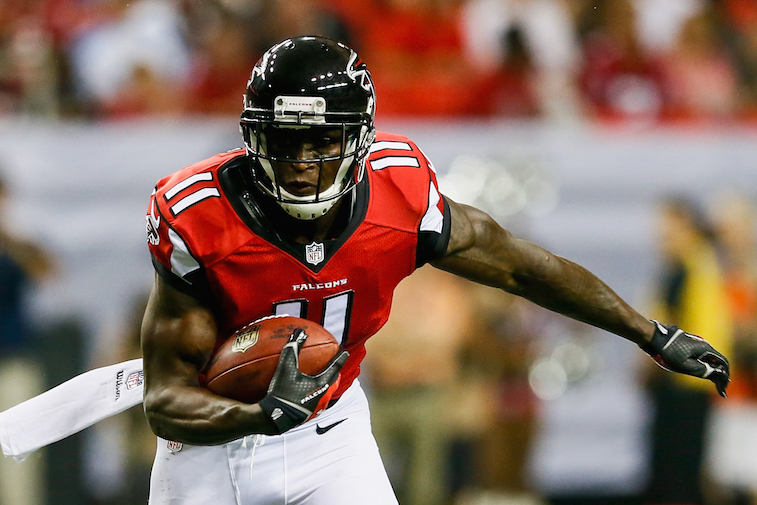 In his fifth season in the league, Atlanta Falcons star wide receiver put together his best campaign, posting career-highs in receptions (136), receiving yards (1,871), and catches for first downs (93), which were all franchise-best marks. This includes becoming the first player in NFL history to have 135-plus receiving yards in each of his team's first three games in a season (along with hauling a league-record 34 receptions over that stretch). Jones also recorded eight games with at least 135 receiving yards and 11 games with eight or more catches, including four with at least 10 grabs. He had just two games with less than 60 yards and four receptions were his fewest he had for any games during the season.
Jones's performance in 2015 further demonstrated that he's among the best receivers in the league and could be argued as the top of his position alongside Antonio Brown. He's a unique talent with his size and speed along with his polished route running that make a walking mismatch for any opposing defensive back. What's most fascinating is that he's in the prime of career and could put together several more dominating season that could include breaking Marvin Harrison's NFL record of 143 catches. Jones's outstanding season may have been a bit overshadowed by a couple of other players on this list, but he definitely had one of the best overall performances in not only 2015 but in NFL history.
1. Cam Newton, Carolina Panthers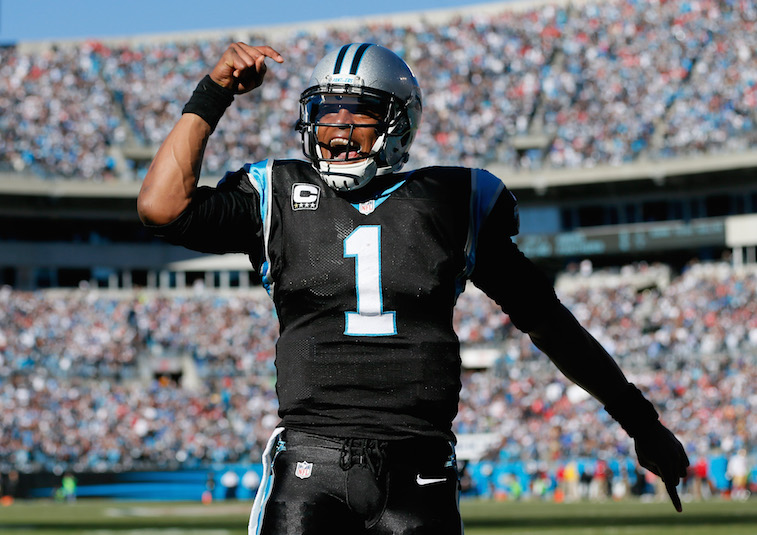 Prior to the 2015 season, the Carolina Panthers signed Newton to a five-year, $103.8 million contract extension and at the time received some criticism for the size of the deal. The 26-year-old put all that behind him by taking a major stride forward in his fifth year, recording a league-best 45 total touchdowns (35 passing, 10 rushing) and a career-high 99.4 passer rating. His 35 passing touchdowns were tied for second-most in the league and were 11 more than his previous career-best mark. He also surpassed 600 rushing yards for the third time in his career and was tied for second in the league in rushing touchdowns.
Newton is the only player in NFL history with at least 30 passing touchdowns and 10 rushing touchdowns in a single season. He also marked the second time in his career he earned at least 3,500 passing yards, 20 passing touchdowns, and 10 rushing touchdowns in a single season, and he's only the player in NFL history to achieve that mark. His play helped him become the first player in league history to win five NFC Offensive Player of the Week awards in a nine-week stretch in the same season, which also tied for the most Player of the Week awards in a season in NFL history.
There was a vast improvement from Newton in 2015 that saw him become a balanced quarterback and better decision-maker. This along with his size of 6-foot-5 and 245 pounds makes him a difficult player to game plan from a week-to-week basis. Newton has put together a historic season while leading to the Panthers to the best record in the league and into the Super Bowl. This all clearly makes him deserving of the top spot on this list and the obvious choice for the 2015 NFL MVP award.