NFL: The 5 Best Rookies From the 2015 NFL Draft
The 2015 season saw the introduction of yet another strong rookie class with talented players across the board at each position. This had many rookies stepping into prominent roles with their respective teams in their first season. With that said, here were the top five rookies in 2015.
5. Ronald Darby, Buffalo Bills
In another deep draft class for defensive players, one of the best talents on that side of the ball didn't come in the first round but was taken in the second round by the Buffalo Bills in cornerback Ronald Darby. The former Florida State product was slightly overlooked at his position being the seventh cornerback to be taken in the draft.
Since then, Darby has blown all his expectations out of the water as he put together a strong rookie campaign finishing fourth in the league with a franchise-record 21 passes deflected along with two interceptions and 68 tackles. This helped him become the first Bills player to be named to the Pro Football Writers of America (PFWA) All-Rookie team since Kiko Alonso did so in 2013. He was also selected as the Defensive Rookie of the Year by Pro Football Focus and PFWA. Darby has helped form one of the league's best cornerback duos alongside Stephen Gilmore due to his strong man-to-man coverage ability.
Darby is an exceptional talent that made a tremendous impact in his first season so much so that Bills head coach Rex Ryan stated he believes that the 21-year-old is going to be a "star" in the NFL. With that type of praise coming from one of the league's most respected defensive minds, it only cements his status as one of the best in his draft class.
4. Jameis Winston, Tampa Bay Buccaneers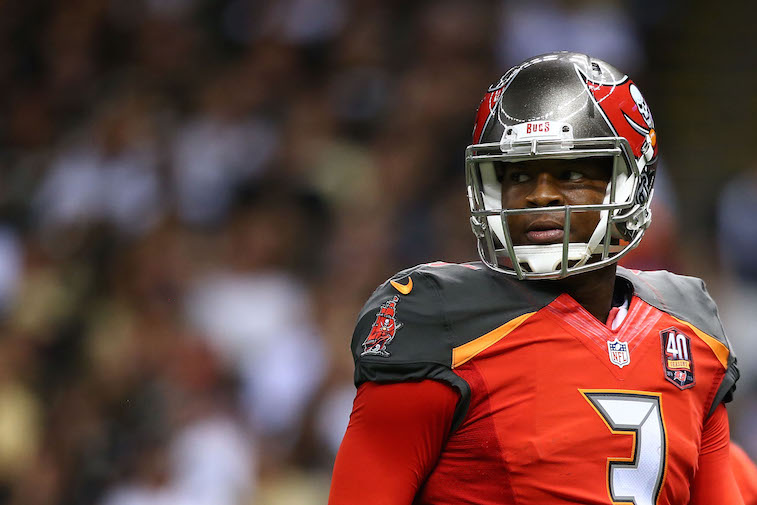 When a player is selected with a first-round pick, there's a high level of expectation that comes with the territory. However, things only heighten to a much greater degree with the first overall selection in the draft because often the weight of the franchise is put on the shoulders of that incoming rookie. In the case of Winston, who was taken with the first pick in the 2015 NFL Draft by the Tampa Bay Buccaneers, he met the high level of demands in his rookie campaign by putting together a record-setting season.
He became the youngest quarterback in NFL history to eclipse both 3,000 and 4,000 passing yards and was just the third rookie quarterback to pass for over 4,000 yards joining Carolina Panthers' Cam Newton (2011) and Indianapolis Colts' Andrew Luck (2012). He also broke the Buccaneers' rookie quarterback record for passing yards, passing touchdowns, and rushing touchdowns in a season. Winston did struggle early on in the season, but as he gained more experience the production began to steadily pick up. He threw for over 200 yards and 12 touchdown passes in seven out of the last games of the season, including a career-high 131.1 passer rating in his five-touchdown performance against the Philadelphia Eagles, which tied the NFL record for a rookie quarterback.
Winston's impressive play in his rookie campaign also helped him earn his first Pro Bowl selection, but more importantly, has appeared to steer Tampa Bay in the right direction by tripling the team's win total (six) in his first season. There's still plenty to learn for Winston, but his overall performance and progression in his rookie year certainly puts him near the top of his draft class.
3. Amari Cooper, Oakland Raiders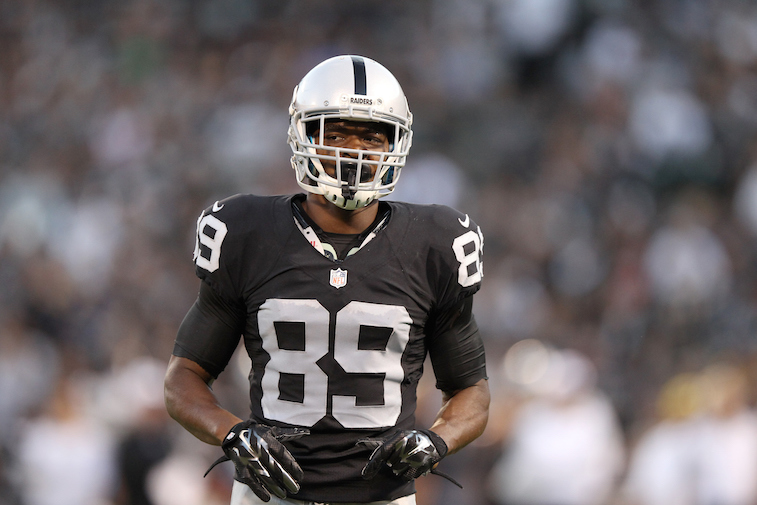 Coming out of Alabama, Cooper was viewed by many draft experts as arguably the most NFL-ready player in his class, and he certainly proved that in 2015. The 21-year-old had an impressive first season leading rookies in almost every receiving category by recording 72 receptions for 1,070 receiving yards with six touchdowns. He also became the first Raiders rookie to reach 1,000 receiving yards and also set the rookie franchise records for receptions and 100-yard receiving games (five).
His 72 catches last season were also the most in NFL history by a wide receiver 21 years old or younger, and his receiving yards are only second to Randy Moss's 1,313 yards in the 1998 season. Cooper's production made him just the sixth Raiders rookie to be selected to the Pro Bowl joining the likes of Charles Woodson (1998), Tim Brown (1988), Marcus Allen (1982), Ray Guy (1973), and Raymond Chester (1970). 
Although Cooper disappeared in the final month of the season recording 20 or fewer receiving yards in three out of the last four games, it doesn't take away from the overall product. It's clear that the Raiders wideout has all the tools to become one of the game's best players at his position in the near future. Despite finishing tied for second in the league with 10 drops, he has already demonstrated that he's an extremely polished route runner that can gain consistent separation from defenders and make difficult catches in traffic. In short, Cooper has quickly become a rising talent at his position and one of the centerpieces to the Raiders' bright future.
2. Marcus Peters, Kansas City Chiefs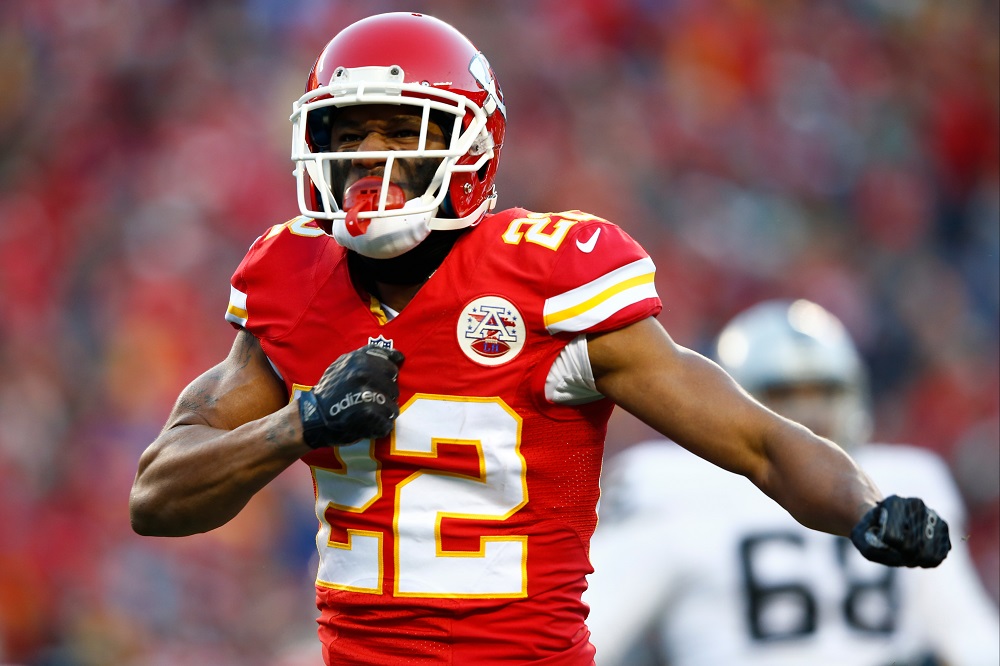 Entering the league, Peters had plenty of question marks surrounding his character after being dismissed from Washington in November 2014. However, the Kansas City Chiefs took a chance on him with the 18th overall pick in the draft, and it has paid off in an enormous way. The 23-year-0ld finished tied for the league lead with eight interceptions while leading all defensive backs with a league-best 26 pass deflections. This includes the impressive feat of not allowing a single touchdown from Weeks 8 and 16.
Peter's performance in his rookie campaign helped earn a well-deserved first Pro Bowl selection of his career. He should also be in line to add to his mantel the Defensive Rookie of the Year award, which would make him just the fifth cornerback in league history to earn the award. Peters has become one of the top defensive backs in the league in just his first season. What separates the Chiefs cornerback from many at his position is his high football IQ, great understanding of the game, and quick recognition of routes and plays run by opposing teams. He's also a fundamentally sound player that possesses great ball skills.
Altogether, there's no question that Peters is a unique talent and not only one of the top players in his draft class but in the NFL.
1. Todd Gurley, Los Angeles Rams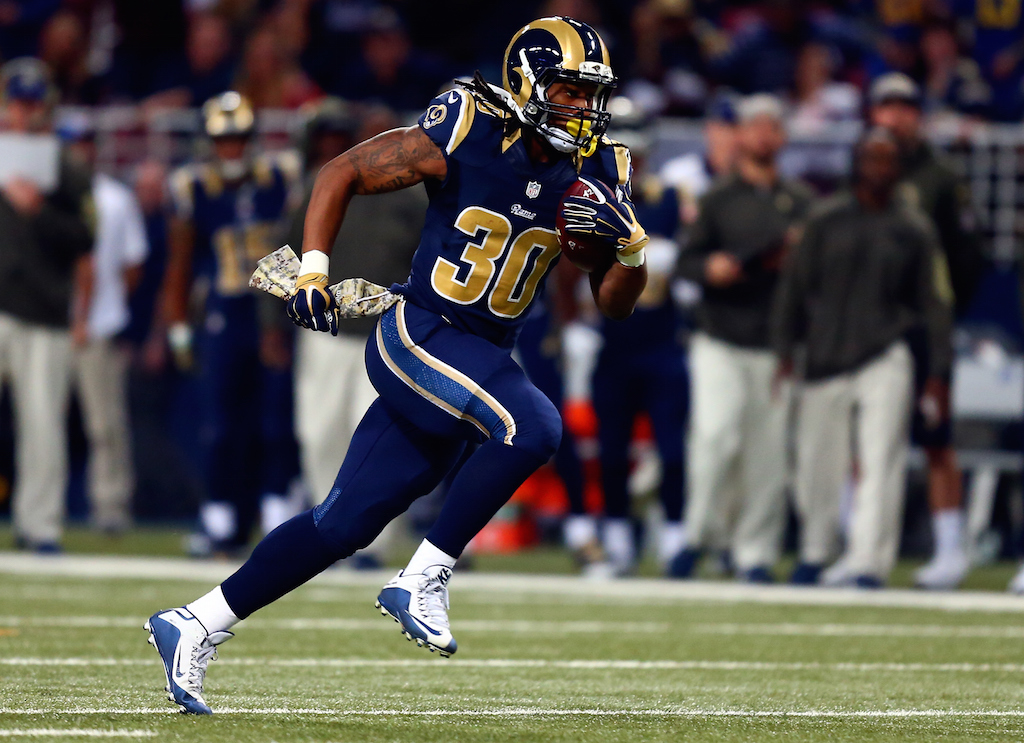 It was quite an impressive rookie campaign for the Los Angeles Rams running back, especially after not seeing his first NFL action until the third week of the regular season. He quickly took the league by storm in his first four career starts, becoming the first rookie in NFL history to rush for 125 or more yards in four straight games. He also tied the Rams' rookie record for the longest streak with 100 rushing yards, joining the likes of two Hall of Famers, Jerome Bettis (1993) and Eric Dickerson (1983).
The standout rookie tailback finished third in the league with 1,106 rushing yards and tied for second with 10 rushing touchdowns. This also made him just the second Rams rookie to record over 1,000 rushing yards and at least 10 touchdowns. His streak of five straight games with a rushing touchdown is the Rams' longest since Hall of Famer Marshall Faulk did so in the 2001 season.
Gurley is a unique talent who in many ways is a similar mold of Adrian Peterson with his combination of speed, power, and field vision. He placed second in the league with 11 rushes of more than 20 yards. He has certainly quieted the doubters that had major concerns about his health heading into his rookie season with his play that has already put himself in elite company among the best running backs in the league. This in itself speaks volumes for the type of player that Gurley is and can become over his NFL career.