NFL: The 5 Best Tom Brady vs. Peyton Manning Games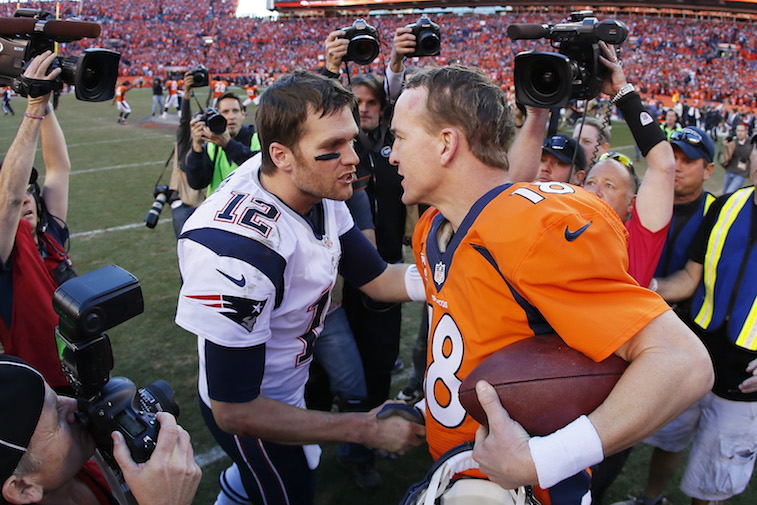 Here we go again. New England Patriots quarterback Tom Brady and Denver Broncos quarterback Peyton Manning will square off for the 17th time in their storied careers on Sunday afternoon, and many predict that this will be the final head-to-head matchup between the pair of future Hall-of-Famers. Who will come out on top? Is there any debate about who the better QB is? And most importantly, will this be the final chapter?
Brady versus Manning has without a doubt been the most heavily-discussed individual rivalry of the NFL over the past 15 years, and there have been countless thrilling moments that the two have produced. In all, Brady has the edge in terms of wins by a count of 11-5, including an 8-4 record while Manning played with the Indianapolis Colts. Here are the five best Brady-Manning games so far, ranked in chronological order.
1. September 9, 2004: Patriots 27, Colts 23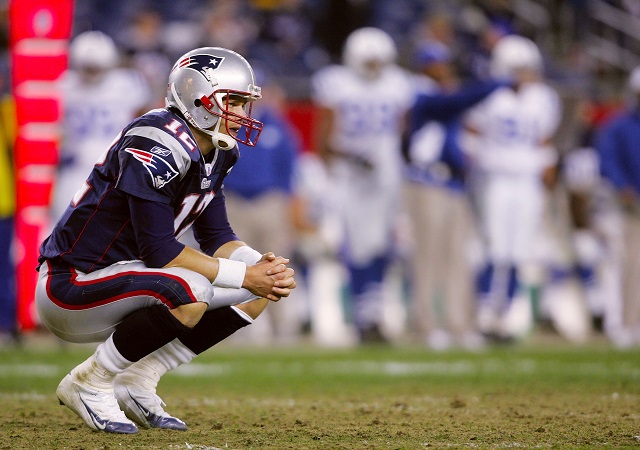 Brady: 26/38, 335 passing yards, three touchdown passes, one interception
Manning: 16/29, 256 passing yards, two touchdown passes, one interception
After knocking off Manning and the Indianapolis Colts in the AFC Championship Game eight months earlier, TB12 and the Pats were at it again for Week 1 of the 2004 season. This thrilling 27-24 victory for Brady improved his head-to-head record against his rival to a spotless 5-0. In the season-opening victory, No. 12 connected on 26 of his 38 pass attempts for 335 yards.
Brady threw a trio of touchdown passes to Deion Branch, David Patten, and Daniel Graham, compared to only one interception. Meanwhile, Manning went 16 of 29 for 256 yards, threw two TD passes, and had one pick. The Colts offense was propelled by their 202 yards on the ground though, and the team's three turnovers ended up costing them in this one.
2. November 5, 2006: Colts 27, Patriots 20
Brady: 20/35, 201 passing yards, 0 touchdown passes, four interceptions
Manning: 20/36, 326 passing yards, two touchdown passes, one interception
Nearly one year to the day following his first career win against Brady, Manning secured another victory for the Colts in this Week 9 tilt of the 2006 season. After beginning his career 6-0 against his counterpart, the Patriots' franchise player dropped his mark to 6-2 with this 27-20 defeat. The "golden boy" had arguably the worst start of his career in this one, registering an unsightly 34.0 passer rating. This was a rare occasion where Brady not only failed to throw a TD, but hurled four interceptions too. Manning went an efficient 20 of 26 for 326 yards and a touchdown. Of course, Brady and company got their chance for revenge in the near future.
3. January 27, 2007: Colts 38, Patriots 34
Brady: 21/34, 232 passing yards, one passing touchdown, one interception
Manning: 27/47, 349 passing yards, one passing touchdown, one interception
This AFC Championship Game is one of the most memorable Brady-Manning games ever and certainly a high point for the latter gunslinger during his legendary career with the Colts. The stakes couldn't have been bigger in this chapter of the rivalry, as the winner of the matchup would advance to the Super Bowl. The Patriots looked sharp early, building a sizable 21-6 halftime lead on the road with both their offense and defense clicking.
Within the span of five minutes midway through the third quarter though, Manning ran for a score and hooked up with defensive tackle (yes, defensive tackle), Dan Klecko, for a one-yard TD to tie the teams at 21 apiece. The teams traded touchdowns and field goals to make it 31-31 before a 43-yarder by Stephen Gostkowski put the Pats up by three. Indianapolis had the last laugh though, as a three-yard run by Joseph Addai and an interception by Marlin Jackson on Brady's last ditch effort capped off the home team's 38-34 comeback win. The instant classic pushed the Colts to their first ever Super Bowl where they would eventually beat the Chicago Bears.
4. November 15, 2009: Colts 35, Patriots 34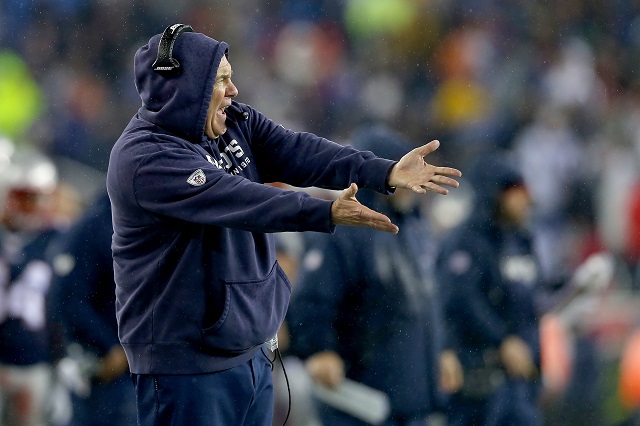 Brady: 29/42, 375 passing yards, three passing touchdowns, one interception
Manning: 28/44, 327 passing yards, four passing touchdowns, two interceptions
Both Brady and Manning had special performances in this Week 10 game, and their statistics were remarkably similar. Essentially, Manning attempted two more passes than his opponent, one of which was a touchdown and one of which was an interception. The extra TD pass proved to be a difference maker, as the Colts knocked off the Patriots by a score of 35-34.
After both teams scored on rushing touchdowns in the first quarter, a field goal by Gostkowski, followed by Brady TD passes to Randy Moss and Wes Welker, gave the road team a 24-7 lead. A score by Reggie Wayne cut the Colts' deficit to 10 entering halftime. Another TD catch by Moss and another boot by Gostkowski sandwiched a TD reception by Pierre Garcon, giving New England a 34-21 lead with only four minutes to go in regulation.
A rushing score by Joseph Addai made it 34-28, and then Pats head coach Bill Belichick infamously went for it on a fourth down from his own 28-yard line. The conversion failure led to another TD score by Wayne, giving the Colts a narrow win and thus increasing their record to 9-0 on the year. This was the second-to-last out of a dozen times that Brady faced Manning while he was with the Colts, and after beginning 0-6, this improved No. 18's mark to 4-7.
5. November 24, 2013: Patriots 34, Broncos 31 (OT)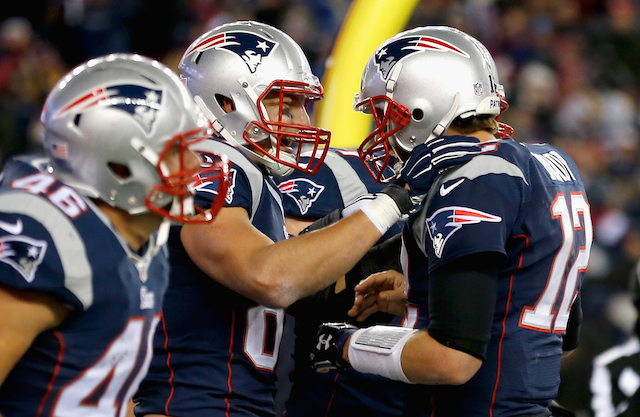 Brady: 34/50, 344 passing yards, three touchdown passes, 0 interceptions
Manning: 19/36, 150 passing yards, two touchdown passes, one interception
We've already featured a couple of historic Manning-led comebacks during this countdown, so how about one for TB12 and the Patriots too? The second head-to-head game between the pair of QBs during Manning's Denver tenure was a legendary affair. Thanks to a monster second half and a vintage Brady performance, the Pats roared back for a 34-31 home win behind a trio of TD passes by No. 12. Stunningly, the Broncos led this Week 12 game 24-0 at the half before the Patriots erupted.
New England nearly made up the entire deficit in the third quarter alone, scoring 21 points on TD receptions by Julian Edelman and Rob Gronkowski, as well as a one-yard rush into the end zone by Brandon Bolden. Edelman's second TD catch came early in the fourth and gave the hosts their first lead. A field goal by Gostkowski made it 31-24 in the waning minutes of regulation. A score by Demaryius Thomas knotted it up again though, setting the stage for an exhilarating finish. After more than a dozen minutes of scoreless action in overtime, Gostkowski finally ended it with a 31-yard boot, giving the Pats a monumental victory.
Follow Victor on Twitter @vbarbosa1127
Statistics courtesy of NFL.com and Pro-Football-Reference.com.