NFL: The 5 Best Week 1 Games to Watch
The 2015 NFL season is finally less than a month away. The excitement is at an all-time high after the opening week of preseason action, which means that it's time to focus on the Week 1 matchups that stand out on paper, and determine which games really jump out as the best on the slate.
There are the great storylines — think Jameis Winston and the Tampa Bay Buccaneers against Marcus Mariota and the Tennessee Titans — and there are also great rivalry games, and games that should wind up being early meetings between the season's top teams. Beyond individual fandom (if you're a Raiders fan you're watching the Raiders game regardless, you poor soul, you), the following five games look like they should be the five best games of the opening week of NFL action.
5. Green Bay Packers vs. Chicago Bears
No, the Chicago Bears aren't even close to the team we've seen in recent years. They also recently found out that they may have lost rookie receiver Kevin White for the year, according toPro Football Talk, but this is one of the best rivalries in all of football. If you don't think the Bears are going to get up for a Week 1 matchup against the hated Green Bay Packers, then you're crazy.
Both teams will go all out, and while starting 0-1 is a miserable feeling for any team, it's even worse when the opening loss comes against your biggest rival. Expect to see the best Jay Cutler that you'll probably see all season in this game. Unfortunately for Chi-Town fans, that means we should probably expect to see the best Aaron Rodgers as well, something no opposing defense likes to see.
The Packers are the favorites to win this game, without question, but we have to hope that the Bears will give them a push. At the very least, we're in store for a great rivalry game to kick off the season.
4. Tennessee Titans vs. Tampa Bay Buccaneers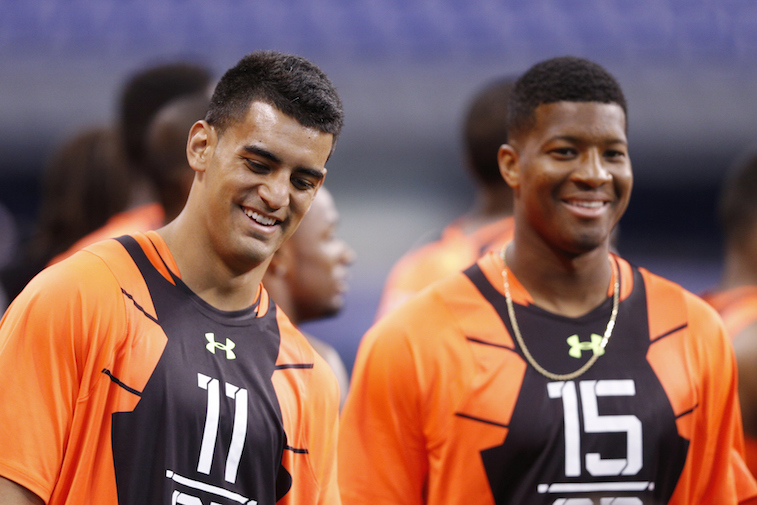 There was just no way that a matchup between the No. 1 and No. 2 picks wasn't going to make the list, particularly when it's no accident that they'll meet in the first week of the NFL season. Jameis Winston against Marcus Mariota will undoubtedly be the headline (and the biggest draw for casual viewers), but it's worth noting that these are two teams who so badly want to prove that they are heading in the right direction. What better way to show your fan base and the rest of the league that you're trending upwards than by starting off the season with a victory? Putting the Winston vs. Mariota hype to the side, we'll get to see a young star in Mike Evans on the Bucs and plenty of young talent on the Titans.
The question: which receiver will step up for the Titans in 2015? Will it be Kendall Wright or Justin Hunter? How about newly-signed Harry Douglas or Hakeem Nicks? Or maybe even the rookie, Dorial Green-Beckham? Plenty of intrigue in this game, but the focus is obviously Famous Jameis against Super Mariota.
3. Philadelphia Eagles vs. Atlanta Falcons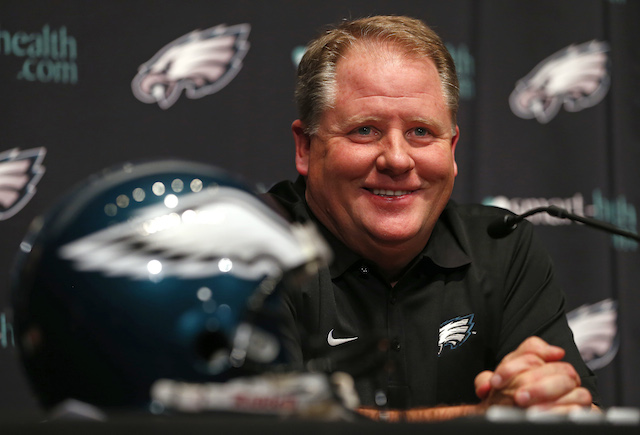 Chip Kelly and his new-look Philadelphia Eagles against Dan Quinn and his new-look Atlanta Falcons. While Kelly is known as an offensive juggernaut, Quinn is known as one of the brightest defensive minds in the NFL. Seeing the two square off in Week 1 of the NFL season is going to be fun to watch. Best of all, this game falls on a Monday. That's right — Monday Night Football.
Kelly made major headlines by parting ways with plenty of big-named players this offseason, including star running back LeSean McCoy. It'll be DeMarco Murray and Ryan Mathews leading the charge now, and how their workload ends up being split is worth noting. On top of all of that for Kelly and the Eagles — that they traded for Sam Bradford this offseason. While Bradford has failed to stay healthy, he'll now look to revive his NFL career in Philadelphia. Plus, yes, Tebow will be there. On the sideline. Probably.
As for those Falcons, well, they aren't getting a ton of love after a 6-10 season in 2014. This team made plenty of changes though, including hiring Quinn and offensive coordinator Kyle Shanahan. When a team has Matt Ryan, Julio Jones and Roddy White offensively, there's plenty of reason to believe they have the firepower to keep up with the Chip Kelly's well-crafted offense.
Will this turn into a shootout, or will Quinn's new defense in Atlanta slow down the high-flying Eagles?
2. Pittsburgh Steelers vs. New England Patriots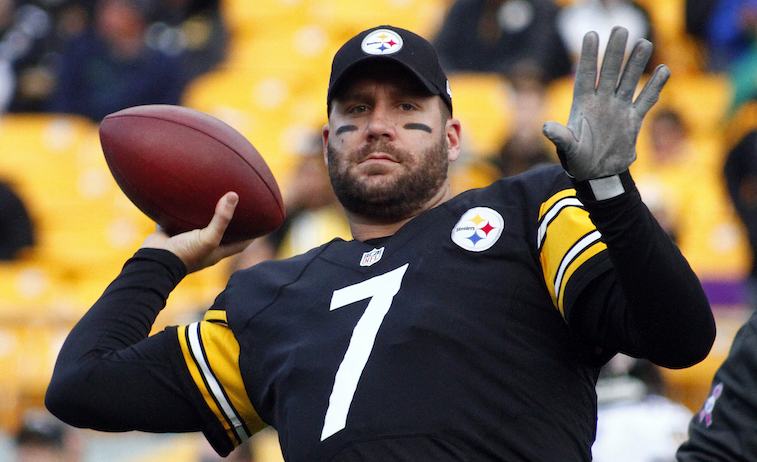 Where do we start here. Two Super Bowl contenders going at it, one of which is the defending Super Bowl Champion. That's obviously a fun talking point, but how about the fact that this game is the season opener on Thursday, September 10 in New England? All-in-all, it should be the best games of the week, but there's one thing missing.Tom Brady.
With no Brady, this one moves from No. 1 to No. 2, but hey, we still get a great headline in Jimmy Garoppolo. With Garoppolo set to play four games in the face of Brady's Deflategate suspension(assuming it isn't overturned), the entire sports world will have their eyes on him.
No one knows if Jimmy G is ready for prime time, but we'll probably find out soon enough. The good news for the Patriots and Garoppolo? He gets his first game as a starter at home, so the whole city will have his back.
1. New York Giants vs. Dallas Cowboys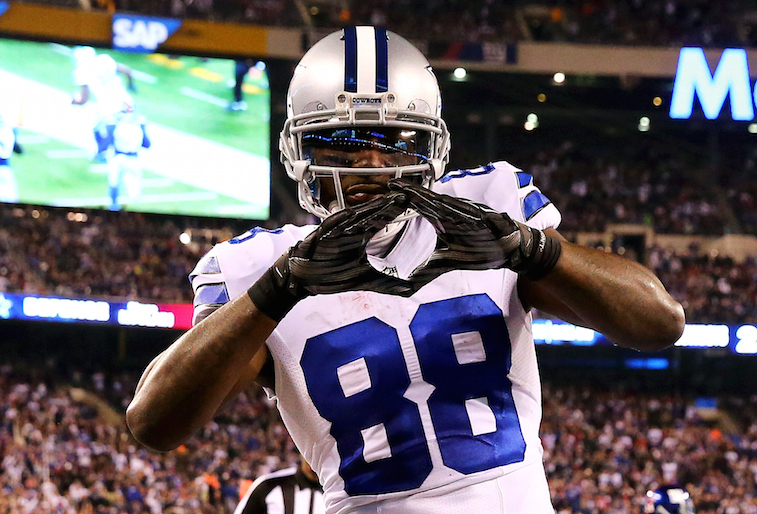 If there are two teams who really hate each other, it's the New York Giants and Dallas Cowboys. Seeing these two square off in Week 1 of the season is great TV, especially after we saw Odell Beckham Jr. make Brandon Carr just look silly last season:
For Cowboys fans, the catch was painful enough — imagine if the 'Boys hadn't won that game? — but the idea of a repeat performance would be even worse. Any chance the Dallas secondary locks in and does everything in their power to shut down Beckham Jr.? You bet. Will it work? Probably not.
There's quite a few storylines aside from Beckham Jr. and the massive rivalry between these two teams as well. One of them is the question of how replacing DeMarco Murray in Dallas will go. It seems as though Joseph Randle will likely be the one to carry the load, and we'll get to find out in prime time right out of the gate if he's capable of replacing Murray.
The Giants vs. Cowboys will always be a top game for TV ratings, but it should take the cake in Week 1, even though we do have plenty of other great games on the schedule.