NFL: The 5 Best Wide Receivers of the 2015 Season
To say that the NFL is loaded with absolutely electrifying wide receivers would be an understatement, but who are the five best in the league currently? While we've checked out the top five quarterbacks from the 2015 NFL season, let's see if any of their wide receivers wound up making the list of the best players at their respective position.
There's plenty of big names to sort through, and this is strictly based on the 2015 season. With that said, how a player's team did will be factored in to some extent, but it's going to be more focused on their statistical performances. We'll kick things off with the No. 5 wide out on this list, a man who many probably didn't expect to make this list.
5. Allen Robinson, Jacksonville Jaguars
Allen Robinson gets the nod over quite a few big names, but it's absolutely deserving. Not only did he finish up the year with 1,400 yards and 14 touchdowns, but he had a ridiculous 17.5 yard-per-catch average, which was by far the best of any player in the top 20 for receiving yards. Robinson became a go-to target for Blake Bortles this season, and he was originally snubbed in the Pro Bowl voting.
Fortunately, Robinson went as an alternate, and of course he had a big game. He has a ridiculously bright future and, all in all, you have to like what the potential future of Jacksonville's offense looks like with Bortles, Robinson, and Allen Hurns. Expect to see Robinson, who had 31 catches of 20-plus yards, make plenty more Pro Bowls throughout his career.
4. DeAndre Hopkins, Houston Texans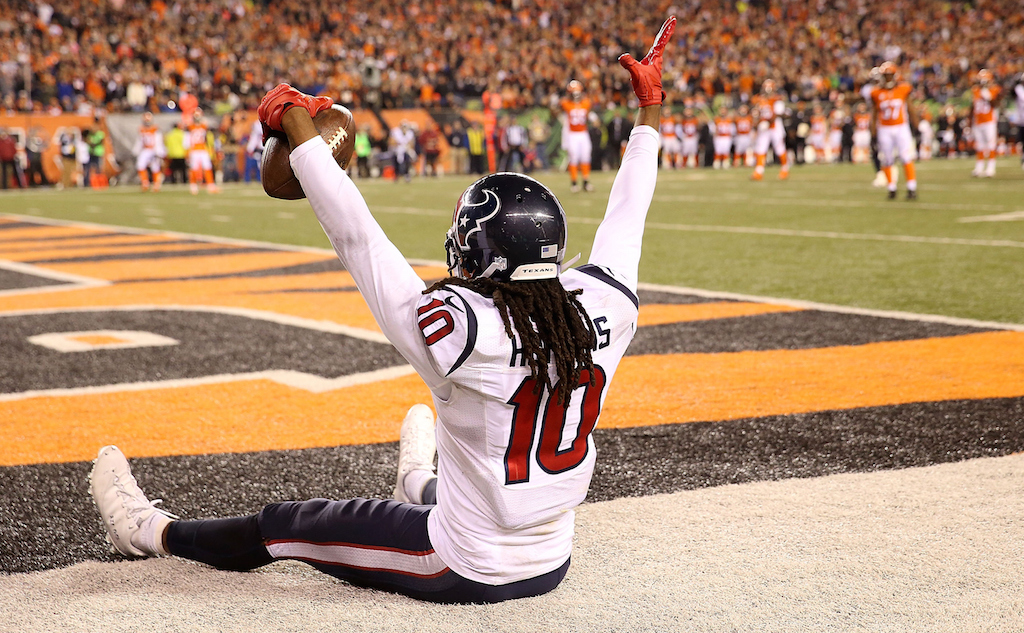 Texans fans will love not seeing DeAndre Hopkins in the top three here, but there's a valid argument for why the man in the No. 3 spot deserves to be here. For Hopkins though, his 2015 season was incredible. Not only did he have almost no consistency at the quarterback position, as the team had to play musical chairs at the position due to injuries, but he still managed to catch 111 passes on the season. The end result was 1,521 yards, 11 touchdowns and a season that has sent him in the direction of becoming an absolute superstar.
Hopkins saw a whopping 192 targets, which places him behind only two other players in the NFL (not surprisingly, two players who also made this list). If the Texans are able to figure out their quarterback situation in 2015, Hopkins will be another level of dangerous. Oh, let's also not forget that Houston's star wide out is only 23 as well, so we'll get plenty more years to see him dominate.
3. Brandon Marshall, New York Jets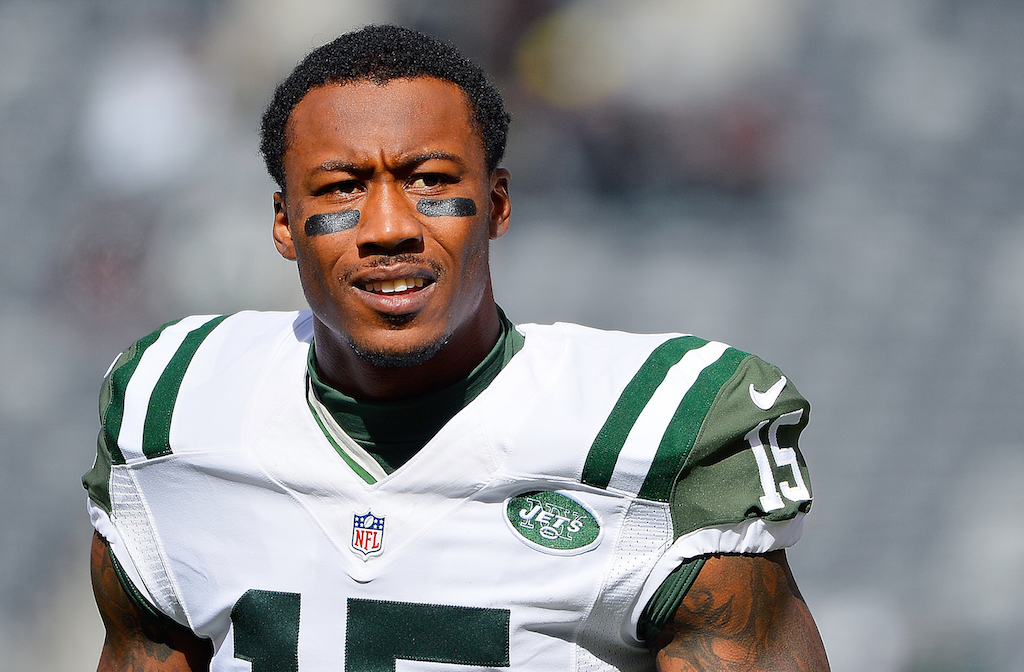 More than just a bit of praise should be sent in the direction of Marshall for his 2015 campaign. The man was a literal force for the Jets offense, and he quickly became the go-to option offensively for Ryan Fitzpatrick. He and Fitzmagic had a connection that you just couldn't overlook, and while they fell short of their playoff goal, Marshall seems to have found a home in New York.
His final season numbers included 109 receptions for 1,502 yards. He was also tied for the most receiving touchdowns in the NFL with Robinson and Doug Baldwin, at 14. It was great seeing Marshall become an offensive leader for the Jets, and while he's on the wrong side of 30 years old, he still managed to have the best season of his career. Marshall isn't slowing down anytime soon, and he'll be doing his all to get the Jets back into the playoffs in 2016.
2. Julio Jones, Atlanta Falcons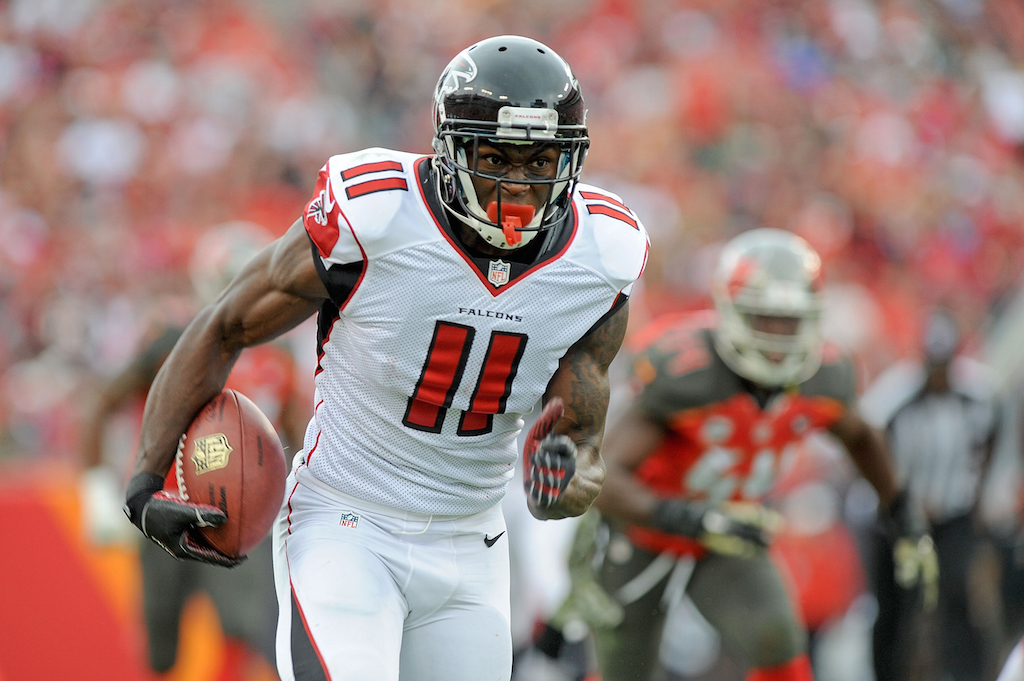 There's a pretty good chance we get some backlash for having Julio Jones as the No. 2 wide receiver on this list, but he and Antonio Brown had a few major differences that stand out. Regardless, what Jones did in 2015 was nothing short of spectacular, and it was one of the best seasons receiving in the history of the NFL. He's deserving of the top spot, but we'll call him 1B in this situation. The final stat line included 136 receptions for 1,871 yards and eight touchdowns.
Basically, Jones just ran over the competition all season long and refused to let anyone slow him down. When looking at the game log, he legitimately had two "bad" games, one of which was four catches for 38 yards against the Texans (a game they were up the entire time), then a loss to the Minnesota Vikings where he caught five balls for 56 yards. Aside from those two, Jones was stellar. He topped the 100-yard mark nine times this season and at age 27, he will likely dominate opposing defenses for years to come.
1. Antonio Brown, Pittsburgh Steelers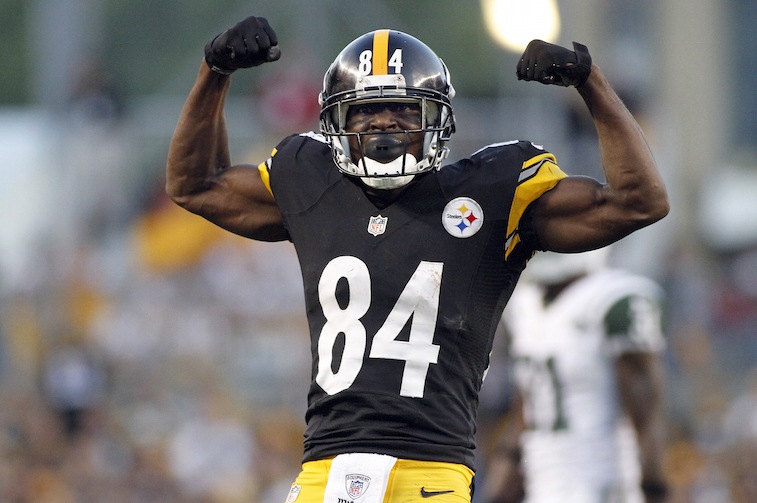 Time for the man we can call 1A, as Brown got it done in pretty much whatever form or fashion that you could imagine. What's even more amazing about his 136 catches, 1,834 yards, and 10 touchdowns is that he did it with three different quarterbacks. Ben Roethlisberger started just 12 games in 2015, so it fell on Mike Vick and Landry Jones to get him the ball, which obviously didn't work out great at all times.
Regardless, Brown topped 100 yards nine times as well, while also going over the 200-yard mark once. He had three multi-touchdown games and literally fueled a Pittsburgh offense that lacked running back Le'Veon Bell for the bulk of the season. It's tough to choose between Jones and Brown, but regardless, if one of these two players is on your favorite team, then you're probably a happy camper.
Statistics courtesy of ESPN.
Follow Jeff Smith on Twitter @JSM8ith