NFL: The 5 Most Crowded Backfields in Football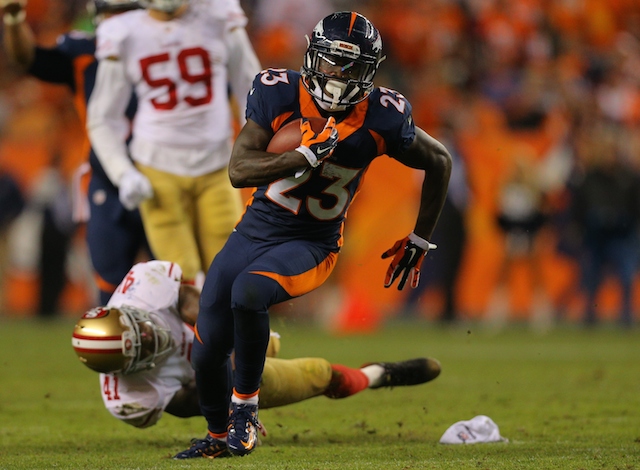 What's the old adage, two's company, three's a crowd? This well-known idiom has had extreme relevance during the 2015 NFL season so far, as multiple teams have adopted — whether through success or struggle — the "running back by committee" method.
Most teams probably envy the running game in places like Chicago, Minnesota, and Pittsburgh where they employ one elite running back and then a supporting cast. Due to injuries, poor play, and the such, the ground game in Denver, Cincinnati, Dallas, Arizona, and with one of the New York teams is jumbled to say the least.
It's fascinating to see just how many ups and downs there have been through six weeks of football, and nowhere is that roller coaster more present than with the running backs. Now, just because the following teams may not have a clear feature back at this juncture of the year doesn't mean they aren't having a strong start to the year. Interestingly in fact, two of the teams in this post currently hold undefeated records and another is 4-2 atop their division. The other two, well, they are co-leaders of their group, albeit with 3-3 marks.
Onto the list! Here are the five most crowded backfields in football.
Honorable mentions: Washington Redskins, New England Patriots, Detroit Lions
1. Denver Broncos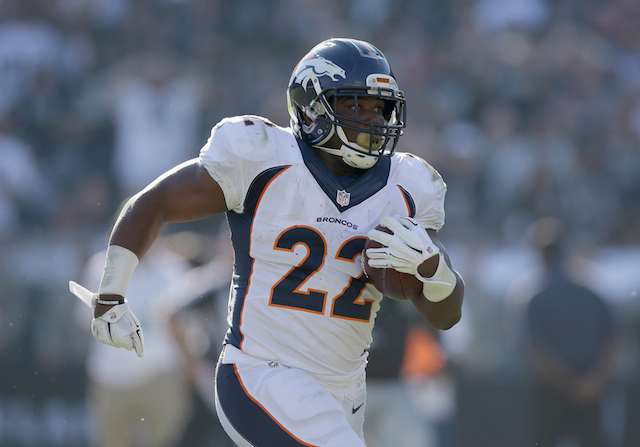 The main players:
C.J. Anderson (67 ATT, 180 YDS, 2.7 AVG, 0 TD, 13 REC, 100 YDS, 7.7 AVG, 0 TD, 0 FUM)
This was supposed to be C.J. Anderson's starting job. Following last year's late-season spurt, Anderson looked like the Denver running back of the future. Instead, as evidence by an abysmal 2.7 yards per carry, he has arguably been supplanted as the starter and has been one of the biggest disappointments in the entire league.
Ronnie Hillman (66 ATT, 323 YDS, 4.9 AVG, 2 TD, 6 REC, 13 YDS, 2.8 AVG, 0 TD, 0 FUM)
Ronnie Hillman has shown signs of brilliance over his 66 rushes so far, but that's nothing that the Broncos coaching staff hasn't seen before. After three clunkers to begin the 2015 season, Hillman burst out for 103 yards on 11 carries (including a 72-yard score) in Week 4 against the Vikings. Then he went for 21 yards on seven rushes the next game and most recently picked up 111 yards on 20 runs on Sunday.
Heading into their bye week, it's anybody's guess as to who the leading man in Denver is.
2. Cincinnati Bengals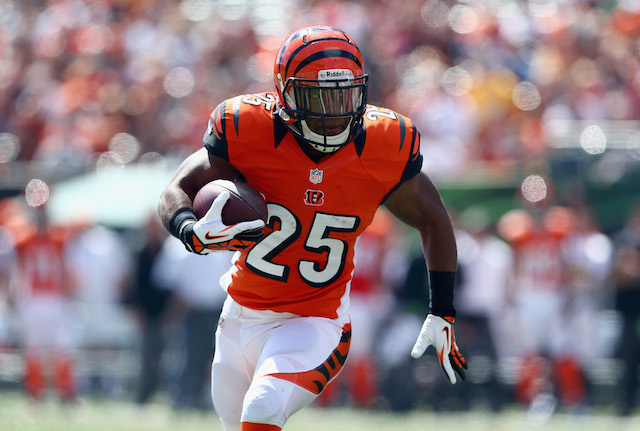 The main players:
Giovani Bernard (77 ATT, 427 YDS, 5.5 AVG, 2 TD, 18 REC, 119 YDS, 6.6 AVG, 0 TD, 0 FUM)
By the naked eye, the Bengals running attack looks to be eons ahead of the crew in Denver. 659 rushing yards on 151 attempts for seven touchdowns for the Giovani Bernard/Jeremy Hill combo sure looks better than 503 rushing yards on 133 attempts for zero touchdowns by Anderson and Hillman. However, the fact of the matter is that the 6-0 Bengals are in just as much of a jumble as the 6-0 Broncos. Bernard has just three more attempts than Hill but nearly 200 more yards gained. He's only scored two touchdowns as opposed to Hill's six (including his receiving TD.) With 18 catches, Bernard is the primary receiving RB though and has yet to fumble, whereas Hill has coughed it up twice. Confused yet?
Jeremy Hill (74 ATT, 232 YDS, 3.1 AVG, 5 TD, 3 REC, 27 YDS, 9.0 AVG, 1 TD, 2 FUM)
Back a few weeks ago, we broke down Hill's poor first few games as one of the fantasy football running backs off to pitifully slow starts. In his three games since, Hill has scored four touchdowns, which is great for fantasy owners. Over those games he has also run the ball 33 times for a whopping total of 109 yards, not great for fantasy owners. At least Hill appears to be over his fumbling issues (for now), having secured the ball with each attempt in the last four games.
As this breakdown from NFL.com shows, Hill has become a very touchdown-dependent fantasy player while Bernard has had some solid games even without reaching pay dirt. Barring a serious injury, we don't expect this duo of backs to be settled anytime soon.
3. Dallas Cowboys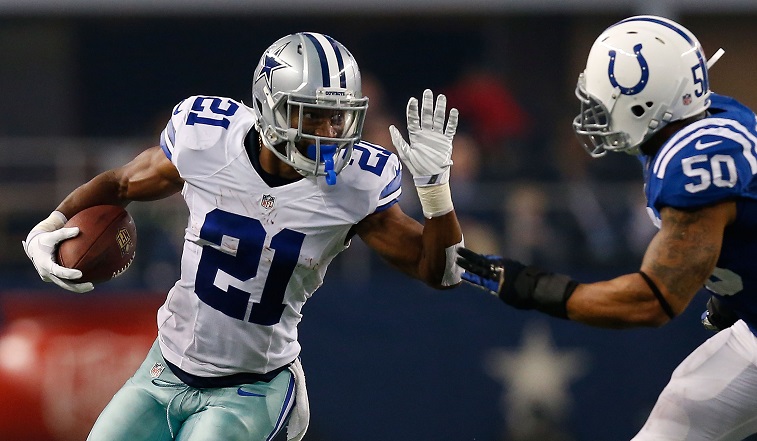 The main players:
Joseph Randle (74 ATT, 289 YDS, 3.9 AVG, 4 TD, 10 REC, 87 YDS, 8.7 AVG, 0 TD, 1 FUM)
Joseph Randle may be slowly creeping toward feature back status, but he is far from an every-down running back. With 74 attempts, the 23-year-old has double the amount of carries as any other Cowboys RB, but the team — particularly the offense — is one that has been ravaged by injuries. Aside from a monster Week 3 performance where he ran for 87 yards and three touchdowns, Randle has been mediocre out of the backfield.
Darren McFadden (37 ATT, 129 YDS, 3.5 AVG, 1 TD, 12 REC, 102 YDS, 8.5 AVG, 0 TD, 0 FUM)
The 2008 fourth overall pick, Darren McFadden, is remarkably in his eighth professional season. After seven largely unsuccessful years in Oakland, McFadden was picked up by Dallas last summer as one of the backs hoping to fill the void left by DeMarco Murray's departure. With the season-ending injury to Lance Dunbar earlier in the month, McFadden is clearly the main pass-catching running back in the Dallas system.
Though the Dallas backfield appears to be clearing up a bit with Randle as the primary ball carrier and McFadden as a supplement and receiving back, things may get more fuzzy soon. Cowboys management is apparently very high on third-year back Christine Michael, and despite just two carries in his first pair of games, we wouldn't be surprised to see him dig into some of Randle and McFadden's touches soon.
4. Arizona Cardinals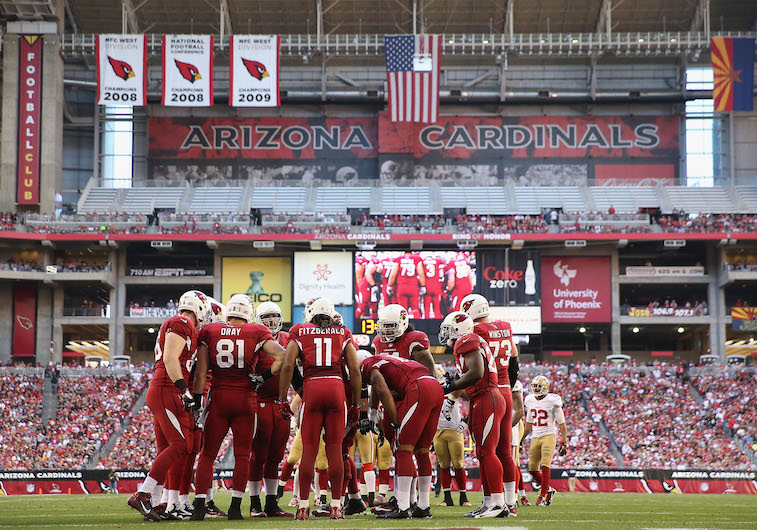 The main players:
Chris Johnson (93 ATT, 445 YDS, 4.8 AVG, 2 TD, 5 REC, 56 YDS, 11.2 AVG, 0 TD, 0 FUM)
Chris Johnson — formerly known as "CJ2k" — has been the lead runner on a daunting Arizona Cardinals offense this season. Of course, quarterback Carson Palmer and his wide receiver weapons are the focal point of the attack, but Johnson has chipped in with a couple of terrific outings as well. In weeks three, four, and five, No. 23 picked up nearly 300 yards of rushing and scored his two touchdowns as well. Last week he ran for an inefficient 40 yards on 14 tries though and if the Cardinals are going to continue to give the ball to Johnson each week, it comes with a risk.
Andre Ellington (16 ATT, 139 YDS, 8.7 AVG, 2 TD, 3 REC, 54 YDS, 18.0 AVG, 0 TD, 1 FUM)
Although he's been plagued by injuries, when he's in action, Andre Ellington has shown electric stuff. So far he's played in only three games and ran the ball 16 times. In the extremely limited opportunities though, Ellington has shown quickness, garnering nearly nine yards per touch. Back during his rookie year of 2013, Ellington led the league in YPC, picking up an average of 5.5 yards. He's significantly smaller than Johnson, but Ellington has that elusiveness that his counterpart does not.
Along with the two aforementioned backs, David Johnson has seen decent action in the young season. The rookie was mostly used during Ellington's three-game absence, but with his large size advantage over the other two guys, Johnson has been solid when on the field. He's punched in three touchdowns on just 21 carries and could be a good goal line/third down option.
5. New York Giants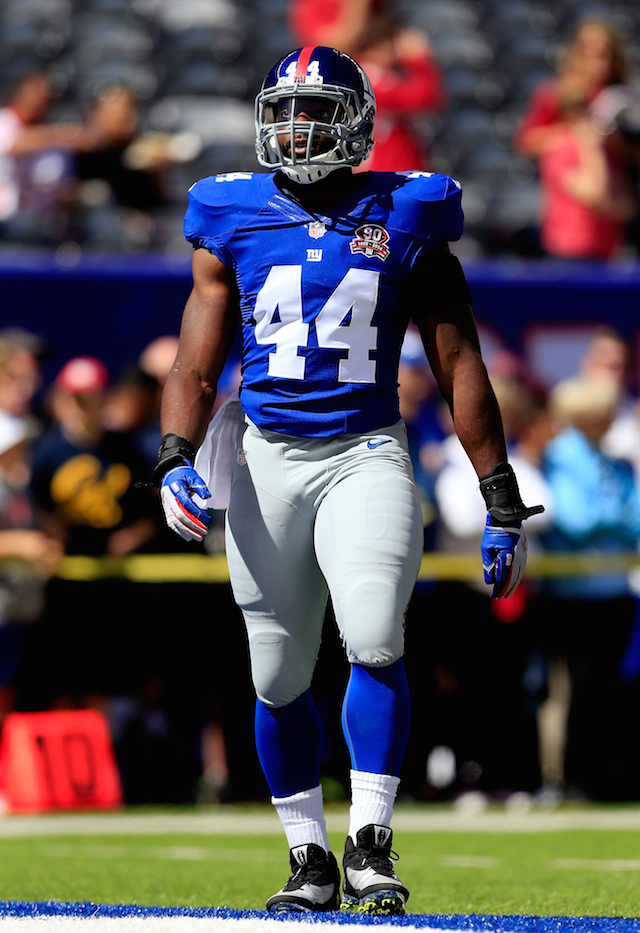 The main players:
Rashad Jennings (66 ATT, 243 YDS, 3.7 AVG, 1 TD, 14 REC, 132 YDS, 9.4 AVG, 1 TD, 1 FUM)
Ranking 28th in the NFL at just 89.5 rushing yards per game, the New York Giants' three-headed "monster" of a run game has been terrible so far. "Leading" the way is Rashad Jennings, who has just 243 yards on 66 carries. Jennings has shown plenty of value in the passing game though, hauling in 14 catches for 132 yards and a score.
Andre Williams (45 ATT, 127 YDS, 2.8 AVG, 1 TD, 0 REC, 0 YDS, 0.0 AVG, 0 TD, 0 FUM)
Andre Williams has been the least valuable of the trio. The Boston College product has played horrendously the last two games, totaling six yards on eight carries. Offering no production in the passing game, Williams may soon be phased out completely.
Shane Vereen (29 ATT, 101 YDS, 3.5 AVG, 0 TD, 21 REC, 214 YDS, 10.2 AVG, 1 TD, 0 FUM)
Shane Vereen came over from New England in the off-season, looking to shore up a solid group of running backs. Instead he has struggled to find running room and has only given the Giants something positive as a receiver. Once the New York receiving corp. gets healthy (if it ever does), Vereen could be exposed and he may cede some of his opportunities to Jennings.
Jennings is probably the lead-back by default, but at this point, none of the players have come close to taking hold of this position.
All data courtesy of NFL.com, Pro-Football-Reference.com and ESPN.com.
Follow Victor on Twitter @vbarbosa1127