NFL: The 5 Most Ridiculous Features of LA's Proposed Stadium
You've already seen what it would look like if the St. Louis Rams were to migrate back out west. However, if the Oakland Raiders and San Diego Chargers have their way, they'll be the ones bringing the National Football League back to Hollywood.
The two AFC West clubs — who would be willing to change divisions to make this dream a reality — proposed a joined $1.78 billion stadium to be located in the city of Carson — some 12 miles south of Los Angeles.
The renderings of this design, showed a stadium that will feature all the bells and whistles you'd expect for one situated in LA. It will have an open-air concept, seat 65,000 people, and be nothing short of luxurious. At least that's what one can take away from the promotional video — narrated by Kiefer Sutherland — used to sell the new stadium as one "designed to be an instant classic."
Along those same lines, Sutherland also says in the video, "Sunshine. Beaches. Hollywood. Where anything is possible." Considering the amenities presented in this particular proposal, that suggestion is actually not so far-fetched. There is so much happening in this design, so many features that you'd never expect to see in — or around — a football stadium, that there's no denying what city this is meant to represent.
We wish we were exaggerating. Unfortunately, we may even be underselling the whole undertaking. If you don't believe us, see for yourself. Here's a look at the five most ridiculous features of the proposed Los Angeles stadium in Carson.
1. Making Tailgating "Premium"
L.A.'s NFL stadium has a farmer's market, and a sign in case you forget what city you're in: http://t.co/sQNep2r4e3 pic.twitter.com/VLnlEdxDVr

— SB Nation (@SBNation) August 18, 2015
Most fans prefer to tailgate with some cold brews and a legit grill session. Not in Los Angeles. Here's it's all about healthy living, local cuisine, and all-natural goodness. Which is why there will be a sweet farmer's market right outside the new stadium. Just because the players will be doing damage to their bodies, that doesn't mean you have to as well. Am I right?  
2. The Lombardi Trophy never looked so BIG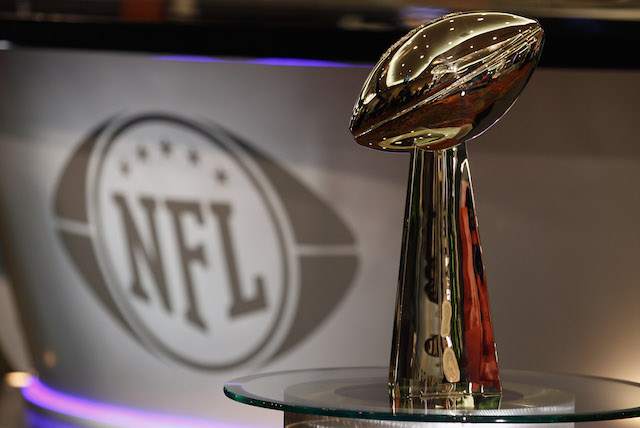 In an earlier rendering of the design unveiled in April, the stadium featured an encased tower — roughly 120-feet-tall — with a cauldron that could simulate lighting for when the Chargers played or a big flame to honor the late Al Davis when the Raiders took the field. That element is no longer part of the new design. Instead, it has been replaced by a massive Lombardi Trophy located within the stadium itself. This is clearly there to remind people of what's at stake come the end of the NFL season. Or so we think. We're not really sure.
3. Have you seen the bar?
Los Angeles unveiled the design for its NFL stadium, and it couldn't be more L.A.: http://t.co/sQNep2IF5B https://t.co/43QvuDTQLl — SB Nation (@SBNation) August 18, 2015
Of course you have. It's everywhere. It's 56,000 square feet. This is nothing like going to a football game and grabbing a cold drink. This is socializing at it's finest, with the opportunity to watch an NFL game going on behind you — if you so choose. At least we think there's a game going on. We're not sure. We've haven't left the bar. 
4. Parking made easy if you're a VIP
See the Chargers/Raiders pitch to the NFL to build a ridiculous football stadium in Carson: http://t.co/zSJaEfIbw2 pic.twitter.com/TESjJPTQCS — CurbedLA (@CurbedLA) August 18, 2015
Who has the time to look for spot anyways?  This is L.A., where valet parking is more readily available than drinking water. Considering this stadium has beautiful Academy Suites, which include a "club within a club," it only makes sense to have someone else park your car for you. Of course, if you want this piece of luxury at your disposal, you better be a VIP. If not, it looks like you'll be walking from the parking lot to the stadium. How unfortunate for you.
5. Nothing like the on-field experience
A look at the proposed NFL stadium in Carson, which could be the future home of the Los Angeles Raiders & Chargers. pic.twitter.com/rMaLzXmiSi — Arash Markazi (@ArashMarkazi) August 18, 2015
If you're interested in "blurring the line between spectator and teammate," (Jack Bauer's words, not ours) and have the big bucks to make it happen, this stadium has an on-field patio — also know as the Directors Club — available that will put you right in the action. Or at least as close to the action as humanly possible. We can't wait to see how this one plays out. This is Los Angeles. What could possibly go wrong?
All information is courtesy of SB Nation, ESPN.go.com, and the Los Angeles Times.
To see the video tour of the proposed Carson stadium — narrated by Kiefer Sutherland, and captured by David Crane on Tout — click here.