The 5 Most Surprising NFL Players in 2015
Player personnel conversations this offseason typically revolved around head coach Chip Kelly and the very top of the NFL Draft. In Philadelphia, Kelly completely overhauled the roster, parting ways with Nick Foles and LeSean McCoy in exchange for Ryan Mathews, DeMarco Murray, Kiko Alonso, and Sam Bradford.
This frantic offseason even included a brief appearance by Tim Tebow — at Eagles camp. At the time, various league insiders even speculated that Kelly was compiling assets in order to make a move up in the draft and take Heisman Trophy winner Marcus Mariota.
What a difference nine games makes. The Offensive Rookie of the Year is still a two-horse race, now between Amari Cooper and Todd Gurley instead of rival quarterbacks Jameis Winston and Mariota. Meanwhile, the high-profile Eagles have been up and down all season, struggling to keep pace in the weak NFC East.
For many, these five players have emerged as pleasant surprises, from the hot shot rookie tearing up the league to the grizzled veteran out to prove that he still has a lot left in the tank.
5. Marcus Mariota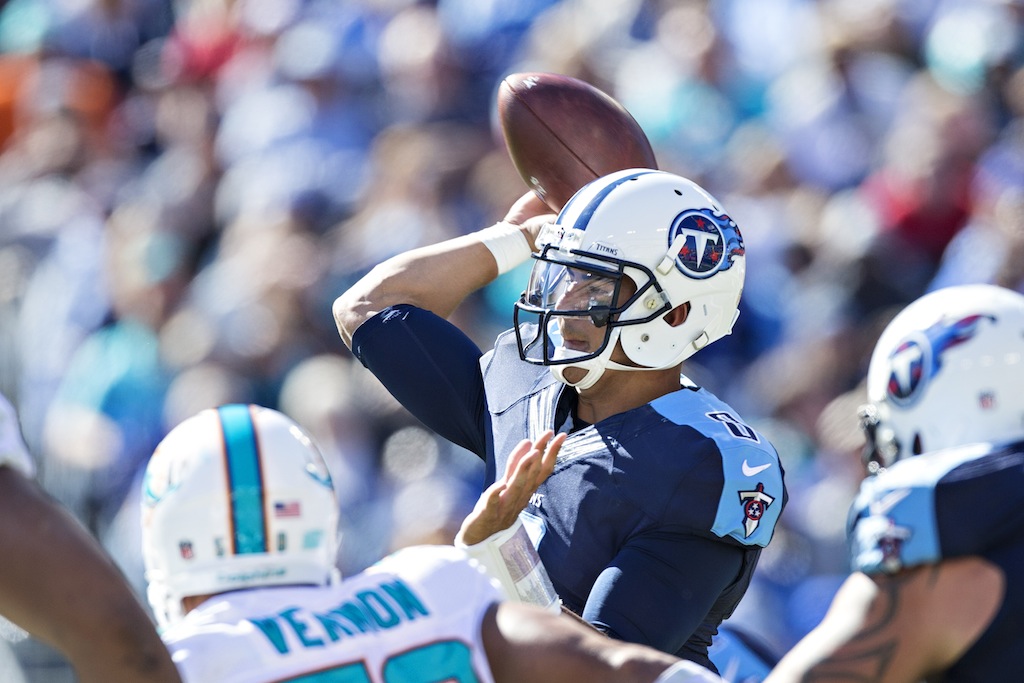 Heisman trophy-winning quarterbacks Winston and Mariota were 1A and 1B heading into the 2015 NFL Draft. After championship quarterback, Winston, went 26-1 while running a pro-style offense at Florida State, scouts believed they had a turnkey starter in the mold of a Ben Roethlisberger. Alternatively, Mariota was more of an unknown commodity; sometimes dismissed as a "system quarterback" apparently only racking up gaudy stats due to the freewheeling shotgun spread attack in Eugene.
Keeping with these assessments, Winston went to Tampa Bay as the first overall pick, and Mariota slid down to two for Tennessee, where it was assumed that he would develop slowly. Mariota, however, never got the memo. In his opening day start, he went on to shred the Buccaneers for four touchdowns and 209 yards, off 13-for-16 passing. By the fourth quarter, Mariota was done for the day, relishing this 42-14 blowout. On the opposing sideline, Winston had a rough go at it, tossing two picks and completing less than half of his passes against NFL completion.
Mariota, as to be expected, has been somewhat inconsistent through his first season. The rookie takes sacks often and has already missed three games of action as he battles through a series of nagging injuries. Still, a hot Mariota is already one of the more dangerous weapons in all of football. As a professional, he shows flashes of great poise in the pocket, deft touch, and the ability to take off and run to move the chains, as a last resort. In Week 9, Mariota completed 72% of his passes, going over the top for 371 yards and four touchdowns and winning a 34-28 shootout over Drew Brees and the New Orleans Saints.
4. Richie Incognito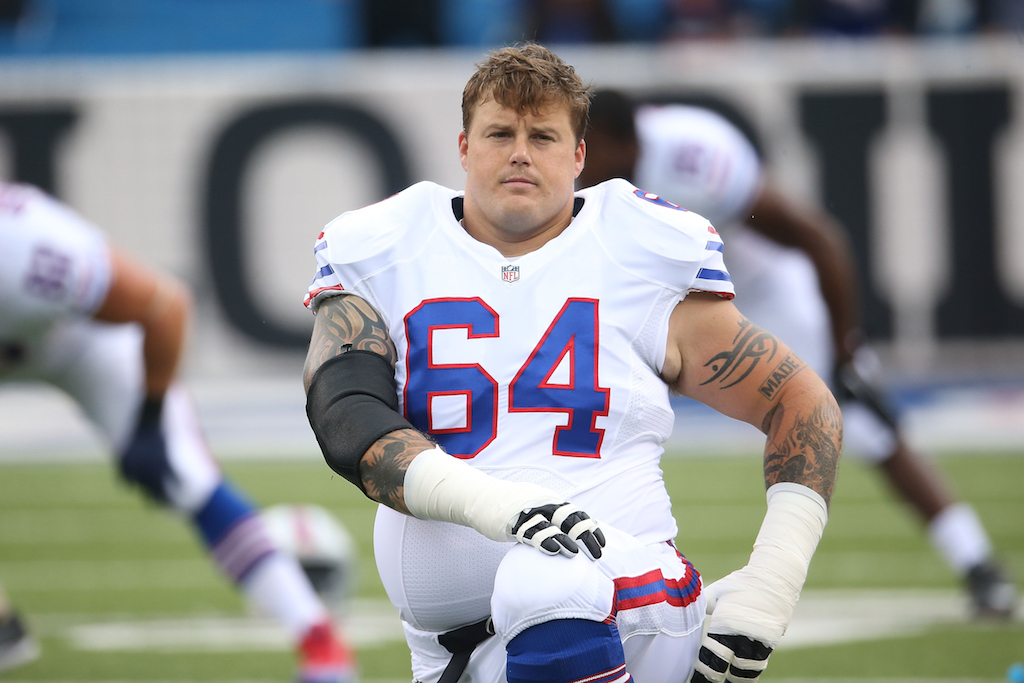 Richie Incognito has lived up to his surname this season for all the right reasons. Beyond Incognito, the Buffalo Bills cast of characters now includes the likes of Rex Ryan, Sammy Watkins, LeSean McCoy, and IK Enemkpali. Ryan, in his first trip back to the Meadowlands, presented Enemkpali as a team captain. The Bills, of course, snapped Enemkpali off waiver wires after the linebacker broke then-starting quarterback Geno Smith's jaw, immediately being cut by the Jets. Meanwhile, a hobbled Watkins was sparring back and forth with fans on social media, and dismissing many of his detractors as "losers."
Incognito, against this backdrop, has filled in as a nearly literal choir boy, while also quietly emerging as one of the best guards in all of football. Incognito has been especially good in pass protection, where he has helped clear out passing lanes for Tyrod Taylor, who actually leads the league in completion percentage, at 70%. In the running game, Incognito is a devastating blocker out on the edge as a pulling guard. The Bills, largely behind Incognito, now top the NFL in rushing, with 142 yards per game on the ground. McCoy has already racked up 640 yards rushing through nine games, while rookie running back Karlos Williams has ripped off a league-leading 6.2 yards per carry.
As recently as 2013, Incognito was the reigning bad boy of the NFL. It was that season, when Incognito, after multiple scrapes at Nebraska, Oregon, and St. Louis, became even more infamous for his role in bullying line-mate Jonathan Martin. After being suspended by the Dolphins, Incognito found himself out of football in 2014, openly wondering if he would ever even suit up again. The Buffalo Bills, however, came calling this offseason and signed Incognito to a one-year, $2.3 million contract.
3. Amari Cooper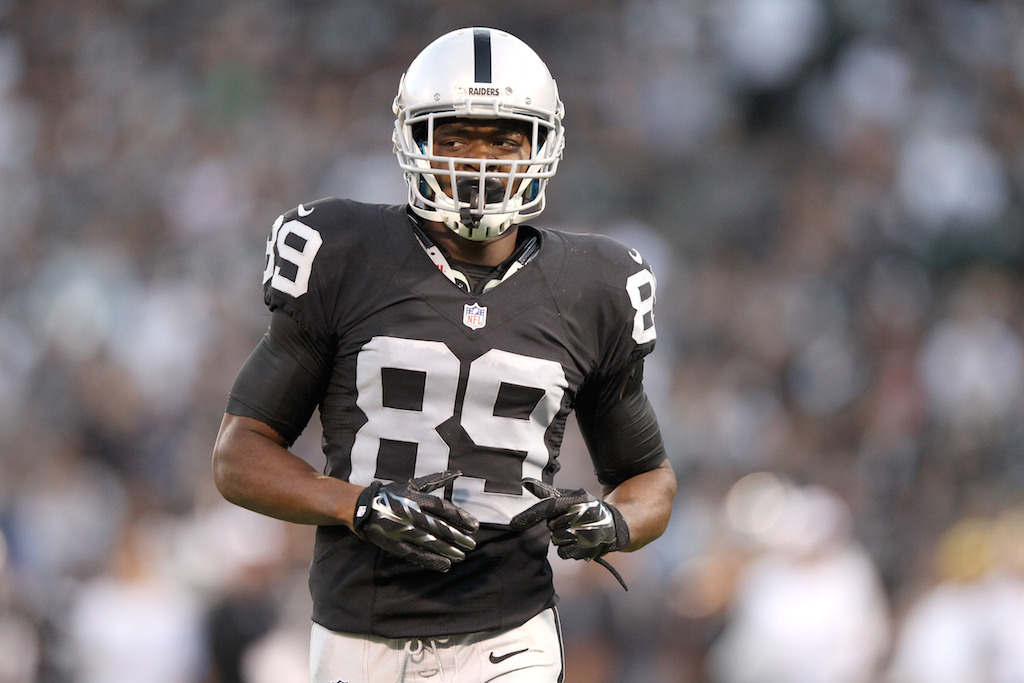 The Oakland Raiders last made the playoffs in 2002, when the Rich Gannon-led franchise suffered through a humiliating 48-21 blowout loss to former head coach Jon Gruden and his Tampa Bay Buccaneers in Super Bowl XXXVII. Nine years later, in 2011, the Raiders lost iconic owner Al Davis to congestive heart failure. In the '70s, Davis reinvented the game of football, with his commitment to the vertical passing game, physical play, and embrace of talented yet apparently troubled players. After that, the Silver and Black lacked any semblance of a real identity for several years.
The Raiders, however, do finally appear to be righting the ship, in matching Amari Cooper, this year's fourth overall draft pick, alongside quarterback Derek Carr, last year's 36th overall pick. AC-DC has rapidly emerged as one of the most electric QB-WR combinations in the game of football. Carr, for his part, appears to have taken "the leap" this season, completing 64% of his passes for 2,396 yards and 21 touchdowns, against only six interceptions.
Cooper did take home the Biletnikoff Award for his junior (and final) year at Alabama, when he racked up a staggering 124 catches for 1,727 yards and 16 touchdowns. NFL scouts then offered high praise to Cooper for his quickness in and out of his breaks, high top-end speed, and uncanny ability to snag the football in traffic. This skill set transferred well to the professional level, where Cooper has already established himself as one of the best receivers in the NFL. For this season, he has hauled in 50 catches for 732 yards and four touchdowns.
 2. Chris Johnson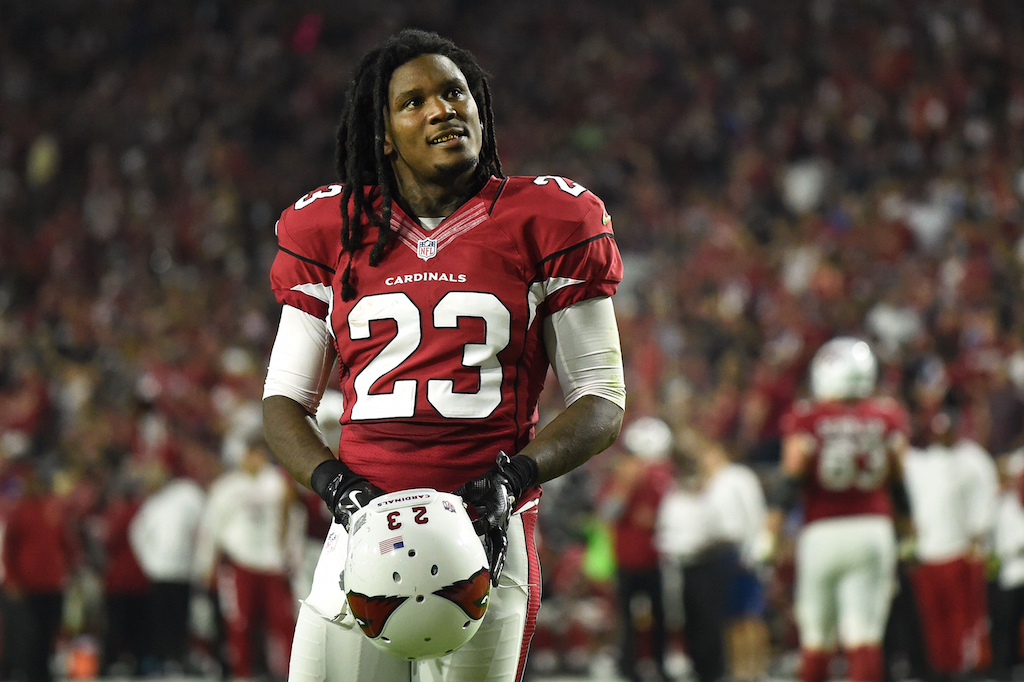 As a group, Carson Palmer, Larry Fitzgerald, and Chris Johnson have all received their second wind in the Valley of the Sun, after staring down mounting chatter and real concerns of being "washed up." Johnson did pack his bags for Arizona on the wrong side of age 30, when the great majority of speedsters lose a step and are helpless to stop their production from total collapse. Last season, Johnson was a backup, churning out 663 yards on the ground for a Jets team that went 4-12. His stint in New York was a far cry from his glory days in Tennessee, where he had that extra gear to race out for more than 2,000 yards in one season.
Johnson, now in the third act of his career, appears to have reclaimed much of his great burst after being used sparingly last season. He is still especially dangerous out on the edge, where he appears to effortlessly glide past lumbering outside backers. As a playmaker, Johnson remains on the short list of raw athletes who threaten to go the distance and score with every touch of the football. By Week 9, he has already compiled more than 700 yards rushing, with a long gain of 62 and an explosive 4.8 yards per carry average.
Perhaps most important is the fact that Arizona is 7-2, with the inside track on the NFC West division title. Johnson, despite being recognized as one of the more electric backs of his era (now fourth among active rushers), has only played in one playoff game over the course of his eight-year NFL career.
 1. Todd Gurley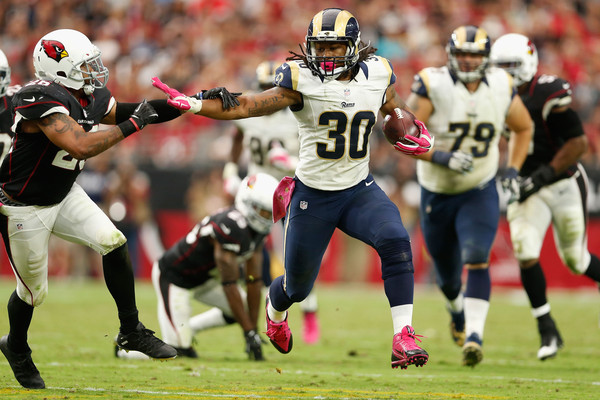 During the 2015 NFL Draft, Todd Gurley slipped to the Rams to pick up at 10 after enduring a disastrous junior season at the University of Georgia; at one point he was actually suspended indefinitely while the NCAA conducted its own investigation for rules violations. This indefinite suspension was ultimately shortened to four games after the NCAA rules committee discovered that Gurley had accepted $3,000 in exchange for autographed memorabilia. Gurley, however, went on to blow out his knee in his first game back against SEC rival Auburn.
The Rams, for their part, did commit to bringing Gurley along slowly this season, in holding him out of full contact practices and preseason games. Gurley did not see in-game action until Week 3, when his workload was limited to six carries for nine yards against the Pittsburgh Steelers. The following week, against Arizona, he was credited with two first-half rushing yards.
For Gurley, a star was born in the second half of his second game in the NFL. After halftime, he came back to rip off one 52-yard run, en route to racking up 144 yards on the ground that half in Arizona. From there, Gurley went on to rumble for more than 125 yards through four consecutive games. Todd Gurley, at 6-feet-1-inches and 225 pounds, may very well be the best combination of size and speed to enter the league and immediately run roughshod over defenses since Adrian Peterson.
Statistics courtesy of ESPN.com and Pro-Football-Reference.com.