NFL: The 5 Worst Fantasy Running Back Pickups in 2015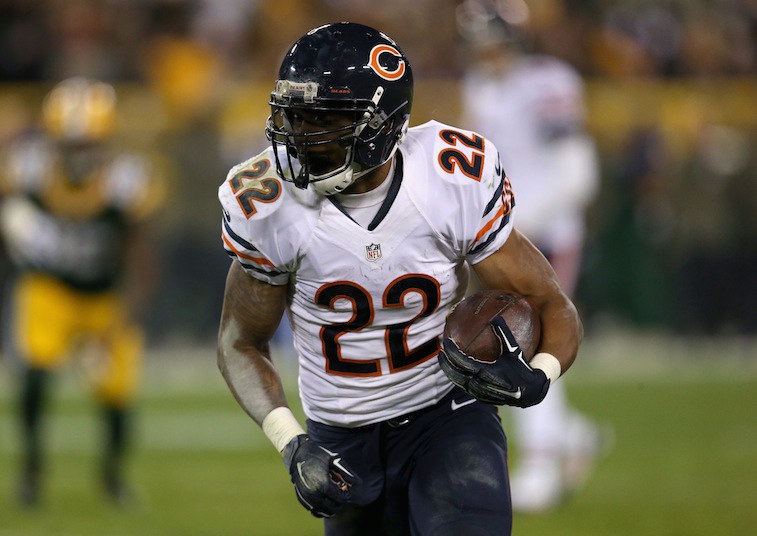 Like any other form of competition, fantasy football is all about strategy. Taking into consideration how players performed the year before is obviously a great place to start, but it's not the only thing you should look at when hoping to construct a championship-caliber team. Not even close.
You need to look at the big picture. You need to think about age, injury history, and the overall mileage on a player's body. You have to be aware of their team's schedule, the depth of the club's roster, and whether the offensive scheme plays into their strengths. If you haven't done your research, and you have a draft coming up, we suggest you get on that. However, if you're one of those people who tends to roll the dice, let us give you one small piece of advice: It's all about the running back.
If you're able to get quality play from the running back position, there's no reason why you shouldn't be in each and every game. Of course, if your back isn't getting it done on the ground and not finding their way into the end zone, you could be in for a long NFL season.
But here at The Cheat Sheet, we don't want that to happen to you. We want to help put you in the best situation to succeed, by advising you on which running backs you might not want to select this year. After all, we already told you which quarterbacks would be the worst fantasy pickups this season, it wouldn't be right if we just stopped there.
With that in mind, these are the five worst fantasy running back pickups in 2015.
1. Alfred Morris, Washington Redskins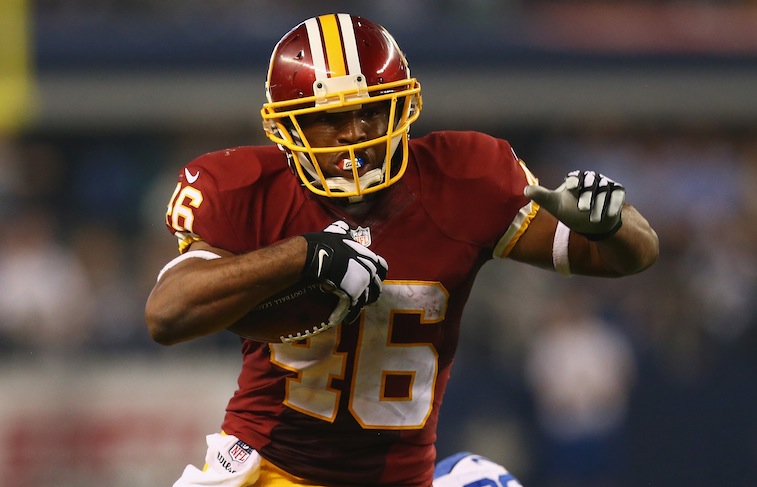 Since coming into the NFL as a sixth round in the 2012 draft, Alfred Morris has been to the Pro Bowl twice and run for over 1,000 yards in each of his first three seasons. However, never before has he been part of such a dysfunctional Washington Redskins team.
The drama surrounding embattled quarterback Robert Griffin III has reached epic proportions, and we don't see it dying down anytime soon. On top of that, aside from Trent Williams — and his record-setting extension — Washington's offensive line is an absolute mess, and head coach Jay Gruden will most likely find himself on the hot season all season. Best of luck to Alfred Morris — and recently-named starter Kirk Cousins — you're both going to need it.
2. Darren McFadden/Joseph Randle, Dallas Cowboys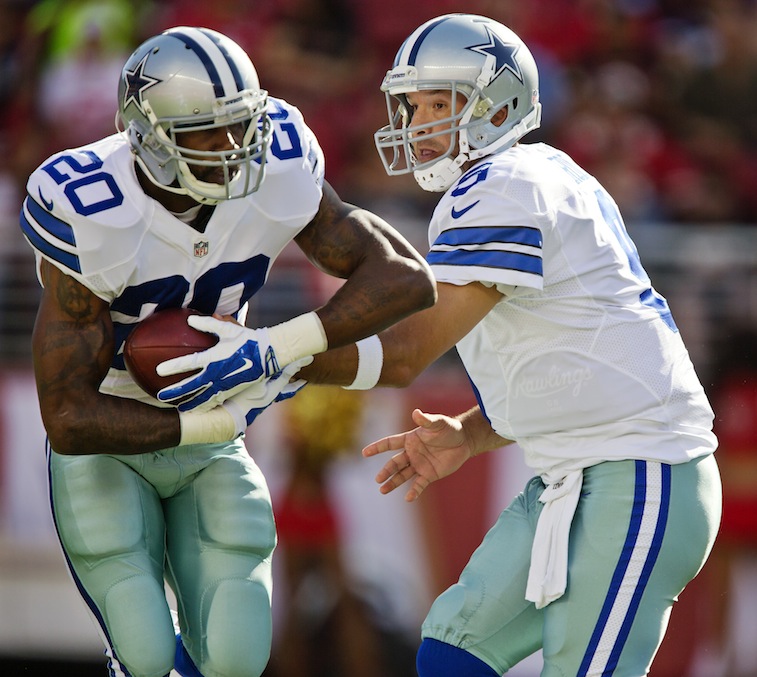 The Dallas Cowboys have such faith in their offensive line that, despite losing DeMarco Murray in free agency, they opted not to select a running back in the 2015 draft. As a result, this leaves the defending NFC East champions looking at a running back by committee — with Joseph Randle and Darren McFadden (above left) preparing share to the load.
Neither back has separated himself from the other, so we're working under the assumption that this is how it's going to be throughout 2015. Therefore, while there's no denying the skill of Dallas' O-line, we just don't see it making much difference. Even when combined, McFadden and Randle are no Murray. Fact.
3. Frank Gore, Indianapolis Colts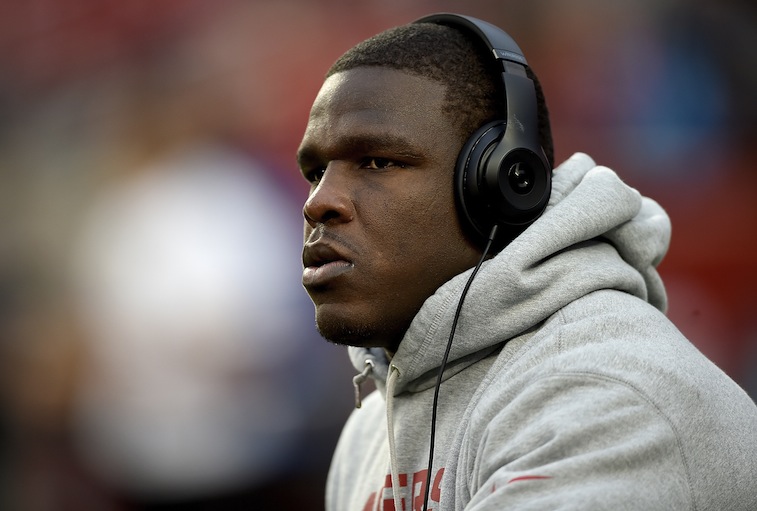 Frank Gore heads into his first season with the Indianapolis Colts following a 2014 season that saw him run for 1,106 yards and four touchdowns. He nows joins a group with a stud quarterback, a potent offense, and lofty expectations. But here's the thing, we don't care how much of a "football God" Gore thinks Andrew Luck is, that's not necessarily going to help his fantasy value.
The Colts run a pass-heavy offense and their offensive line is questionable at best. Add in the fact that Gore is now 31 years old with plenty of wear and tear on his body, and we don't see how anyone could possibly think he's going to have a breakout season. It might be smart to steer clear on this one.
4. Matt Forte, Chicago Bears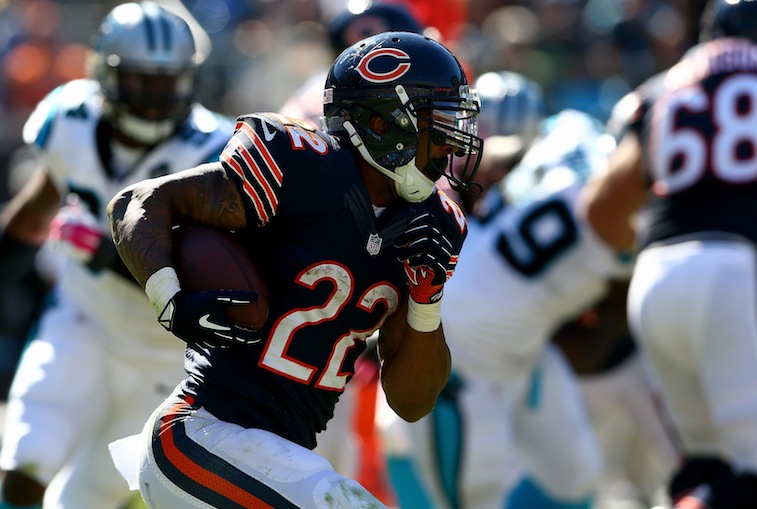 Normally we'd be all for Matt Forte. He gets his touches, he consistently runs for 1,000 yards-plus a season, and he gets into the end zone. These are qualities that every fantasy owner wants in their running back. But we aren't expecting much from the Chicago Bears this season and, therefore, cannot throw out full weight behind the Pro Bowl running back.
Forte has had a heavy workload for the bulk of his career and now he finds running behind a terrible O-line, and now finds himself as part of an offense that lacks any real receiving weapons for quarterback Jay Cutler. The 2015 season has the potential to be brutal for No. 22 on the Bears.
5. DeMarco Murray, Philadelphia Eagles
Following a 2014 season that saw him lead the league in rushing — with 1,845 yards on the ground — you'd have to assume DeMarco Murray would be slam dunk fantasy selection. Unfortunately, that's not necessarily the case. It's impossible to forget that the Cowboys gave him 392 touches last year. That's a lot of miles on the body — which had to have been physically daunting.
With Murray now part of the Philadelphia Eagles' three-headed running back monster, you can expect him to be involved in a more balanced attack that attempts to limit the the abuse on his body. Murray will be put in the best possible position to find success in 2015 — that's what Chip Kelly does — but don't expect the numbers to come close to those from his 2014 campaign. Therefore, we wouldn't go out of our way to draft DeMarco Murray.
All statistics are courtesy of Pro-Football-Reference.com.