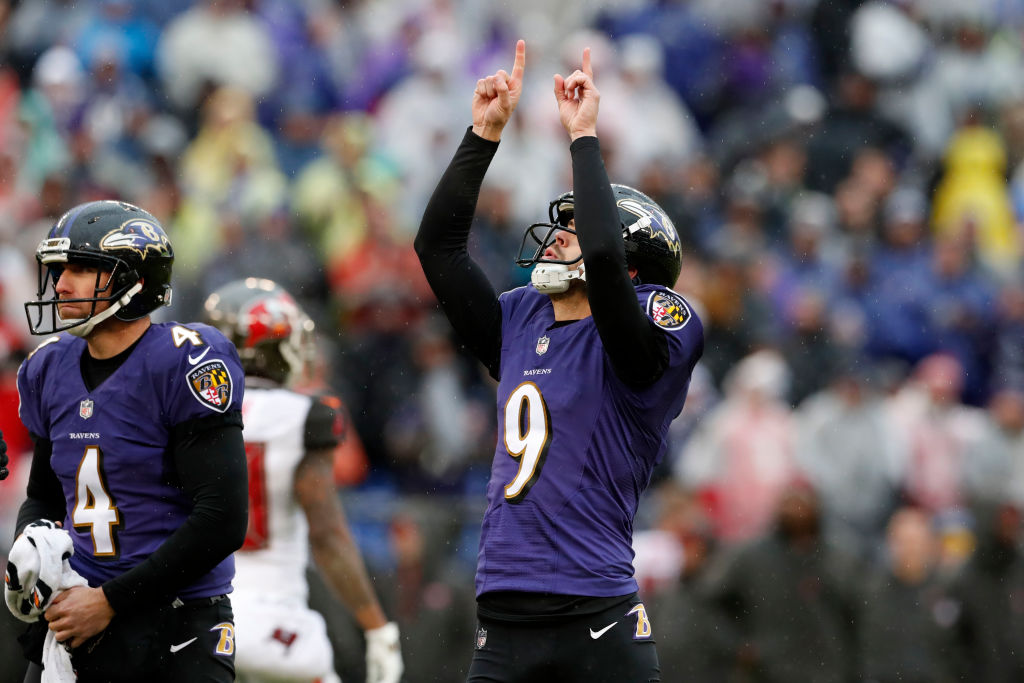 NFL: The 6 Highest-Paid Field Goal Kickers in 2019, led by Mason Crosby
Mason Crosby was far from the best field goal kicker in the NFL in 2018, but he'll be the highest-paid one in 2019. Who else made the list?
In 2018, only eight kickers hit 90% or more of their field goal attempts. Three hit over 95% with Robbie Gould at 97.1%, Aldrick Rosas at 97%, and Matt Bryant at 95.2%. But despite their strong performances last season, Rosas and Bryant aren't among the top six highest-paid kickers in 2019. In fact, none of the kickers who went over 90% besides Robbie Gould are. Here's the list of the six kickers that are due for the biggest paydays in 2019.
1. Mason Crosby, Green Bay Packers: $4,850,000 in 2019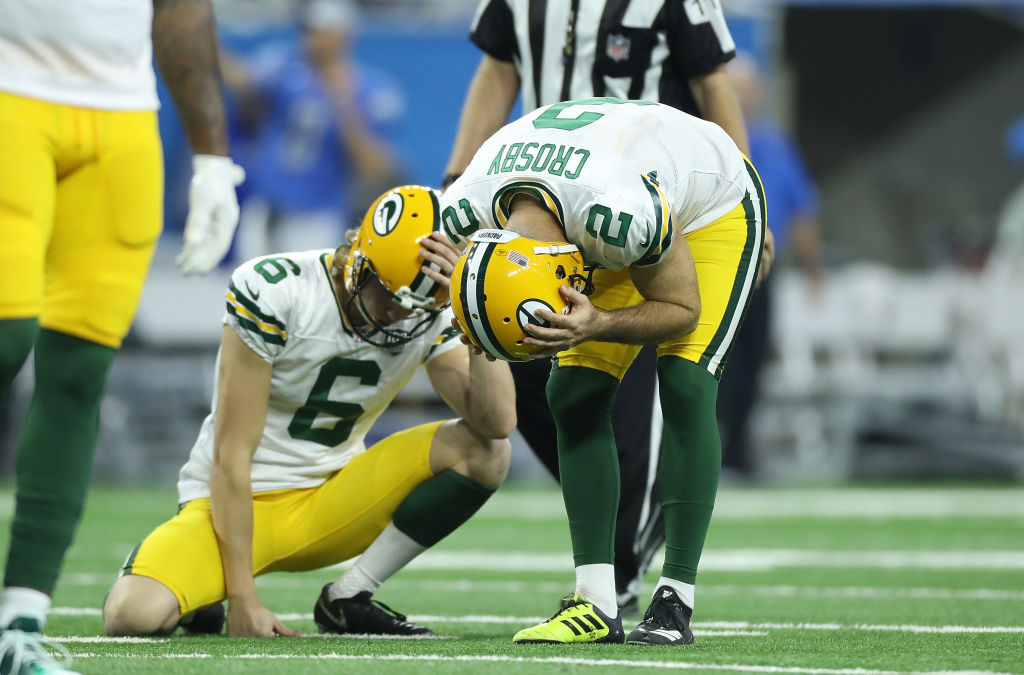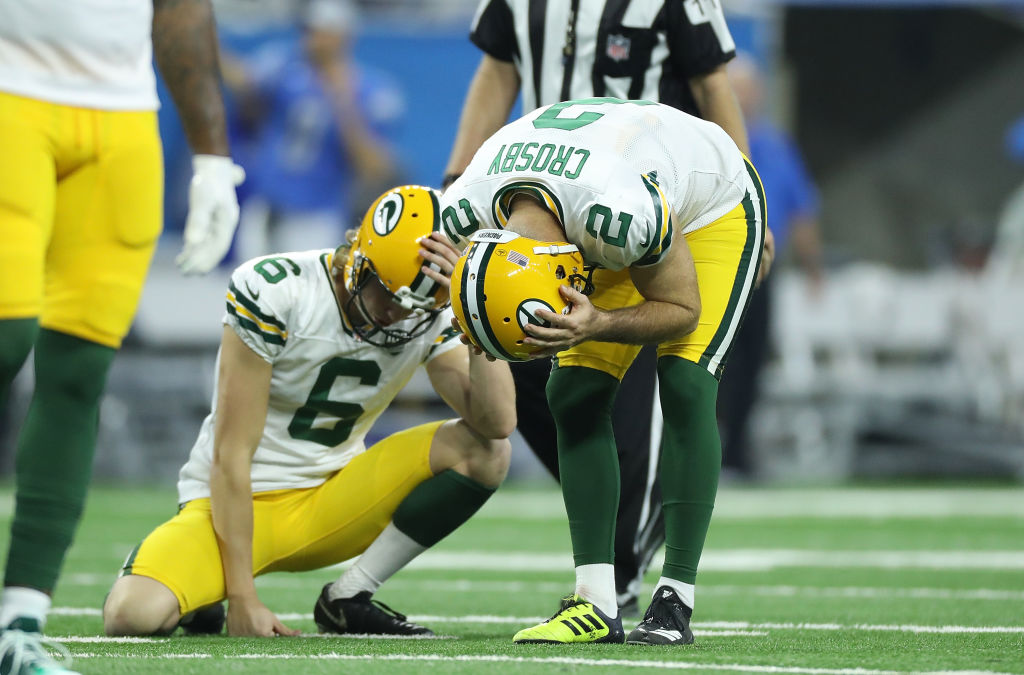 Mason Crosby signed a four-year, $16.1 million contract extension in 2015 that kicked in at the start of the 2016 season. If the Packers keep him on their 53-man roster this season, Crosby will be the highest-paid kicker in the NFL.
Outside of a hideous performance in Game 5 of the regular season last year in which Crosby went 1-for-5 on field goal attempts and 0-for-1 on extra point attempts, the veteran kicker had a fine season in 2018 going 29-for-34 on field goal attempts and 5-for-6 from 50+ in his other 15 games. But with a pedestrian 82.6% field goal percentage and seven missed extra points over the last three seasons, Crosby has not lived up to this contract at all.
2. Justin Tucker, Baltimore Ravens: $4,696,668 in 2019
Justin Tucker is entering the first year of a four-year, $20 million contract this season. The 29-year-old totally deserves this contract as he has been one of the most accurate kickers in the NFL over the last seven seasons with a 90.1% career field goal percentage and 241 extra points made in 242 career attempts. Last season Tucker converted on 89.7% of his field goal attempts and went a perfect 21-for-21 on field goal attempts inside of 39 yards.
3. Chris Boswell, Pittsburgh Steelers: $4,200,000 in 2019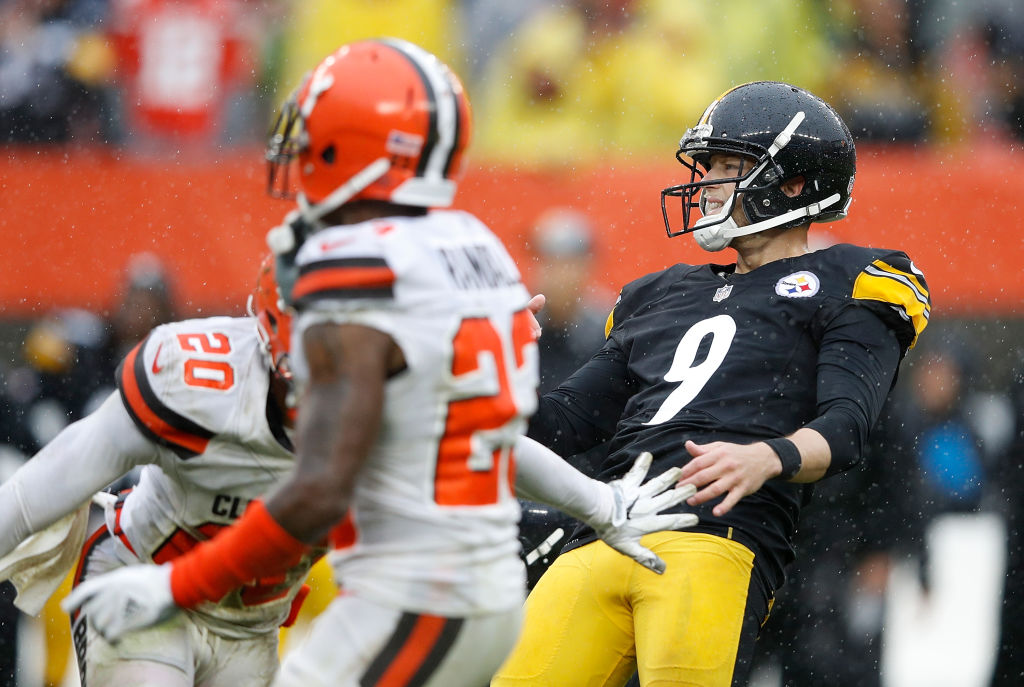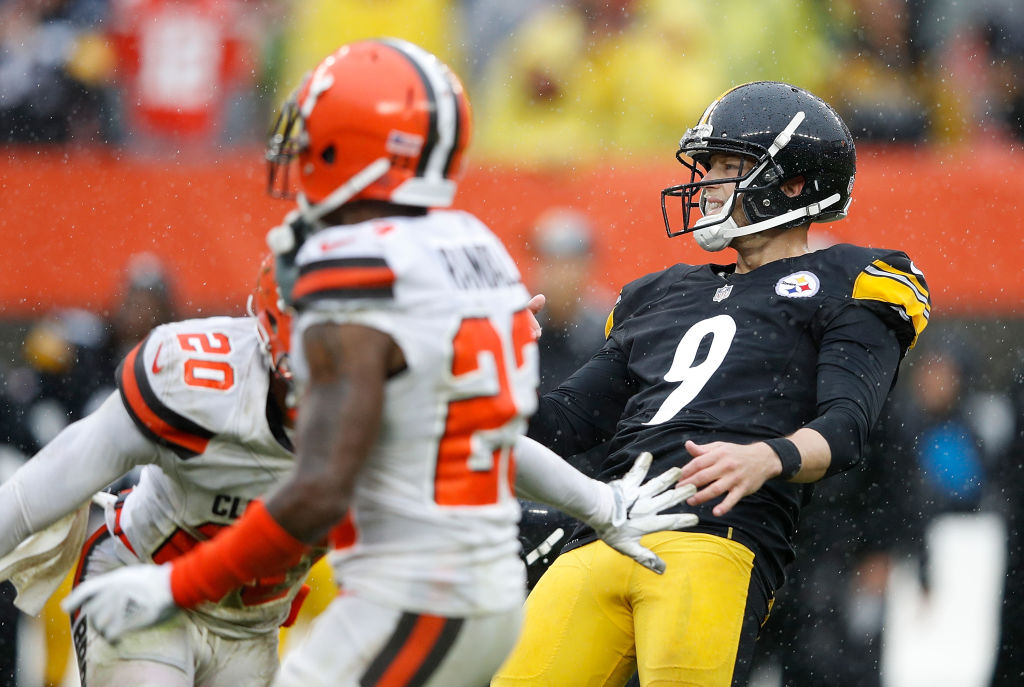 Chris Boswell ranked dead last among NFL kickers last season in field goal percentage at 65%, converting on only 13 of his 20 field goal attempts. He also ranked dead last in percentage of extra points made at 89.6%. Boswell earned his four-year, $16,806,000 contract after making 92.1% of his kicks and going 4-for-4 from 50+ in 2017, but he won't be around for much more of this contract if he doesn't find that form again quickly.
4. Brandon McManus, Denver Broncos: $4,000,000 in 2019
Brandon McManus was perfect inside of 49 yards last season, going 18-for-18 on field goal attempts inside of that distance and 35-for-35 on extra points. He went just 2-for-7 on attempts from 50+ though, bumping his field goal percentage down to 80% on the year. His track record from distance leaves something to be desired at this pay-rate, but in a league full of uncertainty at the position, there's something to be said about reliability inside of 50 yards.
5. Robbie Gould, San Francisco 49ers: $3,900,000 in 2019
Robbie Gould followed up his sensational 39-for-41 (95.1%) season in 2017 with another brilliant performance in 2018 going 33-for-34 (97.1%) on field goal attempts. His elite performance over the last two seasons earned him a new four-year, $19 million contract this offseason. As the Chicago Bears kicker search wears on, the front office must live in constant regret of letting Gould go.
6. Adam Vinatieri, Indianapolis Colts: $3,875,000 in 2019
Last season, Adam Vinatieri became the all-time leading scorer in NFL history as he has amassed 2,600 points over his illustrious 23-year career in the league. The 46-year-old hit 23 of his 27 field goal attempts in 2018 and went 4-for-6 on kicks of 50+ yards. Despite his advanced age, the Colts happily brought their kicker back on a one-year, $3,875,000 deal this offseason.