NFL: The 8 Best Fantasy Football Performances From Weeks 5-6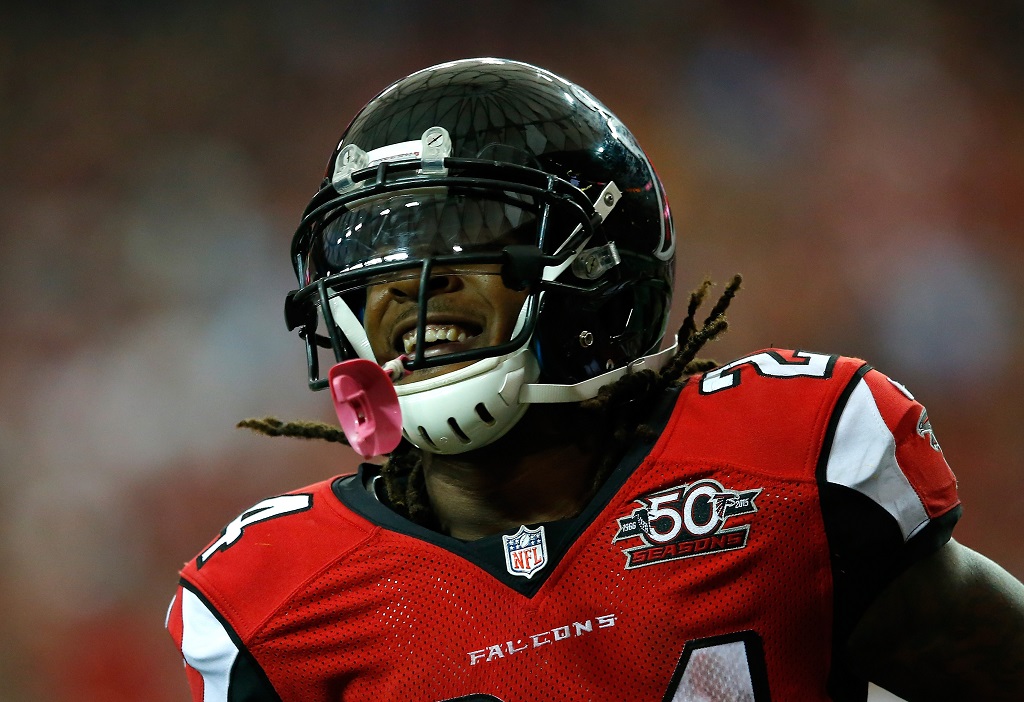 After a certain Atlanta Falcons running back had dominated NFL headlines and the fantasy football world in weeks three and four, he finally took a step back in week five (barely). His individual performance has been even more surprising than the Falcons terrific start and neither the team nor the player appears to be slowing down.
Approaching the midway point of your fantasy football season, most leagues should be getting a general idea of who the favorites are for their trophy, who's in the middle of the pack hanging onto championship aspirations, and who is already looking ahead to the 2016 draft. There may still be time for an epic collapse from the group's front runner or a shocking comeback from a cellar dweller, but weeks six and seven may be the most critical for that process to begin.
This week features a special mega-post, looking at the top fantasy football performances from the past two sets of contests in the NFL. Before we begin, let's see who just missed the cut for both weeks.
Disclaimer: For the sake of this article, we have excluded kickers, team defenses, and individual defensive players. We have chosen the four best from the QB, RB, WR, and TE positions.
Week-five honorable mentions: Eli Manning (New York Giants), Blake Bortles (Jacksonville Jaguars), and Justin Forsett (Baltimore Ravens).
Week-six honorable mentions: Andrew Luck (Indianapolis Colts), Devonta Freeman (Atlanta Falcons), Keenan Allen (San Diego Chargers), and Martavis Bryant (Pittsburgh Steelers).
Week five
4. Antonio Gates, TE, San Diego Chargers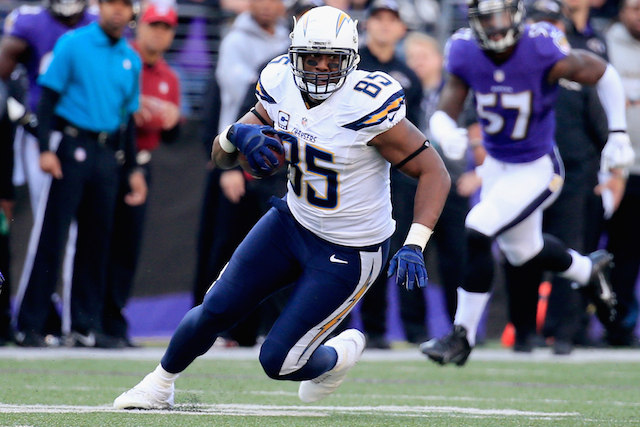 Week-five statistics: nine receptions, 92 receiving yards, two touchdowns
Philip Rivers' favorite target was thrown too early and often in the San Diego Chargers loss to the Pittsburgh Steelers in week five, hauling in nine catches for 92 yards and producing two touchdowns. Even at age 35 and coming off of a four-game suspension to begin the season, Antonio Gates put up big numbers in his first game back.
His first touchdown came on the team's opening offensive possession and was his 100th career score. Gates' second TD grab put the Chargers ahead 17-10 in the fourth quarter. Suffice to say, Gates came up huge and looked fresh, even in defeat. Given his age, it'd be tough to expect this kind of output from the eight-time Pro Bowler on a weekly basis, but it's certainly an encouraging start for his fantasy owners and the Chargers alike.
If you had Gates in your week-five starting lineup in a standard Yahoo! Fantasy Football league, he likely garnered you at least 20 points. In a PPR-format, that total would up to between 25 and 30.
3. Devonta Freeman, RB, Atlanta Falcons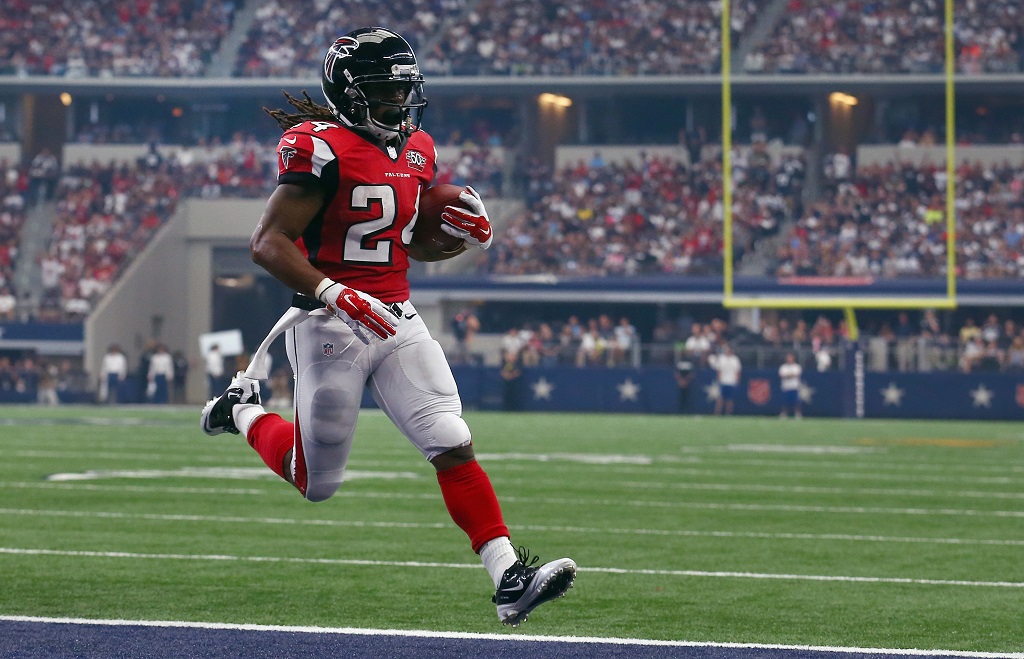 Week-five statistics: 27 rushing attempts, 153 rushing yards, one rushing touchdown, seven receptions, 44 receiving yards
What a horrible performance by two-week reigning "Best Fantasy Football" performer Devonta Freeman two weekends ago. Just 153 rushing yards, only seven catches for a measly 44 yards, and one stinking rushing touchdown? Atlanta's gotta bench him.
Yeah, obviously we are kidding about Freeman because despite his "drop" from No. 1 on this series, he was still a beast in the Falcons fifth straight win to start the season. Even Walter Payton or Emmitt Smith would have had a tough time duplicating those stats (three touchdowns in each of the last two games) for a third consecutive contest. Freeman has come in and stolen the starting running back gig in Atlanta and has got to be considered an MVP candidate at this juncture in the season.
Keep sticking with Freeman as your RB1 because if you had him slated in the lineup for week five, he probably earned you 25 points in a standard Yahoo! Fantasy Football league. Under a PPR-format, it gets even better to the tune of near 30 total points.
2. Josh McCown, QB, Cleveland Browns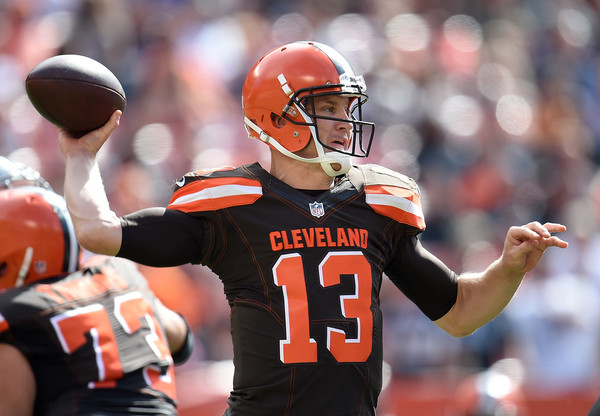 Week-five statistics: 457 passing yards, two touchdowns
Josh McCown took advantage of a struggling Baltimore Ravens pass defense and lit up the scoreboard last Sunday for a league-leading 457 passing yards, along with two touchdowns.
While McCown's next game was significantly tougher as the Cleveland Browns welcomed the Denver Broncos to town, for one week at least, No. 13 was at the top of the heap.
If by a miraculous chance (or some long-term misfortune at the QB position) you had McCown as your quarterback in week five, he probably registered at least 35 points for you in a typical Yahoo! Fantasy Football league.
1. Doug Martin, RB, Tampa Bay Buccaneers
Week-five statistics: 24 rushing attempts, 123 rushing yards, two rushing touchdowns, three receptions, 35 receiving yards, one receiving touchdown
Hey, anybody remember a few years back when Tampa Bay Buccaneers running back Doug Martin revealed his very bizarre nickname of "Muscle Hamster" to the public? Well, whatever the hamster has been fed prior to his last two games, we'd recommend that that diet continue.
Martin surprised many with his 20/106/1 line posted in week four, but in week five, Martin surpassed that output by a long shot. On 24 rushing attempts and three catches last Sunday, No. 22 picked up over 150 all-purpose yards and had three total touchdowns on the day. For those who took a chance on Martin in their draft this year, he has faithfully rewarded those owners over the past two games.
The Buccaneers lead-back almost certainly brought in nearly 35 points or more for his fantasy owners back two weekends ago.
Week six
4. Philip Rivers, QB, San Diego Chargers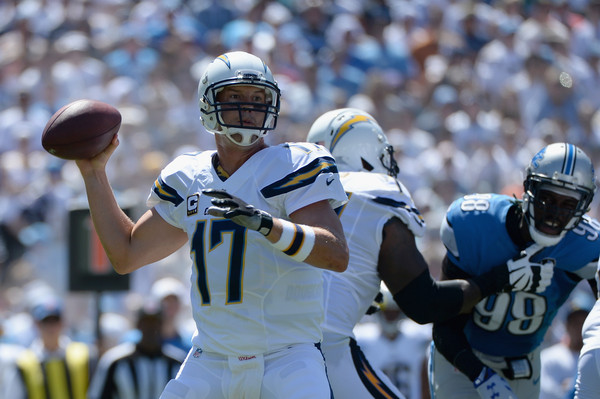 Week-six statistics: 503 passing yards, two touchdowns
No, that is not a typo. Rivers seriously did throw for 503 yards this past weekend.
One week after sharing the love with Gates, Rivers put up some historic numbers of his own on Sunday in the hostile environment of Lambeau Field. Despite the 27-20 defeat, the Chargers QB completed an absurd 43-of-65 pass attempts to break the 500-yard mark, hurled a pair of touchdown passes, and did not throw an interception. Unsurprisingly, the pass attempts, completions, and yards were all career highs for Rivers, and his masterpiece was just the 17th 500-yard passing game in NFL history.
If Rivers was your starting quarterback for week six of your fantasy league, he likely scored you between 25 and 30 points in a typical format.
3. Chris Ivory, RB, New York Jets
Week-six statistics: 20 rushing attempts, 146 rushing yards, one rushing touchdown, three receptions, 50 receiving yards
The second and third leading rushers in the NFL through week six are Freeman and Chris Ivory. No, we're not kidding.
Just two weeks after making our week-four edition, Ivory was terrific again this past weekend. On 20 carries, Ivory torched the previously-daunting Washington Redskins defense to the tune of 146 yards and a score. Add in three catches for an even 50 yards, No. 33 had nearly 200 all-purpose yards on Sunday.
If you had the week-six leading-rusher in your lineup last weekend, he likely got you at least 25 points in a standard Yahoo! Fantasy Football league.
2. DeAndre Hopkins, WR, Houston Texans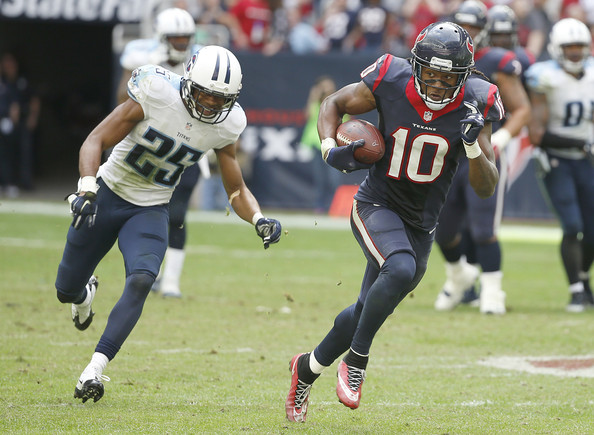 Week-six statistics: 10 receptions, 148 receiving yards, two touchdowns
Despite their current 2-4 standing, the Houston Texans have a legitimate MVP candidate through the first month and a half, and it's not J.J. Watt.
Third-year wide receiver DeAndre Hopkins has simply been the best at his position this year and week six may have been his best performance to date. After being targeted a minimum of 11 times during each of the first five contests (including 22 times in week four), Hopkins took in 10 catches on 15 targets against the Jacksonville Jaguars. These aren't little dinky slant passes or screen passes either. Hopkins is one of the best deep threats in the game, and that led to his 148 yards and two touchdowns on Sunday.
The best fantasy wide out in the game right now brought in between 25 and 30 points for owners playing in a non-PPR league three days ago. If you do account for PPR (points per reception), that total likely is propelled to between 30 and 35.
1. Matthew Stafford, QB, Detroit Lions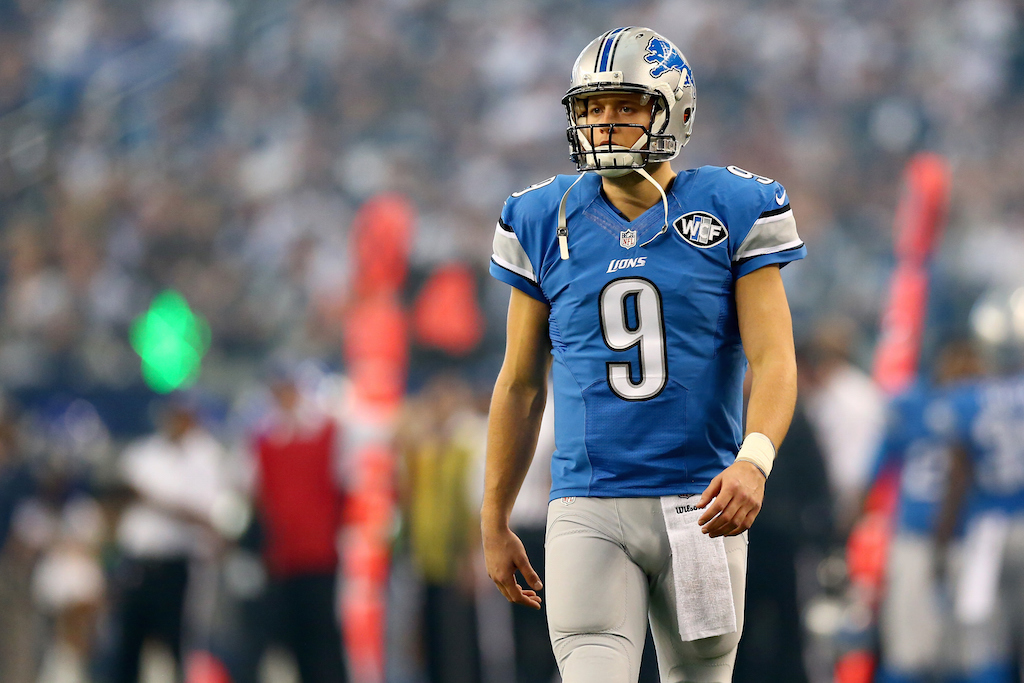 Week-six statistics: 405 passing yards, four touchdowns
Entering Sunday's rivalry game versus the Chicago Bears, Detroit Lions quarterback Matthew Stafford had an ugly touchdown to interception ratio of 6:8. Stafford's team was 0-5, and he had failed to reach 300 passing yards in a single outing. Everything finally came together for one afternoon against the suspect Bears' D, and Stafford earned a spot as the No. 1 fantasy football performer from week six.
He threw for 405 passing yards (166 of them to Calvin Johnson), threw just one pick, and was an efficient 27-of-42. His four touchdowns led the league for the week and most importantly, the Lions got their first W.
If you had Stafford starting for your fantasy squad in week six, he likely rewarded you with approximately 35 points.
All data courtesy of NFL.com, Pro-Football-Reference.com and ESPN.com.
Follow Victor on Twitter @vbarbosa1127