NFL: The 8 Highest-Paid Running Backs in 2019
Los Angeles Chargers tailback Melvin Gordon is holding out for more money this offseason. Gordon is scheduled to make $5.6 million in the final year of his rookie contract this year, but he is hoping to score an extension that would pay him on the same level as the top running backs in the game.
How much are the highest-paid tailbacks in the NFL making in 2019? Here's a look at the top eight running back salaries in the league this season.
1. David Johnson, Arizona Cardinals: $9,750,000 in 2019
With 1,239 rushing yards and 879 receiving yards, David Johnson collected a sensational 2,118 yards from scrimmage with 20 total touchdowns in 2016 to emerge as one of the game's elite three-down backs. So even after he missed all but one game in 2017 with a wrist injury, the Cardinals didn't hesitate to lock him up with a three-year, $39 million extension at the start of the 2018 season.
Johnson had 1,386 total yards and 10 total touchdowns in 2018 on the NFL's worst team. The offense (and Johnson's production) should get a nice boost in 2019 from new head coach Kliff Kingsbury and first overall pick Kyler Murray joining the team.
2. Todd Gurley II, Los Angeles Rams: $9,200,000 in 2019
Todd Gurley II's massive four-year, $57.5 million extension doesn't kick in until next season, so he'll play this season for "only" $9.2 million. In two seasons under Head Coach Sean McVay, Gurley II has put up massive numbers averaging 1,278 rushing yards, 684 receiving yards and 19 total touchdowns a season. Gurley II finished last season on a low note as he struggled with injury issues, but when healthy he is one of the premier backs in the NFL.
3. LeSean McCoy, Buffalo Bills: $9,050,000 in 2019
2019 will be the final year of a five-year, $40 million contract that LeSean McCoy received from the Buffalo Bills in 2015. McCoy had his first bad year with the Bills last season, rushing for only 514 yards and three touchdowns with a paltry 3.2 yards per carry. It was highly speculated that the 31-year-old would be cut this offseason, but the Bills stuck with him and still believe that he can play at a high level.
4. Le'Veon Bell, New York Jets: $8,968,750 in 2019
In 49 games played from 2014 through 2017, Le'Veon Bell averaged 137.5 yards from scrimmage per game. Instead of signing an extension with the Pittsburgh Steelers or playing for the guaranteed $14.5 million he was scheduled to make in 2018, Bell decided to sit out the entire season in the hopes of preserving his body and earning a better contract as a free agent. The 27-year-old was hoping for a lot better than the four-year, $52 million contract he received from the Jets, but at least now he can get back on the field in 2019.
5. Ezekiel Elliott, Dallas Cowboys: $7,940,655 in 2019
Ezekiel Elliott is entering the fourth year of his $24.9 million rookie contract this season. The 23-year-old has averaged 1,749 total yards from scrimmage and 11.3 touchdowns per season through his first three years in the NFL. He will be due for a massive pay-day in the near future, but for now, the Cowboys have one of the best tailbacks in the game at a discount price.
6. Leonard Fournette, Jacksonville Jaguars: $7,404,774 in 2019
After a promising rookie campaign that saw Leonard Fournette rush for 1,040 yards and nine touchdowns in 2017, the back took a major turn for the worse in 2018. Fournette rushed for only 439 yards and five touchdowns in eight games played, averaging a dismal 3.3 yards per carry. He is on the third year of a fully-guaranteed four-year, $27.1 million rookie contract, so he'll have at least two more years to bounce back at the NFL level.
7. Lamar Miller, Houston Texans: $7,203,125 in 2019
Lamar Miller is entering the final year of the four-year, $26 million contract he signed with the Houston Texans back in 2016. Miller has been a consistently serviceable back for the Texans averaging 1,204 total yards per season from scrimmage.
8. Saquon Barkley, New York Giants: $7,089,716 in 2019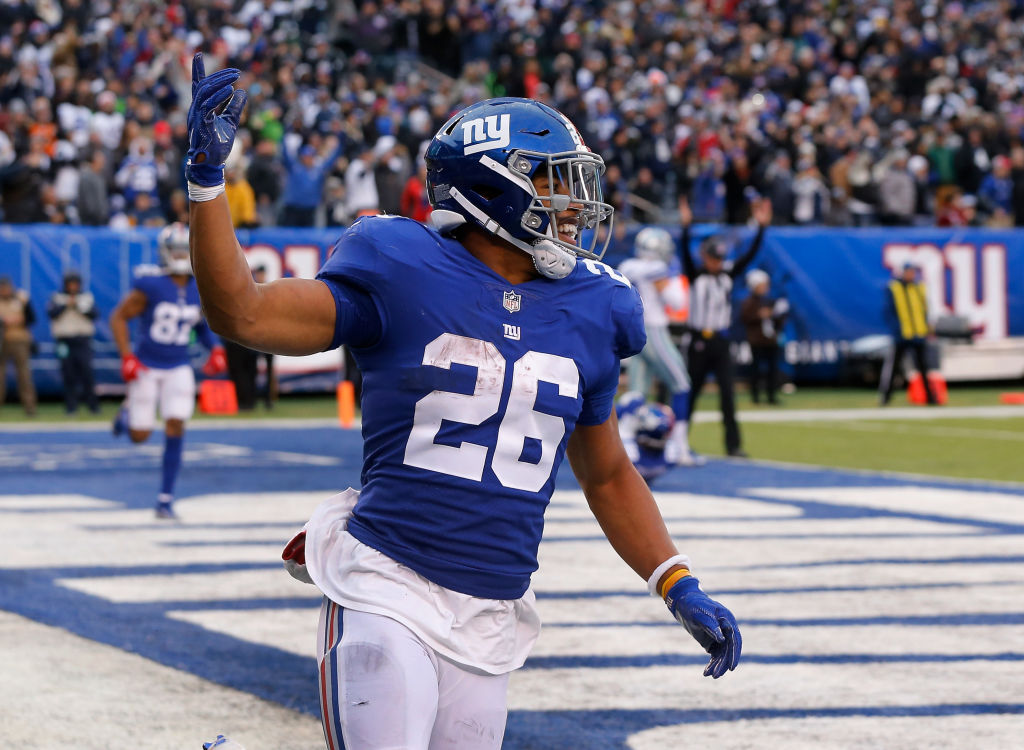 Saquon Barkley lived up to all the hype in his rookie season last year, rushing for 1,307 yards and 11 touchdowns on just 261 carries and catching 91 passes for 721 yards and four touchdowns. The sky is the limit for this 22-year-old who will be playing out the second year of his four-year rookie contract.