NFL: The 5 Best Minnesota Vikings Ever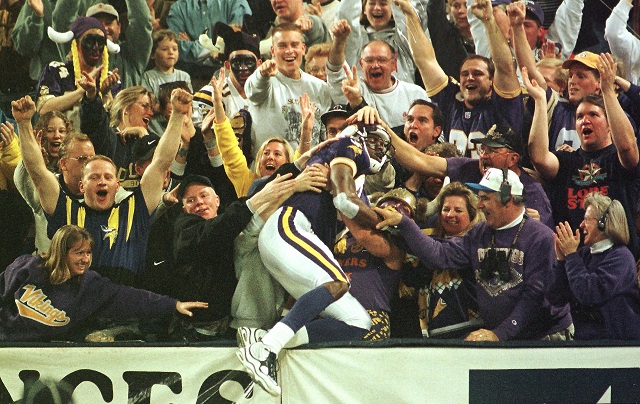 The Minnesota Vikings may be the most tortured franchise in the NFL, if not all of sports. For their part, the Vikings went to four Super Bowls, after the 1969, 1973, 1974, and 1976 regular seasons. They won none of them. After that, the Vikings went on to lose three tight NFC Championships in 1987, 1998, and 2009, by a combined total of 13 points, after late fumbles, missed field goals, and maddening penalties stalled game-clinching drives (The Vikes also lost the 2000 NFC Championship 41-0 to New York Giants).
In 2014, Adrian Peterson, the face of the franchise, was shut down for nearly the entire season for his role in a domestic violence case. With Peterson's time in Minnesota in doubt, he is still very much deserving of an honorable mention. Peterson, at 29, lacks the longevity and playoff battles of many other reputable Viking greats.
Viking history, then, has been written by scores of otherworldly athletes who failed to put everything together in the biggest of moments. As a group, the top five Minnesota Vikings may be somewhat underrated, largely due to their inability to win the Big One.
1. Fran Tarnkenton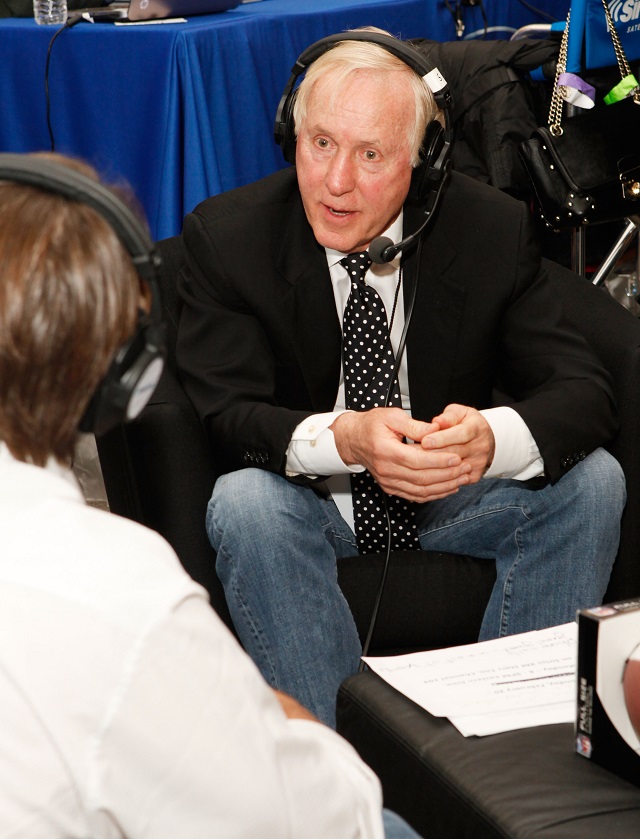 Scramblin' Fran was the premier dual-threat quarterback of his era that revolutionized the game of football. Fran Tarkenton, a mobile quarterback, would use his feet to extend a broken play behind the line of scrimmage before firing a bullet down the seam for a big gain. As a last resort, Tarkenton would take off and run to move the chains and pick up a critical first down. At a slight 6-foot-nothing and 190 pounds,  he often mused that he largely took to scrambling out of fear and to avoid injury.
Tarkenton, of course, will always be recognized for his two tours of duty in Minnesota, which spanned from 1961-1966, and 1972-1978. As a Viking, he racked up 33,098 yards and 239 touchdowns through the air. On the ground, Scramblin' Fran picked up 2,548 rushing yards and 22 rushing touchdowns in Minnesota. By his 1978 retirement, Fran Tarkenton owned every significant passing record, after 18 years as a Giant and Viking. To date, only Randall Cunningham, Steve Young, and Michael Vick have surpassed Fran Tarkenton in rushing yards at quarterback.
Fran Tarkenton did lead the Vikings to three Super Bowls in 1973, 1974, and 1976. In Super Bowl IX, The Steel Curtain blitzed Fran Tarkenton into throwing 3 interceptions and a mere 102 yards on a miserable 11 for 26 passing.
2. Randy Moss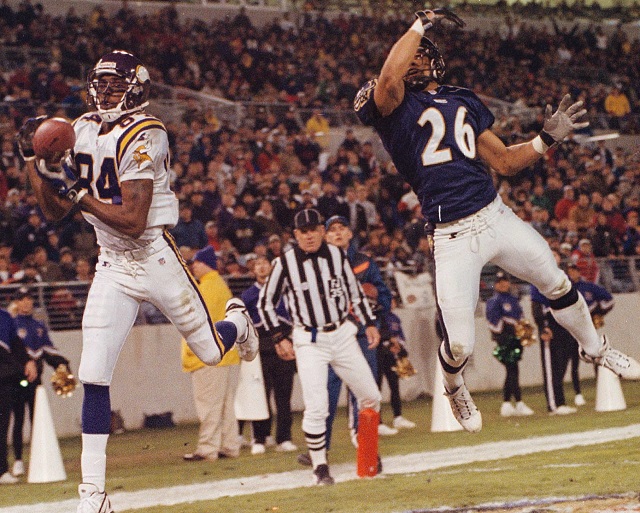 In many circles, Randy Moss rivals Jerry Rice as the greatest wide receiver of all time. A true physical freak, Moss stood 6-foot-4, ran a 4.25 40-yard dash, and was a schoolboy legend who lettered in football, basketball, baseball, and track and field in West Virginia. In 1998, Randy Moss was still available at the 25th pick, owing largely to character concerns, when the Vikings nabbed him in one of the greatest NFL Draft steals of all time.
As a rookie, Moss immediately took the League by storm, hauling in 69 catches for 1,313 yards (19 yards per catch), and 17 touchdowns. Moss was especially dangerous over the top, where he would beat cornerbacks deep and leap over safeties for jump balls. The 1998 Vikings went 15-1, after scoring a then-record 556 points through the regular season, only to lose the NFC Championship 30-27 to the Atlanta Falcons, when the normally sure-footed Gary Anderson missed a 38-yard field goal, with two minutes on the clock in the fourth quarter. They would ultimately lose in overtime.
As a Viking, Randy Moss did make it back to the NFC Championship Game in 2000, only to be blown out 41-0 by the New York Giants. In all, Randy Moss had 587 catches for 9,316 yards and 92 touchdowns, in eight years of service in Minnesota. Despite never winning a ring, NFL fans will always appreciate Randy Moss for busting coverage and racing down the sidelines for six.
3. Cris Carter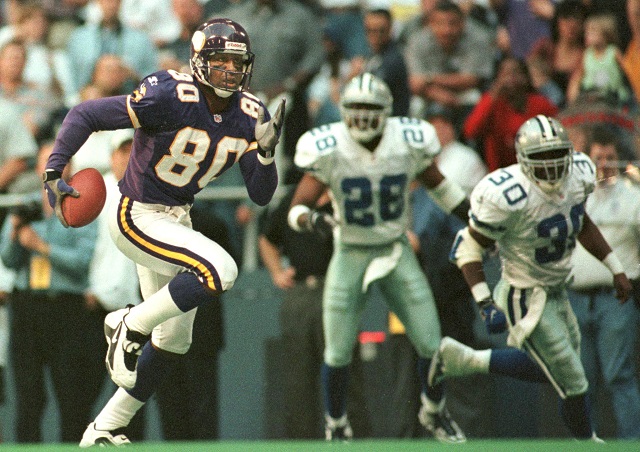 Cris Carter was one of the greatest possession receivers of all time. In Minnesota, Carter was somewhat of a reclamation project, after drugs and alcohol nearly derailed his NFL career out of Philadelphia. But as a Viking, he managed to reign in his bad habits and re-dedicate himself to his career. Over time, Carter was hailed for his crisp route running, soft hands, and use of the sidelines.
Over the course of 12 years with the team, Carter would haul in 1004 catches for 12,383 yards, and 110 receiving touchdowns. In 1994, Cris Carter led the NFL, with 122 receptions. The following year, he also hauled in 122 catches, which were then second only to Herman Moore (123). That year, Carter lead the NFL in touchdown receptions with 17, and would capture the NFL touchdown reception single-season crown in 1997 and 1999.
Cris Carter, of course, was a part of the 15-1 Viking roster that torched defenses in 1998. As part of this group, he worked the underneath routes, while Randy Moss stretched defenses deep and Jake Reed settled into the soft zone out of the slot.
4. Randall McDaniel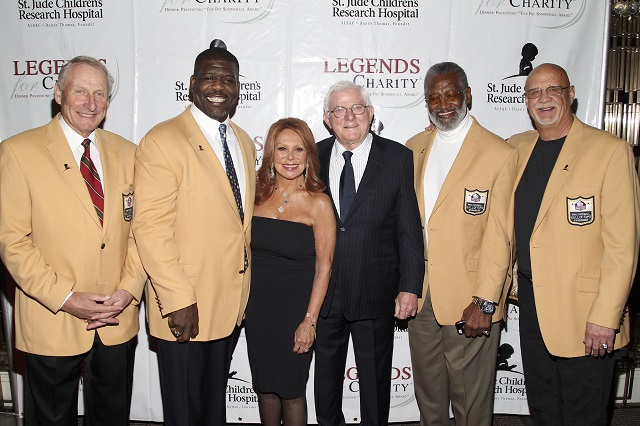 In 1998, Randall McDaniel anchored an offensive line unit that helped set the season scoring record at 556 points. Critical in both pocket protection and road grading huge holes for halfback Robert Smith to gash defenses, McDaniel was at his best out in space, where he would pull as the lead blocker on counter traps. But he was also devastating in the screen game, where he would go to work bowling over linebackers and diminutive defensive backs.
In short yardage situations, he was versatile enough to rotate into the backfield as a fullback. For Minnesota, McDaniel controlled the line of scrimmage between 1988 and 1999. A near-lock for the Pro Bowl, he made 11 trips to the game as a Viking.
5. Alan Page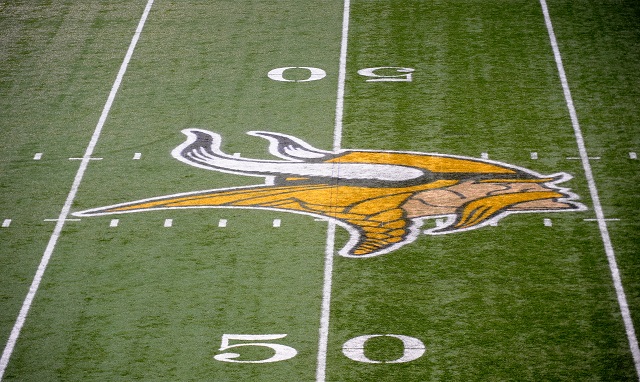 Alan Page was the focal point of a Purple People Eater defensive line that included fellow Hall of Famer Carl Eller, alongside Jim Marshall and Gary Larsen. The Purple People Eaters especially crushed opponents in cold weather games outside at Bloomington Metropolitan Stadium throughout the 1970s. Coach Bud Grant relied upon the toughness of this four-man front — in conjunction with the swirling winds, ice, and bitter temperatures — to get the psychological edge upon his opponents in Minnesota. As part of this unit, Alan Page made four trips to the Super Bowl.
To pressure the quarterback, Page would often loop around the line, in a stunt to confuse blockers, and in 1971 he took home League MVP honors as the face of a stingy defense that gave up a mere 9.9 points per game. As a Viking, Page made nine consecutive trips to the Pro Bowl, eventually serving on the Minnesota Supreme Court after retiring from the NFL.