NFL: The Marcus Mariota Era Appears to Be Over in Tennessee
Since defeating the Cleveland Browns 43-13 back in Week 1, the Tennessee Titans have gone just 1-4 over their last five games. In their most recent loss at home against the Denver Broncos, the Titans benched quarterback Marcus Mariota in the third quarter in favor of backup quarterback Ryan Tannehill. Mariota had completed just seven of his 18 passes for 63 yards in the game, and he was removed after throwing his second interception of the game.
After the 16-0 loss, head coach Mike Vrabel announced that he would make a decision early in the week on who would start the team's Week 7 matchup at home against the Los Angeles Chargers. Vrabel made that decision on Tuesday night, opting to start Tannehill in favor of the struggling Mariota. This move could spell the end of the Marcus Mariota era in Tennessee.
Marcus Mariota has had his ups and downs in Tennessee
Marcus Mariota was picked by Tennessee with the second overall pick in the 2015 NFL Draft. The 2014 Heisman Trophy had a productive rookie season in 2015 with 19 touchdown passes and 2,818 passing yards in 12 games played, though he did have an issue with turnovers as he threw 10 interceptions and fumbled the ball 10 times.
Mariota had his best year as a starter in 2016. That season, Mariota had career highs in passing yards with 3,426 and passing touchdowns with 26 in 15 games. Despite the improvements, he still threw nine interceptions and still fumbled the ball nine times that season. Mariota rushed for 349 yards and two touchdowns on 60 rushing attempts in 2016.
Unfortunately for the Titans, Marcus Mariota never really evolved beyond his production that season. He had 3,232 passing yards with a 13-to-15 touchdown-to-interception ratio in 2017 and 2,528 passing yards with an 11-to-8 TD-to-INT ratio in 2018. This season he has 1,179 passing yards and seven touchdown passes through six games. Mariota had gone 156 straight passes without an interception before Sunday, but he still wasn't producing much on offense as Tennessee has scored only 11 points per game over its last five.
Ryan Tannehill should get an extended audition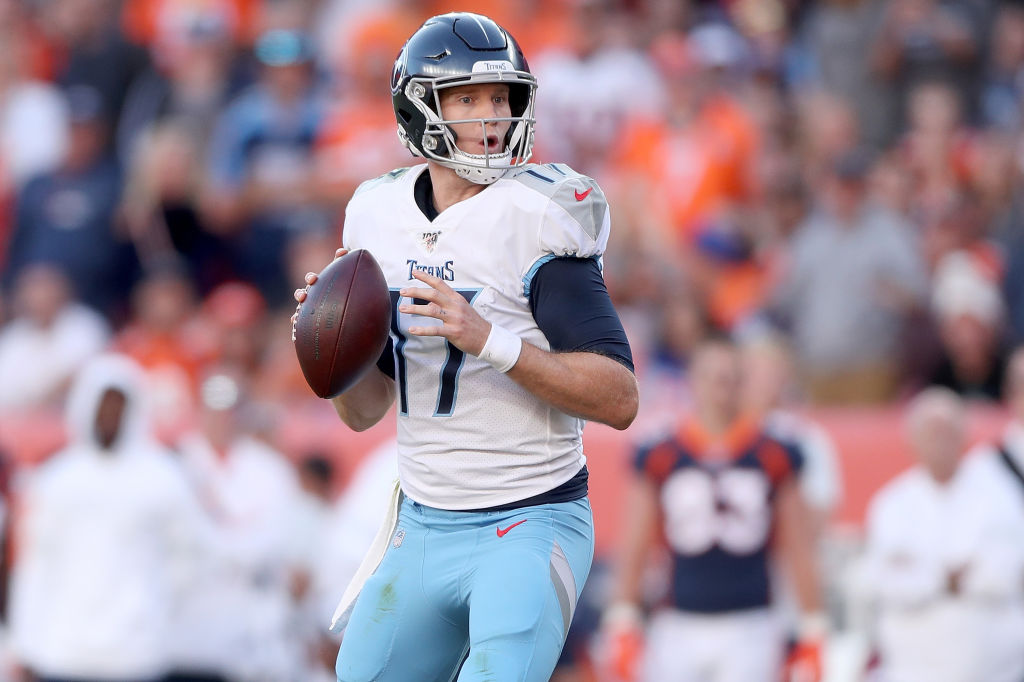 Marcus Mariota is in the final year of his rookie contract after having his $20.9 million team option picked up last offseason. Mariota is set to become a free agent in 2020; his lack of production and injury history make it unlikely that he will be resigned by the Titans.
With that in mind, Tennessee would be wise to give Ryan Tannehill an extended audition here in 2019. Tannehill has had a productive career in the NFL with a career passer rating of 87.0 and a career TD-to-INT ratio of 123-to-76. In a three-season stretch from 2013 through 2015 with the Miami Dolphins, the former first-round pick averaged 4,055 passing yards and 25 touchdown passes per season.
Regardless of how Tannehill does, the Titans will likely look to select a quarterback in the early rounds of the 2020 NFL Draft. But if Tannehill can produce results as the team's starter in 2019, Tennessee could bring him back as the team's starter again next year to give their new quarterback the chance to develop on the sideline before being thrown into action.
What's next for Marcus Mariota?
It's still possible that the Titans could re-sign Mariota. But this benching feels like the team is ready to move on.
This could be a good thing for all parties involved. While it's possible that Marcus Mariota is simply a bust, he has shown flashes of brilliance in his time in Tennessee. He has been saddled with an underwhelming supporting cast and a group of offensive coordinators that haven't shown much creativity on offense.
It makes sense for the Titans not to continue to invest time and money into Mariota after he failed to reach another level in five seasons with the team. But at just 26 years old heading into next season, there's still a chance that Marcus Mariota's best football could be ahead of him if he finds the right coach and offensive scheme for him.