NFL: The Seahawks Must Re-Sign Doug Baldwin
The Seattle Seahawks are coming off another successful season that saw them make the playoffs for the fourth straight year, reaching at least the NFC Divisional round. However, it was a campaign that featured a complete change in offensive game plan with Pro Bowl quarterback Russell Wilson going through a historic stretch over the second half of the season.
Wilson put together one of the most historic seasons of his career, which saw him set several Seattle Seahawks' records by becoming the first player in franchise history to throw over 4,000 yards and 34 touchdown passes while posting a league-best 110.1 passer rating. It was a slow start to the season, but Wilson led the Seahawks' resurgence in the second half of the year. He's the first quarterback to throw three-plus touchdown passes and post a 128.3 or higher passer rating in five consecutive games.
Wilson also had at least one touchdown pass in each game in 2015, which helped him become the only quarterback to have 4,000 passing yards, 30-plus touchdown passes, and more than 500 rushing yards in a single season. A major part of Wilson's offensive emergence was wideout Doug Baldwin, who caught 11 touchdowns over the last five games. He joined Hall of Famer Jerry Rice as the only player in league history to haul in at least 10 receiving touchdowns over a four-game span.
Baldwin also became just the third player to have at least two touchdown receptions in four straight games, joining the likes of Calvin Johnson and Hall of Famer Cris Carter. In total, Baldwin put together the best season of his career, notching career highs across the board with 78 catches for 1,069 receiving yards and 14 touchdowns, which made him the first Seahawks receiver to record 1,000 receiving yards since 2007. He also tied for the league lead in receiving touchdowns while leading his team in all receiving categories.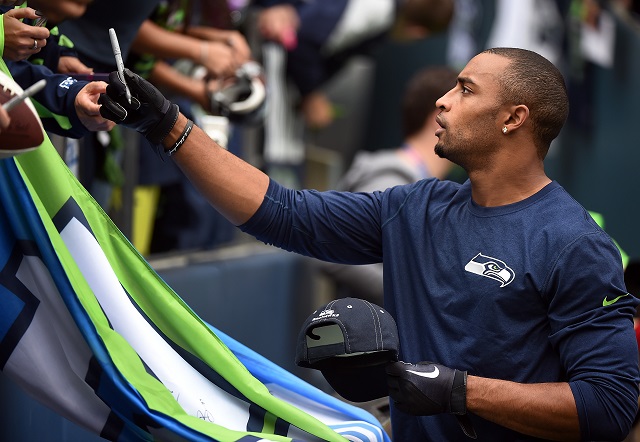 As Baldwin heads into the final year of the three-year, $13 million contract he signed in May of 2014, he doesn't seem too concerned with the fact that front office has yet to conduct any discussions about a new contract with him. In an interview with host Mitch Levy and former Seahawks coach Mike Holmgren, Baldwin said:
No we haven't had any talks. And to be completely  honest with you I'm not too concerned with it. I'm enjoying my time right now with my training and my fiancée. I'm anxious to get back out there with my teammates.

To be completely honest with you, I'm not really worried about it. I'm having fun playing football. I'm enjoying my time, I'm enjoying my life right now. So whatever happens, I'm going to leave it up to God and he'll direct me in whatever direction I need to go.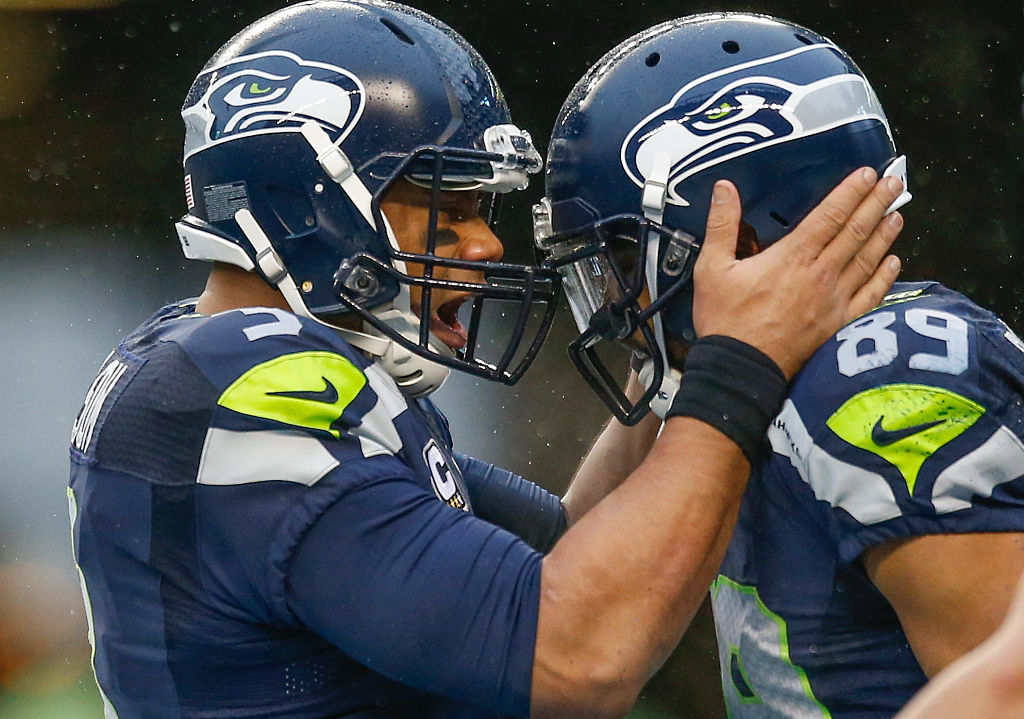 This shouldn't come as much of a surprise given that Seahawks head coach Pete Carroll stated in February that the team would focus first on getting through the free agency and any acquisitions during that part of the offseason before shifting their attention toward locking up their current players to long-term contracts.
The front office followed suit, inking their free agent wide receiver Jermain Kearse to a three-year, $13.5 million deal last month, which just edges out the contract Baldwin signed two offseasons ago. Although there's no concern on either side of this situation, it's a huge priority to get a new deal before Baldwin reaches free agency next offseason, when he could have a realistic chance of bolting, like Golden Tate did a few years ago.
Baldwin has become a more critical part of the offense, especially with Marshawn Lynch retiring after just nine seasons in the NFL. Throughout his first five years, Baldwin is a core piece to the puzzle and an extremely reliable option in the Seahawks' passing game. This, coupled with the fact that Wilson finally showed that he can lead a team with his arm, only puts more importance on inking a new deal with the receiver that the quarterback trusts the most. Seattle has to hammer out a long-term contract with their most reliable receiver.
Statistics courtesy of Pro-Football-Reference.com, ESPN.com, and NFL.com.