NFL: The 5 Greatest Baltimore Ravens of All Time
In 1984, Robert Irsay packed up his NFL team and abandoned Baltimore, leaving it behind for the bright lights of Indianapolis. For years, Baltimore City residents were haunted by images of their beloved Colts skipping town on that snowy night. Their heartbreak largely came to an end in 1996, when a series of moves brought the Cleveland Browns to Charm City.
In Baltimore, the old Cleveland Browns were rechristened the Ravens, and went on to post one of the more successful runs in NFL history. Perennial contenders, the Ravens brought home two Super Bowl championships, in 2000 and 2012. Ravens football was built upon savvy player personnel moves, conservative quarterback play, and hard-hitting defense above all else.
1. Ray Lewis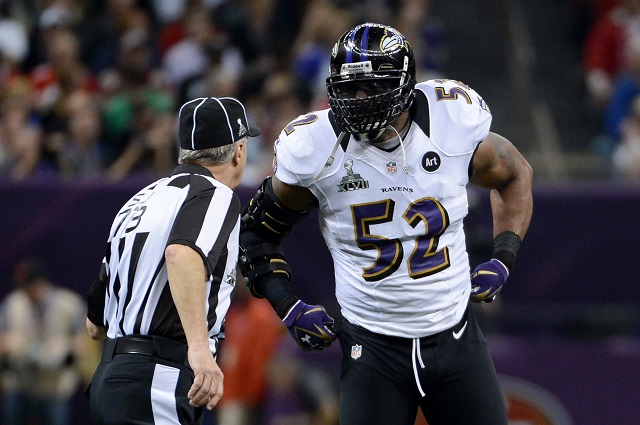 From 1996 until 2012, Ray Lewis was the face of the Baltimore Ravens. In Baltimore, the defensive scheme actually began up front, where the likes of man-eating tackles Tony Siragusa and Heloti Ngata would occupy multiple blockers. From there, Lewis was left free to flow toward the football and blow up ball carriers at the point of attack. Calling himself "God's Linebacker," Lewis's uncanny ability to diagnose plays was equally impressive as his physical tools, and topped 100 tackles through eight separate seasons.
In 2000, Lewis led one of the most dominant defenses of all time, as the Ravens gave up a mere 10 points per game. In the Divisional Playoff, Lewis went chest-to-chest against Eddie George in press coverage, before intercepting the football, and heading off 50-yards in the other direction for the game clinching touchdown. From there, Lewis went on to take Super Bowl XXXV MVP honors, and would lead the Ravens to another Super Bowl in 2012 before announcing his retirement.
2. Ed Reed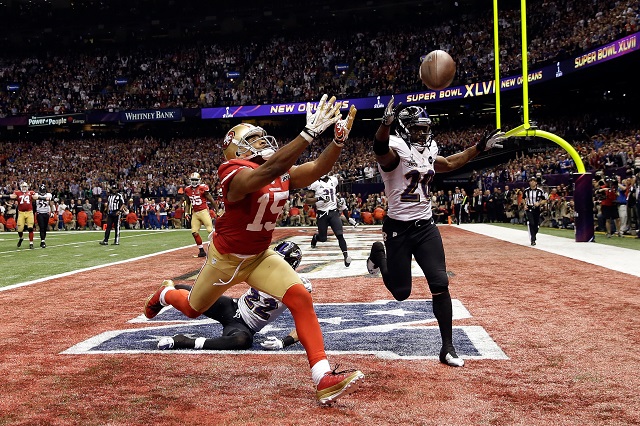 Ed Reed will go down as one of the greatest safeties of all time. In his prime, Reed credited his success to a photographic memory that gave him the ability to diagnose plays and make real-time adjustments. Vintage Reed was known to hang back in the secondary, baiting quarterbacks to test him deep, and then immediately break on the football, to come down with the interception.
In all, Reed picked off 64 passes for 1,590 return yards and 7 touchdowns through 11 years of service in Baltimore, leading the league in interceptions three times — in 2004, 2008, and 2010.
3. Jonathan Ogden
The 1996 NFL Draft proved to be a defining moment for general manager Ozzie Newsome and the Baltimore Ravens, as the franchise picked up both Jonathan Ogden and Ray Lewis, with the 4th and 26th overall picks, respectively. In Ogden, the Ravens picked up a "can't miss" prospect out of UCLA, who went on to make 11 Pro Bowls. As a rookie, Ogden was immediately installed as the starting left guard, before ultimately sliding over and earning his keep at left tackle.
At 6-foot-9, 340 pounds, Ogden was a wall of a man that could also drop his hips to chase down defensive ends out on the edge, and drive them into the ground, and would often make it out to the second level, where he would maul linebackers at the point of attack. He was also part of the 2000 Ravens team who went on to claim Super Bowl glory.
4. Joe Flacco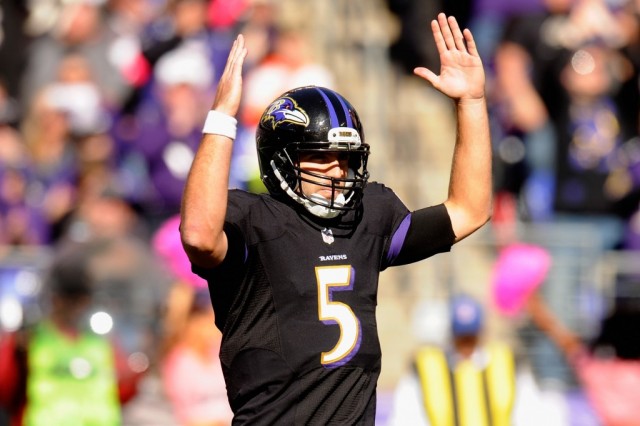 In 2008, the Baltimore Ravens drafted Joe Flacco with the 18th overall pick in the draft, with the idea that he would ultimately emerge as a franchise quarterback. As a rookie, Flacco completed 60% of his passes for 2,971 yards, 14 touchdowns, and 12 interceptions, and the Ravens posted an 11-5 regular season record, before losing to the Pittsburgh Steelers in the AFC Championship Game. From there, critics immediately began to rip Joe Flacco as a "game manager," that rode upon the coattails of an elite defense to win regular season games.
Flacco emphatically shed that reputation in 2012-2013, as he put the Ravens offense on his back, completing 58% of his passes for 1,140 yards, 11 touchdowns, 0 interceptions, and a 117 quarterback rating. In Super Bowl XLVIII, Flacco took home MVP honors after torching the San Francisco 49ers for 287 passing yards and 3 touchdowns.
Joe Flacco, at 6-foot-6, throws one of the more beautiful deep balls in the NFL. Flacco is especially adept at setting up the play action pass, taking a deep drop, and airing out the football for big yardage. In the 2013 Divisional Playoff, Joe Flacco hooked up with Jacoby Jones, on a 70-yard touchdown bomb in Denver, with 17 seconds left on the regulation clock. When the smoke finally cleared, the Ravens left Mile High with a win in overtime, en route to the Super Bowl.
5. Jamal Lewis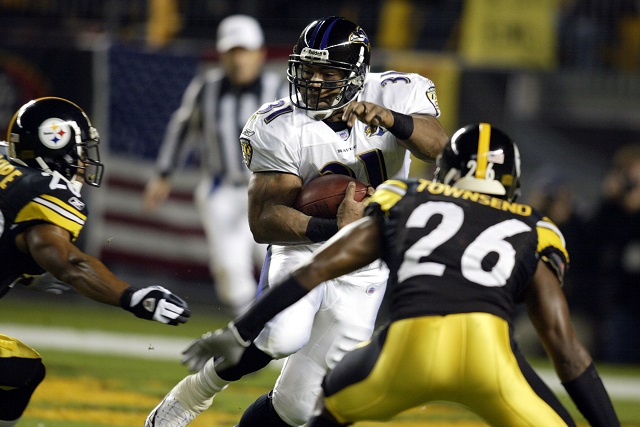 Also known as the entirety of the Baltimore offense between 2000 and 2006, Jamal Lewis would watch as opposing defenses would stack 8 men in the box, and dare the Ravens to throw the football (the Ravens had Trent Dilfer at quarterback). Still, Lewis somehow rumbled for 1,364 yards and 6 touchdowns, as a 21-year old rookie. From there, Jamal Lewis went on to pace the Ravens with 338 rushing yards and 4 touchdowns, through four physical games of postseason play. This run included 102 yards and 1 touchdown, in Super Bowl XXXV.
In all, Jamal Lewis ran for 7,80 yards and 45 touchdowns over the course of six years as a Raven. Certainly, defenders knew that Jamal Lewis was coming, but could do noting to stop him, as the engine behind the smash mouth attack in Baltimore.