NFL: The 1 Thing Broncos' Quarterback Joe Flacco Won't do This Season
Joe Flacco is at a crossroads in his career. He was ousted as the longtime QB of the Baltimore Ravens due to injuries and declining play last season. Now he finds himself as the QB of the Denver Broncos with a big contract and low expectations. Flacco will likely have to do a lot in Denver to warrant his big deal to the fanbase. He'll have to play better than he has in recent years and possibly lead the team to the playoffs. But among all this speculation over whether Flacco will return to form, there is one thing Flacco has outright stated he won't do.

Joe Flacco won't mentor Drew Lock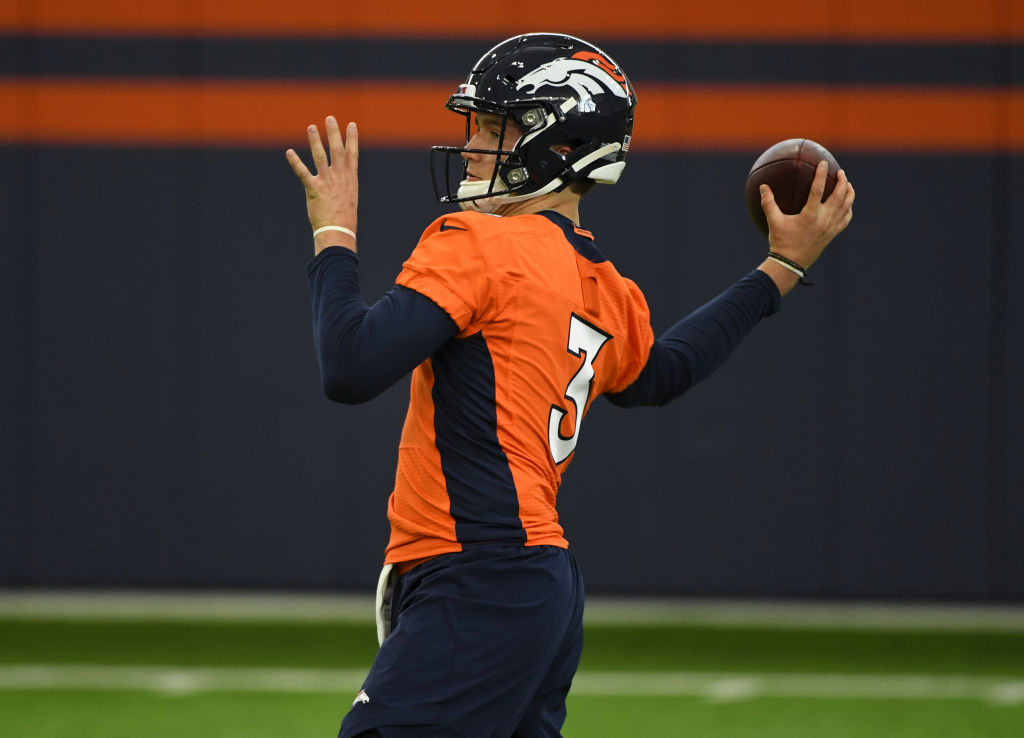 Shortly after the Broncos traded a fourth-round pick to bring Joe Flacco to town, they selected quarterback Drew Lock in the second round of the 2019 NFL draft. Denver wants Flacco to be the leader on the field, and that's all he intends to be.

ESPN reports that Flacco said he would not serve as a mentor to Lock next season:

"Listen, I have so many things to worry about. I'm trying to go out there and play good football. I'm trying to go out there and play the best football of my life…I hope he does it well. I don't look at that as my job. My job is to go win football games for this football team."

While Flacco seems supportive of Lock as a teammate, he's made it clear that he will not be serving in the mentor role as Lock begins his NFL career. Flacco's primary focus will be on doing what he can to prepare himself to play effectively for the Broncos.

Flacco's not the first to refuse to mentor younger QBs
Flacco isn't the only veteran QB who has been hesitant to mentor a much younger understudy. Consider the following examples:
Just last season, Ben Roethlisberger said he would most likely not assist rookie QB Mason Rudolph. He even expressed confusion over why the team would spend a third-round pick on a QB over another player who could help the team win now. The Steelers missed the playoffs last year, but Roethlisberger still seems like a solid bet to start next season in Pittsburgh.
When the Green Bay Packers selected Aaron Rodgers in the first round in 2005, Brett Favre similarly said he would not be mentoring him. Favre famously stated, "My contract doesn't say I have to get Aaron Rodgers ready to play." Favre retired and then unretired from the NFL following the 2007 season. The Packers tapped Rodgers as their starter as Favre had an acrimonious departure from the team (though all parties have mended fences in the years since).
The argument for mentoring a younger QB
Hall of Fame QB Kurt Warner believes that older QBs should embrace the role of a teacher. He argues that older players should do everything in their power to make the team better, even including preparing a potential replacement.

His feeling is a veteran quarterback should do whatever it takes to make the entire team better. If that includes helping your potential replacement reach the next level, then so be it.

The argument against mentoring a younger QB
While Flacco's statement wasn't completely supportive of Lock, his stance is understandable. It was just last season that Flacco was supplanted by a rookie QB in Lamar Jackson. He's now on a new team — learning a new offense he doesn't even have experience in — and is facing the threat of yet another young player taking his job if he underperforms.

Based on Flacco's inexperience with Denver's system, one could wonder if he's even the best choice in the Broncos organization to be the one to mentor Lock.

Our prediction? Joe Flacco will be an otherwise good teammate for the younger Lock, but he will allow the Denver coaching staff to teach him the ins-and-outs of the offense. If the season gets underway and Flacco plays well, this mini-controversy will most likely fade away. If he doesn't, Denver may have a QB controversy on its hands.