NFL: Tight End Hunter Henry is Realizing His Potential in Los Angeles
After missing the entire 2018 season with a torn ACL injury, Hunter Henry made his 2019 debut against the Indianapolis Colts, only to suffer a knee fracture in the team's 30-24 win. The tight end actually played through the injury and even contributed on the team's game-winning drive, catching a 17-yard pass from Philip Rivers in overtime. But the injury would go on to force him out of Los Angeles's next four games.
Henry returned on October 13 against the Pittsburgh Steelers and set new single-game career highs in receptions (eight), receiving yards (100), and touchdowns (two). The game served as a reminder of the tight end Hunter Henry is capable of being if he can stay on the field.
Previously hindered by Antonio Gates and injuries
Hunter Henry made an immediate impact as a rookie in 2016. Drafted with the 35th overall pick in the 2016 NFL Draft out of Arkansas, Henry served as a backup to starting tight end Antonio Gates. He caught 36 catches for 478 yards and eight touchdowns; the fifth-most touchdown catches ever by a rookie tight end and the second-most over the last decade behind only Rob Gronkowski.
In 2017, Henry's role expanded a bit, but he was still competing for targets with Antonio Gates. He also had his season end due to injury, hurting his knee and suffering a season-ending lacerated kidney in Week 15. Through the 14 games he played that season, Henry had 45 catches for 579 yards and four touchdowns.
A torn ACL suffered during an offseason practice cost Hunter Henry the entire 2018 regular season.
Hunter Henry is producing as the team's full-time tight end
The fractured knee injury cost Hunter Henry four weeks of his first season as the team's only featured tight end, but since returning from that injury, he has thrived in the role. In six games heading into his Monday night matchup against the Kansas City Chiefs, Henry has caught 33 passes for 418 yards and three touchdowns.
Hunter Henry is on pace to finish this season with 53 catches, 669 yards, and five touchdowns. If you extrapolate the numbers of his six games in 2019 out over a full 16-game season, Henry would be on pace for 88 catches, 1,114 receiving yards and eight touchdowns.
For comparison's sake, taking a look at the final statistics among tight ends from the 2018 season, this stat line would have put Henry tied-for-third in catches, fourth in total yards, and tied-for-third. In other words, he'd be right among the game's elite tight ends.
The best is likely yet to come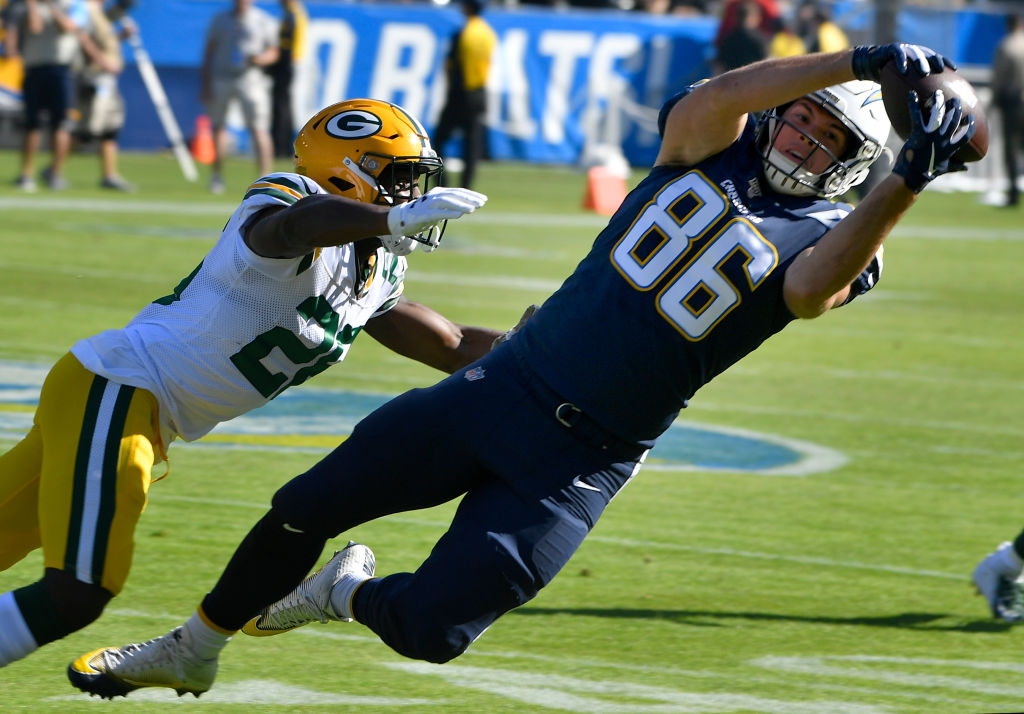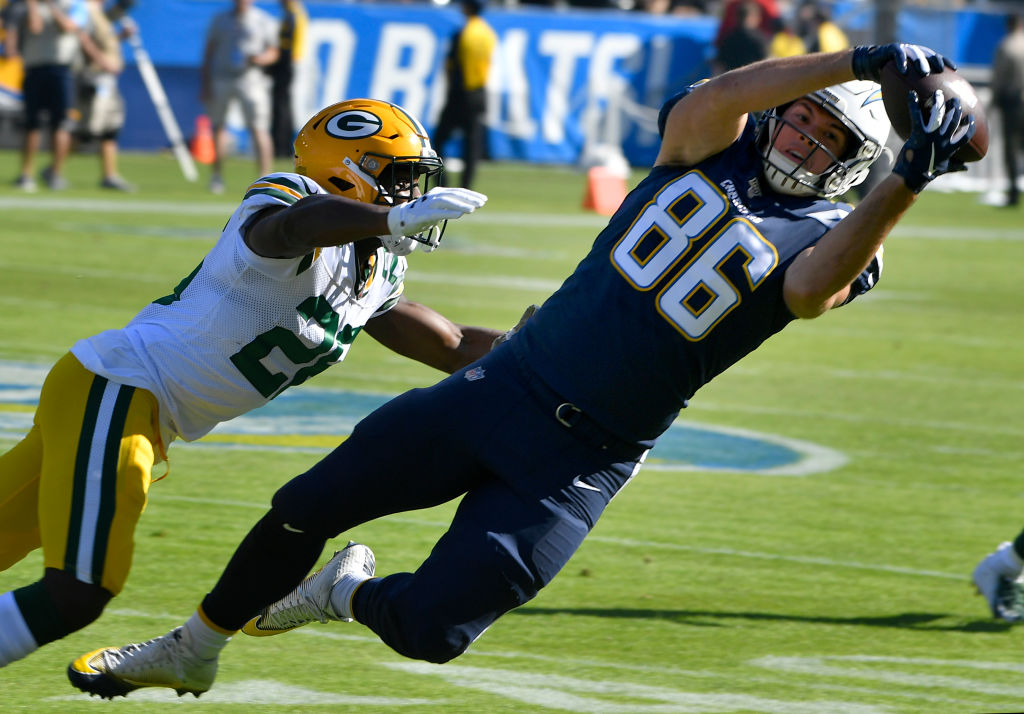 Hunter Henry is only 24 years old. In addition to his recent injury issues, he's also had to deal with a mid-season change in offensive coordinators as the team fired offensive coordinator Ken Whisenhunt earlier this season.
Hunter Henry's last five games have been a sign of what he's capable of when healthy. Hopefully, he can stay healthy through the end of this season and beyond. If he does, he's well on his way to being one of the best pass-catching tight ends in football.