NFL: Tom Brady Could Pass 2 All-Time Greats for This Impressive Feat in Week 5
In his 20th season in the league, New England Patriots quarterback Tom Brady continues to prove to be an ageless wonder while adding to his illustrious career. The future first-ballot Hall of Famer is now set to surpass another impressive mark that could happen in Week 5 action against the Washington Redskins.
Tom Brady's illustrious career
Through his two decades in the NFL, Brady has become the benchmark for the position behind his stellar play. He has been the guiding force for the Patriots' dynasty that has seen them experience an unrivaled amount of success.
The 42-year-old has added many historic all-time records along the way that have cemented his legacy as arguably the greatest quarterback that has played the game. Although there are likely no marks that surpass winning six Super Bowls, he has been one of the most productive players at his position that the league has ever seen.
This has all put him on the doorstep of moving up the list for another all-time feat to move ahead of two other all-time greats.
Tom Brady set to reach second all-time in passing yards
Through the first month of the season, Brady has been off to another solid start as he passed for 1,061 yards on a 62.1% completion rate with seven touchdown passes to one interception and a 97.5 passer rating. It has him on pace to record 4,244 passing yards with 28 touchdown passes to four interceptions.
These are not standout numbers by any means, but he has continued to prove to be a stable factor under center. This has also put himself on the verge of moving to second all-time in regular-season passing yards (71,575) as he needs just 366 yards to move ahead of Hall of Famer Brett Favre (71,838) and future Hall of Famer Peyton Manning (71,940), according to Michael David Smith of Pro Football Talk.
There is still a bit of a hill to climb if he wants to contend for the top overall spot as Drew Brees is currently first with 74,845 yards. Brees is on the mend from a thumb injury but is expected to return in the next few weeks where he will further add to that mark.

Brady has shown that he's still capable of putting up that type of production this season as he has two 300-yard performances, including 341 yards against the Pittsburgh Steelers in Week 1 action. He has a favorable matchup in Week 5 going up against the Redskins, who have been in the middle of the pack against the pass this year.
Patriots' outlook for 2019 season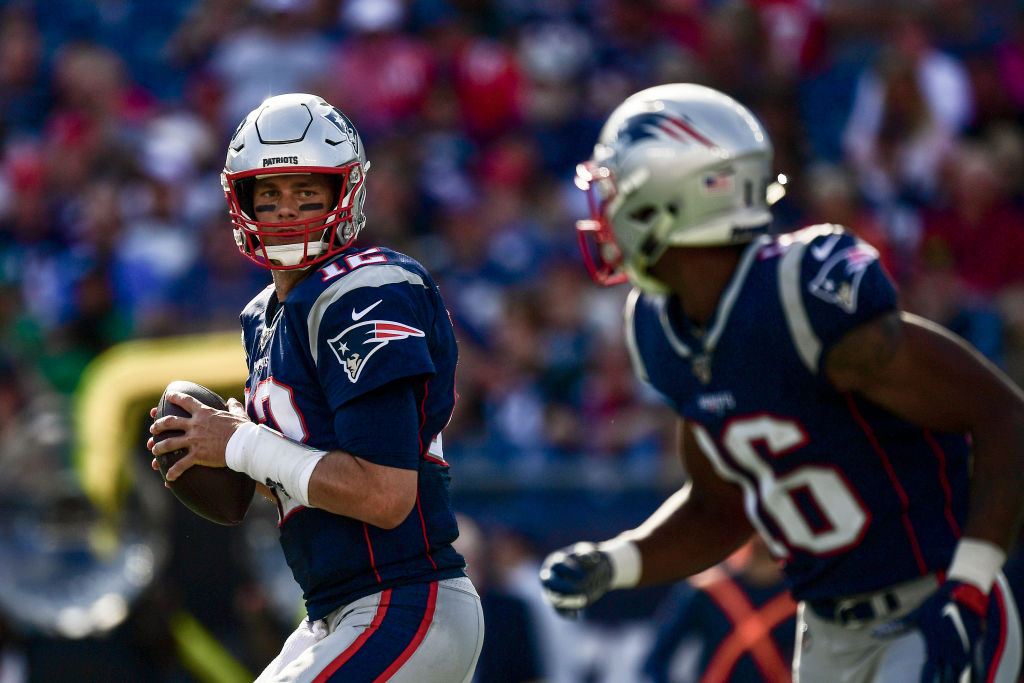 There has been no Super Bowl dropoff for the Patriots as they look like a team that is on the fast track to add another championship banner.
New England has put together a strong first quarter of the season, largely behind the stellar play of their defense that has been among the top units in the league. The Patriots are currently second in total yards allowed as well against the pass and rush, and first giving up 6.8 points per game.
In fact, their defense allowed its first offensive touchdown in the 16-10 win over the Buffalo Bills. This has boasted them up as an even greater favorite to come out of the AFC, with the Kansas City Chiefs, led by Patrick Mahomes playing like the MVP once again, are shaping up to be their biggest challenger at this point of the season.
There is still plenty that could change over the rest of the regular season, but it's clear that the Patriots have remained the standard bearers in the NFL.