NFL: Top 10 Rookies in 2014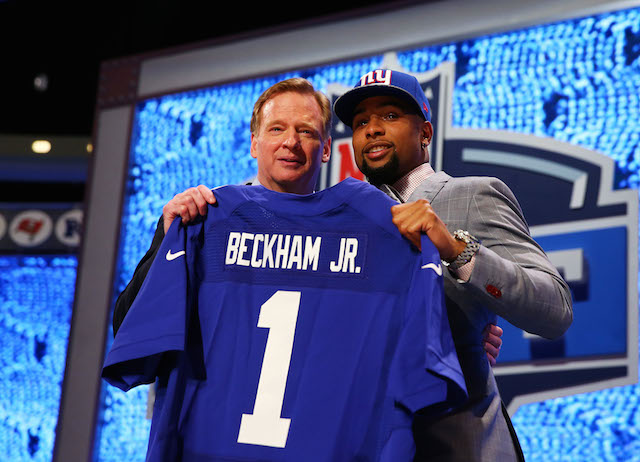 There are future NFL superstars in every rookie class. Now that we've had almost an entire season to watch the 2014 rookies, we have a pretty good idea of which guys will be impact players in the league during their careers.
As the 2014 regular season nears its end, we decided to compile a list of the top 10 rookies in the NFL in 2014. In doing so, we considered impact and production for just this season. Potential was thrown out the window in our evaluations, which is why you won't find quarterbacks Derek Carr and Teddy Bridgewater, or defensive end Jadeveon Clowney on this list.
Without further ado, here is a look at the top 10 NFL rookies of the 2014 season.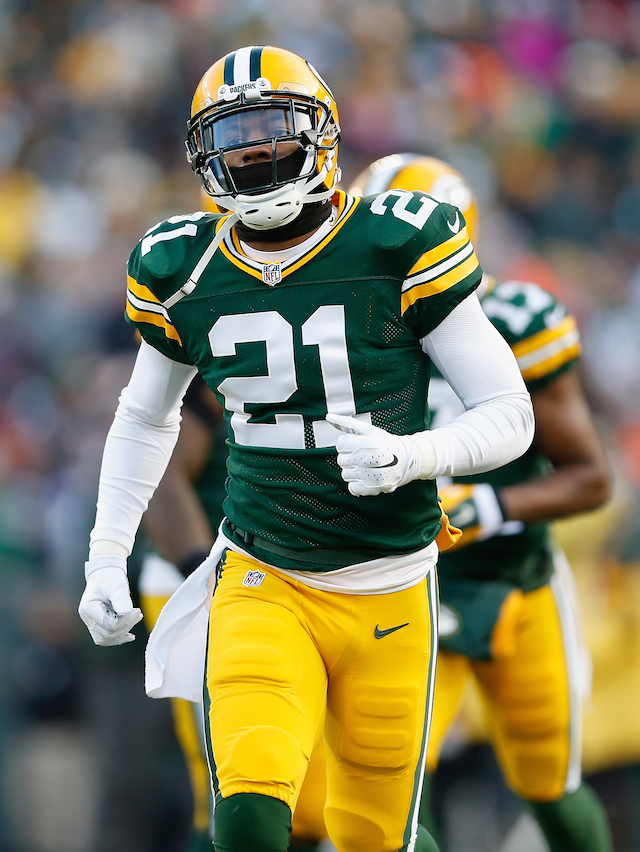 10.  Ha Ha Clinton-Dix, safety, Green Bay Packers
Key Stats:
90 total tackles
1 sack
1 interception
1 fumble recovery
6 passes deflected
Clinton-Dix was the 21st pick in the 2014 NFL Draft. The safety out of Alabama has played like a guy who will be a perennial Pro Bowler in his rookie season, and is a big reason for the resurgence of the Packers' defense. He has the best shot out of all of the rookies on this list to win a Super Bowl title as a rookie.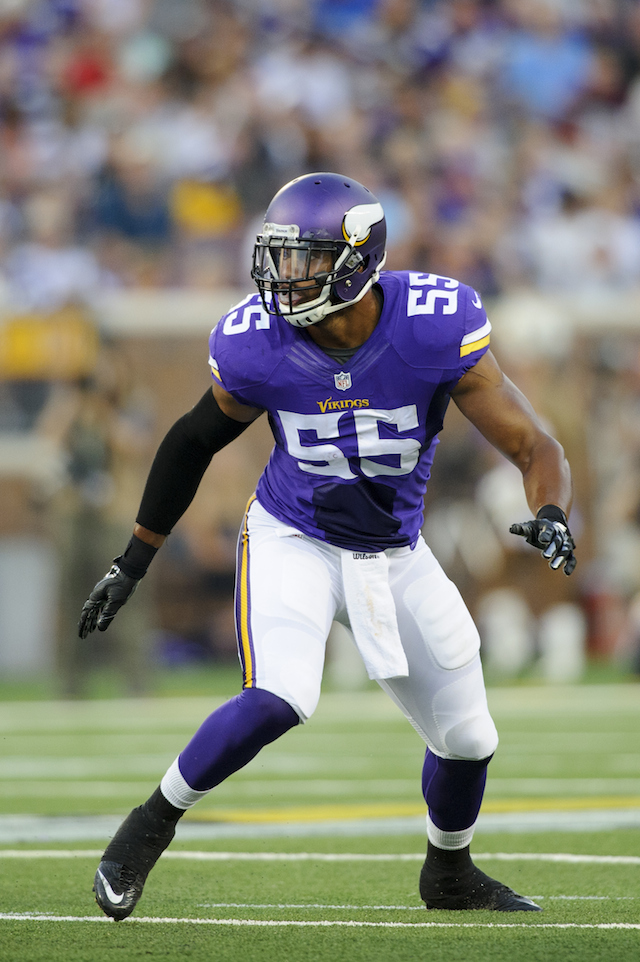 9.  Anthony Barr, outside linebacker, Minnesota Vikings
Key Stats:
70 total tackles
4 sacks
2 forced fumbles
3 fumble recoveries
3 pass deflected
1 defensive touchdown
Barr has been out of the lineup for the last two weeks due to a nagging knee injury, but there is no doubting that the Vikings have been pleased with their top pick from the 2014 NFL Draft. Barr has flashed premier levels of athleticism in his brief NFL career, and looks like a player who will contend for All-Pro honors in the near future. His signature play as rookie came when he single-handedly won an overtime game for the Vikings against the Tampa Bay Buccaneers in Week 8.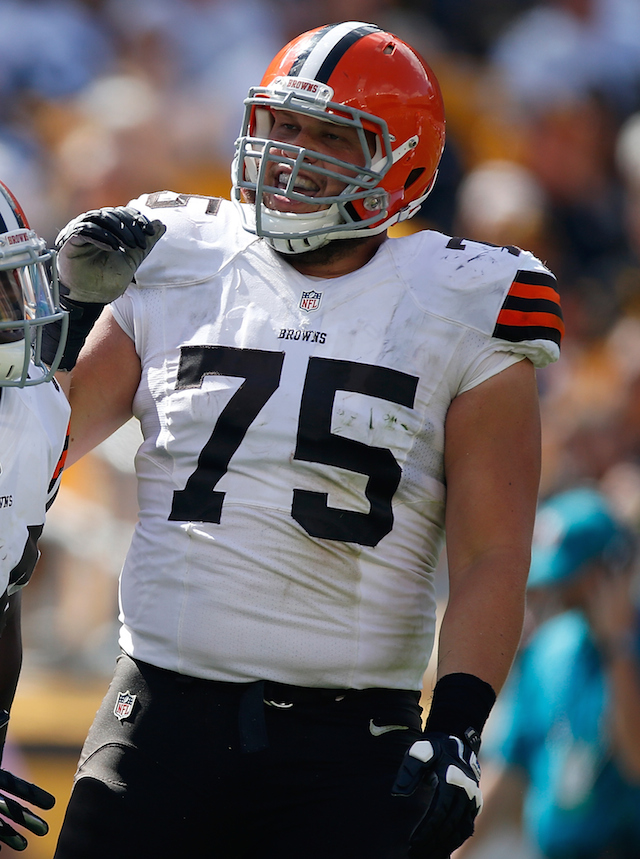 8.  Joel Bitonio, offensive guard, Cleveland Browns
Key Stats:
14 starts
Cleveland has 16 rushing touchdowns in 2014
Bitonio has shut down defensive linemen Gerald McCoy, Jurrell Casey, and Haloti Ngata in 2014
Bitonio was a second-round pick – 35th overall – in the 2014 NFL Draft. He was drafted in large part due to his versatility, but has shined as the Browns' starting left guard in every game this season. Bitonio is a guy who will likely have multiple Pro Bowl selections during his NFL career.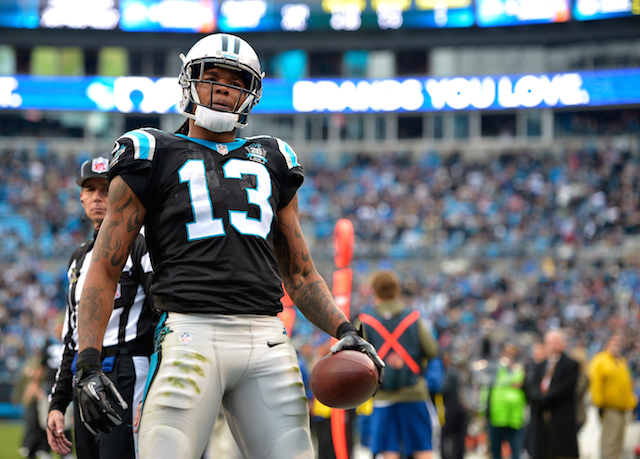 7.  Kelvin Benjamin, wide receiver, Carolina Panthers
Key Stats:
67 receptions
952 yards
9 touchdowns
68 yards per game
Benjamin was the 28th pick in the 2014 NFL Draft, and possesses an extremely rare combination of size (6'5", 240 lbs.), speed, and strength. He quickly became Carolina's top receiving threat in his rookie season and has an excellent chance at eclipsing both the 1,000-yard mark and the double-digit touchdown reception mark in his first professional season.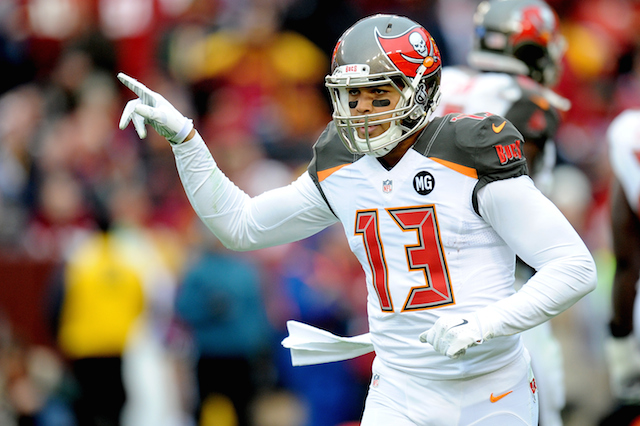 6.  Mike Evans, wide receiver, Tampa Bay Buccaneers
Key Stats:
59 receptions
948 yards
11 touchdowns
72.9 yards per game
Evans was the seventh overall pick in the 2014 NFL Draft, and like Benjamin, he quickly established himself as the top wide receiver in Tampa Bay. Evans already has 11 touchdowns on the year and should easily go over 1,000 receiving yards by the end of the season despite missing the Buccaneers' game in Week 5. Evans is another wide receiver who possesses a rare combination of size, speed, and strength, and will likely find himself playing in several Pro Bowls during his career.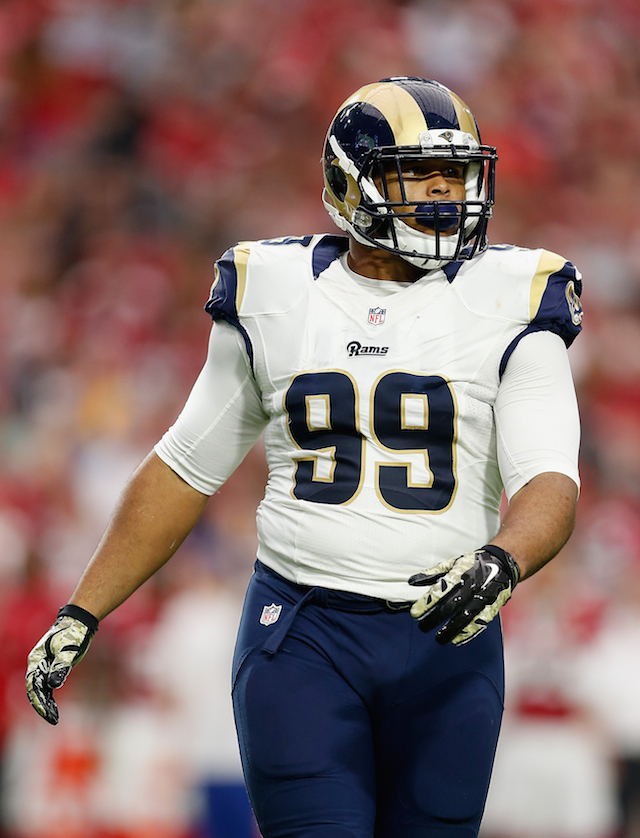 5.  Aaron Donald, defensive tackle, St. Louis Rams
Key Stats:
39 total tackles
8 sacks
1 forced fumble
1 pass deflected
Donald was the 13th pick in the 2014 NFL Draft, and hasn't disappointed. He has been a disruptive force who has started every game for the Rams this season. Donald has been a major part of the Rams' dominance on the defensive side of the ball, and has looked like a guy who will be contending for All-Pro honors for several years to come.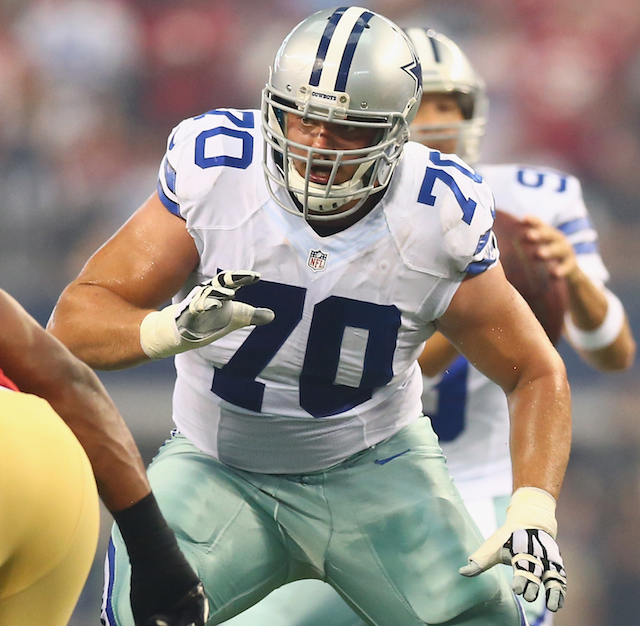 4.  Zack Martin, offensive guard, Dallas Cowboys
Key Stats:
14 starts
Dallas running backs are averaging 4.6 yards per carry
Dallas is averaging 146.6 rushing yards per game
Dallas is averaging 27.2 points per game
Martin was the 16th overall pick in the 2014 NFL Draft. A lot has been written about Cowboys' owner Jerry Jones preferring to draft Johnny Manziel in that spot, but Martin quickly showed Jones that he made the right decision. He has been a major part of the Cowboys' offensive success, particularly in the running game, and will likely be selected to the Pro Bowl as a rookie.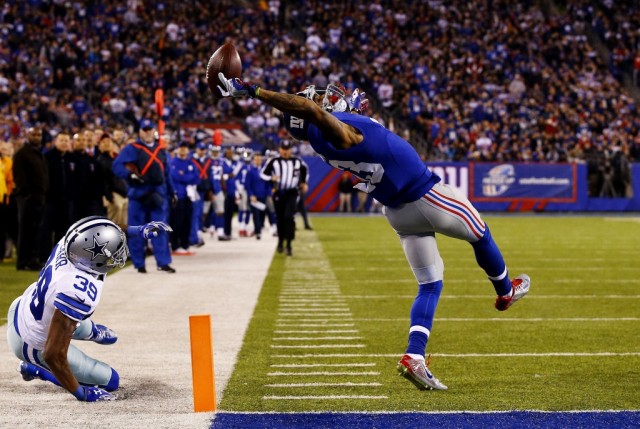 3.  Odell Beckham Jr., wide receiver, New York Giants
Key Stats:
71 receptions
972 yards
9 touchdowns
97.2 yards per game
Beckham burst onto the NFL scene when he hauled in arguably the best catch in the history of the league. He was the 12th pick in the 2014 NFL Draft out of LSU, and despite missing the first four games of the season, he is in position to make his first Pro Bowl as a rookie. In a historically great rookie class of wide receivers, Beckham has been the best of the bunch.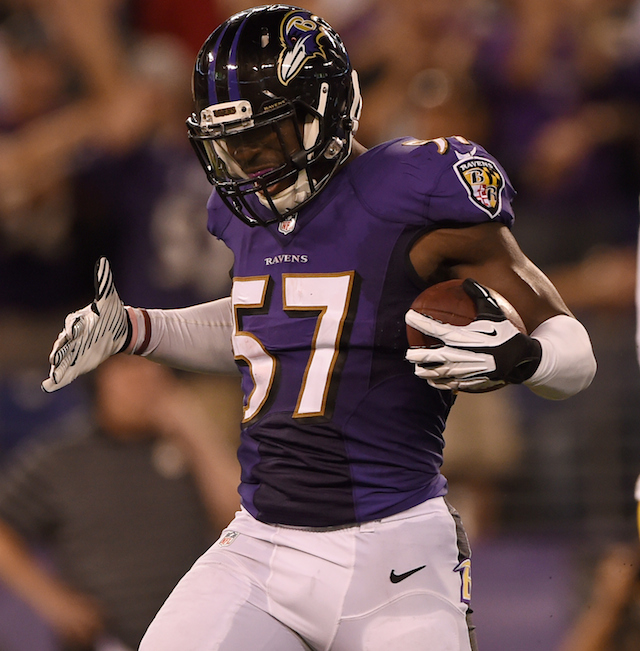 2.  C.J. Mosely, inside linebacker, Baltimore Ravens
Key Stats:
119 total tackles
3 sacks
2 interceptions
8 passes deflected
1 fumble recovery
Mosley was the 17th pick in the 2014 NFL Draft out of Alabama. The hard-nosed linebacker has filled a role for the Ravens that has been vacant since future-Hall of Fame linebacker Ray Lewis retired. The Baltimore defense is back to being one of the premier defensive units in the league, and a lot of that can be attributed to the emergence of Mosley. Don't be surprised to see him named to the NFL All-Pro team as a rookie.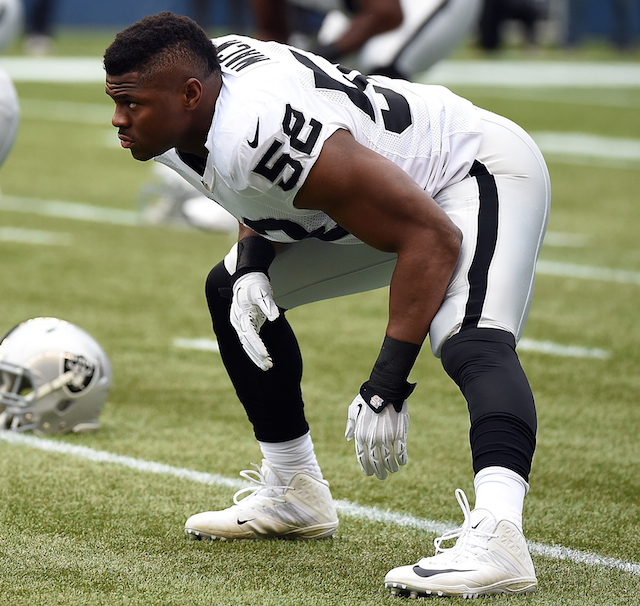 1.  Khalil Mack, outside linebacker, Oakland Raiders
Key Stats:
58 total tackles
3 sacks
1 forced fumble
3 pass deflected
If the Houston Texans had a do-over, they would undoubtedly take Mack over JaDeveon Clowney. Mack was drafted by the Raiders with the fifth overall pick in the 2014 NFL Draft, and has looked like a guy who will be a perennial All-Pro linebacker. He is relentless and has a nose for the ball that very few players in the league can match. If he played for a better team this season, Mack would likely be an All-Pro selection.
Statistics courtesy of Pro-Football-Reference.