NFL: Top 4 Players Who Ended Their Careers With a Super Bowl Win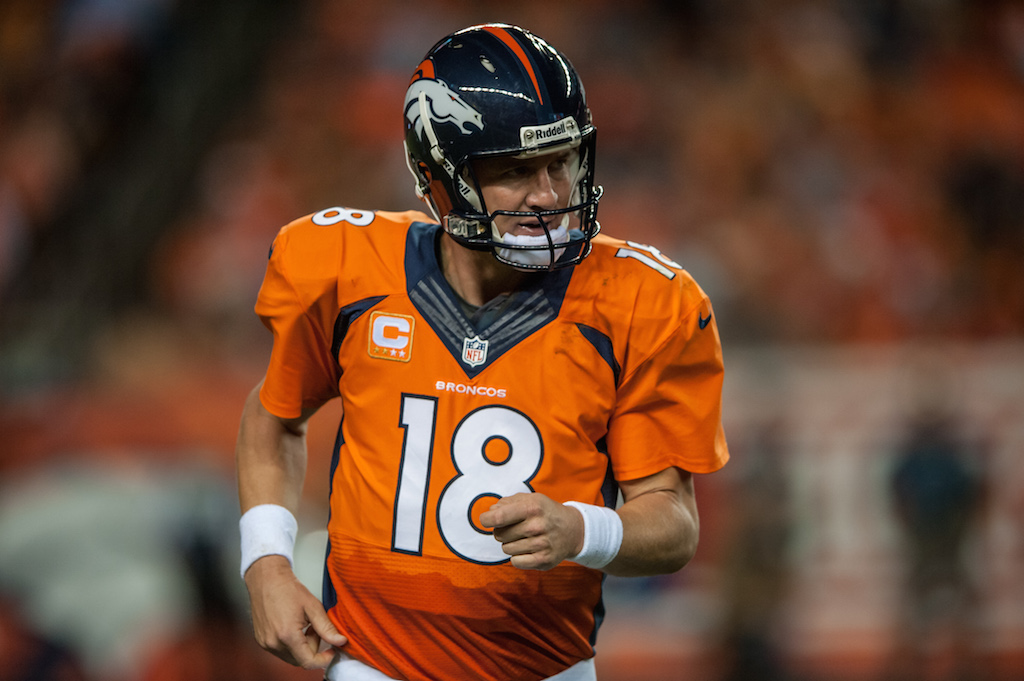 In all likelihood, the 2015-16 NFL season could be the last for Peyton Manning, one of the greatest athletes to ever play the game. Nearing his 40th birthday this coming March, Manning has experienced the most humbling season in his otherwise brilliant NFL career. Despite those struggles, his 18th season has the opportunity to do something few professional athletes have done before.
With his Denver Broncos hosting the New England Patriots for the AFC title next Sunday, Manning has a chance to advance to his fourth career Super Bowl and earn his illusive second career world championship to potentially end his career. When you see all of the statistics and accolades throughout his legendary career, it's easy to see why adding another Lombardi Trophy could be the perfect bow on top of Manning's resume.
Of course, like Manning, pretty much any athlete would tell you that they want to end their career on their own terms, which usually includes winning a championship. While most players can't say they accomplished this feat, some of the best in NFL history did exactly what Manning seeks to do this season. Here are the top four players who ended their careers on the highest note.
4. Jerome Bettis
As a product of Notre Dame, "The Bus" finished his career with the sixth-most rushing yards in league history with 13,662. He rushed for 91 touchdowns in 13 seasons with the Los Angeles/St. Louis Rams and the Pittsburgh Steelers. Jerome Bettis is regarded as one of the best running backs in the history of the game and earned his Hall of Fame nod in 2015. However, entering his final season in 2005, Bettis had yet to notch a single Super Bowl appearance. In that final season, his Steelers would go on an improbable run to capture the title.
Entering the playoffs as the No. 6 seed in the AFC, Pittsburgh needed three road victories to reach Super Bowl 40. They did just that and shocked the favored Seattle Seahawks to win the franchise's fifth title and send Bettis out on top. Bettis certainly didn't have his best campaign in his final season, but he scored three rushing touchdowns during the Steelers' run to help them capture the title. What made his final-season Super Bowl victory even better is that the game occurred in Bettis's hometown of Detroit, marking one of the best endings to a career in the history of professional sports.
3. Michael Strahan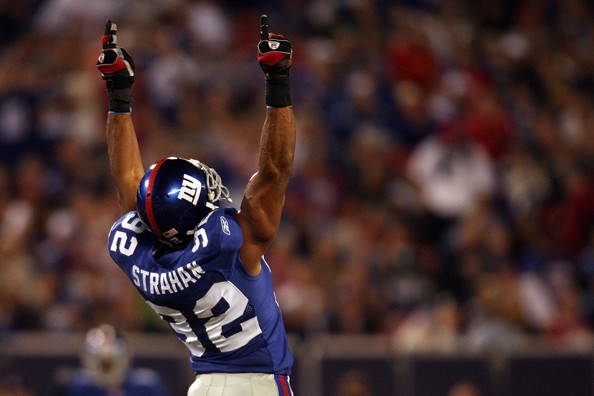 When it comes to discussing the most dominant pass rushers ever, Michael Strahan is certainly in the conversation. In 15 seasons with the New York Giants, he collected a total of 141.5 sacks, which is good for fifth-most of all time. A member of the Hall of Fame class of 2014, Strahan had just one Super Bowl appearance entering his final season in 2007, which resulted in a loss to the Baltimore Ravens. Similar to Bettis, Strahan's Giants would need an improbable run in '07 to win a world championship. Led by some improbable magic, they did just that.
New York entered the postseason as the fifth seed in the NFC, and nobody expected them to do much of anything. What they did do was put together three impressive road victories, which concluded by ending Brett Favre's career with the Green Bay Packers in the NFC title game. Then, in Super Bowl 42, the Giants shocked the previously unbeaten New England Patriots to send Strahan off on top of the football world. Strahan collected two sacks and forced two fumbles during the Giants' run.
2. Ray Lewis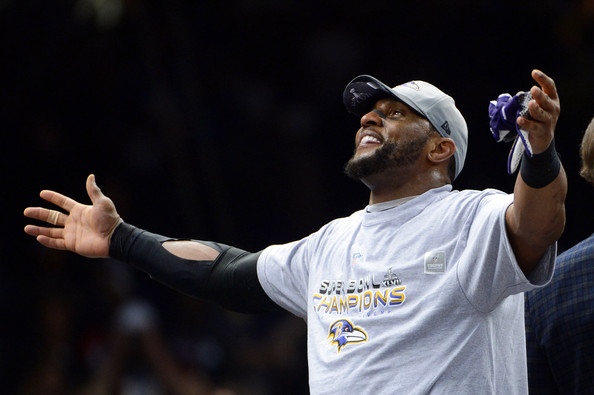 Unlike the previous players on this list, Ray Lewis already had one Lombardi Trophy in his career entering his final season in 2012 (his Baltimore Ravens defeated Strahan's Giants in 2000-01). However, one of the best linebackers in league history wanted to go out on top, despite having already played 16 grueling seasons prior to 2012, all with the Ravens. Lewis dealt with injuries throughout the season, which forced him to miss 10 games during the regular season.
Once Baltimore got into the playoffs, however, there was no way Lewis would be left on the sidelines. The Ravens went on an improbable run as the fourth seed in the AFC to beat the San Francisco 49ers in Super Bowl 47, as they won four games with their franchise legend manning the middle of their defense. Lewis isn't in the Hall of Fame yet, but once he's eligible, he will be a clear first-ballot entry. Memories of his Super Bowl run in his final season are sure to join him as well.
1. John Elway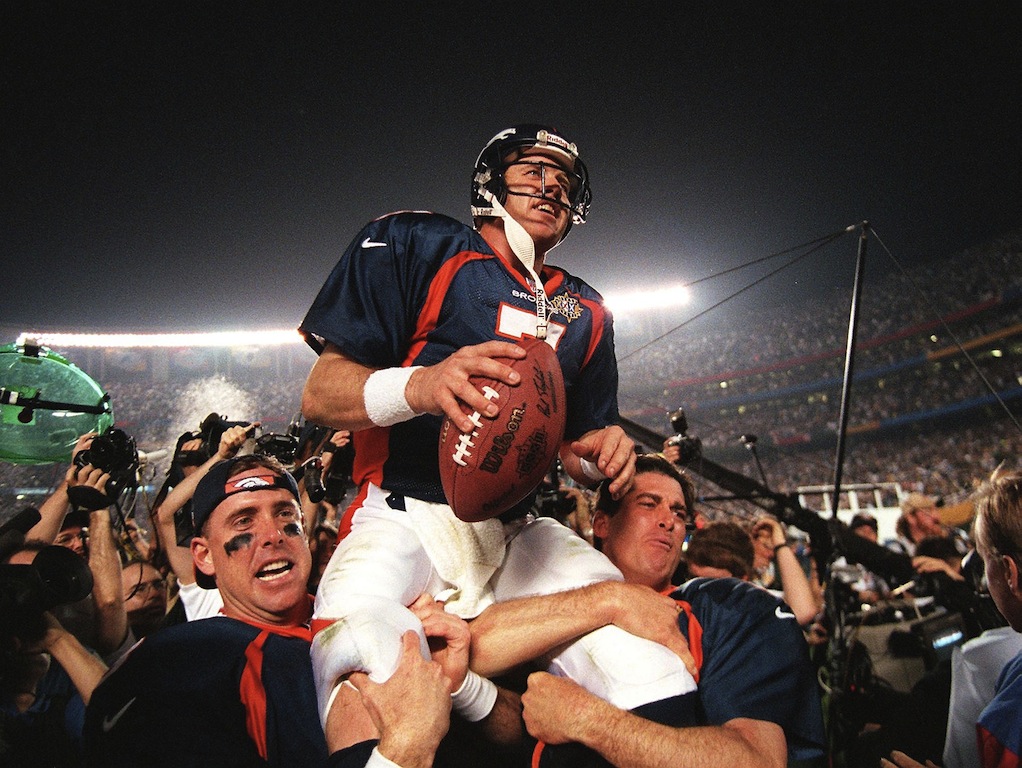 Despite not winning a Super Bowl title during his first 14 seasons with the Denver Broncos, John Elway was still considered one of the greatest quarterbacks in league history. However, the way he finished his career put the icing on the cake. First, in the 1997-98 season, Elway led the Broncos to their first title in franchise history. He could have hung up his cleats after finally earning the Super Bowl victory that eluded him for so long (Elway had lost three previous appearances in the big game), but he decided to come back for one more run with his loaded team.
The result was a career ending like few others. Denver rolled to a second straight Super Bowl title the next season, sending Elway off with two Super Bowl titles to support his great statistics. Even today, Elway still owns the sixth-most passing yards ever and the seventh-most touchdowns. He earned his Hall of Fame induction in 2004, and every player likely wants to emulate the end of No. 7's career.
Statistics courtesy of ESPN.go.com and Pro-Football-Reference.com.