NFL: Top 5 Contenders to win Super Bowl 50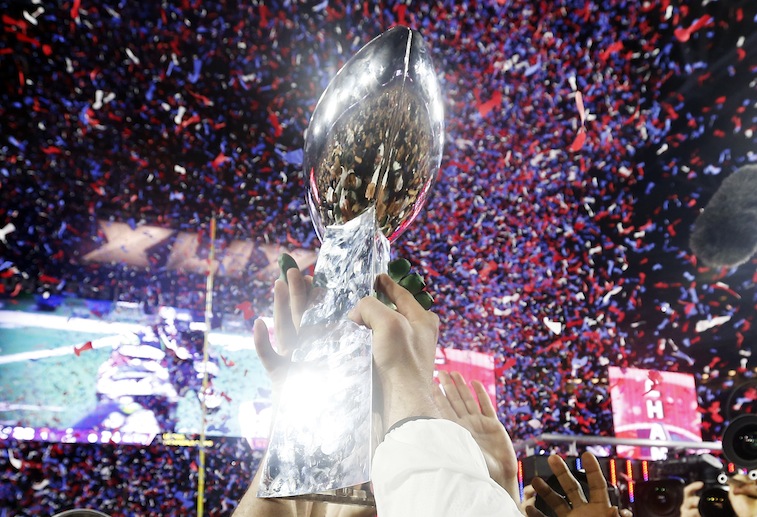 Super Bowl 50 is still more than 140 days away. We've still got the tail-end days of summer, Halloween, Thanksgiving, the wintertime holidays and lots and lots of snow across the country to encounter before the milestone game takes place.
Players, management and team executives of the National Football League still have 16 regular season games and up to three playoff contests to see who competes on the grandest stage. Plain and simple, every team is 0-0 right now and every team – even the Jacksonville Jaguars and Tampa Bay Buccaneers – have a 1/32 shot at taking home the next Lombardi Trophy.
The Jaguars and Buccaneers will absolutely not be a part of this post though. We're not here to say for sure who's going to be victorious on the Levi's Stadium gridiron on Feb. 7, 2016, but to lay out the top dogs going into the season. While the theoretical odds right now of any team winning it all stand at that less than three percent, we all know there's a specific bunch who have to like their chances better than others.
Here are the top five contenders to win Super Bowl 50, ranked from least likely to most likely.
5. Denver Broncos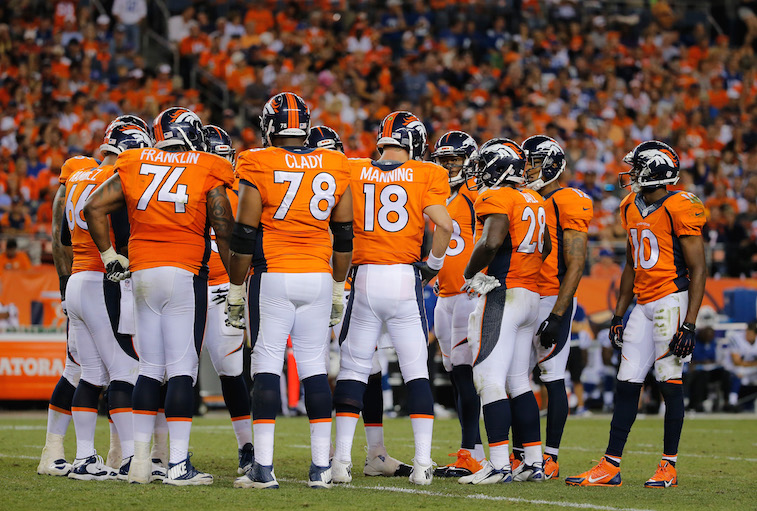 A few seasons ago when quarterback Peyton Manning joined forces with the Denver Broncos, the team was somewhat one-dimensional. Their offense was perhaps the most explosive in the league and the philosophy was simple – let the all-time leader in touchdowns thrown air it out to his talented receivers and run (or throw) the opponents out of the building each week.
Last season at the age of 38 – and after multiple neck surgeries – Manning attempted 62 fewer passes than in 2013. His numbers, while still great, were down across the board. He completed two percent fewer of his pass attempts, his number of passing yards were down by about 700, he threw "only" 39 touchdowns, hurled 15 interceptions and his passer rating was "only" 101.5. Manning is still better than most QBs in the league and still has the potential for another historic season or two.
But enough about this one player, because the Broncos are so much more than that. They now have a dominant running back in C.J. Anderson and a new head coach in Gary Kubiak. Most recently the head coach of the Houston Texans, Kubiak knows a thing or two about defense and he certainly has the personnel for dominance on this roster. Von Miller, DeMarcus Ware and Aqib Talib on the same defensive unit? The Broncos are Super Bowl 50 contenders with this balanced team.
4. Green Bay Packers
No Jordy Nelson? No problem for the Green Bay Packers in 2015.
The best (maybe second-best?) quarterback in the NFL, Aaron Rodgers, will still have plenty of offensive weapons at his disposal this season. Starting in the backfield, Eddie Lacy is projected to have a monster third season as one of the numerous NFL backs with a difficult-to-tackle, monster build. Even without Nelson, Rodgers has a stud receiver in Randall Cobb and a popular breakout candidate in Davante Adams on the outside. With guys like B.J. Raji, Clay Matthews and Julius Peppers making up a veteran defensive team, the Packers are also well-rounded. The relatively weak NFC North should be a boost to Green Bay's chances at another top seed in the playoffs.
After a devastating loss in last season's NFC Championship Game, plus with their buddy Nelson on the sidelines, the Packers will have TONS of incentive to make a run to the Super Bowl this year. Look for Mike McCarthy's squad to be right there near the top of the conference come January.
3. New England Patriots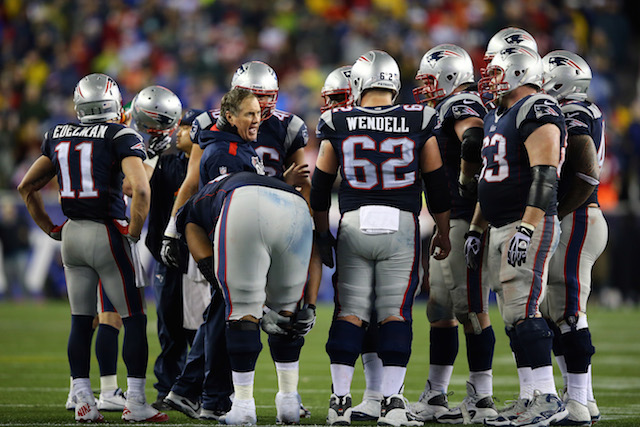 Bill Belichick and Tom Brady. Tom Brady and Bill Belichick. No matter how controversial, disliked and notorious these two figures may be throughout the entire league, their success is impossible to ignore. With this duo in the fold – no matter how many more years it may be for – the New England Patriots will be a perennial Super Bowl contender.
Throw in the fact that they are just seven months removed from one of the most thrilling championship wins in football history, and a unprecedentedly tumultuous off-season is behind them, this group of northeastern athletes are going to be fired up for week one.
Rob Gronkowski, Julian Edelman, LeGarrette Blount, Jerod Mayo and Super Bowl hero Malcolm Butler? Come on, how can you not peg these guys to at least make the AFC Championship again? Add in the aforementioned Brady and Belichick and you may just have a repeat Super Bowl Champion in 2016.
2. Indianapolis Colts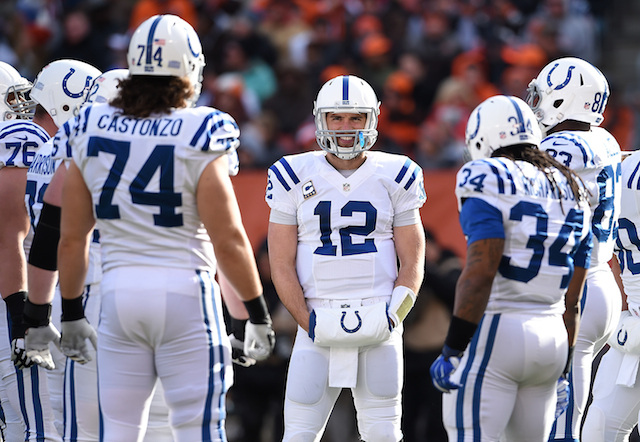 Forget about last year's dismantling at the hands of the Patriots. Forget about their role in Deflategate for a minute. The Indianapolis Colts, as it stands right now, should be considered the favorites in the American Football Conference.
First of all, let's look at their schedule and their competition within the division. They get off to a ridiculously easy start in 2015 by facing the New York Jets and Jacksonville Jaguars at home, with a road match up against the Tennessee Titans sandwiched in between. The next couple of games (at Houston and vs. New England) will be tough, but the Colts also have the fortune of playing four of their contests against last year's worst division in football, the NFC South. Crazier things have happened, but can we all just say now that the Titans and Jaguars will have to wait until at least 2016 to have a shot at winning this division? That leaves only the quarterback-starved Texans in their way. Yeah, the Colts should handily repeat as AFC South winners.
Then you have the rapidly ascending Andrew Luck (at the top of the quarterback field with Rodgers), throwing to Andre Johnson and T.Y. Hilton with new acquisition Frank Gore taking the primary hand-offs. Good luck stopping the Colts in their pursuit of Super Bowl 50.
1. Seattle Seahawks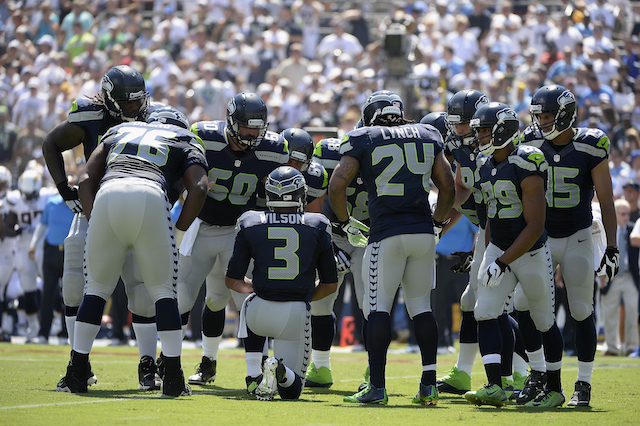 Just one more yard to pay dirt in February and we would have been looking at the Seattle Seahawks as favorites to win their third straight Super Bowl right now. After coming up three feet short from earning the Lombardi Trophy again, the Seahawks perhaps have the most motivation in the NFL to make their way back to the final game. They haven't lost much in terms of personnel over the summer, but they did add one very large piece on offense.
Jimmy Graham comes in as the newest member of the team and represents the best receiving target that quarterback Russell Wilson has ever had in his young NFL career. Of course, media shy guy Marshawn Lynch is still there, giving the Seahawks a tremendously versatile offense. Then there's the defense, which is still the best the league has to offer.
Spearheaded by media blabbermouth Richard Sherman – a now fully-healthy Richard Sherman – Seattle's defense has gotten so much love the last couple of years that's it's almost getting old. Well, for all of the praise to finally stop, someone's going to have to do something to stop their dominance. The Patriots did it in last year's Super Bowl, but for right now, the Seahawks are the top contenders to win Super Bowl 50.
All data courtesy of NFL.com and ESPN.com.
Follow Victor on Twitter @vbarbosa1127.
Want more great content like this? Sign up here to receive the best of Cheat Sheet daily. No spam; just tailored content straight to your inbox.