NFL: Top 5 Defensive Tackles in the League
Defensive tackle is a position featuring constant contact and plenty of physical wear and tear on each and every play. No surprise then, that this is also a position that is filled with some of the game's best players and biggest playmakers. Here are the top five defensive tackles currently in the league:
5. Marcell Dareus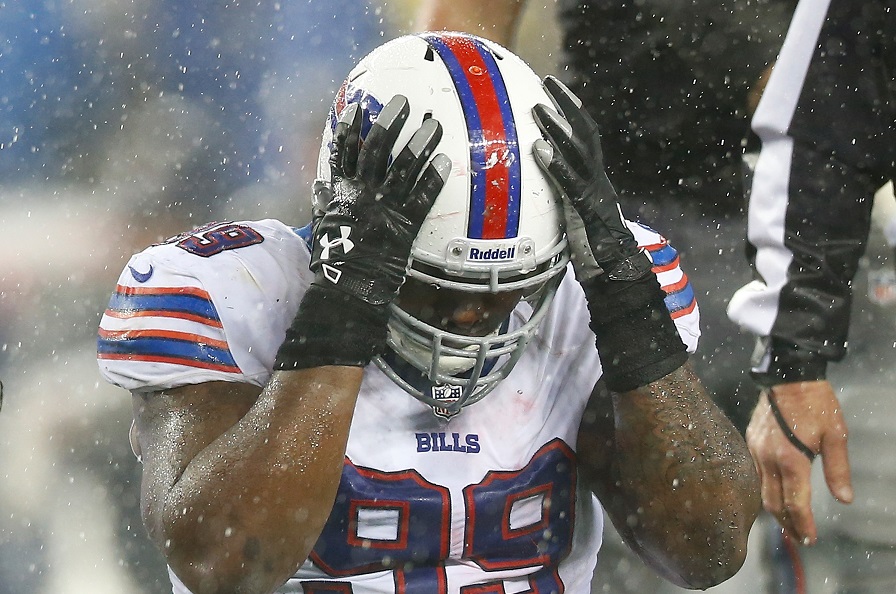 In his first five seasons in the NFL with the Buffalo Bills, Dareus has become a staple on one of the league's best defensive lines. Although the 25-year-old did see a significant drop in his sack total, recording just two this past season, "Mr. Big Stuff" is still one of the league's best, and is coming off two consecutive Pro Bowl selections, his first All-Pro First Team nod of his career, and a career-high 10.0 sacks in 2014. Prior to this past season, he had also recorded at least 5.5 sacks in each season, while missing just two games in his career.
Dareus is a disruptive force on the defensive line, utilizing his large frame (he stands at 6-foot-3 and weighs in at 331 lbs) along with his tremendous strength to help often push aside opposing offensive linemen with ease. While he has also experienced some off-the-field issues, but that shouldn't take away from the type of production he has put up and talent that he possesses.
4.Gerald McCoy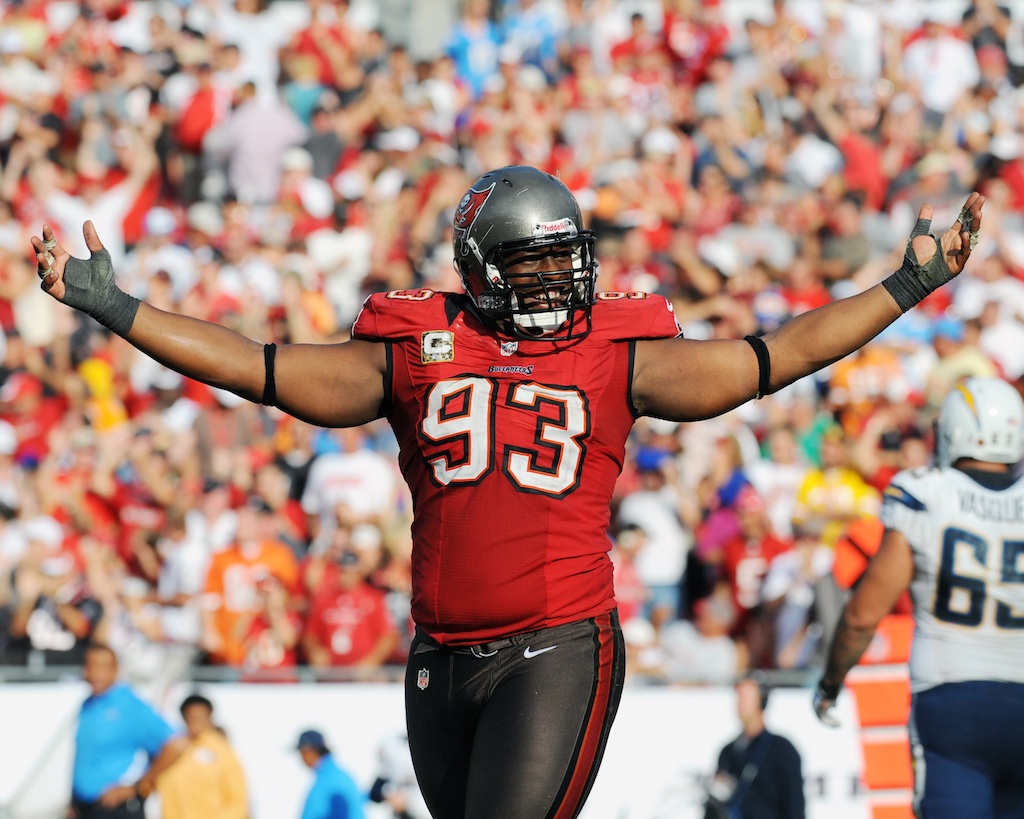 McCoy didn't get off to a particularly good start to his NFL career in the first two seasons dealing with a torn biceps injury in each arm that limited him to just 17 games over that span. However, the Tampa Bay Buccaneers standout defensive tackle has seen a dramatic improvement in his play over the last four seasons with the injury bug mostly behind him — he missed just four games over that stretch — earning four straight Pro Bowl selections and three consecutive All-Pro First Team nods.
McCoy has been an absolute force as a pass rusher for the Buccaneers over the last three seasons, recording at least 8.5 sacks in each campaign. Pro Football Focus had him as the highest graded pass rusher at defensive tackles over the last two seasons prior to 2015, with 125 quarterback pressures over that span. His 30.5 sacks over the last four years are the most by any defensive tackle in the NFL, and he was able to keep up his high level of play this past season notching 8.5 sacks despite dealing with nagging shoulder and hand injuries that significantly limited his practice time through the year. In all, McCoy is a game-changer at his position, and his performance over the last few seasons despite injuries has made him a constant in the conversation for the best defensive tackles in the league.
3.Ndamukong Suh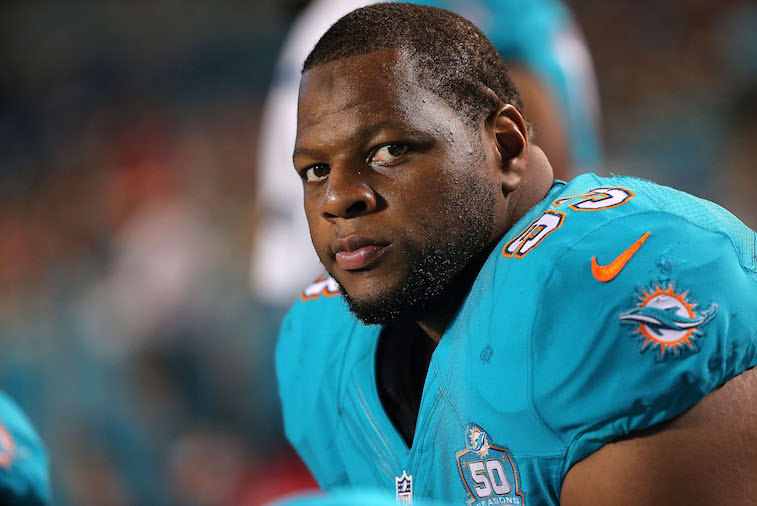 When Suh entered the league in 2010, he did so with plenty of hype, following a dominant senior season at Nebraska. That hype continued unabated — translating into an extremely successful first six seasons of his NFL career  and helping him the largest non-quarterback contract in league history. He's one of the most dominant defensive linemen in the league, with his brute strength that makes him nearly unstoppable on each play. Although he didn't earn any accolades in his first year with the Miami Dolphins, the 29-year-old put together another strong campaign with 61 tackles including a career-high 24 assisted tackles, 6.0 sacks, and was fifth among defensive tackles with 15 tackles for loss.
Suh's numbers may not blow away anybody, but his presence is certainly felt in every game, and he has the career achievements (save maybe postseason success) to back it as he's a four-time Pro Bowler, four-time All-Pro First Team selection, and earned one All-Pro Second Team nod.
2. Geno Atkins
After suffering a torn ACL injury in the 2013 season, there were plenty of questions about whether Atkins could return to the league at all, let alone come back the same player he was. He has certainly answered the bell over the last couple of  seasons with two straight Pro Bowl selections and his second All-Pro First Team selection in 2015. Atkins finished tied for sixth the league with 17 tackles for a loss, which was second-best among defensive tackles, and first among all defensive players with 36 defensive hurries. He also ranked eighth in the league with 11.0 sacks, which made him the first player in Bengals' history to have multiple seasons with 10-plus sacks.
While it's true that the 27-year-old was a shadow of himself in 2014 — tying a career-low three sacks and generally looking like he'd lost a step — his significant uptick in production in his second full season removed from injury is a clear indication that he's back to elite form. Atkins once again showed that he has the quick initial burst off the line by leading all defensive tackles with 82 total pressures. He was also a major reason for the Bengals improved play defensively jumping up from the bottom of the league with 20 sacks in 2014 to ninth overall this past season with 42 sacks.
This significant jump was very much a credit to Atkins once again drawing frequent double teams from opposing offensive lines that resulted in freeing up more opportunities at the quarterbacks for his teammates.
1. Aaron Donald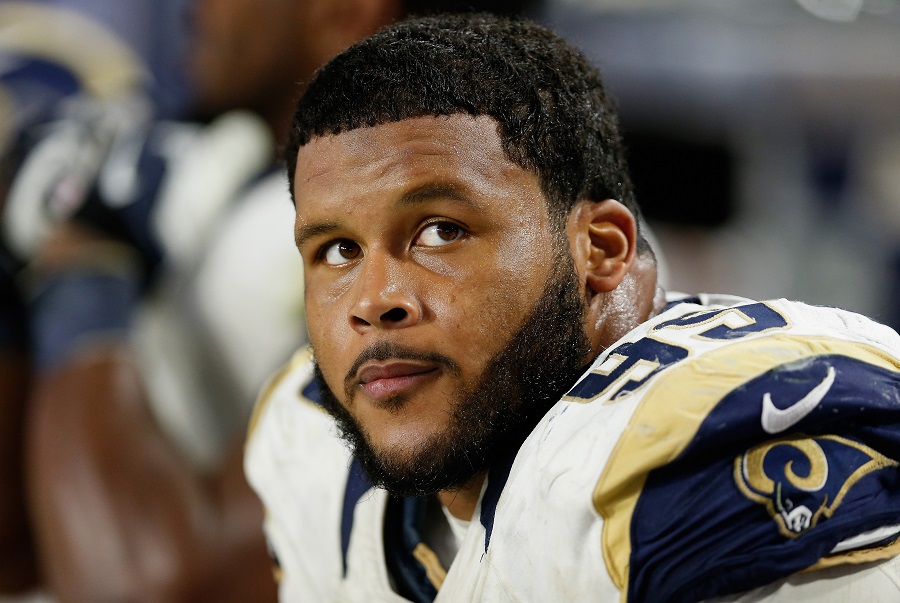 Aaron Donald has done nothing less than take the league by storm in his first two seasons in the NFL with the (now Los Angeles) Rams.  Finishing his second season with another Pro Bowl selection after demonstrating his unique ability to disrupt both run and passing game by recording 79 total pressures and 51 defensive stops and 11.0 sacks.
This wasn't unexpected, of course: entering the league, after a strong showing at the NFL scouting combine highlighted by a blazing 4.68 on the 40, but Donald has completely blown past all of the expectations through his first two campaigns and has become arguably the best defensive player in the league, alongside Houston Texans' defensive end J.J. Watt. What separates Donald from the players below him on this list is his quickness off the line, alongside the way he uses his hands help him maximize his strength that allows him to get past any offensive line in a matter of seconds. In short, He's a pure defensive tackle that can also play like a defensive end.
There many questions about his size at 6-foot-1 and 285 lbs coming into the league, but he has quickly erased any of those doubts. Donald frequently commands a double team and is still is able to be a factor defensively. He finished the 2015 season with 22 tackles for a loss, which the highest in the league for a defensive tackle. Although he's playing on a talented defense, Donald still gets the same treatment as Watt because of his unique physical ability and knowledge of the game that has drawn the same comparison to two Hall of Famers in Warren Sapp and John Randle. When he's getting that type of praise after just his second year, that a definite sign that he's something special.
Statistics courtesy of Pro-Football-Reference.com, ESPN.com, and NFL.com.