NFL: Top 5 Players Who Played College Basketball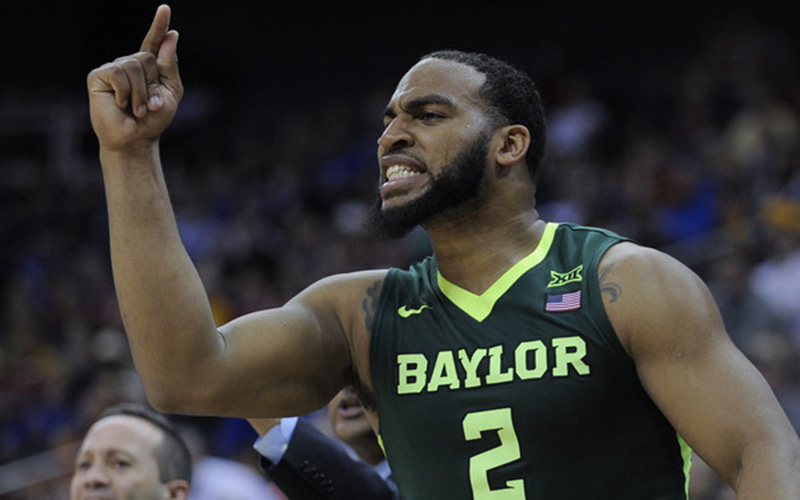 Rico Gathers was a basketball standout for the Baylor Bears over the past four years, averaging nearly a double-double over the course of his final two seasons in Waco. However, instead of pursuing a career in the NBA like many other of his fellow seniors, the 6-foot-8, 275 pound forward wound up being drafted into the ranks of the NFL, going to the Dallas Cowboys in the 6th round of the 2016 NFL Draft.
While unusual, his switch from the hardwood to the gridiron wasn't  unprecedented by any means. In fact, some of the best players in NFL history — most notably Tony Gonzalez — played basketball during college before entering the NFL. In the league today, there seems to be a continuing trend of tight ends and pass rushers who focused on hoops during the collegiate years.
With Gathers' sudden rise to significance prior to the draft and subsequent selection, he will look to have as much success as the best to ever make the switch. Speaking of those players, we have the top five current NFL players who played college basketball, based on player grades courtesy of the good people over at Pro Football Focus.
5. Julius Peppers
2015 Pro Football Focus Grade

– 73.2

Julius Peppers has had a long and prosperous 14-season NFL career to this point. He's accumulated a total of 136 sacks, tied for ninth all-time, and while that type of production and longevity would wear down most athletes, Peppers continued to excel last season with the Green Bay Packers with 10.5 sacks on the year. At age 36, his time in the league is dwindling, but none of it would have been possible (in all likelihood) without his basketball career at North Carolina.

Peppers played two seasons for the Tar Heels back at the beginning of the new millennium, averaging 5.7 points and 3.7 rebounds per game. As a two-sport athlete, though, it was clear that Peppers excelled on the gridiron — as proved by his 10th place finish in the Heisman voting back in 2001. It's clear that he made the right choice and once his career is over, he could be preparing for his enshrinement in Canton.
4. Jimmy Graham
2015 Pro Football Focus Grade

– 78.9

Despite an injury-shortened season in his first year in Seattle, there's no question that Jimmy Graham is one of the top tight ends the NFL has to offer. He had a very successful five season stint with the New Orleans Saints to begin his career and for a few seasons, he was discussed in the same conversation as the lethal Rob Gronkowski. Entering his 8th season with over 5,000 career yards and 53 touchdowns, Graham has a chance to rebound from the injury next season and play a big role on a club that is always in contention for a title. However, it wasn't too long ago that he was playing a role on NCAA Tournament squads at Miami (FL).

Graham averaged a meager 4.2 points and 4.2 rebounds per game over four seasons with the Hurricanes basketball team. He actually only played one season of football during his senior year of 2009 as well, when he scored five touchdowns for Miami. His 6-foot-8 frame got him drafted in the third round of the 2010 NFL Draft, which turned out to be a steal for New Orleans.
3. Quinten Rollins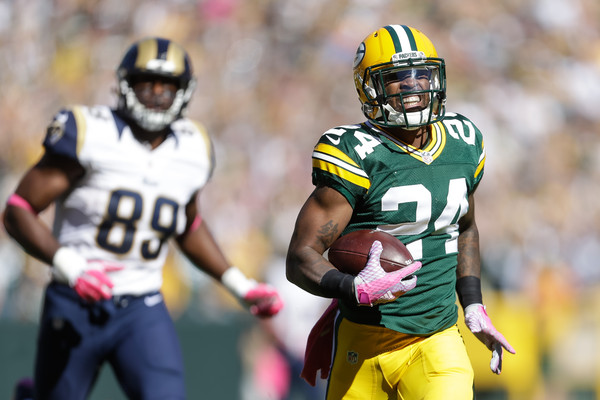 2015 Pro Football Focus Grade

– 82.1

In four seasons for the Miami (Ohio) Redhawks, Quinten Rollins averaged 6.3 points, 3.4 assists, 3.1 rebounds, and 1.8 steals per game over the course of his career. During his senior season, he led the MAC Conference in steals, proving his effectiveness on the defensive end of the floor. As a senior, though, Rollins also played football for the Redhawks and proved to be even more effective defender. That season, he recorded 72 tackles and seven interceptions to win MAC Defensive Player of the Year. With how well he played on the gridiron, Rollins entered the 2015 NFL Draft, and was ultimately picked in the second-round by the Green Bay Packers.

In his rookie season, Rollins worked his way into a starting role with Green Bay by the end of the season and finished the year ranked among the top 20 corners in the league, according to Pro Football Focus. Ultimately, he wound up recording three interceptions, 31 tackles, and a defensive touchdown, giving the Packers hope that he can be a leader in their secondary for years to come.
2. Antonio Gates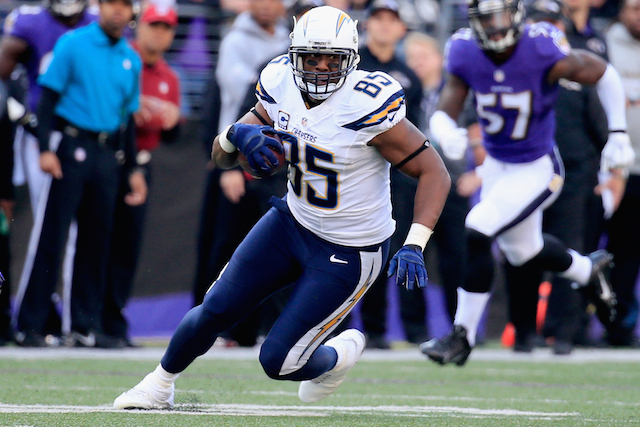 2015 Pro Football Focus Grade

– 82.5

The most accomplished college basketball player on this list, Antonio Gates was a stud in the MAC conference for three seasons with Eastern Michigan and Kent State back in the early 2000's. During the 2002-03 season, he averaged 20.6 points, 7.7 rebounds, and 4.1 assists for Kent State. In the previous season, Gates led the Golden Flashes on a memorable NCAA Tournament run that ended in the Elite Eight — a season that is still the most successful in the history of the school. Despite being so dominant on the court, Gates decided to pursue a career in the NFL. It's safe to say that was the right call.

Now entering his 14th season (Spent entirely with the San Diego Chargers), Gates has been one of the most productive tight ends in NFL history. With 10,644 career receiving yards, 104 touchdowns (good for 7th all-time), and countless honors, Gates could call it a career today and would be considered a Hall of Fame caliber player. However, fresh off a new free agent contract with the Chargers, he'll be looking to continue his excellence as he turns 36.
1. Vincent Jackson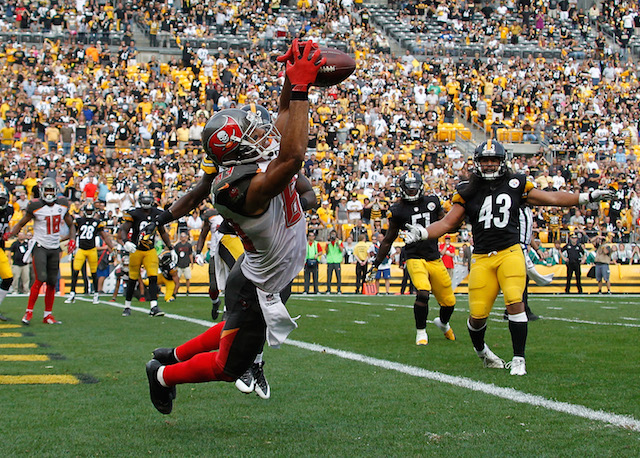 2015 Pro Football Focus Grade

: 83.2

A former walk-on at the University of Northern Colorado, Vincent Jackson had some solid performances on the basketball court during the 2003-04 season. However, his real skill came out on the football field, as he was a monster in two seasons for the Bears. In 2003, he caught 66 passes for 1,462 yards and 21 touchdowns before catching 80 passes for 1,382 yards and 11 scores in 2004. He played against some mediocre competition during those years, but the San Diego Chargers still drafted Jackson in the second-round of the 2005 draft.

Jackson managed some solid seasons in San Diego before signing with the Tampa Bay Buccaneers in 2012. There, he managed three straight seasons 1,000 yard seasons before dealing with an injury plagued campaign last season. He's a critical piece to a young Bucs team that will look to improve with Jameis Winston under center over the coming seasons.

Stats and info courtesy of ESPN, NFL.com, and Sports-Reference, unless otherwise noted.