NFL: Top 10 Fantasy Football Quarterbacks for 2016
The 2016 NFL season starts today, which means that the long, brutal lull is close to being over. This means that it's time to start talking fantasy football, which is one of the best parts of the build up to the NFL season. There's no question that being able to draft fantasy football teams helps make the final month or two of the offseason just a bit easier. So, we're going to look at each position for your fantasy football team and rank the projected top players as well. Here are the top 10 fantasy football quarterbacks.
10. Andy Dalton, Cincinnati Bengals
We're starting things off with the "Red Rocket" himself. While Andy Dalton is flying a bit under the radar due to the injury that derailed his beautiful start to 2015, he will bounce back nicely in 2016. Dalton completed a career-best 66.1% of his passes for 3,250 yards, 25 touchdowns, and just seven interceptions through 13 games. He also posted a career-best 106.3 quarterback rating. Basically, it seems as though Dalton has finally put it all together and should be in for a huge year.
9. Ben Roethlisberger, Pittsburgh Steelers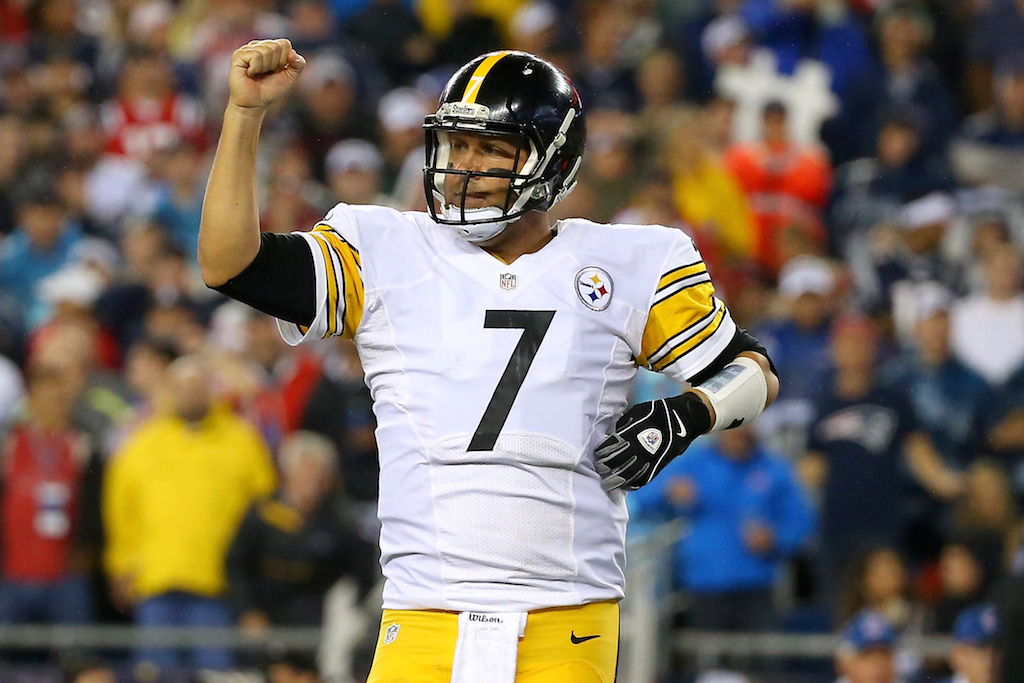 Another guy who dealt with his fair share of injuries, Ben Roethlisberger played in 12 games in 2015, but threw for nearly 4,000 yards (3,938 to be exact) and tossed 21 touchdowns. He did see a spike in his interceptions (up to 16), but we don't expect that to stick for Big Ben this coming season. He usually goes fairly late in fantasy drafts, so you may get a steal here.
8. Drew Brees, New Orleans Saints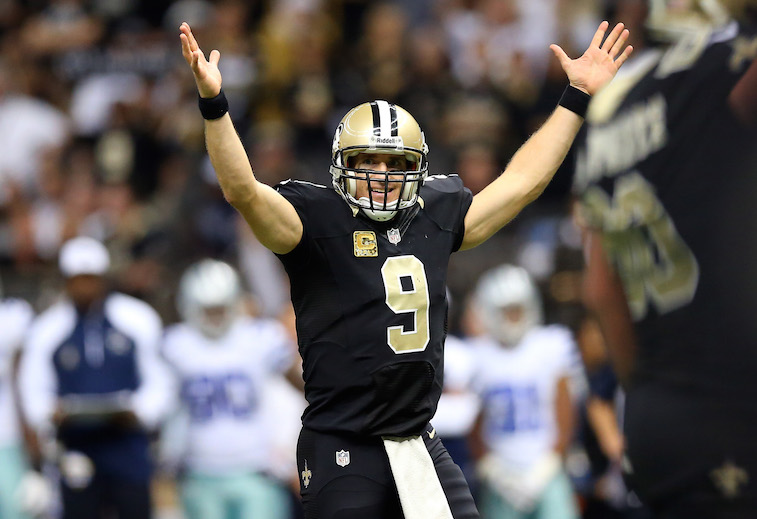 Drew Brees may be 37 years old, but the man is the definition of consistency. He's thrown at least 32 touchdowns in each of the past eight seasons. In 2015, a year in which many believed he'd decline, Brees wound up throwing for 4,870 yards, 32 touchdowns, and just 11 interceptions. Another year of working with Brandin Cooks and the addition of Michael Thomas from Ohio State will only help him out as well. Brees should post huge numbers once again.
7. Russell Wilson, Seattle Seahawks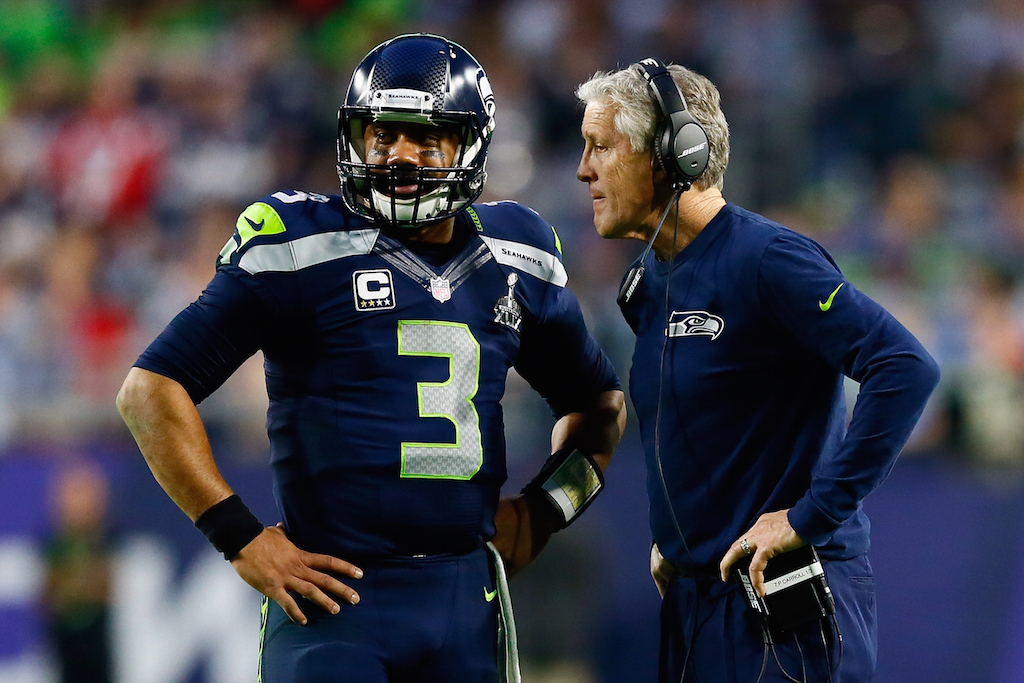 We nearly put Russell Wilson behind Brees, but his ability to get it done with his legs, as well as the improvements he achieved in 2015, make him one of the most intriguing quarterbacks for fantasy this coming season. Wilson increased his completion percentage by five points last season to 68.1, while also topping 4,000 yards passing, throwing 34 touchdowns, and just eight interceptions. Wilson has never had an issue with interceptions, and we expect that to remain the same next year.
6. Andrew Luck, Indianapolis Colts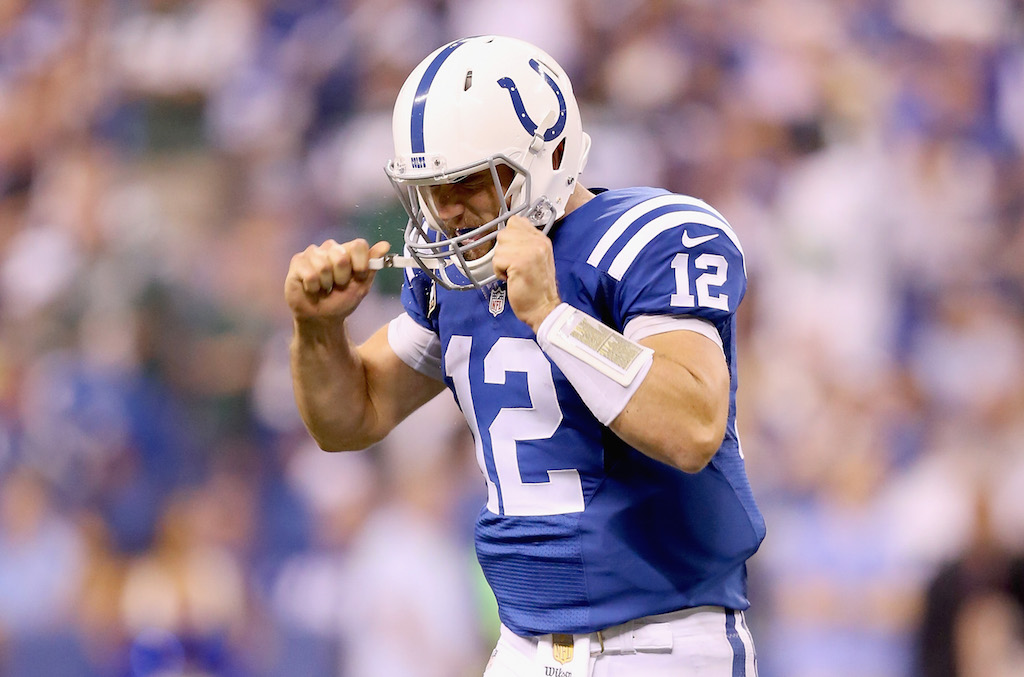 Andrew Luck is back, and he's finally healthy. Just a year removed from throwing for 4,761 yards and 40 touchdowns, Indianapolis's offensive leader couldn't stay healthy in 2015. He played in just seven games, throwing for 1,881 yards, 15 touchdowns, and 12 interceptions. The good news? He'll be hungrier than ever this year, and while we don't expect to see a repeat of his 2014 season, he will still have a pretty superb year, and he will likely be one of the first fantasy football quarterbacks taken.
5. Blake Bortles, Jacksonville Jaguars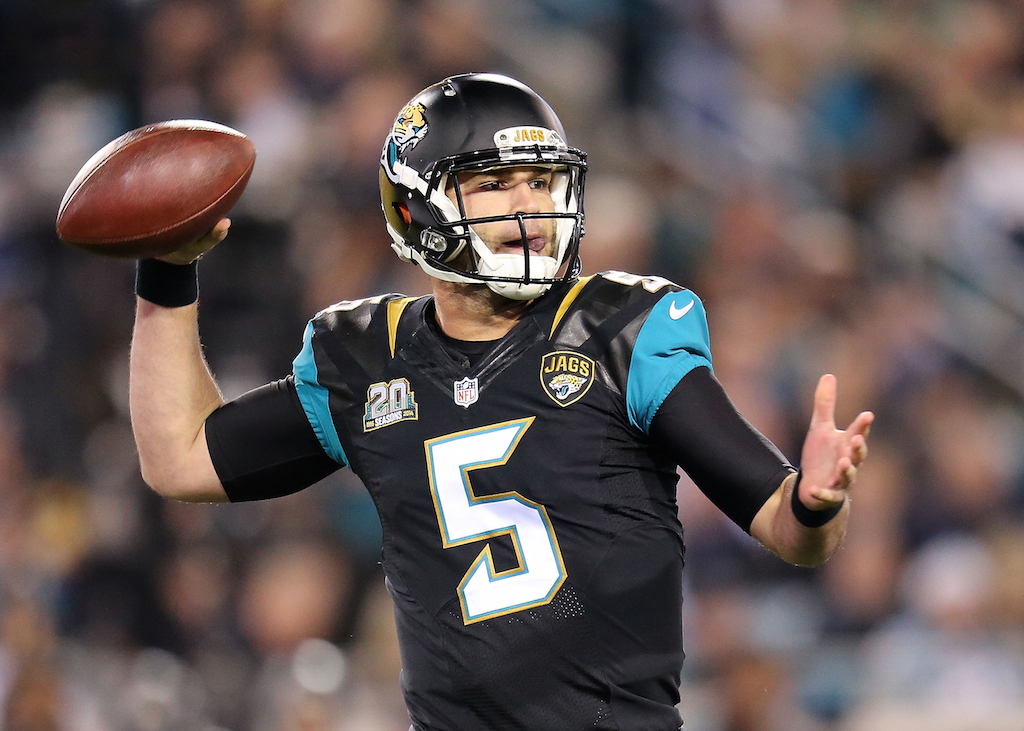 There's a good chance that we have Blake Bortles higher than almost everyone else out there. After a 2015 season in which he made a massive step forward, throwing for 4,428 yards and 35 touchdowns, we believe he's just beginning to show what he's capable of. With offensive weapons such as Allen Robinson, Allen Hurns, and Julius Thomas, it's hard not to like the weapons he has. To go along with that, the pairing of Chris Ivory and T.J. Yeldon in the backfield will only make his life easier in 2016. Grab Bortles in the middle rounds, and put a smile on your face when you do.
4. Carson Palmer, Arizona Cardinals
Welcome to the elite level, Mr. Carson Palmer. After some pretty solid years throughout his career, the 36-year-old quarterback broke through in 2015 in a big way. He threw for 4,671 yards, 35 touchdowns, and just 11 interceptions. Basically, Palmer was a player who teams drafted as their QB2 last season, and it paid off as one of the top fantasy football quarterbacks in the league. With Larry Fitzgerald, Michael Floyd, John Brown, and even running back David Johnson available as pass-catchers, expect another big season here.
3. Aaron Rodgers, Green Bay Packers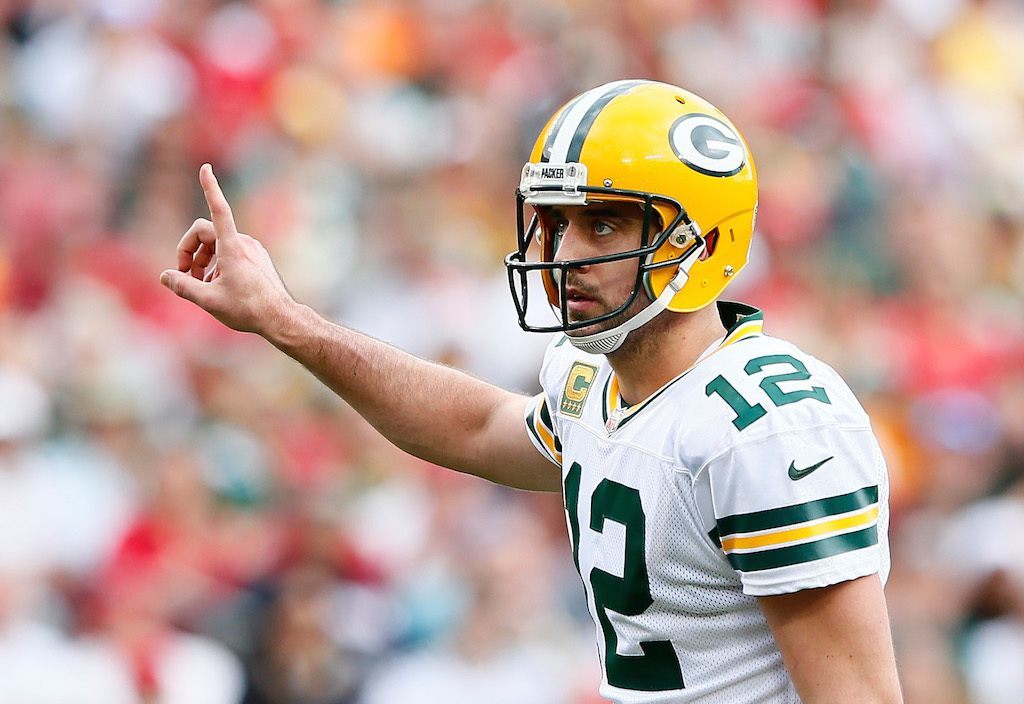 When the Packers lost Jordy Nelson to a preseason ACL injury, many were concerned about Aaron Rodgers as a fantasy option and about his team in general. While he didn't wind up having the best year of his career, he still threw for 31 touchdowns against just eight interceptions. Now, he gets Nelson back, and it's probably a safe bet that he's overly thrilled about it. Rodgers will go from being a strong fantasy quarterback last season to being an elite one in 2016. Best of all? He may even slide just a bit in fantasy drafts due to his 2015 campaign.
2. Tom Brady, New England Patriots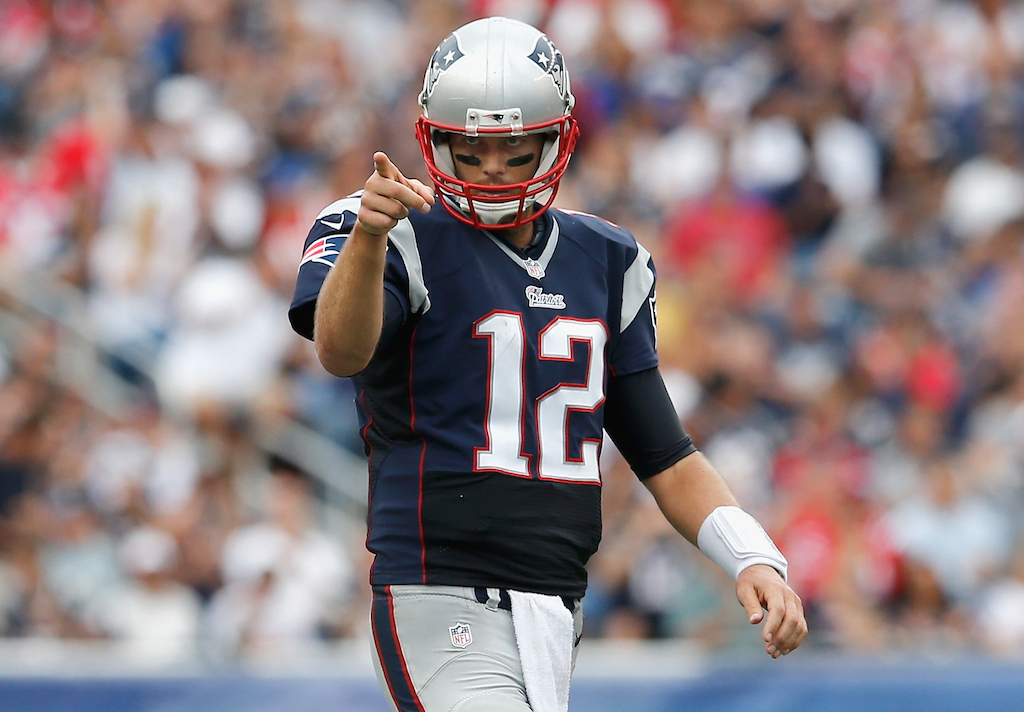 For 38-year-old (soon to be 39) Tom Brady, age really is just a number. The guy is at the point where most quarterbacks would decline, but he completed 64.4% of his passes for 4,770 yards, 36 touchdowns, and just seven interceptions. Essentially, this was one of his best seasons as the Patriots quarterback, and betting on him to slow down sounds like a terrible idea. Brady will keep rolling, and it's hard to not put him at No. 1 on this list.
1. Cam Newton, Carolina Panthers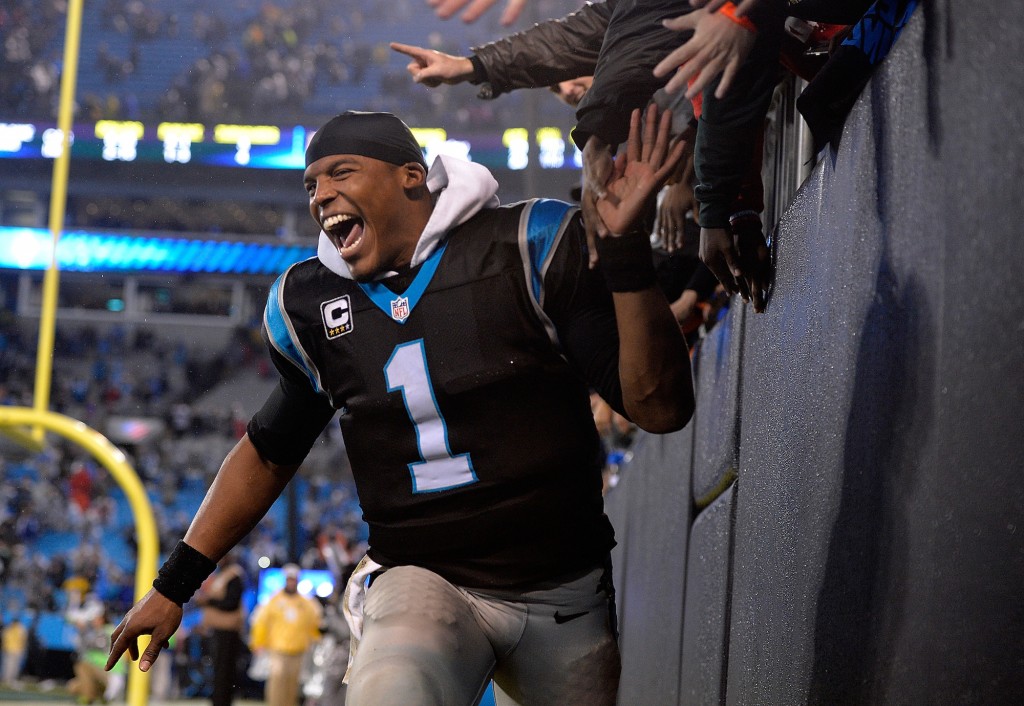 Unfortunately, Cam Newton is the reason why Brady isn't No. 1 on the list. When you're coming off a season where you not only throw for 35 touchdowns, but rush for 10 more, it's hard to not put you at the top of the list.
Newton had a combined 4,473 passing and rushing yards, and his ability to beat teams with both his arm and his legs makes him downright scary for opponents. Oh, and it also makes him the best fantasy football quarterback in the game. Last season, Newton was a mid-round draft pick. This season, he'll probably be selected in one of the first two rounds.
Statistics courtesy of ESPN.com and Pro-Football-Reference.com.