NFL: 5 Underdog Picks for 2016–17 Offensive Rookie of the Year
With the 2016–17 NFL season just around the corner, it's time to talk about a few major awards. While the No. 4 pick in the 2016 NFL Draft, Dallas Cowboys running back Ezekiel Elliott looks like a prime candidate (as low as -125 odds) to run away with the Offensive Rookie of the Year award, there are still a few talented underdog picks with a lot of potential to get the job done as well.
The NFL draft featured plenty of young talent; quite a few players found themselves in great landing spots with successful franchises who have bright futures. Let's check out the five players, not named Elliott, who are interesting, underrated choices to win the Offensive Rookie of the Year award this upcoming season.
1. Corey Coleman, wide receiver, Cleveland Browns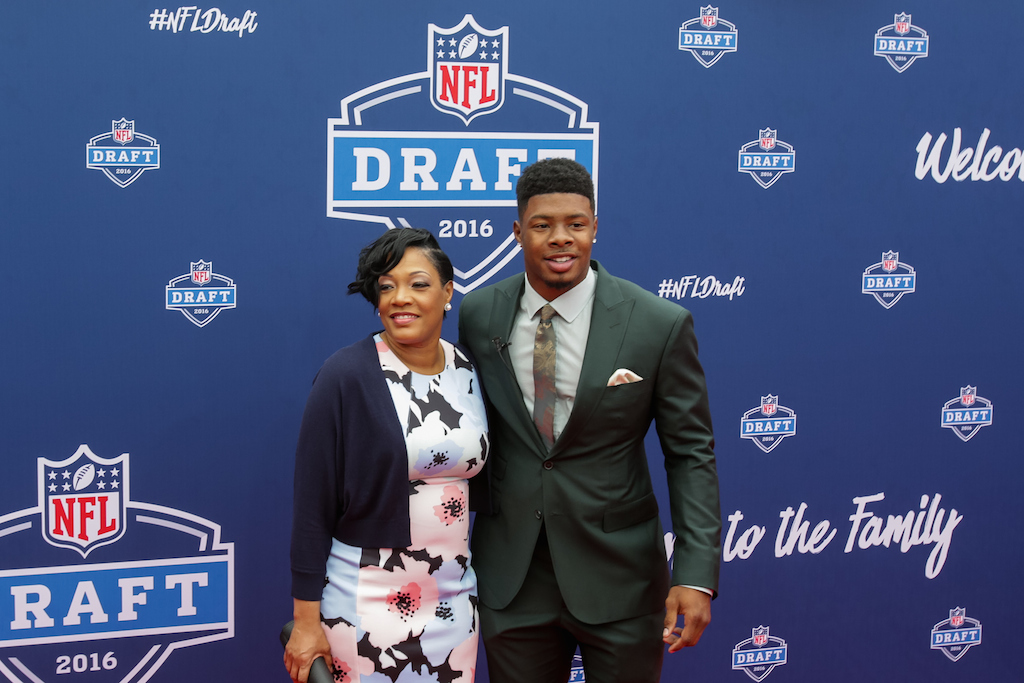 After Cleveland Plain Dealer's Mary Kay Cabot reported that "all signs" point to Corey Coleman being the team's No. 1 wide receiver in 2016, everyone immediately considered him an interesting choice to potentially win the award. Coleman has odds anywhere from +750 to +2000 depending on where you look, which is pretty nice for a player who is primed to get a ton of targets this season.
Over his final two years with Baylor, Coleman posted back-to-back 1,100-plus yard seasons, while scoring 31 combined touchdowns. His 2015 season was by far the most impressive, as he caught 74 passes for 1,363 yards and 20 touchdowns. It's smart to keep an eye on Coleman in 2016 — regardless of whether or not he wins the Offensive Rookie of the Year award.
2. Jordan Howard, running back, Chicago Bears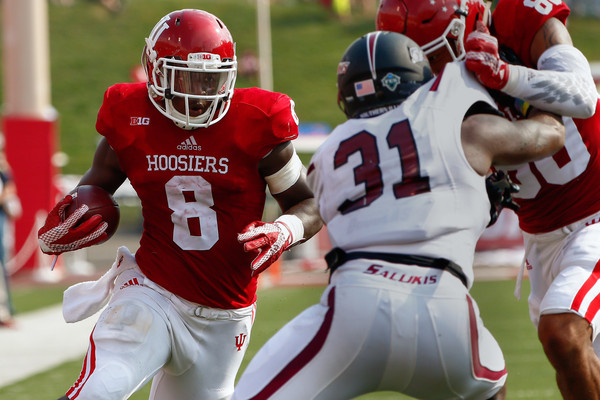 Jordan Howard is getting almost no love to win this award, which is semi-understandable. While he will be the No. 2 running back behind Jeremy Langford, there's absolutely a reason why the team chose Howard. His odds are anywhere from +1400 up to +3000, which is pretty nice for a player who only rushed for 1,213 yards and nine scores with the Indiana Hoosiers in 2015.
Indiana isn't known as a football powerhouse, but Howard's 6.2 yard-per-carry average was pretty much stellar. If he's able to wrestle away carries from Langford, and wind up taking over that starting job, then there's no reason to look past Howard as an interesting bet.
3. Sterling Shepard, wide receiver, New York Giants
If there's one player who deserves more praise in terms of their betting odds for the Offensive Rookie of the Year award, it's Sterling Shepard. He's receiving odds anywhere from +1500 to +2500, but there's one massive thing working in his favor. He gets to play alongside Odell Beckham Jr., who will draw as much double-coverage as any player in the entire league.
Last season with Oklahoma, Shepard caught 86 passes for 1,288 yards and 11 touchdowns. He has tremendous upside, and if he and quarterback Eli Manning are able to connect early on during his young career, Shepard could be poised to do big things right out of the gate.
4. Tyler Higbee, tight end, Los Angeles Rams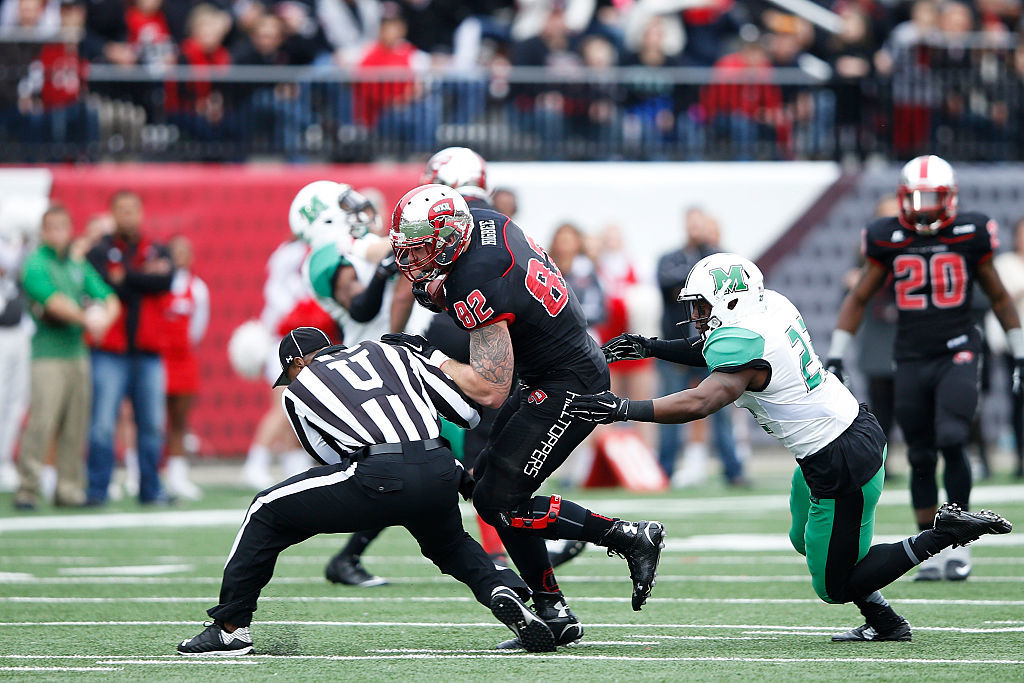 In most places, Tyler Higbee doesn't even have odds to win the Offensive Rookie of the Year award. The only place you'll find him lists his odds at +8000, which is pretty incredible. While Higbee has zero NFL experience, as he has a rookie quarterback under center (more than likely), he does have the opportunity to really push for playing time right out of the gate.
While Lance Kendricks is currently listed as the No. 1 tight end on the Rams' depth chart, there's no reason to think that Higbee won't be able to carve out a role — and even push Kendricks for that starting job.
5. Michael Thomas, wide receiver, New Orleans Saints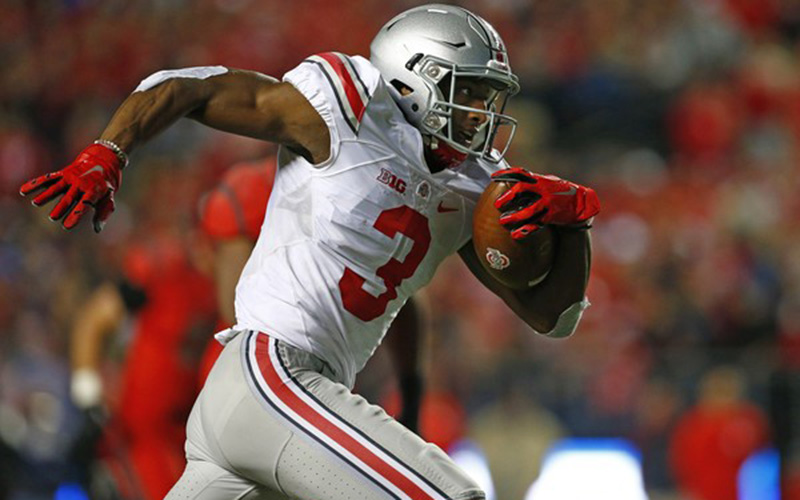 Everyone is overlooking Thomas. This wide receiver's odds go anywhere from +2500 up to +5000, but it's hard to imagine a player as talented as Thomas struggling to connect early with Drew Brees in their Saints offense. While the former Ohio State Buckeye played with a ton of talent over the past few years, he still managed to total 1,580 yards and 18 touchdowns in the previous two seasons.
Pairing him up with Brandin Cooks, Willie Snead, and the Saints' pass-heavy offense should do wonders for his game. It'd actually be more surprising not to see Thomas produce pretty early in his rookie campaign.
Statistics courtesy of ESPN.com and Pro-Football-Reference.com.