NFL Vet Michael Bennett Just Explained Why the League's 'Black Lives Matter' Stance Is Insincere
Don't count longtime NFL defensive lineman Michael Bennett among those pleased with the league's new stance on racial relations.
Bennett, who won a Super Bowl with Russell Wilson and the Seahawks in a successful career, recently ripped NFL commissioner Roger Goodell and the league's recent commentary on social movements.
Above all else, Bennett feels Goodell and the league are being insincere with their stance.
Michael Bennett has enjoyed a productive NFL career
A former standout defensive lineman at Texas A&M, Michael Bennett rose to prominence with the Seattle Seahawks in 2013. Bennett previously spent time in Seattle and played three-plus seasons with the Tampa Bay Buccaneers.
It was Bennett's second stint with the Seahawks, though, that made him a household name. Bennett totaled 8.5 sacks for the Super Bowl champions and made his first Pro Bowl two years later.
Bennett has since bounced around with various teams. He spent 2018 with the Philadelphia Eagles and split last season between the New England Patriots and Dallas Cowboys.
Through the end of the 2019 season, Bennett has 69.5 career sacks and 10 forced fumbles. He's also made a cool $59.7 million in career earnings, most of which — nearly $42 million, in fact — came from the Seahawks.
Bennett has always spoken out on his beliefs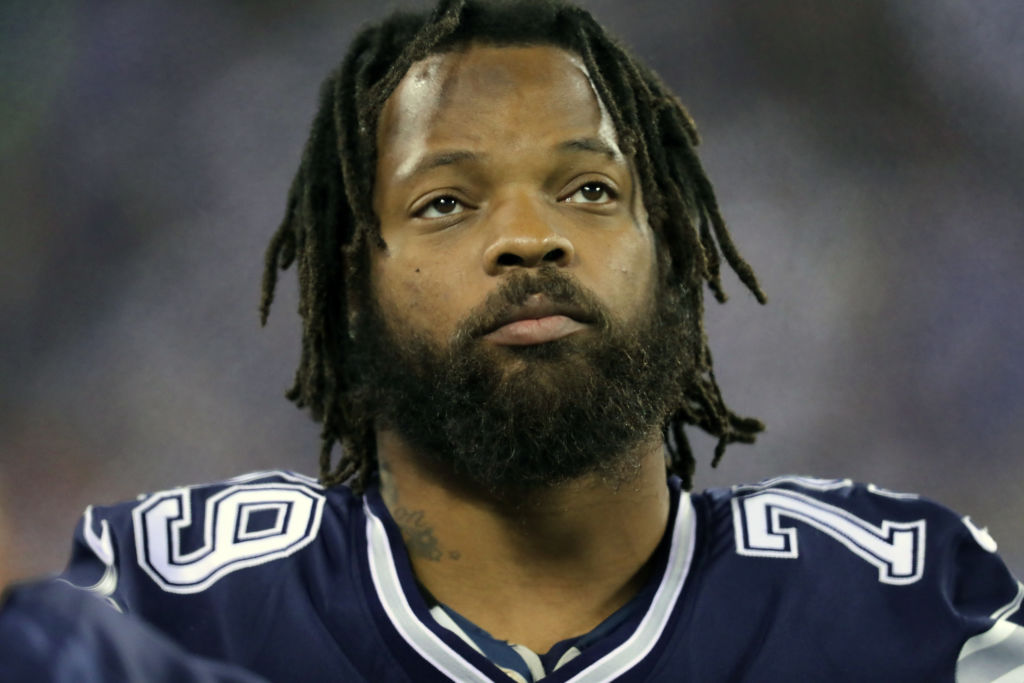 Michael Bennett is comfortable saying or doing what he feels is right. That's been the case since he entered the league over a decade ago.
In 2016, Bennett raised his fist in a Black Panther celebration after he sacked Brian Hoyer, a white quarterback. Bennett has twice endorsed socialist candidate Bernie Sanders for president.
Although Bennett's Seahawks were fierce rivals with Colin Kaepernick's 49ers, Bennett supported the quarterback when Kaepernick knelt during the national anthem in 2016.
Michael Bennett thinks the NFL's new racial stance is insincere
Michael Bennett knelt during the national anthem and protested police brutality for years. Now that the NFL is seemingly embracing players speaking out, Bennett isn't pleased.
In a recent interview with the Daily Beast, Bennett ripped NFL commissioner Roger Goodell and the league's new stance on Black Lives Matter and activism.
"[Goodell] saying that Black Lives Matter is almost like a slap in the face. "Black talent has been exploited at a high level in the NFL. He knows Black Lives Matter, because without black players the NFL wouldn't be as lucrative as it is."
Bennett also expressed his frustration with Bennett said he believes the league's new attitude is insincere because owners have given significant money to Donald Trump.
Trump famously called Kaepernick a "son of a b—" in 2017. He also recently tweeted all NFL players should stand for the anthem.
Bennett has a reason to be frustrated with the league. For years, the NFL didn't actively support players like Bennett or Kaepernick who spoke out for what they believed in.
Roger Goodell and the NFL are trying to learn from where they failed before. Michael Bennett won't be convinced of that idea until the league's owners stop supporting Trump.