NFL: Was John Elway Right to Call Out Demaryius Thomas?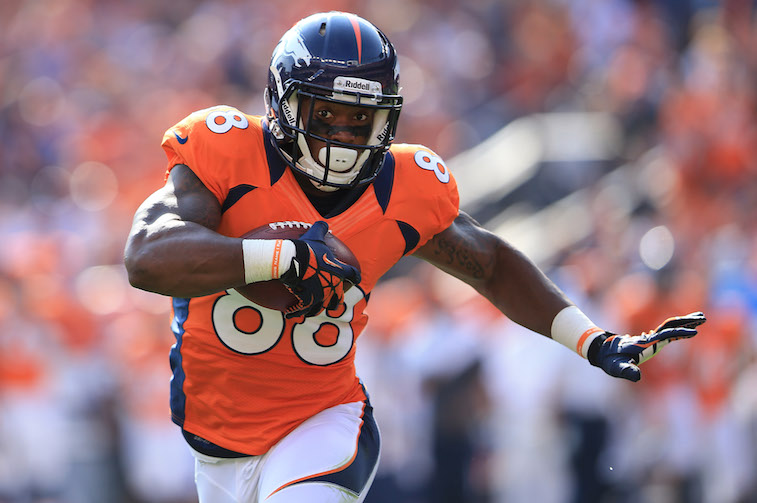 The Denver Broncos slapped their franchise tag on All-Pro wide receiver Demaryius Thomas earlier this offseason. The majority of NFL players who receive the franchise tag are Pro Bowl or All-Pro caliber talents, and nearly every one of them react to receiving the tag in the same way they would react to being slapped in the face. Thomas is no different. The 6-foot-3, 229-pound wide receiver responded to the news by keeping his distance from the team and refusing to report for the Broncos' offseason workout program.
The man who will ultimately decide Thomas's fate with the Broncos, General Manager John Elway, is not pleased with his star wide receiver's decision to skip the team's offseason program. At a press conference on Thursday, Elway had this to say: "To be dead honest, I see absolutely zero value in him being away from here. Him being away from here, there is zero value not only to us, but to him. To me it makes no sense."
A member of the media also suggested to Elway that Thomas is working out on his own to avoid risking serious injury during the Broncos' team workouts. The best player in Broncos' franchise history quickly shot down that notion by responding: "Him not getting hurt? If he gets hurt here, he's covered (by medical insurance). If he gets hurt somewhere else, he's not. Tell me why that makes sense, that he wouldn't be here working out with us. I don't understand it all. That's part of the game, but it makes no sense for him not to be here."
Thomas and the Broncos have a firm deadline of July 15 to complete a long-term contract extension, or the two-time All-Pro will have no choice but to sign his franchise tender. If Thomas eventually signs his tender, he will be guaranteed to earn $12.82 million for the 2015 season, which is more than most Americans will earn in their lifetime.
In fact, the vast majority of football fans around the world would think that they've died and gone to heaven if they were given the opportunity to earn $12.82 million for a season of playing football. However, when other wide receivers around the league — most of them inferior to Thomas — receive contracts well worth north of $50 million that include $20 million or more in guaranteed money, it becomes substantially easier to feel Thomas's frustrations.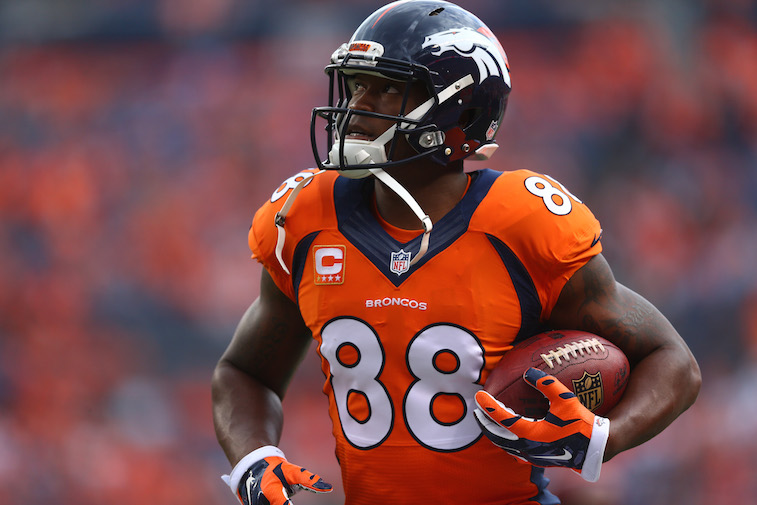 Elway has made it clear that working out an extension for Thomas remains one of his highest priorities, and that a deal will likely get done. The last two players to receive the franchise tag from the Broncos were left tackle Ryan Clady and kicker Matt Prater. Both players were among the top performers in the league at their positions at the time of receiving the franchise tag, and both players received long-term extensions before the July 15 deadline.
The main holdup in a deal happening between the Broncos and Thomas could actually be the nearly identical situation that is going on in Dallas between the Cowboys and their star wide receiver, Dez Bryant. Thomas and Bryant were both taken in the 2010 draft, and the two explosive playmakers have nearly identical stats over the course of their five-year NFL careers. Everyone involved appears to be waiting on the other side to set the market rate for elite wide receivers in 2015.
At the end of the day, was Elway correct in publically calling out his top playmaker during a drawn-out contract negotiation? We believe that he was.
During his time in Denver, Thomas has been a model citizen and one of the few elite NFL wide receivers to not take on an outsized persona. There is no denying that he is more than deserving of a multiyear, big-money contract extension. With that being said, avoiding offseason workouts with his team really offers no benefit to Thomas. The Broncos will be transitioning into a new offense under head coach Gary Kubiak, and Thomas will be losing out on valuable practice time. To make matters worse, Thomas chose to skip the annual Manning Passing Camp on the campus of Duke University.
The harsh reality of the situation is that players who receive the franchise tag have little to no leverage in long-term contract negotiations. Under the current Collective Bargaining Agreement between the NFL and the NFLPA, teams can opt to franchise tag players for up to two consecutive seasons. In doing so, they have no obligation to work out a long-term contract, and there is nothing that players can do about it.
Thomas is going to be a Denver Bronco in 2015, whether he likes it or not. Choosing to skip the team's offseason workout program is doing nothing but hurting his chances for success this season. Upon further review, Elway was right. Thomas's decision makes no sense.