NFL: 3 Ways Browns QB Baker Mayfield Has Regressed in 2019
The Cleveland Browns have been the most disappointing team in the NFL to start the season. After setting hopes high with the acquisitions of Odell Beckham Jr. and Jarvis Landry, quarterback Baker Mayfield and company have underachieved. While many thought that Mayfield's second season could only be bolstered by the presence of his superstar receiving core, the season has been nothing short of a disaster for him.

While fans can try to pinpoint exactly where things went wrong for Mayfield's season, it's a collection of regressions, four in particular, that have added up and made for a disappointing season.

Baker Mayfield's completion percentage
Mayfield was not breaking records during his rookie season, but at 63.8%, he was finding his target enough to get some results. Mayfield was able to run the offense and find his guys without much hesitation. With a greater receiving core and another year under his belt, it was not unfair to expect him to come out and hit his targets at a higher clip, especially when two of those targets are known for turning even the most questionable passes into completions.

Instead, Mayfield has seen a major drop in his completion percentage, connecting on just 56.6% of his passes. That must be kept in mind when going over his other struggles this season.

Touchdowns down, interceptions up
Mayfield had a respectable rookie season with the Browns, throwing for 27 touchdowns on the year. Put up against only 14 interceptions, and it was a good foundation to build off of. This year, however, the touchdowns are way down, and the interceptions are way up. Mayfield has only thrown five touchdowns through six games and 11 interceptions.

No NFL quarterback should ever have fewer touchdowns than interceptions, especially when they have two of the greatest wide receivers in the game receiving his passes. Mayfield's interception percentage has nearly doubled, going up from 2.9% last year to 5.6% this year, and his accuracy has been in question all season.

Some of the blame could go to his receivers, but both Landry and Beckham have a history of catching passes from quarterbacks who have struggled with accuracy. When it becomes a season-long trend, one has to begin to wonder if Mayfield is to blame.

Baker Mayfield's total yardage is down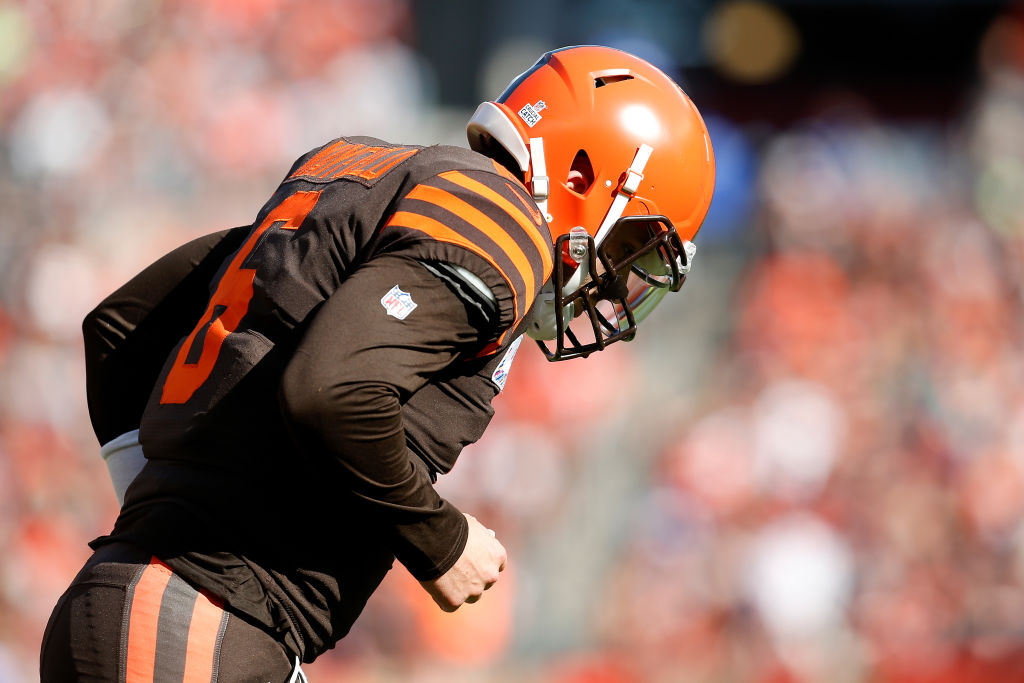 Another troubling aspect of Mayfield's season is the fact that Mayfield's yardage is down. During his rookie campaign, Mayfield passed for 7.7 yards per attempt and 266.1 yards per game. With an offense that can cover the entire field and keep the entire defense on its toes, this should have gone way up, but it is trending in the wrong direction.
This season, Mayfield is only throwing for 7.6 yards per attempt and 249 yards per game. All of this has come together to dip his quarterback rating from 93.7 to 66. If the Browns want to turn their season around, Mayfield has to lead it. Beckham, Landry, and the rest of the offense need a quarterback that they can rely on, and Mayfield hasn't proven that he can do that.

Can Baker Mayfield salvage his season?
Every quarterback has gone through struggles. While Mayfield's season is going about as poorly as somebody can imagine, there is time for a turnaround. A couple of monstrous games that help propel both the record and the overall numbers could get the team rolling as they enter the season. The season is young, but he needs to start now if he wants to salvage something from it.

Baker Mayfield came into the league with a lot of pressure on him following a legendary college career. Part of cementing one's legacy as a legend, however, is the ability to overcome adversity. If Mayfield can play 10 games at a star level, this early hiccup will not be remembered. If he cannot turn the corner, however, it could be a long road up to stardom.