NFL Week 1: Power Ranking the 16 Opening Games
Football fans have been counting down the days since the Super Bowl ended. Now, the NFL season is finally here again. Thirty-two teams begin the chase for the Lombardi Trophy with this weekend's opening games, and hope springs eternal for each franchise.
Of course, you're going to be watching your favorite team's game (and also keeping an eye on your fantasy players in action), but besides where you have a rooting interest, what other games are worth paying attention to in Week 1? We've ranked each matchup from worst to best so you can plan your weekend accordingly. (Teams' 2013 win-loss records are in parentheses.)
16. Washington Redskins (3-13) at Houston Texans (2-14), Sunday, 1:00 p.m. ET, FOX
The two worst teams in the NFL from a year ago face off on Sunday afternoon, and the good news is at least one of them will get to begin the season 1-0. But that's about the extent of the good news.
If you want to find out whether Washington has the 2012 version of Robert Griffin III (great!) or the 2013 version (uh-oh!), tune in. If you want to see No. 1 overall pick Jadeveon Clowney in his first regular season NFL game, check this one out. Otherwise, let's move along, shall we?
15. Minnesota Vikings (5-10-1) at St. Louis Rams (7-9), Sunday, 1:00 p.m. ET, FOX
These two teams will go as far as their quarterbacks take them in 2014. With the Rams' Sam Bradford out for the year and the Vikings' Matt Cassel just presumably holding down the fort until rookie Teddy Bridgewater is ready, that may not be very far. Expect a low-scoring game.
In a division that boasted three 10-win teams a year ago (none of them named the Rams), St. Louis needs to get off to a good start with a winnable home opener.
14. Oakland Raiders (4-12) at New York Jets (8-8), Sunday, 1:00 p.m. ET, CBS
Rex Ryan is always worth watching. Other possible reasons to pay attention to this game: How long will Geno Smith's leash be with Michael Vick waiting in the wings? How will the Raiders fare with rookie Derek Carr under center? Most importantly, who will replace Fireman Ed and lead the 'J-E-T-S' cheer?
13. Buffalo Bills (6-10) at Chicago Bears (8-8), Sunday, 1:00 p.m. ET, FOX
Sammy Watkins makes his debut for Buffalo: Is the first-year wide receiver from Clemson worth the price that the Bills paid to trade up and snag him? For a team that finished in last place in its division a season ago, general manager Doug Whaley had better be hoping the answer is yes.
On the other side of the equation, can a healthy Jay Cutler and Chicago challenge for a playoff berth? We've said it before and we'll say it again — winnable games at home are crucial. This one is Exhibit A for the Bears.
12. Jacksonville Jaguars (4-12) at Philadelphia Eagles (10-6), Sunday, 1:00 p.m. ET, CBS
How many plays can Chip Kelly's team squeeze into 60 minutes this year? Will opposing defensive coordinators have any better chance of slowing down the Eagles' high-tempo offense with an extra year to game plan? Is Nick Foles a fluke or for real? How long can Chad Henne hold off the inevitable — heir apparent first-round pick Blake Bortles?
11. New Orleans Saints (11-5) at Atlanta Falcons (4-12), Sunday, 1:00 p.m. ET, FOX
We finally get to a divisional game, which usually makes for a high-stakes showdown between familiar rivals. The Falcons were one of the league's most disappointing teams in 2013, finishing with only four wins after making the playoffs in each of the three previous seasons. Atlanta gets a chance to rebound as New Orleans comes to town, but can the home team take down the ever-dangerous combination of Drew Brees and Sean Payton?
10. Carolina Panthers (12-4) at Tampa Bay Buccaneers (4-12), Sunday, 4:25 p.m. ET, FOX
Another divisional game, also in the NFC South. On paper, the Panthers and Bucs might look like a mismatch, but Tampa Bay is widely expected to be much improved after adding coach Lovie Smith and a talented cast of free agents. The Buccaneers have an opportunity to make a statement against the defending NFC South champions, but will they?
9. New York Giants (7-9) at Detroit Lions (7-9), Monday, 7:10 p.m. ET, ESPN
The 45th season of Monday Night Football gets underway with an NFC battle between the Giants and Lions. These teams finished with identical records a year ago — so we could see an evenly matched game — but both have the proven talent under center to be contenders as 2014 begins. Eli Manning vs. Matthew Stafford should lead to some points on the board, and quite a few offensive fireworks in Detroit.
8. Tennessee Titans (7-9) at Kansas City Chiefs (11-5), Sunday, 1:00 p.m. ET, CBS
Kansas City improved from 2-14 in 2012 to a playoff team a year ago thanks to a 9-0 start. Can the Chiefs take the next step and establish themselves as a legitimate championship contender this fall? Their Week 1 assignment is a Titans team with a new head coach in Ken Whisenhunt. Will the change in regime pay instant dividends for Jake Locker and company?
7. Cleveland Browns (4-12) at Pittsburgh Steelers (8-8), Sunday, 1:00 p.m. ET, CBS
The most talked about backup quarterback in history (well, okay, maybe just since Tim Tebow) finally gets to experience his first NFL regular season game. But will he get on the field at all? Johnny Manziel is the Browns' second stringer, but don't be surprised to see Cleveland figure out a way to use him on a play or two.
Oh yes, there's an actual football game besides all of the Manziel hype. Longtime AFC North foes collide in a game where the Steelers need to take business at home if they want to return to their winning ways in 2014.
6. San Diego Chargers (9-7) at Arizona Cardinals (10-6), Monday, 10:20 p.m. ET, ESPN
Finally, a game between teams with winning records last season! It's good football (hopefully). The Cardinals missed out on the playoffs in 2013 despite finishing with double-digit wins, so you can assume they've been waiting eagerly for a chance to get back on the football field. The Chargers opened last year in a Monday night spotlight game as well, but don't remind them — they blew a 21-point second-half lead vs. Houston, accounting for half of the Texans' season win total.
5. New England Patriots (12-4) at Miami Dolphins (8-8), Sunday, 1:00 p.m. ET, CBS
Recipe to remember: Tom Brady + Bill Belichick + divisional game + upstart Dolphins with big dreams opening at home = potential classic.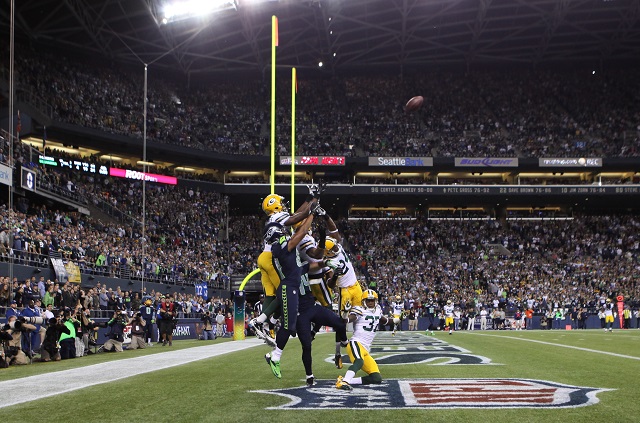 4. Cincinnati Bengals (11-5) at Baltimore Ravens (8-8), Sunday, 1:00 p.m. ET, CBS
The AFC North has been one of the toughest divisions in football over the last three years with Cincinnati, Baltimore, and Pittsburgh all finishing .500 or better in 2011-2013. A clash between the Bengals and Ravens, then, has to be considered a must-watch game … and a crucial measuring stick for the 2014 edition of Marvin Lewis' and John Harbaugh's clubs.
3. San Francisco 49ers (12-4) at Dallas Cowboys (8-8), Sunday, 4:25 p.m. ET, FOX
It's not Troy Aikman vs. Steve Young, and there likely won't be a Dwight Clark-type unforgettable catch on the final play, but there's still something special about a game between the 49ers and Cowboys.
Believe it or not, Dallas hasn't had a winning season since last decade (2009), so this game at home is incredibly important toward getting off on the right foot (and possibly keeping Jason Garrett off the hot seat).
2. Green Bay Packers (8-7-1) at Seattle Seahawks (13-3), Thursday, 8:30 p.m. ET, NBC
This game gets bonus points for being the very first one of the season, as if it needed more reasons to watch. The defending Super Bowl champions kick off with a matchup against Green Bay that immediately brings to mind two simple words: 'Hail Mary.'
Last time the Packers and Seahawks met in Seattle (September 2012), Russell Wilson threw a controversial touchdown as time expired to stun the visitors, even though many watching (okay, everyone watching except the replacement referees) thought Green Bay had intercepted the pass. You know what they say: revenge is a dish best served, um, loud. Expect decibels in the triple digits at one of the league's greatest homefield environments.
1. Indianapolis Colts (11-5) at Denver Broncos (13-3), Sunday, 8:30 p.m. ET, NBC
Honestly, No. 1 on this list seems like a no-brainer to us. A matchup of two teams that won at least 11 games last year? Legitimate Super Bowl contenders facing off in front of a national television audience on Sunday night? Peyton Manning vs. the franchise he quarterbacked in every game for 13 years and the man that succeeded him as Colts QB? No matter how much football you watch during the day Sunday, make sure your evening is clear for this one.
Agree? Disagree? Which game is too high or too low? Is one of these 16 matchups guaranteed to come down to the final play? Give us your take in the comments and enjoy the games this weekend! Football is back.