NFL Week 11: 6 Games You Need to Watch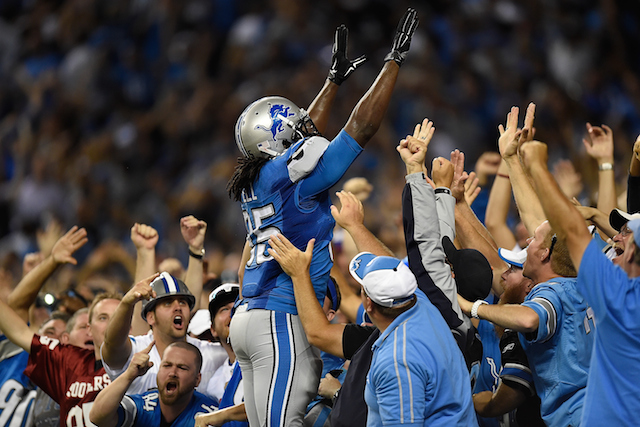 It's that time of the week again: Time to plan out and arrange your weekend football viewing around all of the other events, responsibilities, or conflicts happening in your busy life. We want to be helpful to you in this endeavor, so we've analyzed the Week 11 NFL schedule and picked out a half-dozen games that are worth your time and interest (in addition to your favorite team's game, the match-ups that will make or break your fantasy team, etc., of course). Without further ado, here are the six Week 11 NFL games you need to watch, listed in chronological order.
1. Bills at Dolphins – Thursday, 8:25 p.m. Eastern, NFL Network
Both Buffalo and Miami sit two games back of AFC East leader New England, but the Bills and Dolphins are very much in the thick of the conference's wild-card race, which makes this showdown on Thursday Night Football an extra-important one. Both teams are coming off of narrow losses Sunday, and with the short week turnaround, whichever squad can execute best could get a leg up toward that coveted postseason berth.
2. Seahawks at Chiefs – Sunday, 1 p.m. Eastern, Fox
Two of football's hotter teams square off Sunday in Kansas City as they continue their quest for a repeat visit to the postseason. The Chiefs started the year 2-3, while Seattle was a disappointing 3-3 not that long ago, but Kansas City is now riding a four-game winning streak and the Seahawks have captured three straight. Something's got to give Sunday afternoon in Arrowhead, and with both teams residing in second place in their respective divisions, the stakes are even higher than usual.
3. Bengals at Saints – Sunday, 1 p.m. Eastern, CBS
If the season ended today, both Cincinnati and New Orleans might well be in the playoffs, but neither ballclub has been playing up to its capability recently. The Bengals are reeling after a blowout home loss to Cleveland on November 6 and have a brutal schedule down the stretch, while the Saints (thanks to an offensive pass interference call on Jimmy Graham's apparent game-winning touchdown on the final play of the fourth quarter) would love to even their record at .500 as they try to hold off Carolina in the NFC South race.
4. Eagles at Packers – Sunday, 4:25 p.m. Eastern, Fox
Two of the NFC's elite powerhouses will battle late Sunday afternoon in Green Bay as Mark Sanchez (pictured) and the Eagles visit Aaron Rodgers and the Packers. Philly has won four of its last five games, while the Packers have prevailed in five of their last six. With 8-1 Arizona losing starting quarterback Carson Palmer for the year due to a knee injury, it's likely that the winner of this game still has a legitimate shot at snagging the NFC's No. 1 seed, especially if it's the two-loss Eagles.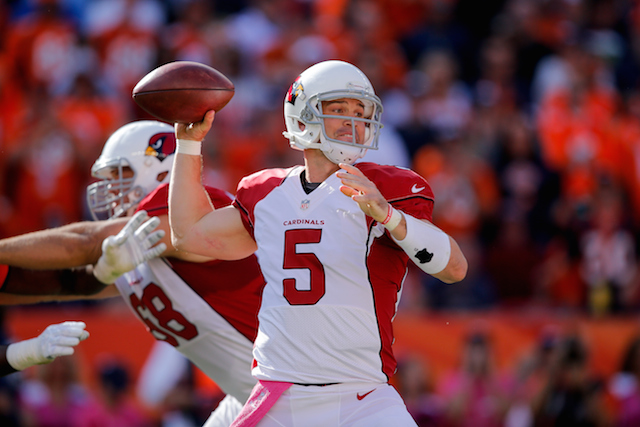 5. Lions at Cardinals – Sunday, 4:25 p.m. Eastern, Fox
Two of the NFC's elite powerhouses will battle late Sunday afternoon … why does it feel like we've written that sentence before? The 7-2 Lions are in first place in the NFC North. The 8-1 Cards are in first place in the NFC West. The two teams collide in the desert as Drew Stanton (pictured) takes over the reins of the Arizona offense for at least the rest of the year. Stanton has already made three starts this season (due to a different Palmer injury), and Arizona coach Bruce Arians has gone on record saying the team can win the Super Bowl with Stanton under center. Well, we'll see.
6. Patriots at Colts – Sunday, 8:30 p.m. Eastern, NBC
If you like watching quarterbacks at the top of their game playing against each other, make sure you clear your Sunday night for New England's nationally televised visit to Indianapolis. Indy's Andrew Luck leads the league with 3,085 passing yards, while Patriots star Tom Brady (pictured) has thrown a sparkling 22 touchdowns against only three interceptions so far this season. Both the Pats and Colts are in first place in their divisions, and we wouldn't be surprised if we see another Brady-Luck rematch in the playoffs, just like last year.