NFL Week 4: 6 Games You Need to Watch
It's that time of the week again: Time to plan out and arrange your weekend football viewing around all of the other events, responsibilities, or conflicts happening in your busy life. We want to be helpful to you in this endeavor, so we've analyzed the Week 4 NFL schedule and picked out a half-dozen games that are worth your time and interest (in addition to your favorite team's game, the matchups that will make or break your fantasy team, etc., of course). Without further ado, here are the six NFL Week 4 games you need to watch, listed in chronological order.
Giants at Redskins — Thursday, 8:25 p.m. ET, CBS and NFL Network At first glance, it's hard to make the case that a battle of 1-2 teams could be one of the best NFL games to watch this week. But, really, anywhere you look in late September 2014, you'll bump into a 1-2 or 2-1 team. The parity of the modern-day National Football League is reflected in this weekend's schedule: Twenty-two of the twenty-six teams in action are either 1-2 or 2-1. Back to New York and Washington for a moment: The loser of this game's NFC East championship hopes will take a significant hit, as both teams are chasing the undefeated Eagles. The Redskins need to rebound quickly after a bitter three-point defeat to Philly just four days earlier.
Packers at Bears — Sunday, 1 p.m. ET, FOX The Bears have looked good in back-to-back prime-time road wins over the 49ers and Jets, and return home to face a Packers team that only mustered seven points in Detroit a week ago. The NFC North seems as wide open as any division in the league this year, so we can't help paying extra attention whenever some combination of the Bears, Lions, Packers, and Vikings squares off. Green Bay will need to improve greatly on defense to win in Soldier Field: Only four teams in the league have allowed more points through three games than the Packers.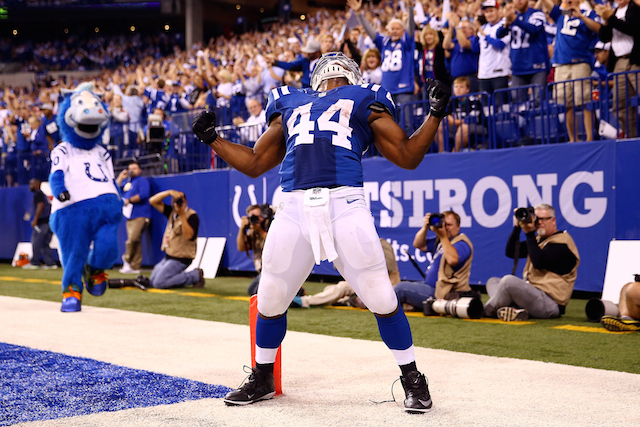 Titans at Colts — Sunday, 1 p.m. ET, CBS We've said this many times already, but it bears repeating: When in doubt as to what game to watch, find a matchup where two divisional foes are facing each other. All told, there are three such contests this weekend, and the Tennessee-Indianapolis game Sunday afternoon fits right in. The Titans will have a better chance to pull the upset if Jake Locker is healthy, but his status is uncertain due to a right wrist injury. The winner of this game will improve to .500 and find themselves breathing down the neck of AFC South leader…Houston? Yes, Houston. Really.
Eagles at 49ers — Sunday, 4:25 p.m. ET, FOX Unbeaten Philadelphia has trailed by double digits in every game so far this year, so it's critical that the Eagles get off to a good start at Levi's Stadium. Jim Harbaugh hasn't lost more than four games in a season in his first three years on the 49ers' sideline, but San Francisco has been underwhelming the last two weeks in losses to the Bears and Cardinals. With Harbaugh-to-Michigan rumors and speculation getting louder every time Brady Hoke loses a game, it will be interesting to see how the 49ers respond — and how focused they are (or are not?) — in a big test against one of the league's elite teams.
Saints at Cowboys — Sunday, 8:30 p.m. ET, NBC Say what you want about Tony Romo and the Dallas Cowboys, but they're certainly never boring. America's Team fell behind 21-0 in St. Louis last time out, leading to predictable punch lines around the country, but then rallied for a 34-31 win. Dallas is now 2-1 and will host the New Orleans Saints Sunday night on national television. The Saints finally tasted victory in Week 3 with a 20-9 win over the Vikings and sit just a game out of first place in their division. There should be plenty of offensive fireworks with Romo and Drew Brees on the field Sunday night — the real question is which defense will step up and make plays down the stretch.
Patriots at Chiefs — Monday, 8:30 p.m. ET, ESPN The final game to watch this weekend is a clash of AFC playoff teams from a season ago. The New England Patriots' pass defense (which leads the league in yards allowed at 168.7 per game) will attempt to make life miserable for Alex Smith and the Kansas City Chiefs' offense. The Patriots seem due for a breakout performance after a surprisingly mediocre showing in a 16-9 win over Oakland, but will have their hands full in noisy Arrowhead Stadium. Kansas City has only beaten Tom Brady once in his stellar NFL career, and could double that total with an impressive outing Monday night.