NFL Week 7: 6 Games You Need to Watch
It's that time of the week again: Time to plan out and arrange your weekend football viewing around all of the other events, responsibilities, or conflicts happening in your busy life. We want to be helpful to you in this endeavor, so we've analyzed the Week 7 NFL schedule and picked out a half-dozen games that are worth your time and interest (in addition to your favorite team's game, the matchups that will make or break your fantasy team, etc., of course). Without further ado, here are the six NFL Week 7 games you need to watch, listed in chronological order.
Panthers at Packers — Sunday, 1 p.m. ET, FOX
Carolina is in the weird position of coming off not a win or loss but a tie last Sunday as the Panthers prep for another road trip, this one to Green Bay. If the Panthers are going to snap the Packers' three-game winning streak, they'll have to make running the football a priority. Green Bay has allowed more ground yards per game (154.5) than any other team in the NFL through the season's first six weeks. On the flip side, Aaron Rodgers and the Packers' offense will have to solve a unit led by the league's leading tackler, Luke Kuechly (pictured), who has 74 stops and counting.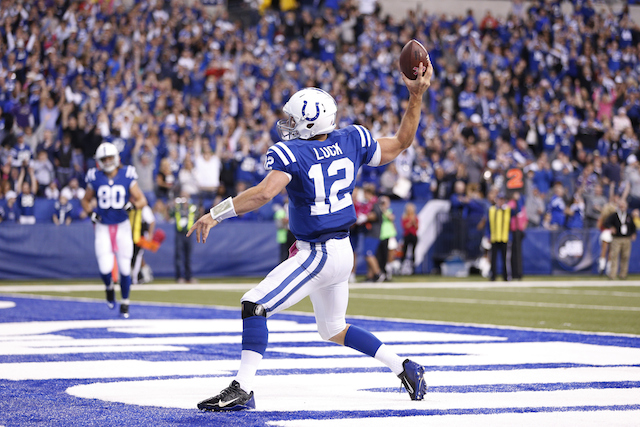 Bengals at Colts — Sunday, 1 p.m. ET, CBS
The best game in the AFC this weekend has North leader Cincinnati visiting South first-place team Indianapolis. The Bengals, like the Panthers team they played against Sunday, are coming off a tie, but will probably have a tougher task of rebounding after a missed chip-shot field goal cost them a game they — by all accounts — should have won. The Bengals were 3-0 by September 21 but haven't tasted victory since. Colts QB Andrew Luck has continued to take gigantic steps forward from year to year and even from week to week — he leads the NFL with nearly 2,000 passing yards — and will be trying to lift Indianapolis to a fifth straight victory Sunday afternoon.
Saints at Lions — Sunday, 1 p.m. ET, FOX
A big reason the Detroit Lions are 4-2 and tied for first place in the NFC North is their defense. While that hasn't always been a staple of past Detroit teams, the 2014 edition of the Lions is allowing the least passing yards, least total yards, and least points of any team in the NFL. They'll need to contain — or attempt to contain — Drew Brees and the Saints, who have the league's second-best passing offense at 310 yards per game through the air. The 2-3 Saints have won every home game and lost every road game they've played in 2014, so they'll be trying to break that trend in Ford Field Sunday.
Chiefs at Chargers — Sunday, 4:05 p.m. ET, CBS
The Chargers need to make sure not to look past Kansas City Sunday, knowing that a crucial AFC West showdown with Denver looms Thursday night on a short turnaround. San Diego is playing as well as anyone in football right now, winning five straight games by an average of nearly 15 points a contest. Philip Rivers has thrown for 15 touchdowns on the season, which coupled with a defense that's allowing just 15 points per game — is anyone else sensing a '15' theme here? — has the Chargers sitting pretty with the best record in the AFC.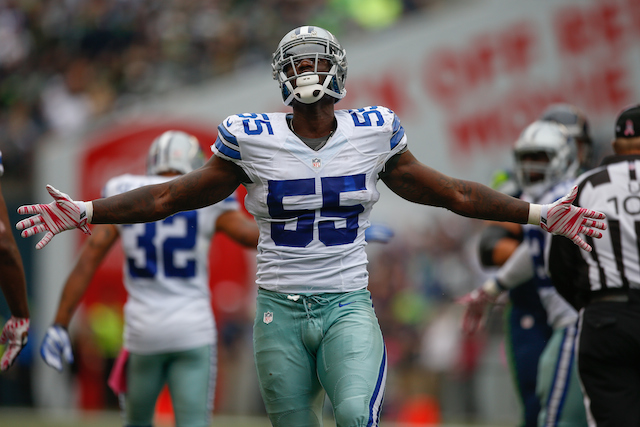 Giants at Cowboys — Sunday, 4:25 p.m. ET, FOX
Speaking of hot teams on five-game winning streaks, the Dallas Cowboys are back in action Sunday when they host the New York Giants in a late-afternoon game. Dallas did the near-impossible last Sunday, beating the Seahawks in Seattle, and has a boatload of confidence with a 5-1 record (tied for best in the league). The Cowboys are doing most of their damage on the ground, leading the league with more than 160 rushing yards per game on the strength of DeMarco Murray's NFL-best 785 rushing yards and half-dozen scores. The Giants had their three-game winning streak snapped in an ugly prime-time shutout loss at Philadelphia and face a tough assignment as they try to regroup this weekend.
49ers at Broncos — Sunday, 8:30 p.m. ET, NBC
Perhaps the most intriguing matchup on the Week 7 schedule is a Sunday night clash between San Francisco and Denver on national television. The 49ers have won three in a row, but are underdogs against Peyton Manning's Broncos in the Mile High City. Both teams' defenses rank in the NFL's top four for fewest yards allowed, but something has to give when the Niners' pass defense faces a star quarterback that's averaging 100 yards more per game than they're giving up. Is it too early to wonder if this battle between last year's AFC champion and NFC runner-up could possibly be a Super Bowl preview?