NFL: What 5 Players Would Look Like as Marvel and DC Heroes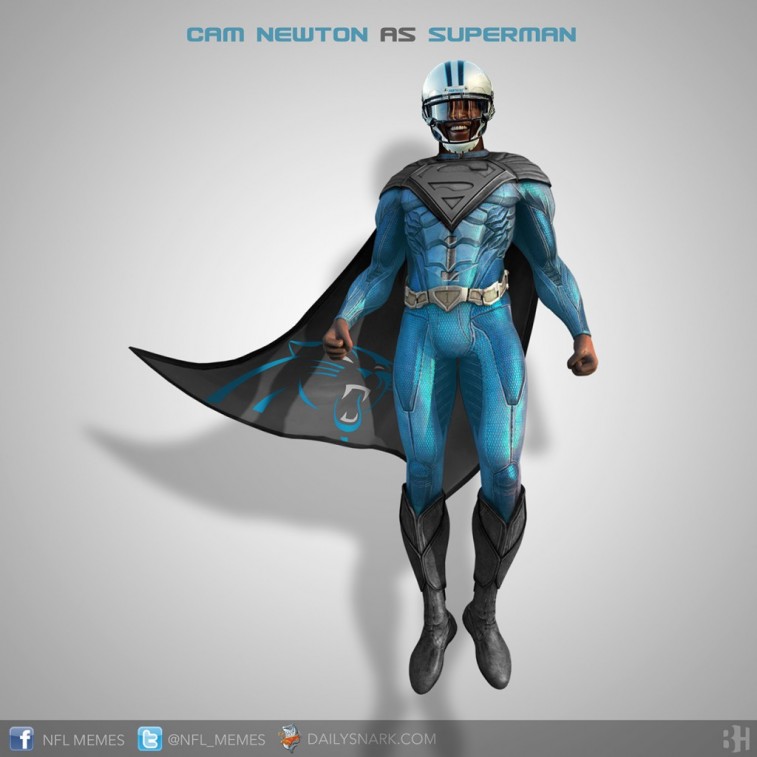 It's impossible to look at NFL players and not see larger-than-life figures. When Sunday rolls around and the players put on their pads and strap up their helmets, they seemingly take on new identities in the eyes of football fans. No longer are these gridiron giants mere mortals. They are superheroes.
We're being a bit hyperbolic, of course, but sports has a way of making individuals who are just like us suddenly start seeming bigger, more important, even heroic. Clearly, we're not the only ones who think this way. The superstar pairing behind NFL Memes — Brandon Hubschman and partner Weis Karzai — decided to flex their creative muscles on DailySnark by re-imagining some of the game's biggest stars as superheroes. After all, if these players are going to step on the field and do superhuman things, why not turn them into larger-than-life comic alter egos?
We continue to be impressed with the inventive work done by these two graphic artists. All the renderings are smart, stylish, and — dare we say — pretty accurate as far as characteristics go. We did find our eyes getting drawn to a few standout pieces, however. Here's a look at what we believe represents the top five mashups of NFL stars and superheroes.
1. Odell Beckham Jr. as "Spider-Man"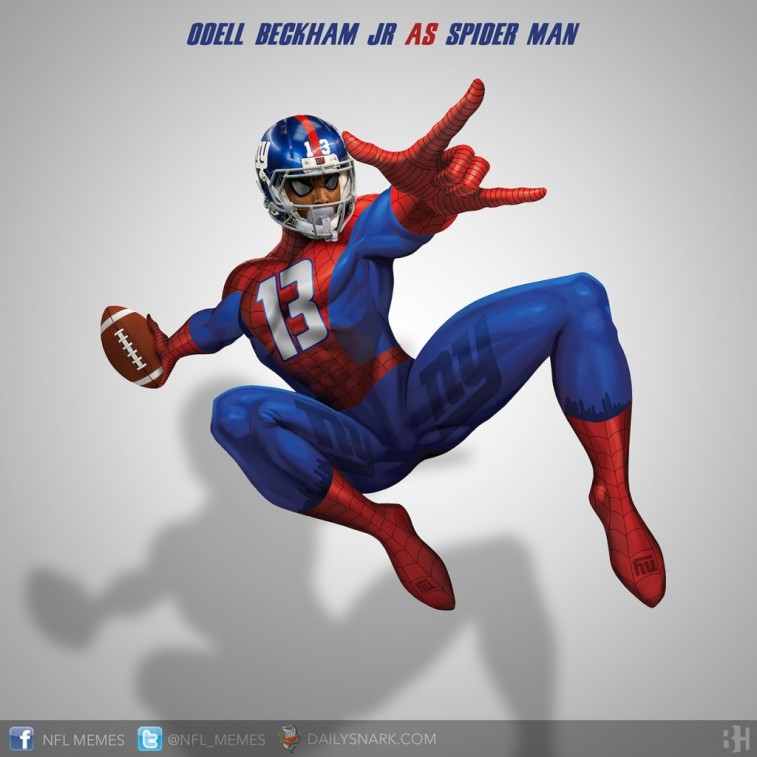 Whether you find yourself cheering for the New York Giants or not, nothing should stop you from celebrating the young superstar that is Odell Beckham Jr. After hauling in one of the most impressive catches in NFL history and consistently putting on ridiculous pre-game warmup routines, it's impossible not to compare last season's AP Offensive Rookie of the Year to Spider-Man.
Both can contort their bodies in unfathomable ways, both have insane instincts and unrivaled leaping ability, and both can't help but have objects stick in their hands. These two have so much in common that if you told us Beckham started web-slinging, we would have no problem believing you.
2. Kam Chancellor as "Wolverine"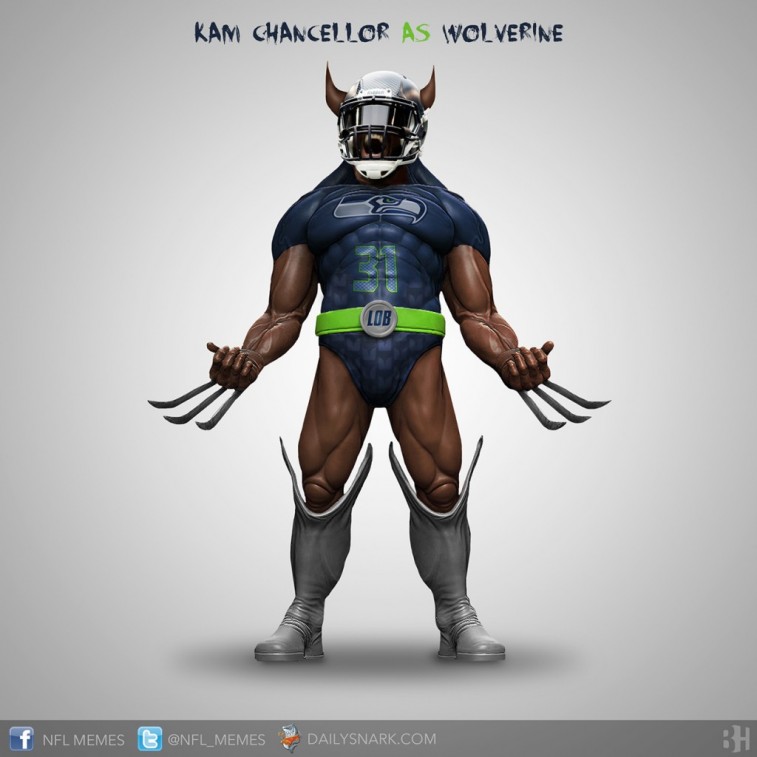 While he may not receive as much praise as some of his fellow defensive backs, Kam Chancellor puts the "Boom" in "Legion of Boom." Instinctual, ferocious, hard-hitting, and physical. Those are just a few characteristics that adequately describe the Seattle Seahawks strong safety. As the group's enforcer, Chancellor is readily available to dole out the punishment to the opposition's receiving corp. Like his superhero counterpart Wolverine, the three-time Pro Bowler out of Virginia Tech is not someone you want to mess with. Unless of course, you're looking to get rocked.
3. Aaron Rodgers as "Batman"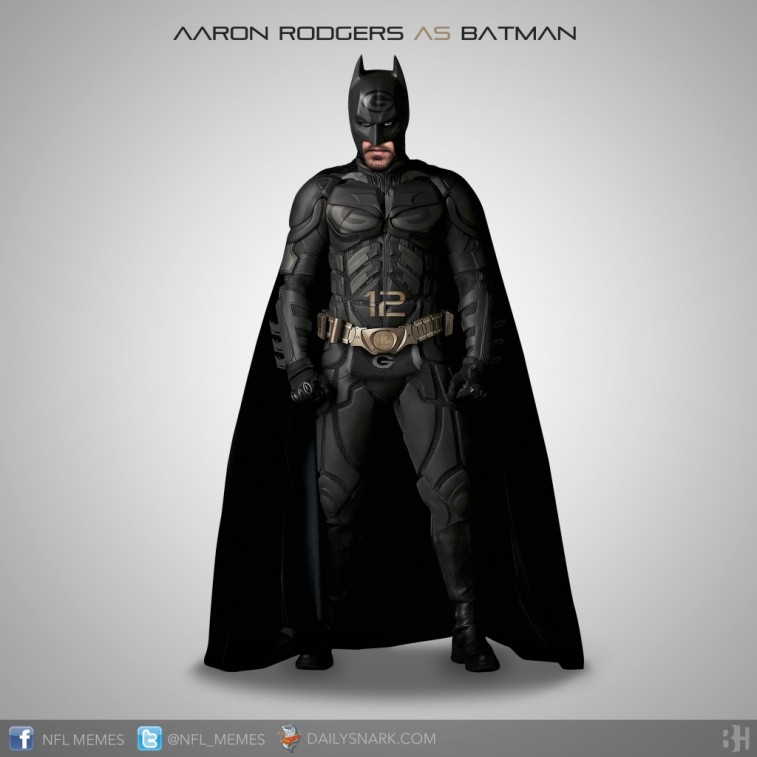 Given that Aaron Rodgers could very well be considered too good to be true, you could say he deserves a superhero comparison who may be a bit more righteous. Don't forget what ESPN's Stephen A. Smith says about the Green Bay Packers quarterback: He is a "Bad Man."
Rodgers is a two-time NFL MVP, who can beat an opponent with his arms or his legs. He can connect the deep ball, has unrivaled accuracy, and can throw on the run. When he's on his game, there is no defense in the league that's going to shut this guy down. That sounds like Batman to us.
Therefore, when called upon for greatness, No. 12 is more than ready for battle. So if you're in trouble, don't hesitate to shine his signal into the night sky. Aaron Rodgers — The Dark Knight — is on his way to save the day.
4. J.J. Watt as "Captain America"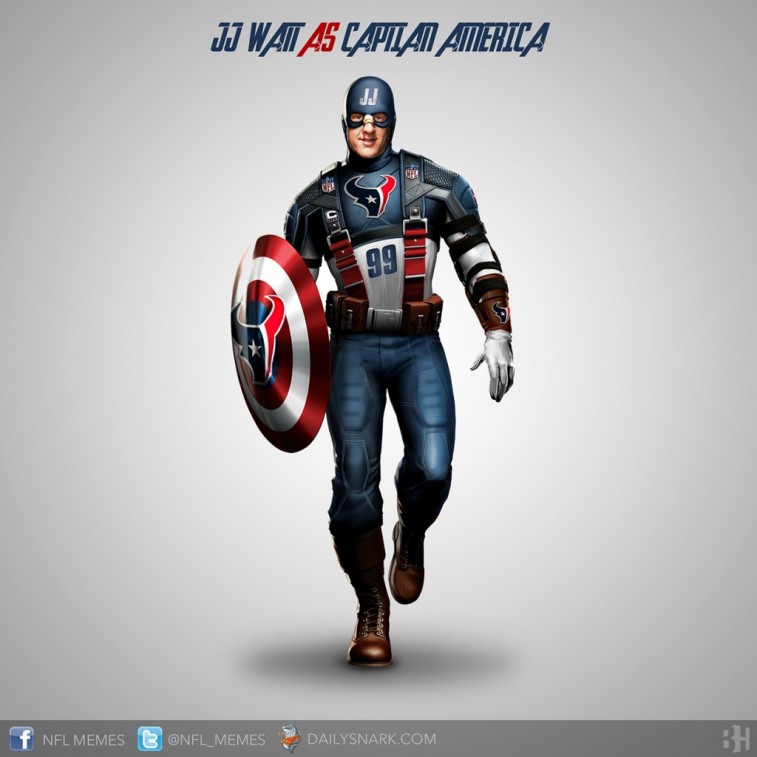 Captain American is good, true, and selfless. He cares about helping people, yet remains humble no matter the unbelievable things he does. This is J.J. Watt.
The Houston Texans defensive end is not only the best defensive player in the NFL, but he's making a case to be the best overall player in the league. Watt is easily well on his way to a Hall of Fame career. And while he spends his time on the field destroying those who stand in his way, off the field, Watt is funny, self-deprecating, and very modest. He is as true a Captain America as we're going to find in the NFL.
Plus, it doesn't hurt we already knows how superfly he looks in red, white, and blue.
5. Peyton Manning as "Iron Man"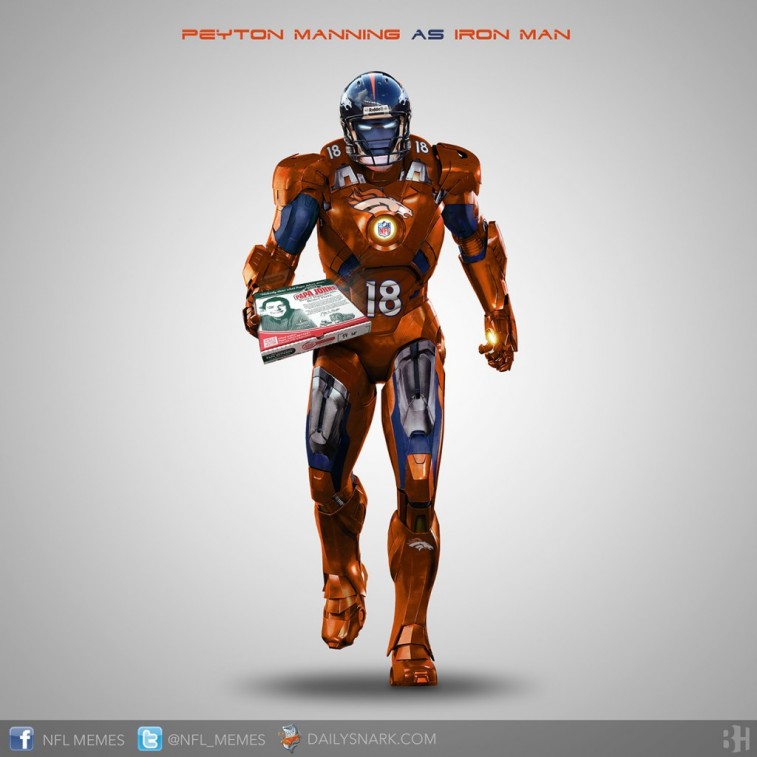 What distinguishes Peyton Manning from others who have played in the quarterback position is his incredible mind. His ability to process information is only matched by his insatiable work ethic. Manning is a master at reading the defense and demands perfection and accountability from everyone he plays with. This is the price one pays for genius; something the Broncos QB and Tony Stark most certainly have in common. And after 17 seasons in the NFL, it's time to see if he has one more great one in him. Either way, Peyton Manning is Iron Man.
 All statistics are courtesy of Pro-Football-Reference.com and ESPN.go.com.
To see the rest of the "NFL Stars as Superheroes" featured on DailySnark, click here.