NFL: What Would a Healthy Jadeveon Clowney Mean For the Texans?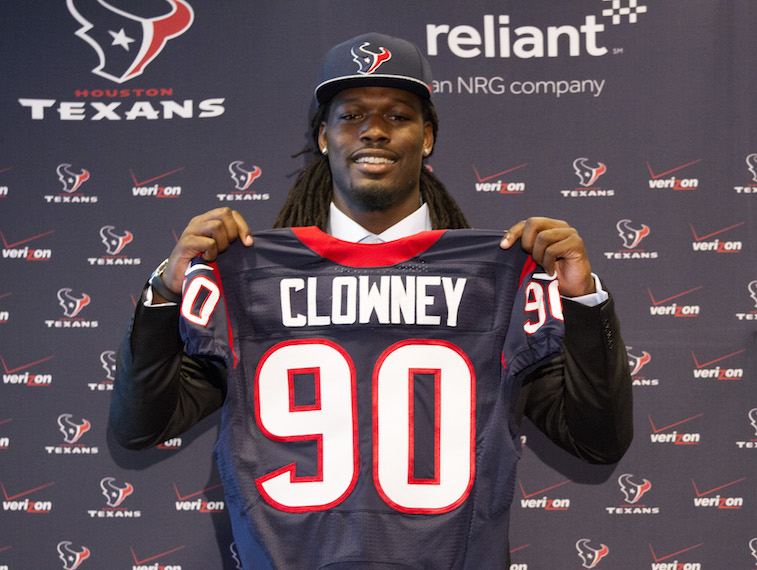 Jadeveon Clowney's raw athletic ability has been making scouts and coaches drool dating back to his days as a high school football player in Rock Hill, South Carolina. He was the clear-cut choice as the top high school recruit in the country for the Class of 2011, and is without a doubt one of the best overall prospects to ever come out of the high school ranks.
After receiving scholarship offers from literally every big name college football program in the United States, Clowney chose to stay home and play his college ball for Steve Spurrier at the University of South Carolina. Clowney made an immediate impact for the Gamecocks totaling 8.0 sacks, 12.0 tackles for loss, and five forced fumbles during his freshman season.
However, it was during his sophomore season that Clowney became a bona fide star. He finished the season with 13.0 sacks, 23.5 tackles for loss, and three forced fumbles. As impressive as those statistics were, it was the following tackle during South Carolina's Outback Bowl game against Michigan that got the entire football world talking about the 6-foot-6, 265-pound defensive end.
Clowney would go on to play one more year for the Gamecocks before declaring himself eligible for the 2014 NFL Draft. As expected, Clowney went on to put up a workout for the ages at the 2014 NFL Combine. After measuring in at 6-foot-6 and 266 pounds, he would go on to run a 4.53 second 40-yard dash, rip off 21 repetitions of 225 pounds on the bench press, put up a 37.5 inch vertical jump, and post a 124.0 inch broad jump. Clowney's freakish athletic ability and unmatched potential led to the Houston Texans selecting Clowney with the No. 1 overall pick in the 2014 NFL Draft.
Clowney's rookie season with the Texans was overrun by a myriad of injuries that culminated with the 22-year-old defensive end having to undergo microfracture knee surgery in December of 2014. According to reports out of Houston, Clowney is nearing full health and looks fantastic. If Clowney proves to be 100-percent healthy, what kind of impact will he have on the Texans in 2015?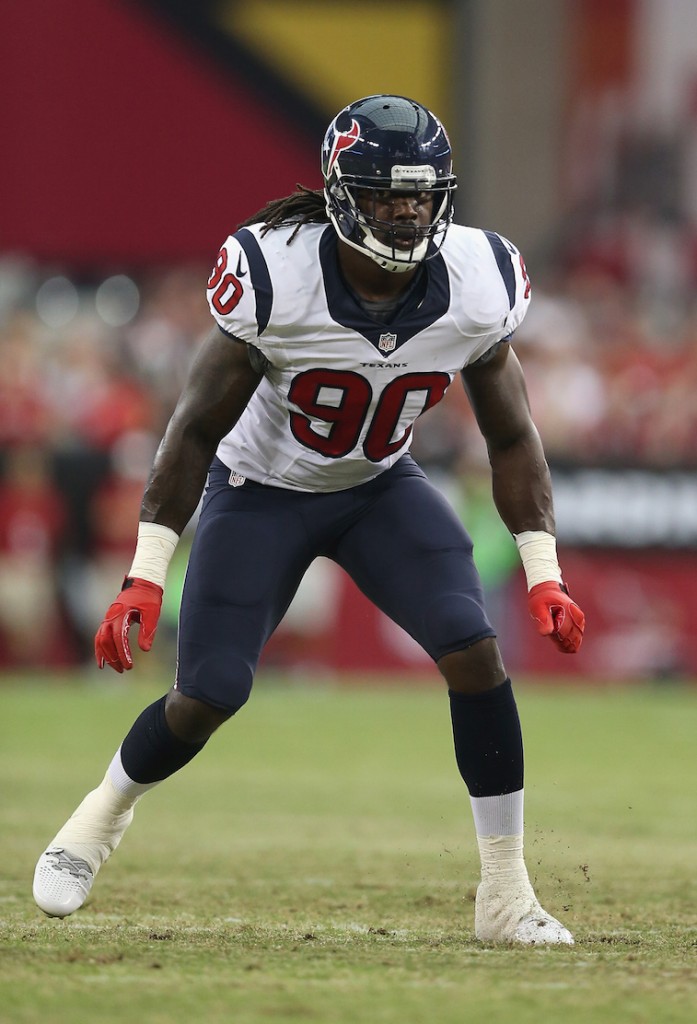 In 2014, the Texans had a top-10 defense according to Pro Football Focus – and that was with very little contribution from Clowney. Their defense is home to the best overall player in league, defensive end J.J. Watt, and his supporting cast includes standouts such as defensive tackle Vince Wilfork, outside linebacker Whitney Mercilus, inside linebacker Brian Cushing, cornerbacks Kareem Jackson and Jonathan Joseph, and safety and Rahim Moore. Clowney's role in defensive coordinator Romeo Crennel's 3-4 defense will be as a pass rushing outside linebacker. If Clowney is indeed healthy and ready to make an impact, the Texans could suddenly be boasting one of the best pass rushes in the league.
The pass-rush combination of Watt, Mercilus, and Clowney would make game planning against the Texans a nightmare for opposing offensive coordinators. As it stands, very few teams are going to attempt to block Watt one-on-one, which means that Clowney and the others should find themselves in plenty of one-on-one pass rush situations, which will give them all plenty of opportunities to pile up huge sack totals. What's more important than the potential for flashy sack totals, is the notion that Clowney could be a consistently disruptive pass rusher, which will make life easier for the Texans' secondary and force opposing quarterbacks into making bad decisions. All said, he doesn't have to just bring down the quarterback to be valuable to the Texans.
All signs are pointing to Clowney starting the season with a clean bill of health. If that truly is the case, the Texans have the roster in place to have a top-five defense in 2015.
All statistics courtesy of Pro-Football-Reference.