NFL: Where Will Ndamukong Suh Be Playing in 2015?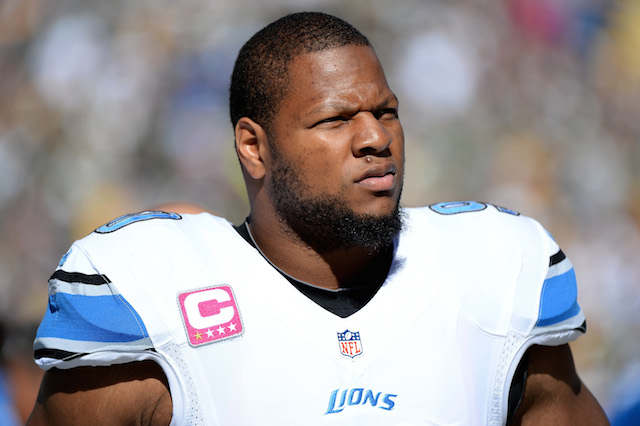 All-Pro defensive tackle Ndamukong Suh is now slated to hit free agency after his rookie contract with the Detroit Lions was officially voided. The Lions have expressed a serious interest in bringing the star defensive tackle back, but may have a difficult time in doing so. Although Detroit has exclusive negotiating rights with Suh until March 10 — the day the new league year starts in the NFL – financial issues may lead to the five-time All-Pro signing with another team for the 2015 season.
The Lions have the option of using their franchise tag on Suh, but to do so, they will be signing the defensive tackle to a one-year, fully guaranteed $26.89 million deal. On top of that, they are already facing a salary cap hit for Suh of $9.7 million regardless of whether or not Suh suits up for the Lions at all in 2015. In total, if the Lions choose to franchise Suh, he will account for $36.59 million against their salary cap in 2015. When you combine that number with Calvin Johnson's ($20.6 million) and Matthew Stafford's ($17.7 million) 2015 salary cap figures, the Lions would have $74.89 million of salary cap space committed to three players.
Likewise, if the Lions attempt to work out a long-term extension with Suh, they are going to run into further financial snags. According to data from Spotrac, the Lions are projected to have right around $15.2 million in salary cap space available for 2015. With Suh expected to be looking for a contract that is very similar to, or even higher in total value, than J.J. Watt's six-year, $100 million deal or Gerald McCoy's six-year $95.2 million deal, the Lions may have to ask other players on their roster to take paycuts in order to have enough cap space to make Suh a competitive offer. Watt's per year average is slightly over $16 million per year and McCoy's per year average is slightly under $16 million per year. Knowing that Suh expects to be paid in line with these two players, it may make him returning to the Lions an unrealistic idea.
Reports surfaced on Friday indicating that Suh has his eyes on continuing his career on the west coast, preferably with a team that is already a Super Bowl contender. Sources close to Suh have said that the Portland, Ore., native's top choice would be to sign with Pete Carroll and the Seattle Seahawks, but he is looking very closely at every established west coast team.
All salary cap data courtesy of Spotrac.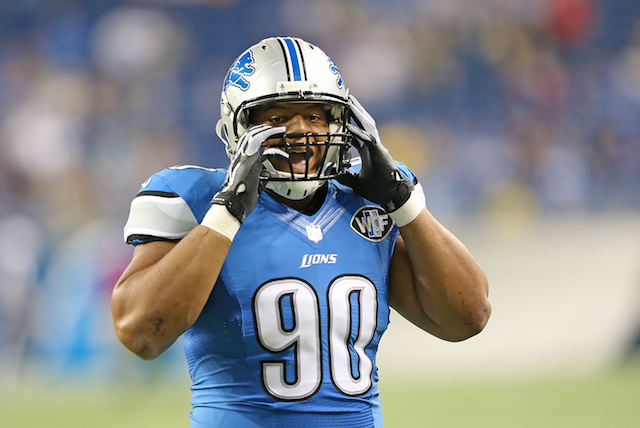 The idea of Suh joining the Seahawks' defense almost seems unfair. To pair him with defensive ends Cliff Avril and Michael Bennett would make the league's best defense seem nearly impenetrable. Suh's attitude and approach to the game would be a near perfect fit for Seattle's aggressive and confident defense. With that being said, finding the money to make Suh a legitimate offer looks like nothing more than wishful thinking for Seattle at this point.
The Seahawks are projected to have $23.3 million in salary cap space for the 2015 season, but that figure doesn't include the likely massive contract extensions for quarterback Russell Wilson, running back Marshawn Lynch, linebacker Bobby Wagner, and offensive tackle Russell Okung. The fact of the matter is, the Seahawks really don't have the ability to keep their current nucleus in tact and also sign Suh to a hefty, long-term contract.
Another west coast team to keep an eye on in the Suh-sweepstakes is the Oakland Raiders. The Raiders will have roughly $49.5 million in salary cap space available, and will be forced to use a hefty chunk of it to meet the NFL's  minimum salary cap floor. While the Raiders are currently far from being considered Super Bowl contenders, they hit on practically every other characteristic Suh is looking for in a potential suitor. Specifically, the Raiders are reportedly prepared to offer Suh a contract that would pay him close to $20 million per year.
Other teams that may kick the tires on Suh include the Denver Broncos ($26.7 million in cap space), the Atlanta Falcons ($22.7 million in cap space), the New York Jets ($45.5 million in cap space), the Cleveland Browns ($47.8 million in cap space), and the Indianapolis Colts ($33.8 million in cap space). The Broncos may be the wild card of this group. They have multiple in-house free agents, such as Demaryius Thomas in 2015 and Von Miller in 2016, which could eat up a large portion of their available salary cap space. However, if Peyton Manning was willing to take a Tom Brady-esque paycut, the Broncos could make Suh a legitimate long-term offer. That would put Suh on a team that will be in Super Bowl contention with him being paid in line with the premier defensive players in the NFL.
Only time will tell where Ndamukong Suh will be playing in 2015.