NFL: 2014 Playoff Teams That May Not Make It This Season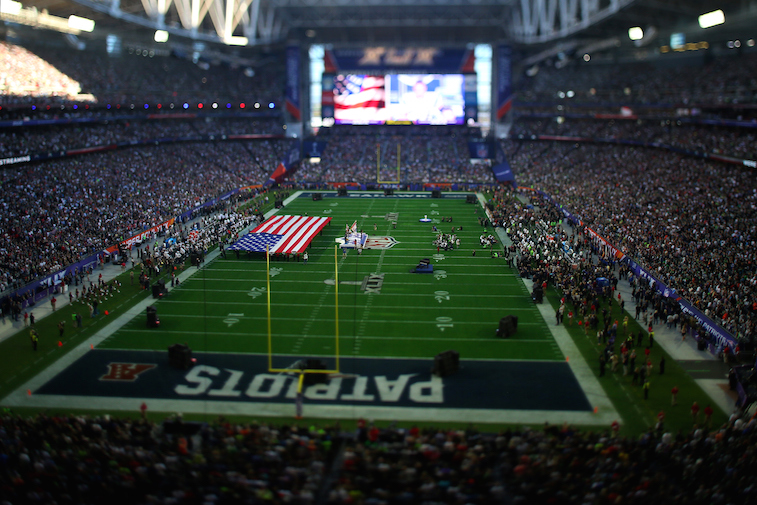 The NFL may have more parity than any other professional sports league in the world. This is due to a myriad of factors such as the hard salary cap the league has in place, teams having the ability to sign All-Pro caliber players through unrestricted free agency, and the fact that the physicality of the sport can lead to career-ending injuries to some of the best players in the league. As a result, it's a virtual guarantee that the 12 teams who make the NFL Playoffs in 2015, will be a vastly different group than the 12 teams who played in the 2014 postseason.
In a previous article, we looked into teams that missed the 2014 Playoffs that we feel are capable of turning things around and making a run to the postseason in 2015. We believe that there is a solid chance that the Atlanta Falcons, New York Giants, and New York Jets could go from being a bottom-10 team in 2014, to a playoff team in 2015. All three teams had excellent offseasons, and all three also have favorable schedules for the upcoming season. Of course, history would also suggest that there will be a surprise team in 2015 that shocks the league by essentially coming out of nowhere to make a playoff run.
In this article, we are going to delve into the teams that we believe are primed to take a step back during the 2015 season. We considered factors such as strength of schedule, offseason roster additions and subtractions, and the overall strength of the division each team plays in. It would be easy to include the New England Patriots on this list if Tom Brady's suspension was upheld, but in our opinion, that would simply be irrational. You may find that there is a surprise inclusion or two on this list, and a lot can happen between now and the start of the regular season in September that could totally change our thought process. But at this point in time, here are the three 2014 playoff teams that we believe will take a step backwards and miss the playoffs altogether in 2015.
1.  Carolina Panthers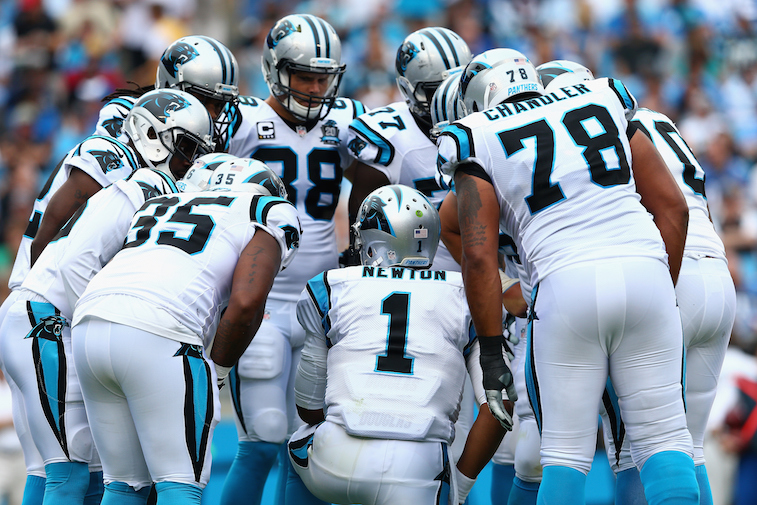 2014 Record:  7-8-1
2015 Strength of Schedule:  27th
Key Additions:
Devin Funchess, wide receiver
Shaq Thompson, linebacker
Ted Ginn Jr., wide receiver
Michael Oher, offensive tackle
Key Losses:
DeAngelo Williams, running back
Thomas DeCoud, safety
Greg Hardy, defensive end
The 2014 Panthers were one of the few teams in NFL history to make it to the postseason with a losing regular season record. Despite having merely the 27th-most difficult strength of schedule in the league for the upcoming season, we believe that the Panthers are going to be on the outside looking in at the playoffs next January. In our opinion, they had one of the worst Draft's in the league, and they weren't able to add any real difference-makers through free agency. They have glaring holes remaining on both sides of the ball, and it would be foolish to think that the Drew Brees-led New Orleans Saints and the Matt Ryan-led Atlanta Falcons are both going to have terrible seasons again in 2015. The Panthers could end up surprising us if Cam Newton continues to improve, but as it stands, we see them as having a minimal chance of making the postseason this year.
2.  Detroit Lions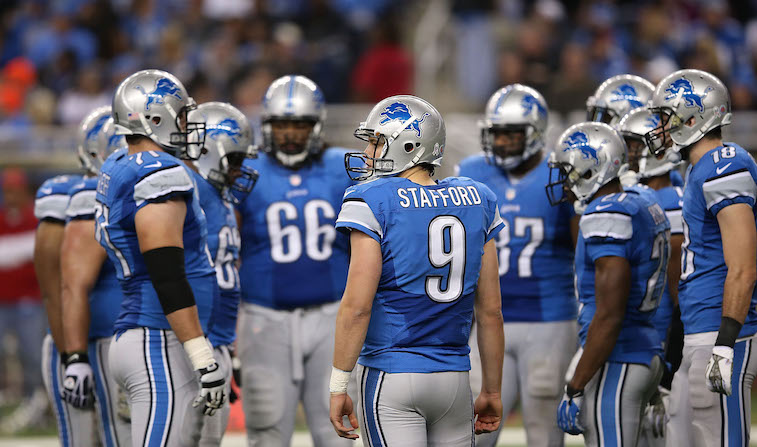 2014 Record:  11-5
2015 Strength of Schedule:  15th
Key Additions:
Manny Ramirez, center
Haloti Ngata, defensive tackle
Ameer Abdullah, running back
Laken Tomlinson, offensive guard
Key Losses:
Ndamukong Suh, defensive tackle
Nick Fairley, defensive tackle
Reggie Bush, running back
The 2015 Lions will look significantly different than the 2014 Lions. The Detroit defense lost All-Pro defensive tackle Ndamukong Suh during free agency. With all due respect to whomever the Lions choose as his replacement, Suh's departure creates a gaping hole in a defense that was dominant for most of the 2014 season. On top of that, the NFC North projects to be a tough division in 2015. The Green Bay Packers are legitimate Super Bowl contenders, and the Minnesota Vikings and Chicago Bears both have several extremely talented players on their rosters. The Lions offense should again be solid, especially if wide receiver Calvin Johnson is 100-percent healthy and their new-look offensive line can come together. Regardless, we see the Lions falling victim to having too many holes on both sides of the ball to make the playoffs in the ridiculously deep NFC.
3.  Cincinnati Bengals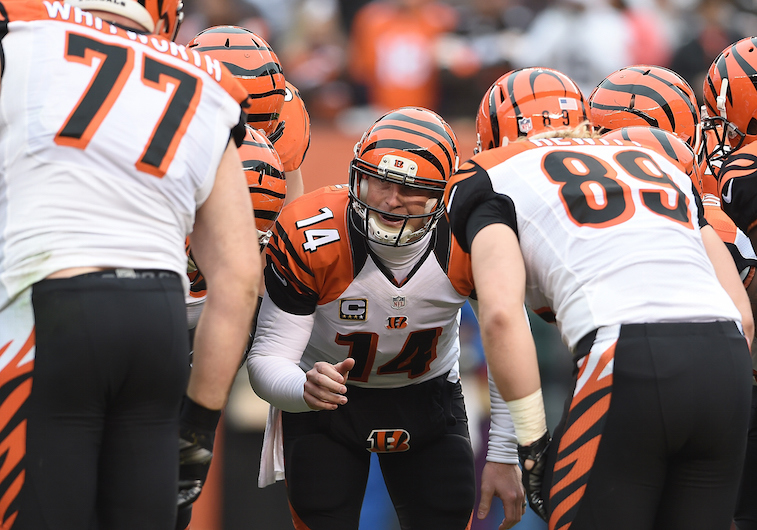 2014 Record:  10-5-1
2015 Strength of Schedule:  2nd
Key Additions:
Pat Sims, defensive tackle
Michael Johnson, defensive end
Cedric Ogbuehi, offensive tackle
Jake Fisher, offensive tackle
Key Losses:
Jermaine Gresham, tight end
Taylor Mays, safety
Clint Boling, offensive guard
There is no arguing that the Bengals have one of the most talented rosters in the NFL. They also play in arguably the toughest division in the league, have the second toughest schedule in the league, and their quarterback, Andy Dalton, has yet to prove that he is anything more than an above-average, game manager-type of signal caller. The team had a solid offseason led by the signings of defensive tackle Pat Sims and defensive end Michael Johnson, who played the first five years of his NFL career in Cincinnati. On the other hand, their 2015 Draft was puzzling. They spent their first two picks on offensive tackles Cedric Ogbuehi and Jake Fisher. While both players could end up being great players down the road, it is unlikely that either of them end up starting in 2015 over the team's incumbent offensive tackles, Andrew Whitworth and Andre Smith. Furthermore, it remains unclear as to how the Bengals' offense plans to fill the shoes of tight end Jermaine Gresham, who is still a free agent.
It is highly unlikely that the AFC North will again send three teams to the postseason in 2015, and to be brutally honest, the Pittsburgh Steelers and Baltimore Ravens are in better shape for a postseason run than the Bengals.
All statistics courtesy of Pro-Football-Reference and all strength of schedule data courtesy of The Cheat Sheet.