NFL: Which Division is Really the Best This Season?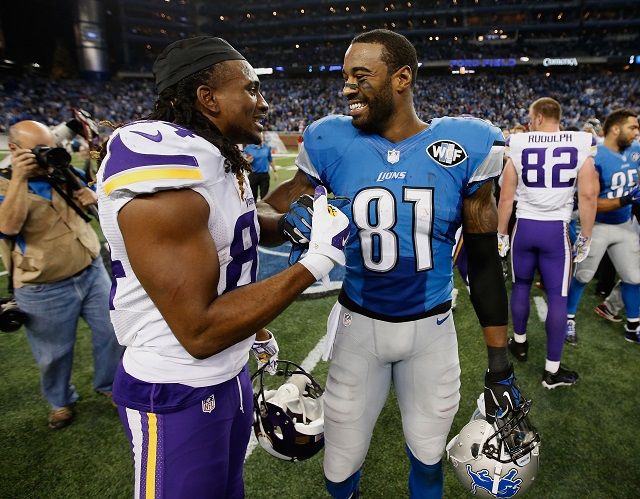 Earlier this week we broke down the two worst divisions in football, the AFC South and NFC East. After a thorough analysis using a points system, we concluded that the AFC South was alone at the bottom of the NFL barrel. With that in mind, let's look at the remaining six divisions to see which is the best in football, based on our previous method of awarding up to four points to each team.
As a reminder, we give four points to the teams that, as of right now, are destined for a possible run to Super Bowl 50. If we think that a squad is capable of winning a playoff game, we give them three points. One-and-done playoff teams get two points. One point goes to teams that we do not see making the postseason, and zero points go to the groups finishing at or near the bottom of the NFL standings. Then, we add up the points to see which division, entering Week 13, is the best of them all.
AFC East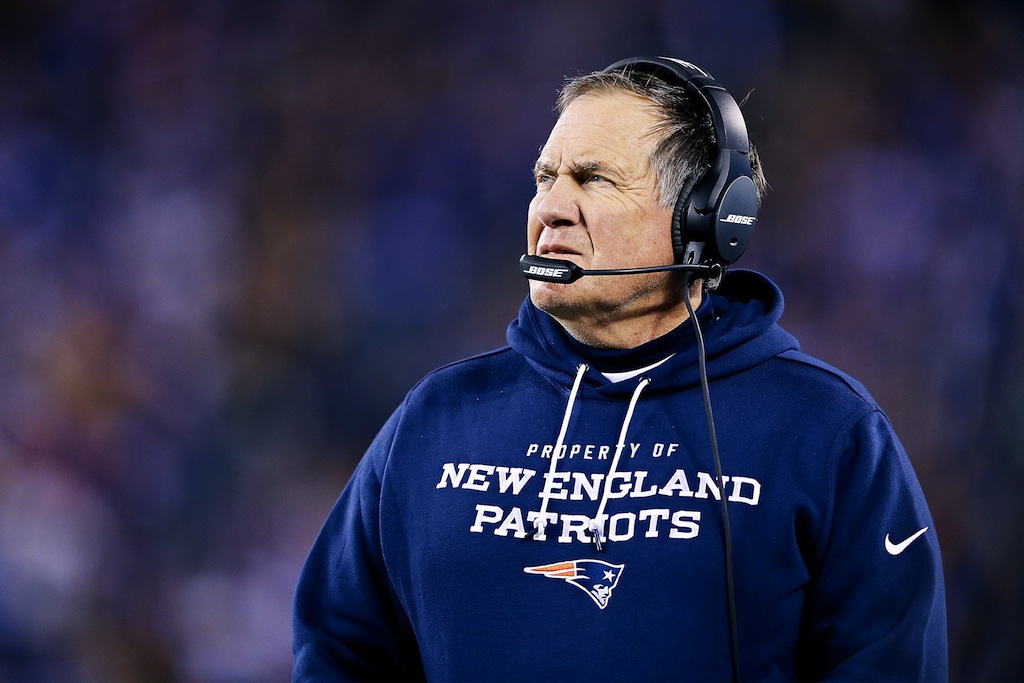 New England Patriots (10-1, first place)
The big, bad New England Patriots are no longer undefeated. They've been decimated by injuries over the past few games and looked somewhat vulnerable during the month of November. Guess what? These issues could be repeated over and over, but as long as Tom Brady is under center and Bill Belichick calls the shots from the sidelines, this team will be one of the shoe-ins, if not the front runner for the Super Bowl.
Points: 4
New York Jets (6-5, second place)
It was a near-consensus entering the 2015 campaign that the New York J-E-T-S Jets Jets Jets were going to S-U-C-K Suck Suck Suck. Coming off a big Week 12 victory over the division-rival Miami Dolphins, Todd Bowles' team is right in the thick of the wild card race. The next three games should be very manageable for Ryan Fitzpatrick's offense. If Darrelle Revis can stay healthy, we see the Jets entering a big Week 16 showdown against New England with at least an 8-6 record. Even if they upset the Pats, there will still be a difficult Week 17 matchup against former head coach Rex Ryan in Buffalo, which could be for a wild card berth.
Points: 1
Buffalo Bills (5-6, third place)
This was supposed to be the year when the tides turned in Buffalo. Ryan, a playoff-tested, defensive wizard came in as the head coach to lead an intriguing Bills team back to the playoffs. However, through 11 games, it's been an extremely mixed bag. Tyrod Taylor orchestrates an offense that is currently ninth in scoring, and LeSean McCoy is finally coming alive as the feature back. A tough home game against the Houston Texans awaits, but three favorable contests against the weakest NFC East teams follow, which could catapult this group into a Week 17 win over the Jets and a playoff spot.
Points: 2
Miami Dolphins (4-7, fourth place)
Perhaps only the Detroit Lions can empathize with just how crazy of a season it's been for Miami, as both organizations underwent a complete personnel overhaul. While the product on the field remains mostly the same, coaches are being fired and hired on an almost weekly basis. Miami's Lamar Miller is a huge disappointment and Ryan Tannehill is seemingly taking a step back. Hosting Baltimore this week may be the Dolphins' last chance at a win in 2015.
Points: 1
Total points: 8
AFC North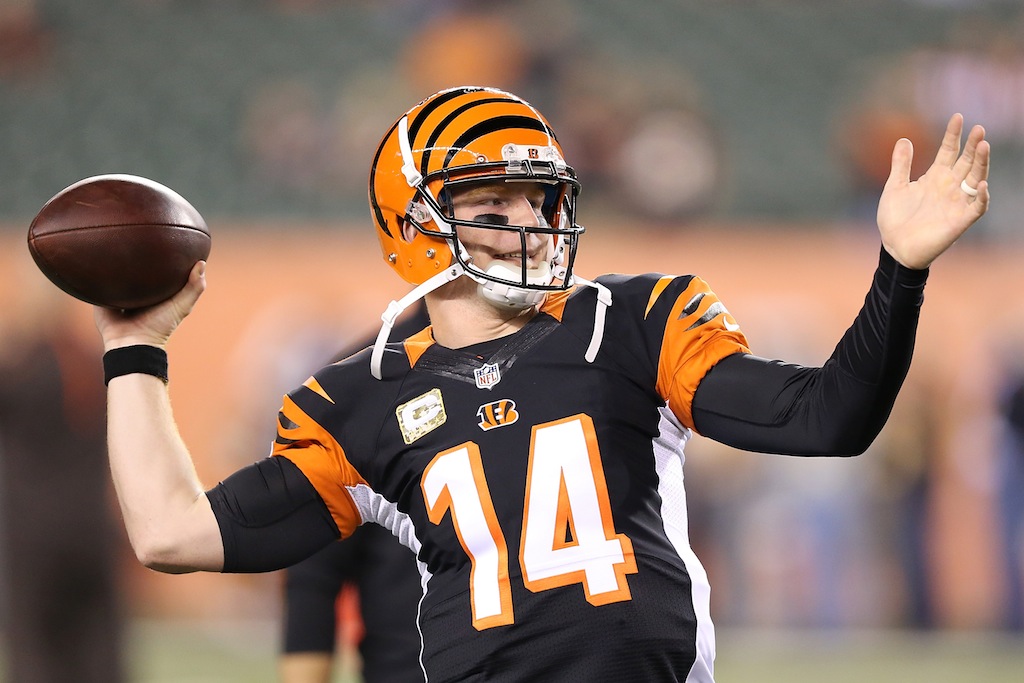 Cincinnati Bengals (9-2, first place)
It's been another special season in Cincinnati for head coach Marvin Lewis and quarterback Andy Dalton — regular season that is. Propelled by the dominance of Geno Atkins on defense and Dalton's nearly elite play, the Bengals are trying to run away with the AFC North. The Pittsburgh Steelers appear to be the only threat, but a three-game deficit with five remaining should be too steep of a hill to climb. Look for Dalton to get the playoff monkey off of his back this postseason with a home win in either the wild card or divisional round.
Points: 3
Pittsburgh Steelers (6-5, second place)
Few other teams in this league rely so heavily on their quarterback as the Steelers do with Ben Roethlisberger. The offense is a completely different monster when Big Ben is on the field and judging by his inability to stay there in 2015, we find it hard to trust the QB to stay healthy for the last five games. Some people are going all in on Pittsburgh and see a strong finish to the year. Given the tough upcoming schedule in Weeks 13, 14, and 15 though, we see the Steelers finishing 8-8, on the outside looking in.
Points: 1
Baltimore Ravens (4-7, third place)
Down goes Steve Smith. Down goes Joe Flacco. Down goes Justin Forsett. The Baltimore Ravens have suffered too many catastrophic injuries to even have a chance this year.
Points: 0
Cleveland Browns (2-9, fourth place)
The season-ending injury to Josh McCown only further complicates things on this anemic offense. The running game is a disaster and Johnny Manziel is in the Browns' "dog house" so often that it looks like the coaching staff is going with Austin Davis at QB this weekend. The Browns' final chance to avoid the division cellar may have been on Monday night — and they lost in epic fashion. Cleveland and Tennessee should have a nice battle for last place in the AFC.
Points: 0
Total points: 4
AFC West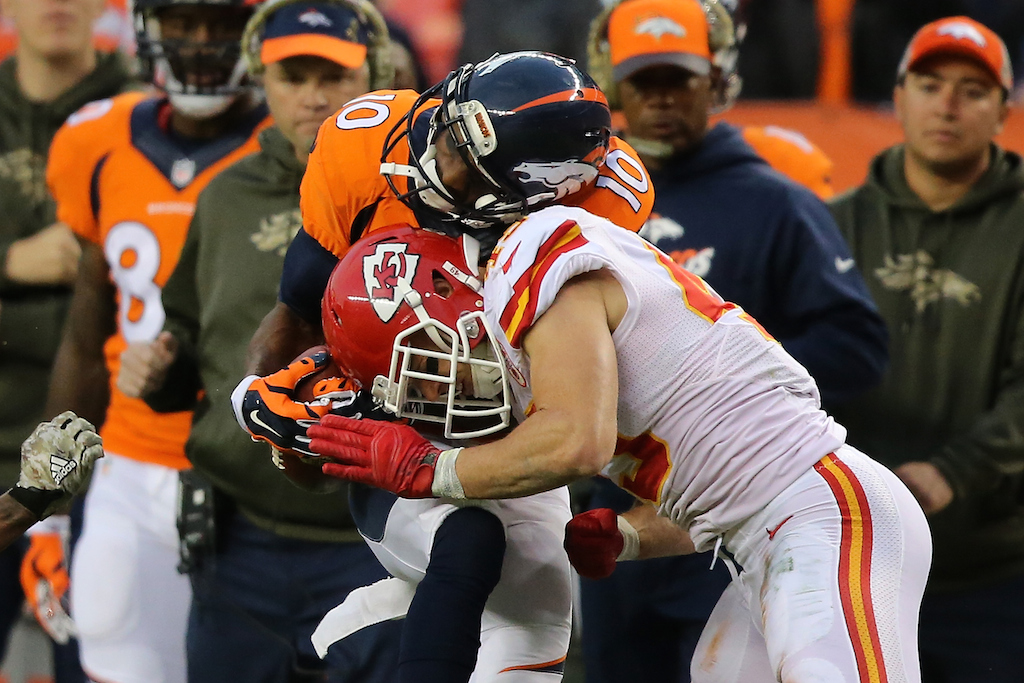 Denver Broncos (9-2, first place)
Despite a brewing quarterback conundrum, the Denver Broncos are in great shape at 9-2. They're coming off a huge home win against the previously undefeated Pats, and at full-strength, they have the best defensive unit in football. It'll be interesting to see how Gary Kubiak and company play out the whole Peyton Manning/Brock Osweiler situation, but one thing is for sure, Denver is New England's top threat to the AFC crown right now. However, before we label them as Super Bowl contenders, we want to see one more week from Osweiler.
Points: 3
Kansas City Chiefs (6-5, second place)
Joining the Arizona Cardinals and Houston Texans as the hottest teams in the NFL not named the Carolina Panthers, the Kansas City Chiefs are shocking the world with their five-game winning streak. During this run they've knocked off the likes of the Broncos and Steelers, so the competition has indeed been stiff. Remarkably, the Chiefs still employ the sixth-highest scoring offense, and it's simply been the "next man up" at the running back position where they amazingly rank sixth as well. We like the way the Chiefs have played lately and an easy schedule on paper primes them for the higher wild card seed.
Points: 2
Oakland Raiders (5-6, third place)
A few weeks ago, the Oakland Raiders played excellent football, looking like they could make a serious run at a wild card berth. Although they did pick up a critical win last weekend against the lowly Titans, three straight losses beforehand severely hurt the Raiders' chances. Latavius Murray needs to revert to his early-to-mid-season form quickly if Oakland wants to stay in the picture. The Chiefs have clearly surpassed the Raiders as the second-best team in this division.
Points: 1
San Diego Chargers (3-8, 4th place)
Is it too big of a stretch to say that everybody on the San Diego Chargers other than Philip Rivers has been a major disappointment this year? Maybe so, but from the struggles of rookie running back Melvin Gordon to the numerous injuries on the receiving corps, San Diego has dropped off considerably since starting 2-2. A brutal schedule looms for Rivers and crew; one that could see this team only winning one more game in 2015. Expect a 4-12 finish at best for the Chargers.
Points: 1
Total points: 7
NFC North
Minnesota Vikings (8-3, first place)
Led by Coach of the Year candidate Mike Zimmer, the Minnesota Vikings are one of the great stories of the season thus far. His stats won't wow you, but Teddy Bridgewater has matured, turning into a nice quarterback. In a season full of devastating injuries to numerous top running backs, Adrian Peterson returned with a bang to lead the offense. A strong, youthful defense caps off an all-around strong team that could make some serious noise in the playoffs.
Points: 3
Green Bay Packers (8-4, second place)
Packers nation has every right to panic now, but as Aaron Rodgers proves again and again, Green Bay still has time to make a run for the division and maybe more. With Andrew Luck's dismal, injury-riddled season on full display in Indianapolis and Tom Brady nearing 40 (although he has been terrific), Rodgers is the best QB in the game. Having the very best at the most important position in the game has to count for something right? Don't sleep on the Packers.
Points: 4
Chicago Bears (5-6, third place)
How are the Bears still in it? Well, they've starting playing their best at the most opportune time and their defense is stepping up big time. The passing game has been limited by numerous injuries, but Jeremy Langford and Matt Forte form a nice one-two punch on the ground. It's too bad the Bears play in this division.
Points: 1
Detroit Lions (4-8, fourth place)
It's nice to see the Detroit Lions playing with some passion and energy, but it may be too little too late this season. Their three-game winning streak was aided by opponents who are struggling (Packers, Raiders, and Eagles), and as is the case with Chicago, this division is just too stacked for Detroit to make a serious push. With some very winnable games left, Detroit should finish with six or possibly even seven wins. The only question left is whether or not this is Matthew Stafford's last season with the Lions.
Points: 1
Total points: 9
NFC South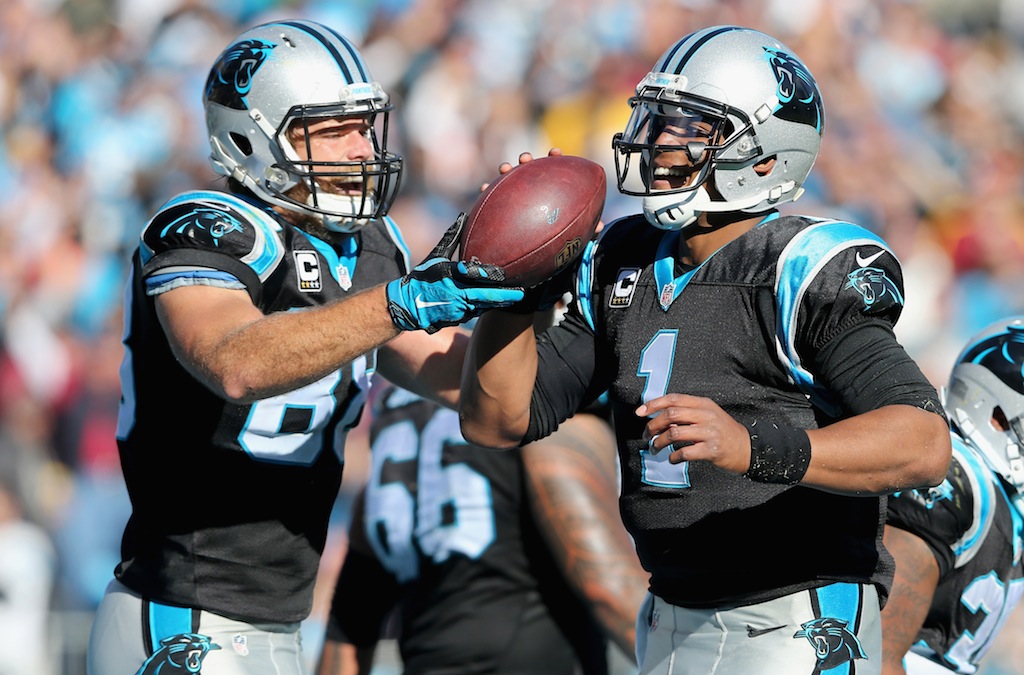 Carolina Panthers (11-0, first place)
Now that the Patriots have fallen, the Carolina Panthers remain the lone unbeaten team in the NFL. Obviously, few would expect a team to win 11 in a row to start a season, but the Panthers have truly been a huge shock. Their stellar defense is joined by a tremendous rushing attack and Cam Newton is challenging Brady for the MVP. Everyone will monitor Carolina's remaining games to see if they stay perfect — even if they don't, they've won us over as Super Bowl contenders.
Points: 4
Atlanta Falcons (6-5, second place)
After starting 4-0 and winning five of their first six, the Atlanta Falcons took a serious nosedive. Over the first quarter of the season, the defense was one of the better groups in the NFL and Devonta Freeman was the talk of the league. The defense has cooled off a bit and Freeman has come back down to earth, leading to a mighty struggle for Atlanta. It's not too late for the Falcons to make a playoff push, but having to face Carolina twice in December could be the nail in the coffin for Matt Ryan.
Points: 1
Tampa Bay Buccaneers (5-6, third place)
Going into Week 13, one could certainly label the Tampa Bay Buccaneers as overachievers this year. Like his rookie counterpart Marcus Mariota, top QB pick Jameis Winston has had his ups and downs in 2015, but the surprising return to Pro Bowl form of running back Doug Martin is huge for Tampa Bay. The Bucs' rushing offense ranks third overall and before their recent loss to the Colts, they had won three of four by beating up on the NFC East. A nice end-of-season schedule is in place, but a Week 17 meeting with Carolina may keep this team out of the playoffs.
Points: 1
New Orleans Saints (4-7, fourth place)
Drew Brees has put together a solid 15th season of football — offense is clearly not the problem. The New Orleans Saints are brought down by their horrific defense. The team has allowed 20 points in every single game this season and is the prime reason this team will finish with only five or six wins.
Points: 1
Total points: 7
NFC West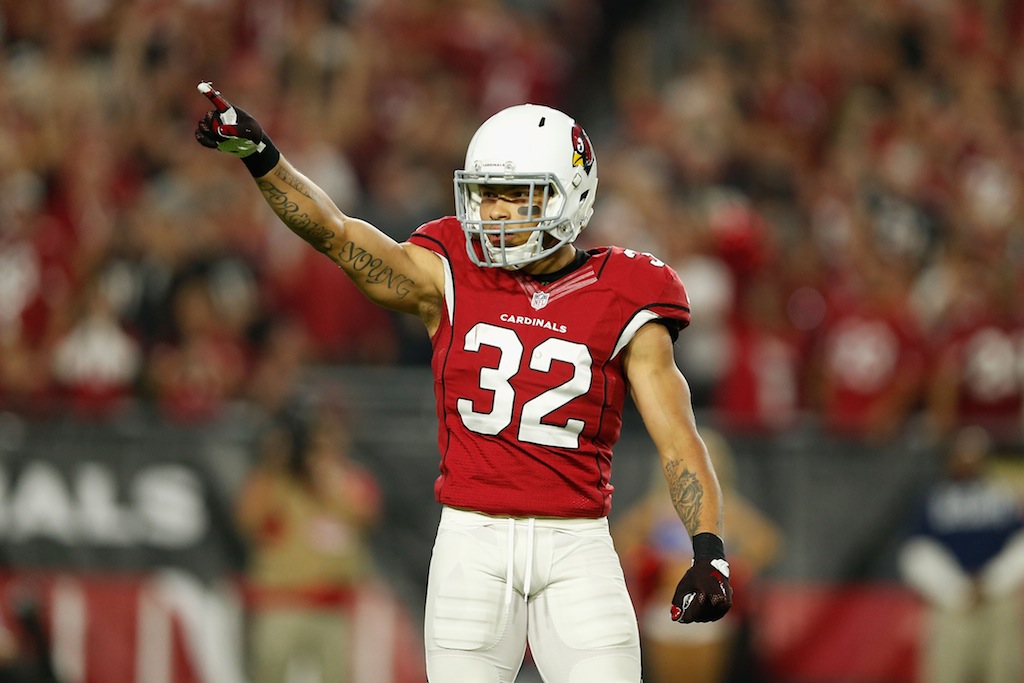 Arizona Cardinals (9-2, first place)
Everybody is talking about the Patriots and Panthers, and to a lesser extent, the Bengals and Broncos, as contenders for the championship. It's hard to picture a 9-2 team flying under the radar, but that's exactly what the Arizona Cardinals are doing. It's true, Vegas does like the Cards, but they're not usually the first team one thinks of when talking about Super Bowl 50. Regardless, Carson Palmer and Larry Fitzgerald have hit the fountain of youth and this team is primed for playoff wins.
Points: 4
Seattle Seahawks (6-5, second place)
No Marshawn Lynch, no problem. Thomas Rawls is clearly the Seattle Seahawks' running back of the future. He and Russell Wilson have the Seahawks offense heating up. Oh, and they still have Richard Sherman leading the Legion of Boom on defense. If the Seahawks can manage to squeak into the playoffs, we don't see them going away anytime soon.
Points: 3
St. Louis Rams (4-7, third place)
It's hard to pinpoint the identity and strength of the St. Louis Rams. They started off the year as one of the strongest defensive teams, but have struggled as of late. Rookie running back Todd Gurley was explosive for a few weeks, but has slowed down lately. They're on a four-game losing streak and appear to be falling well out of the playoff picture.
Points: 1
San Francisco 49ers (3-8, fourth place)
"Last but not least" is a common phrase that suits many situations. This is not one of them. The San Francisco 49ers are one of the worst teams in the league, and when you have Blaine Gabbert starting at quarterback, it says a lot. The Niners will be in contention for the worst record in the NFL when all is said and done.
Points: 0
Total points: 8
So there you have it. Based on our points system, we declare that the NFC North is the best division in football heading into the last five weeks of the regular season.
All data courtesy of NFL.com and ESPN.com.
Follow Victor on Twitter @vbarbosa1127