NFL: Which Is More Likely to Happen This Year, 16-0 or 0-16?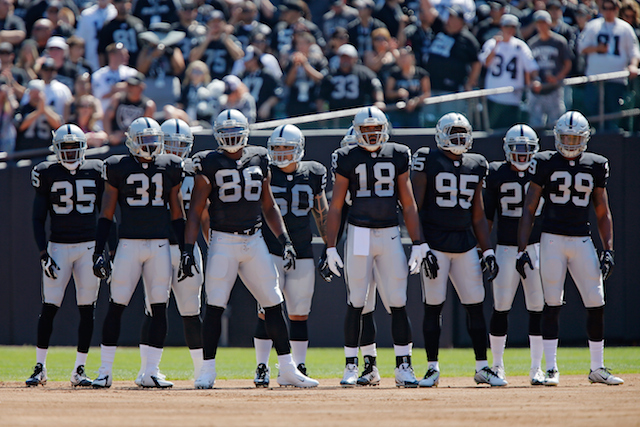 Since the legendary 1972 Miami Dolphins, no NFL team has finished a perfect season (although the New England Patriots came close in 2007, winning every regular-season game but coming up short in the Super Bowl). Each year, Miami's champagne is on ice, waiting for the final team to suffer its first loss.
While the Patriots are the only team to go 16-0 in the regular season since that historic Miami campaign, there is one other team that managed to achieve an identical result in all 16 games of its season. That would be the 2008 Detroit Lions, who finished on the opposite end of the spectrum with a perfectly awful 0-16 record.
That got us thinking: which of the two rare accomplishments have a better chance of happening in the 2014 season? As we move into October, just two teams have a shot at 16-0 and only two others have a chance to go 0-16. Here are each of the candidates for beautiful or horrible perfection. Do you think there's a chance we'll see history this year?
Arizona Cardinals (3-0)
Why they will: Um, sorry, but they won't. While the odds say none of these four teams will finish with a perfect 16-0 or 0-16 slate, the Cardinals probably have the smallest chance of the four. Arizona is 31-36 overall since 2010 without a playoff appearance in that time, so a 16-game winning streak would seem highly improbable. If we had to give a reason in this category, it would be that the Cardinals have won back-to-back games without starting quarterback Carson Palmer. If he gets healthy, that can only help this undefeated team try to stay undefeated, and the bye came at a good time to buy Arizona a few days.
Why they won't: See above. The Cardinals are seven-point underdogs this week at Denver, and play in one of the league's toughest divisions (two dates with defending champion Seattle still loom). While 3-0 was a surprising start for Arizona, 4-0 isn't likely, and 16-0 would be utterly unbelievable.
Stat to know: Through three games, star wide receiver Larry Fitzgerald (10 catches) is on pace for the lowest reception total of his career.
Cincinnati Bengals (3-0)
Why they will: The Bengals are coming off three straight postseason appearances without a playoff win, and were widely expected to take a step forward in 2014. Cincinnati looks like the class of the AFC North (already boasting a win at second place Baltimore), and could be a realistic Super Bowl contender, especially if they continue to only allow eleven points per game.
Why they won't: There's a long way to go in 2014, and thanks to the Bengals' early bye, they still have another 13 games to play in a quest for a perfect regular season. They'll be lucky to get through October defeated, with dates against New England, Carolina, Indianapolis, and Baltimore on the docket. Even if Cincinnati were somehow to start the season a miraculous 14-0, the season closes with games against Denver and Pittsburgh in the space of six days.
Stat to know: The Bengals lead the league in turnover margin at +6, with only one total giveaway through three games.
Jacksonville Jaguars (0-4)
Why they will: The Jaguars haven't been competitive since the opening half of the season, losing four straight games by an average of more than 23 points per contest. Jacksonville has already thrown in the towel on 2014 and turned the keys over to first-round pick Blake Bortles with the hope of brighter days ahead. That's all well and good, but the learning curve for a rookie is sure to be steep and rocky. We sincerely doubt it will be 0-16 rocky, but there's a better chance of the Jaguars going winless than the Cards or Bengals staying undefeated.
Why they won't: Jacksonville is learning how to win ball games with its young guys, and that will pay off at some point on this year's schedule. This team is too talented to go 0-5 in its five games against Tennessee, Houston, and Cleveland, and Bortles seems like he could be the real deal.
Stat to know: Jacksonville led defending NFC East champion Philadelphia 17-0 at halftime on the road in Week 1. The Jags were outscored 55-0 over the next (nearly) four quarters against Philly and Washington.
Oakland Raiders (0-4)
Why they will: The Raiders are a mess. They just lost to a sub-.500 team by 24 points in London. Then they flew home and promptly fired their coach. They're playing a rookie quarterback because he's the best they've got — and he's hurt. There's no question Oakland has the best chance of these four teams to put together a 16-game streak. It may not be likely, but the recipe's at least in place (and they're a quarter of the way there already at 0-4).
Why they won't: Well, 0-16 has only been done once in history. So if there's any good news for Oakland, there it is. Also, the team has at least been competitive in one-score road losses to the Jets and Patriots. That doesn't look like a team that won't be able to scratch out a single W in twelve more tries.
Stat to know: Opponents have combined to complete more than 72 percent of their passes against Oakland's defense in 2014, and that list includes not-quite-superstars like Geno Smith and Ryan Fitzpatrick.