NFL: Which Team Has the Best Chance of Going 16-0?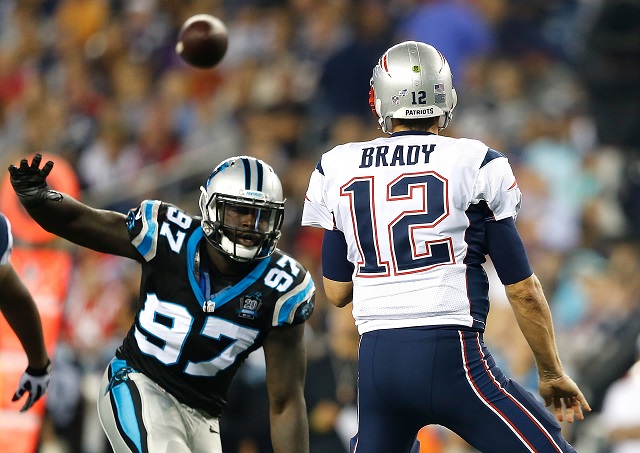 The Carolina Panthers, Cincinnati Bengals, and New England Patriots all faced questions at the beginning of the 2015 season. Would Carolina be able to sustain the season-long loss of stud wide receiver Kelvin Benjamin? Could Andy Dalton answer his critics, lead Cincy to a division title, and more importantly excise his playoff demons? How much of an impact would New England's young, inexperienced secondary have on the team's ability to hold opponents off the scoreboard? With the trio of teams now exactly halfway through their season, they are 24-0.
It's rare to enter Week 10 of the NFL season and still have three undefeated teams. The Panthers, Bengals, and Patriots have had some close calls, but for the most part, they have dominated their way to stellar starts. New England quarterback Tom Brady and his Carolina counterpart Cam Newton are likely the top two MVP candidates right now (in that order), and Dalton is certainly in the discussion as well.
The three undefeated teams each possess a middle-of-the pack pass defense and are in the top-half against the run. However, what matters the most (points allowed per game) is where it gets impressive. The Bengals (17.8) and Patriots (17.9) rank fourth and fifth, while the Panthers are a solid 11th at 20.6.
As much as head coaches Ron Rivera, Marvin Lewis, and Bill Belichick may hate to hear it, this is a time where analysts and fans are closely monitoring the remaining schedules and dreaming of a 16-0 regular season. Of course, Belichick is used to this kind of thing by now.
But which team of the trio has the best shot at completing 16 wins in a row? Will any of them accomplish the feat? Read on as we break down the remaining schedules and offer a final prediction for where each team will land following Week 17.
Carolina Panthers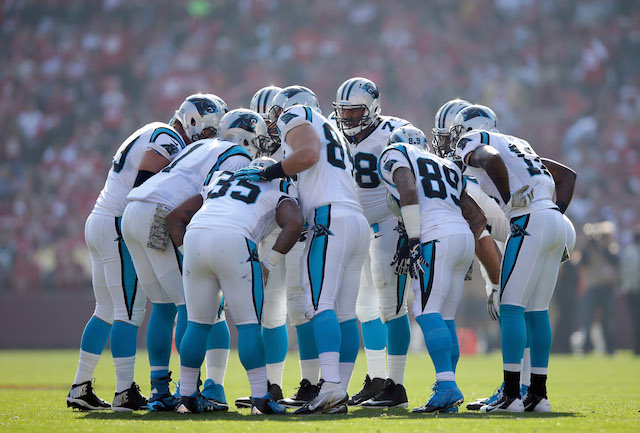 Remaining schedule:
– Week 10 @ Tennessee Titans
– Week 11 vs. Washington Redskins
– Week 12 @ Dallas Cowboys
– Week 13 @ New Orleans Saints
– Week 14 vs. Atlanta Falcons
– Week 15 @ New York Giants
– Week 16 @ Atlanta Falcons
– Week 17 vs. Tampa Bay Buccaneers
On paper, the Panthers' first quarter of the season featured an extremely friendly schedule. Following their Week 5 bye, the goings got a lot tougher, but Rivera's team responded by knocking off the Seattle Seahawks on the road, the Philadelphia Eagles at home, the Indianapolis Colts in overtime in Carolina, and finally the Green Bay Packers at home as well.
In the remaining eight games, we see two possible pitfalls for Newton and company, both of which are road games against NFC East opponents. We'll give the Panthers the next two games to put them at 10-0, but their toughest test could be Week 12 in Dallas against the Cowboys. With Tony Romo (presumably) back and healthy, plus a fresh Dez Bryant, we see the Boys handing Carolina their first loss.
The following two contests against division rivals should be very high scoring, but we predict that the Panthers wins against the Saints and Falcons. Like with the Dallas game, the New York Giants will be hungry at home and it should end up being a tight one. We'll take Newton or Eli Manning though, as the latter may struggle just enough against a good Panthers pass defense. By Week 16, the Panthers should have the division wrapped up but could still be vying for the top seed. We see them earning it with season-closing wins against the Falcons and Buccaneers.
Projected final record: 15-1
Cincinnati Bengals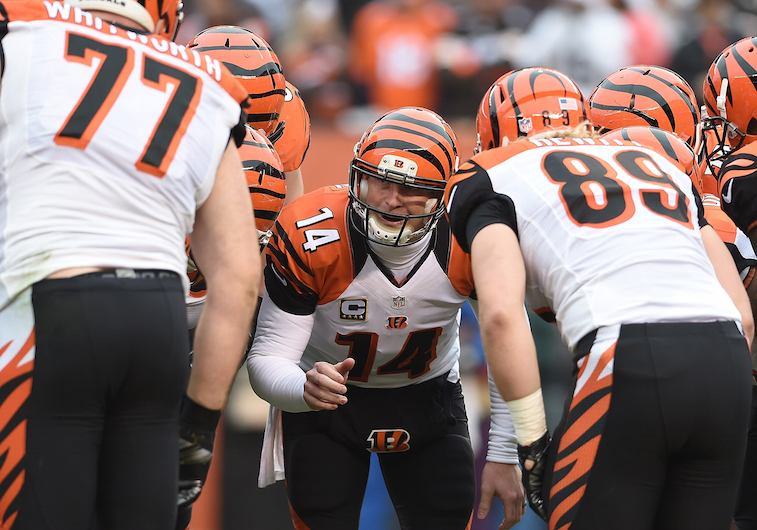 Remaining schedule:
– Week 10 vs. Houston Texans
– Week 11 @ Arizona Cardinals
– Week 12 vs. St. Louis Rams
– Week 13 @ Cleveland Browns
– Week 14 vs. Pittsburgh Steelers
– Week 15 @ San Francisco 49ers
– Week 16 @ Denver Broncos
– Week 17 vs. Baltimore Ravens
The Bengals have reached 8-0 by way of four tightly contested games and by blowing out four opponents. In reality though, only two games really stand out as quality wins when you look closely. Sure, the Oakland Raiders are playing extremely well now, but entering the Week 1 matchup against Cincy, Derek Carr was not playing like he is today. In Weeks 2 through 4, Dalton's Bengals snuck by a really bad San Diego Chargers team, held off an injury-riddled Baltimore Ravens squad, and beat the Kansas City Chiefs at home too.
Weeks 5 and 6 provided the most impressive victories of the year, as the Bengals beat the Seattle Seahawks in overtime and then visited Buffalo to drop 34 points on the Bills' defense and win by 13. After a bye, Cincy returned to beat a just-back-from-injury Ben Roethlisberger and destroy the pitiful Cleveland Browns in Week 9 by 21. The next three weeks could prove to be significantly more difficult for the black and orange.
We'll say Dalton can keep the train running for one more week, by beating the Houston Texans on Monday Night Football. But on a short week, the Arizona Cardinals will end the Bengals' run at perfection in Week 11. An upset in the making comes in Week 12, where we're going with the electric Todd Gurley and the St. Louis Rams to beat Cincinnati on their home turf for their second straight defeat. Dates with the Browns, 49ers, and Steelers should right the ship but in another late-season showdown on national TV in Week 16, we see the Bengals losing in Denver. Week 17 against the Ravens should result in the 13th and final win of the regular season and could very well be enough for a first-round bye.
Projected final record: 13-3
New England Patriots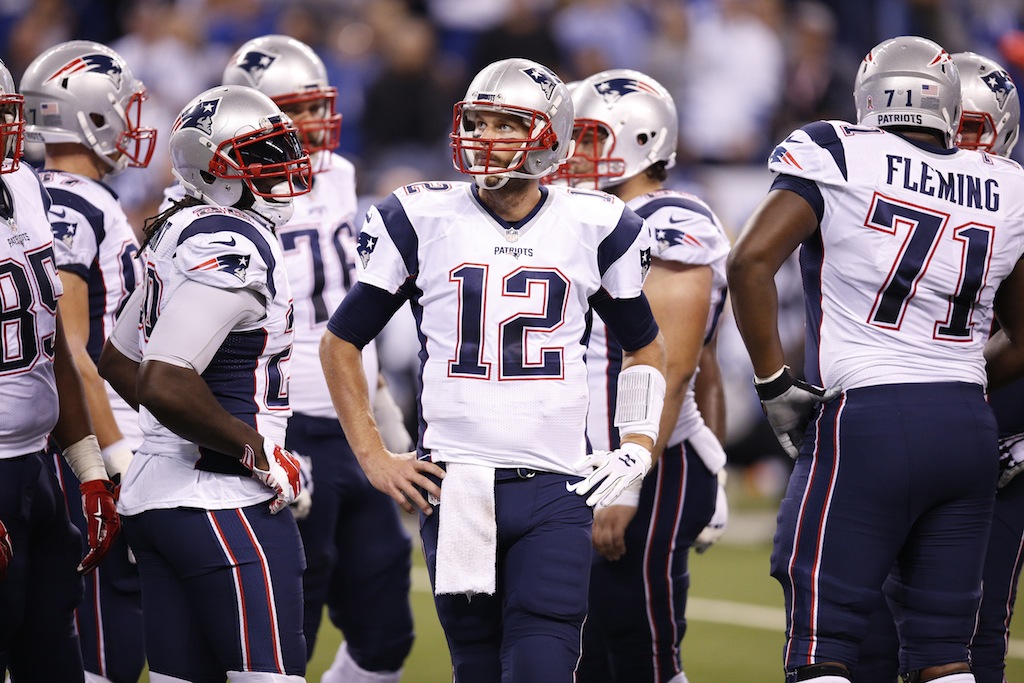 Remaining schedule:
– Week 10 @ New York Giants
– Week 11 vs. Buffalo Bills
– Week 12 @ Denver Broncos
– Week 13 vs. Philadelphia Eagles
– Week 14 @ Houston Texans
– Week 15 vs. Tennessee Titans
– Week 16 @ New York Jets
– Week 17 @ Miami Dolphins
The Patriots have not lost since Week 17 of last season and have not dropped a "meaningful" contest in nearly an entire calendar year — a 26-21 loss in Week 13 against the Green Bay Packers. It's hard to say whether or not the Pats would be 8-0 if Brady had been suspended for the first four games, but our best guess is that they'd still be at least 6-2 right now anyways. Like most Brady-led teams, the Pats have been on an offensive onslaught so far, scoring at least 27 points in every contest. Despite three single-touchdown victories, there really hasn't been any point where it looked like Belichick's perfection was in danger.
The next three games will be great tests for Brady, Rob Gronkowski, and the rest of the team's offense without the versatile Dion Lewis, who was injured in Week 9 and is out for the season. If you were to follow any team for Weeks 10-12, make it the Patriots. We predict very close games versus the Giants, Bills, and Broncos, but Brady's prowess over all three quarterbacks will be the difference-maker. At 11-0, we see the Pats taking down the Philadelphia Eagles, Texans, and Titans with relative ease, setting up one final test in Week 16 against the Jets (Week 17 against the Dolphins should be a cakewalk).
Facing the 14-0 Patriots on his home field, we envision corner back Darrelle Revis having a big game, doing just enough to give the visitors their first loss of the season. Who knows, maybe it'd be better for New England to enter the playoffs at 15-1 rather than going in with the immense pressure of a 16-0 campaign again?
Projected final record: 15-1
All data courtesy of NFL.com and ESPN.com.
Follow Victor on Twitter @vbarbosa1127