NFL: Who Can the Cowboys Use to Replace Tony Romo?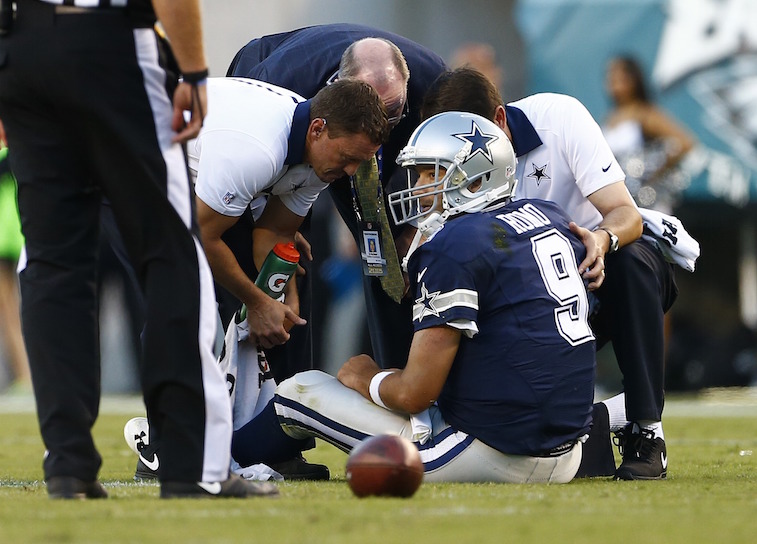 Coming into the 2015 NFL season, expectations were sky-high for the Dallas Cowboys. They were coming off of an impressive 2014 campaign that saw them post a 12-4 regular season record, win an NFC East division crown, and win their Wild Card playoff game over the Detroit Lions before falling to the Green Bay Packers in the NFC Divisional round. This past offseason, they lost All-Pro running back DeMarco Murray, but at the same time, they were able to go out and address their more pressing needs on the defensive side of the ball. Everything was looking good in Dallas, and the Cowboys were primed for a potential Super Bowl run. That was until All-Pro wide receiver Dez Bryant, who had just signed a five-year, $70 million contract extension, went down with a foot injury that will sideline him for 10-12 weeks.
And then the unthinkable happened.
In a Week 2 game against the Philadelphia Eagles, the Cowboys were well on their way to proving that they can survive and stay in contention in the NFC without Bryant in the lineup. That all changed with 9:44 left in the third quarter on Sunday. Quarterback Tony Romo, arguably the most important player on the Dallas roster, took a sack from Eagles linebacker Jordan Hicks and suffered a broken left clavicle that will keep him off the field for at least eight weeks. The Cowboys held on to win 20-10 and now have a 2-0 record, but there is no questioning that their Super Bowl aspirations may have gone out the window with Romo's injury.
Whether you love him or hate him, there is no denying that Romo is one of the game's best quarterbacks. For the Cowboys' front office, finding an adequate replacement is going to be a daunting task. The way we see it, they really only have three options. Here's a look at what they can do.
1.  Stay In-House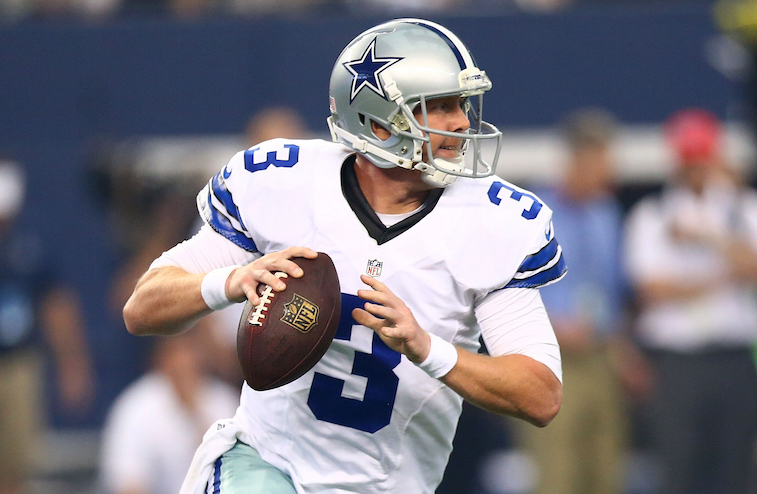 This is the most likely route the Cowboys will take for the time being, with 31-year-old Brandon Weeden (pictured above) being elevated from backup to starter. Weeden actually has a decent amount of starting experience at the NFL level, making 21 starts over the course of his four-year career. That said, he has compiled just a 5-16 record in said 21 starts. If there is a silver lining in the situation, it would be Weeden's performance when thrust into emergency duty on Sunday against the Philadelphia Eagles. He completed all seven of his pass attempts for 73 yards and one touchdown. The only other quarterback on the Cowboys' roster is Kellen Moore, who is currently on the team's practice squad. Moore will likely be promoted to the active roster some time in the next few days, and serve as Weeden's backup this weekend against the Atlanta Falcons.
2.  Hit the Free Agent Market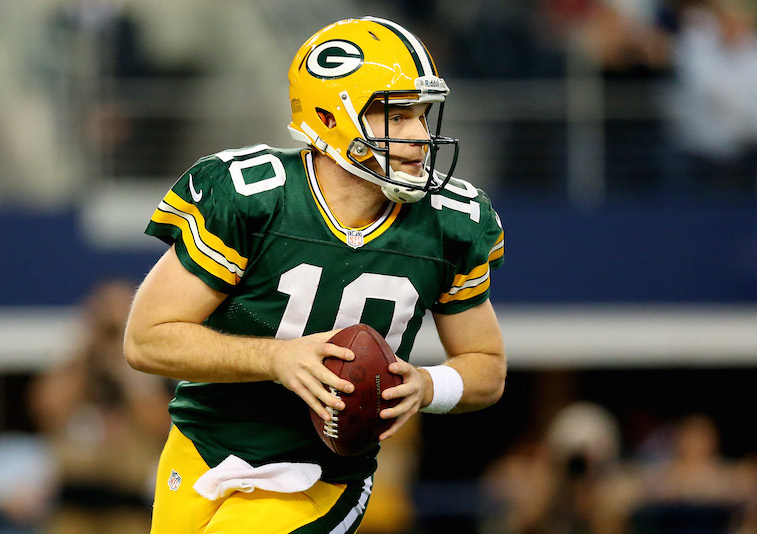 The Cowboys will likely be adding a veteran free agent quarterback sometime this week. Will that player come in and immediately overtake Brandon Weeden for the starting job? Probably not. However, if Weeden struggles over the next couple of weeks, we doubt very strongly that the Cowboys will ride it out with him in a season with such high expectations. A few veteran names to keep an eye on are Josh Freeman, Matt Flynn (pictured above), Christian Ponder, and Jason Campbell.
3.  Swing a Trade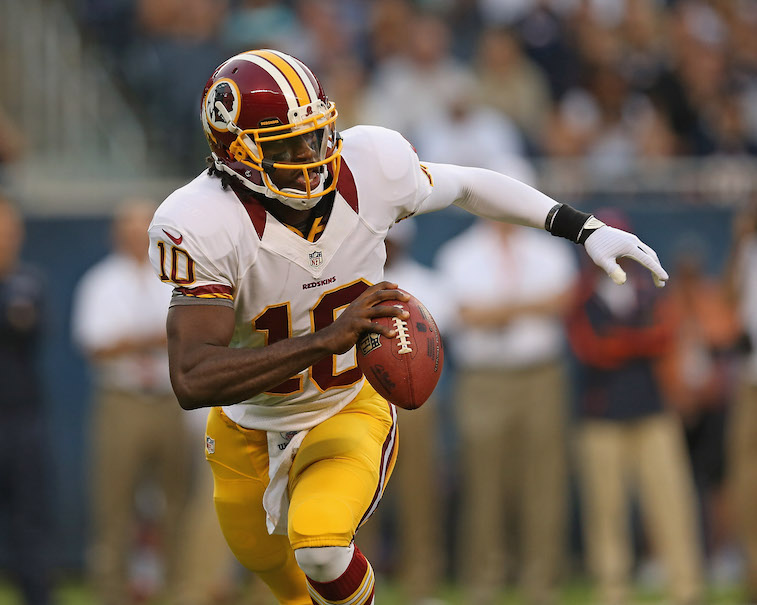 This is the least likely of the Cowboys' three options, but we wouldn't rule anything out. Potential targets could include Robert Griffin III (pictured above) of the Washington Redskins, Mike Glennon of the Tampa Bay Buccaneers, Zach Mettenberger of the Tennessee Titans, or Matt Schaub of the Baltimore Ravens. At the end of the day, there is a reason why all of the above players are backups, and we simply don't see Jerry Jones being willing to part with any kind of asset to acquire one of them.
All statistics courtesy of Pro-Football-Reference.