NFL: Who Is Quarterback Prospect Garrett Grayson?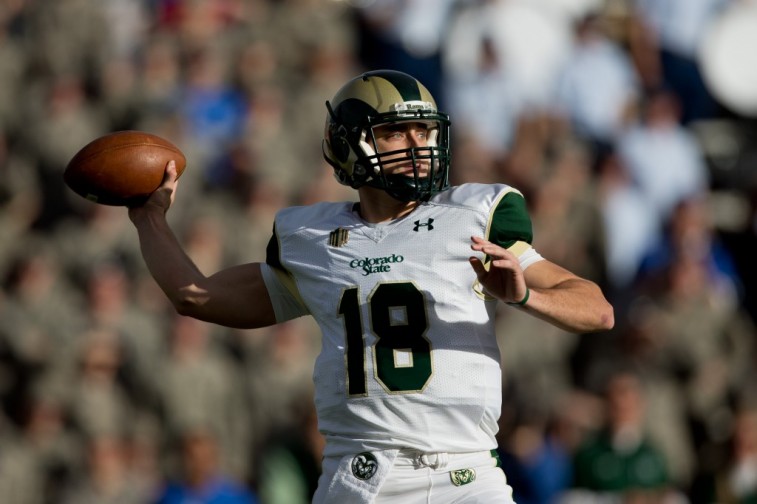 The 2015 NFL Draft is fast approaching, and there is still much left to debate. However, one thing that most experts have settled on is that Jameis Winston and Marcus Mariota are the top two quarterback prospects on the board. Where they will end up is anyone's guess, but right now they are in a class of their own and it appears the rest of the QBs will be duking it out to be the third passer taken off the board. And while that may very well be true, we wouldn't say that to Garrett Grayson.
On Monday, the former Colorado State gunslinger held his pro day for NFL representatives and was downright impressive. No longer hampered by a hamstring injury that forced him to sit out this year's combine, Grayson complete 70 of 74 passing in a workout that included a majority of throws from the hashmark to the far sideline, on both sides of the field. Grayson felt good about what he showcased during his performance.
"I proved what I can do today," said Grayson. "I think I'm up there with the best, I think obviously everyone knows Winston, Mariota are kind of the 1-2. But as quarterbacks, or any position, you should always be pushing, always fighting for the No. 1 spot at your position, no matter who's out there."
This is the kind of confidence that NFL teams love to see out of their franchise quarterbacks. There should be no doubt that Grayson believes he can be the guy under center. And yet, despite throwing for 4,006 yards, 32 touchdowns, and 7 interceptions in his 2014 senior season (and winning the Mountain West Conference's offensive player of the year), Grayson came out on Monday with the intention of silencing any doubters. Mission accomplished.
One knock on Grayson and the Rams was that they ran most of their offense out of the shotgun. So Grayson wanted to show that he could go under center.
"This past season we were probably 90 percent (shotgun) so I wanted to prove to everybody that I can take the five-step, the seven-step drops, under center and throw with accuracy," Grayson said. "Roll out right and throwing a comeback left to the far side of the field, that was something I wanted to prove, that I had the arm strength to make those throws."
He may have been disappointed with the four incompletions, but the 6-foot-2, 214-pound quarterback will continue to fight for his spot. He knows that nothing is settled yet.
"Me, Bryce Petty and Brett Hundley were all considered to be fighting for that third spot. I can guarantee you can ask those guys too, they're not fighting for the [No. 3], they're fighting for the No. 1. It's up to us to make that happen. … I feel very happy and I've watched all those guys throw and compete — there's not a doubt in my mind that I can compete with them."
Grayson seems poised to take the next step in his evolution as a quarterback. He may not be a household name yet, but he's out to show that he's up there with the best of them. He will not be the first QB taken in the 2015 NFL Draft and he will still be sitting there when the second quarterback is taken. But somewhere in the draft an organization is going to call his name. And Grayson will be ready when that time comes.
All statistics are courtesy of SR/College Football and ESPN.go.com.