NFL: Who's Fired Next? Jason Garrett and Dan Quinn are on the Hot Seat
Jay Gruden became the first coach fired in 2019 after the Washington Redskins lost 33-7 to the New England Patriots, which was the team's fourth straight loss by double digits. The Redskins were 0-5 on the season and 1-11 over their last 12 games when Gruden was shown the door in his sixth season with the team.
Who's next on the chopping block in the NFL? Detroit's Matt Patricia, Houston's Bill O'Brien, and Jacksonville's Doug Marrone were all among the favorites to be the first head coach fired this season. But Detroit and Houston have played well, and Marrone losing Nick Foles in the first week of the season has probably bought him some wiggle room. This leaves two likely remaining candidates to be fired next; Jason Garrett and Dan Quinn.
Jason Garrett, Dallas Cowboys
When the Cowboys surged out of the gate to a 3-0 start to the season, Garrett's job security was the last thing on anyone's mind. But since that hot start, Dallas is 0-3 over its last three games; losing 12-10 against a New Orleans Saints team that was missing Drew Brees, losing 34-24 at home to the Green Bay Packers, and then last week losing 24-22 to the previously winless New York Jets.
Dallas's three wins came against the New York Giants, Washington Redskins, and Miami Dolphins, who are a combined 3-14 this season. Not exactly a bunch of world-beaters.
This is Jason Garrett's ninth full season as Dallas's head coach. Garrett has a respectable 77-59 record with the Cowboys and won the NFL's Coach of the Year award in 2016. But when push comes to shove, Dallas has made the playoffs only three times through his first eight seasons and has won only two playoff games over that stretch. Does he really seem like the guy that is going to take this team to the Super Bowl?
Owner Jerry Jones insists that he is not considering firing Jason Garrett, and that the team's recent skid isn't all Garrett's fault. Will he keep singing the same tune if the Cowboys lose their fourth straight game, in primetime on Sunday night, to the Philadelphia Eagles next week?
Dan Quinn, Atlanta Falcons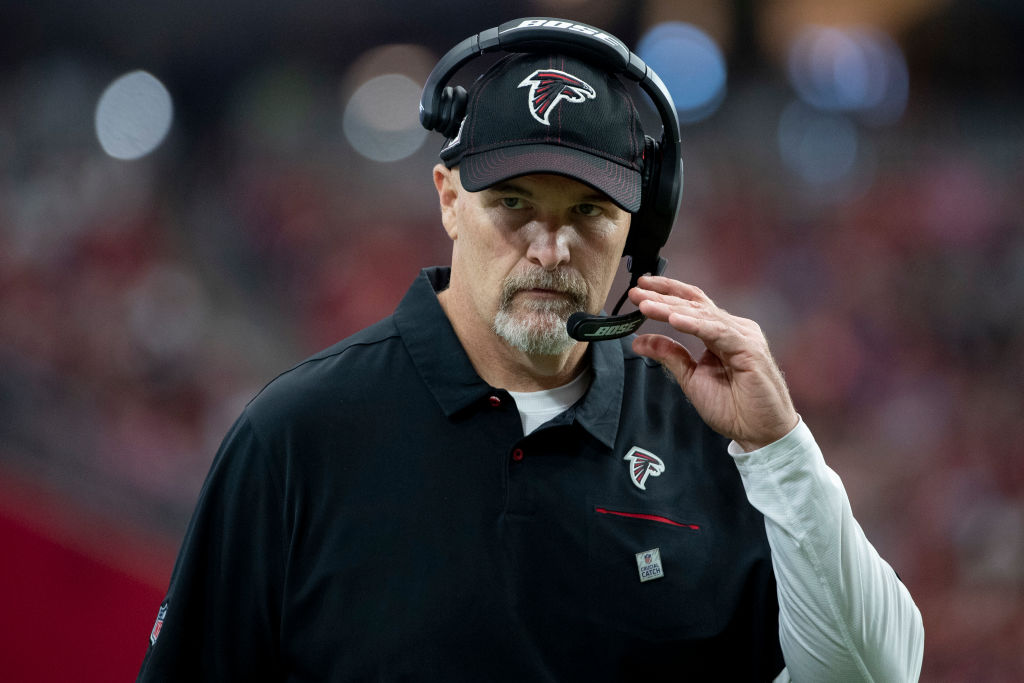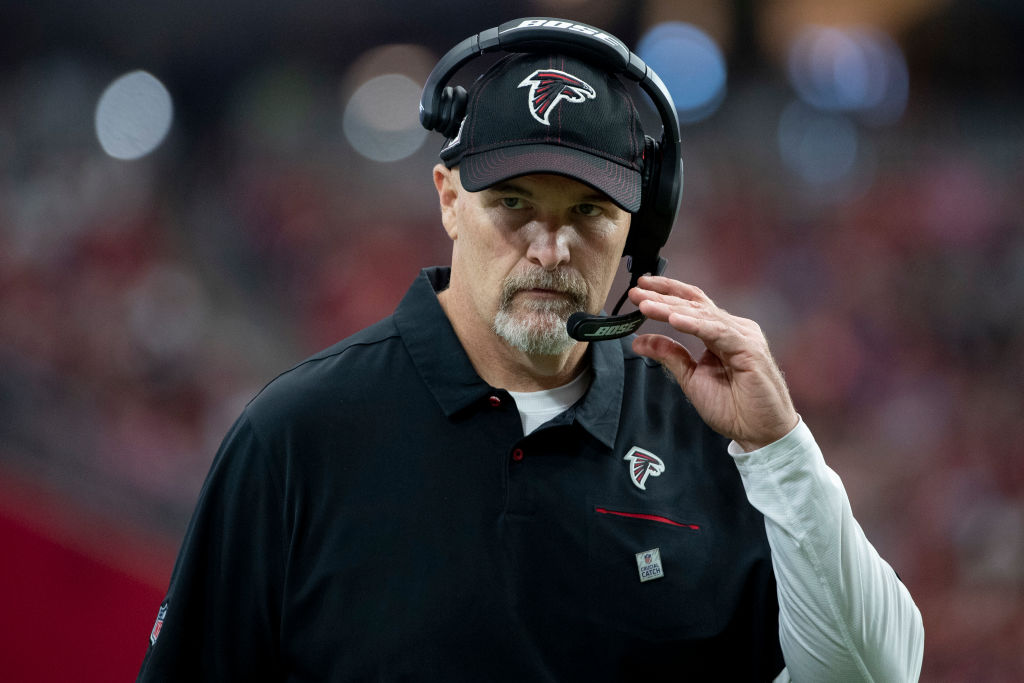 We covered why Dan Quinn deserved to be fired after the Falcons fell to 1-3 with a 24-10 loss at home to the Tennessee Titans. Since then, Quinn's pitiful defense has been torched two more times for 53 points in a 53-32 loss to the Houston Texans and for 33 points in a 34-33 loss to the lowly Arizona Cardinals.
Owner Arthur Blank will reportedly be looking for progress before the team's bye week in Week 9 and could let Quinn go if he doesn't like what he sees in the team's next two games at home against the Los Angeles Rams and Seattle Seahawks. Russell Wilson has been closing the gap on Patrick Mahomes in the MVP race this season, and another big day in a win over Atlanta could be all she wrote for Quinn.
Who gets the axe first?
This is a tough call. Dan Quinn certainly deserves to be fired more; he was hired for his defensive background, and in his fifth year with the team, the Falcons have one of the league's worst defensive units. A trip to the Super Bowl, especially one that you blew a 25-point lead in, only goes so far.
But while Atlanta's bye week is still two weeks away, Dallas's comes after this Sunday night's game against the Philadelphia Eagles. An embarrassing loss at home to a hated rival could be the final straw, especially when the Cowboys have three road games in their first four weeks out of the bye. Garrett's firing might serve as a reset for Dallas before the team enters the second half of its schedule.
While it could go either way, our vote is on Dan Quinn. The Cowboys have at least been consistently competitive, and Jerry Jones has been patient with Jason Garrett for almost a decade now. The Falcons have played far below their potential all season long, and it's difficult to see enough changing in the next two weeks to save Quinn's job.