NFL: Why Antonio Brown is the Best Wide Receiver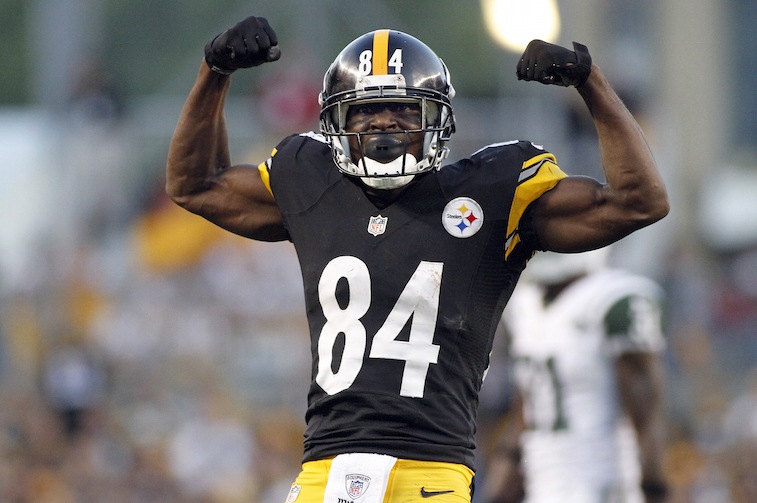 When the Pittsburgh Steelers drafted Antonio Brown with the 195th overall pick in the sixth round of the 2010 NFL draft, many critics believed that he didn't have what it takes to become an NFL receiver. Brown had a stellar three-year career at Central Michigan University, totaling 305 receptions, 3,199 receiving yards, and 22 touchdowns. This included hauling in at least 93 catches and over 980 receiving yards each season. He topped all of this in his junior year, posting his best numbers at the collegiate level with 110 catches, 1,198 receiving yards, and nine touchdowns.
Even with all this in mind, Brown was downgraded by NFL scouts because they believed he lacked size, wasn't strong enough to beat press coverage, needed to refine his route-running skills, and lacked consistency at catching balls in traffic. This made Brown the 37th receiver in his draft class; he was selected behind the likes of Damian Williams, Arrelious Benn, Jordan Shipley, and Andre Roberts.
The former Chippewa far exceeded those meager expectations to become the league's best wide receiver. Brown's career took off after Mike Wallace decided to bolt the Steelers in free agency following the 2012 season, with Brown becoming the team's top receiving option. Prior to that, he was Pittsburgh's clear No. 2 receiver behind Hines Ward, who was in the last leg of his illustrious career.
Brown quickly developed into a dependable wideout in his second and third seasons, amassing 60-plus catches with over 100 targeted throws and more than 750 receiving yards in each campaign. In many ways, Brown demonstrated to the Steelers — and more importantly his quarterback, Ben Roethlisberger — that he was ready to become the team's primary offensive weapon in the passing game.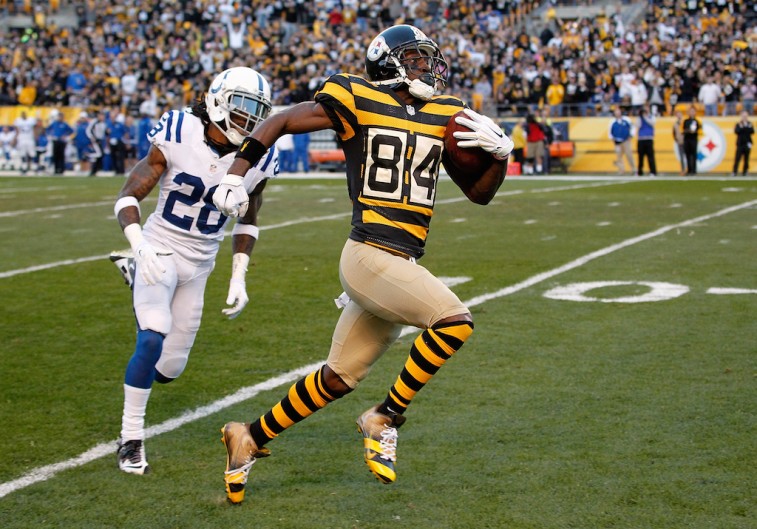 Despite his 5-foot-10-inch, 180 pound-frame, Brown is a great possession receiver with phenomenal footwork and route running, which help him gain the needed separation from defenders. He can also be a game-changing player lined up anywhere on the field, and uses his great instincts, knowing when to break a route to get open when his quarterback is under pressure. This skill set takes Brown's game to another level and places him at the top of the list in terms of production at his position.
In each of the last two seasons, he has been in the top three for receiving yards, receptions, yards per game, yards per catch, and all-purpose yards. This includes notching at least 110 receptions, more than 1,450 receiving yards, and at least eight touchdowns. Brown also proves to be a great punt return specialist, recording a touchdown in each of the last two years while placing in the top five in punt return yards.
With all of this in mind, the 27-year-old is on pace to set a career-high, exceeding an eye-popping 1,800 yards along with challenging his career-best mark 129 receptions that he set last year in his best season in the NFL. Through the first 10 games of this season, Brown has surpassed 100 receiving yards six times, including tallying a career-best 17 catches against the Oakland Raiders with a career-high 284 yards. This also marked the ninth-highest receiving yard total in a single game in NFL history.
The list of accolades is long for Brown as he is the first NFL player to record at least five catches and 50 receiving yards in 50 consecutive games. He is also the first player in league history to have 1,000 yards returning and receiving in a single season. Brown is also already in the top five in receptions and receiving yards in the Steelers' history, which are totals that he should surpass within the next handful of seasons.
What's most impressive about all of this is that Brown is just entering the prime of his career and has many extremely productive years ahead of him. His success is a credit to his hard work, and his craft as a route runner combined with his speed and great hands make him the top wideout in the game. If he can stay healthy, Brown could finish his career as one of the best receivers in NFL history, challenging several of Jerry Rice's all-time receiving records. The sky is the limit for him, which is certainly crazy to say about the league's best receiver.
All statistics courtesy of Pro Football Reference and Sports Reference.