NFL: Why Baker Mayfield's Behavior Worries Ryan Leaf
Ryan Leaf was a bust in the NFL. The Chargers took him with the second overall pick in the 1998 draft, but he played just 25 games in the league before his career finished in 2001, and he ended up with a disastrous 4-17 record in his 21 starts. His career was thrown off-course by poor play on the field, injuries, bad behavior, and struggles with work ethic. Based on that, Leaf — who is now a college football analyst for ESPN — is someone who is an expert in identifying an NFL player with lots of potential that may be wasted by poor behavior and a lack of accountability. Leaf is now setting his sights on Browns QB Baker Mayfield, the No. 1 pick in the 2018 draft, whose behavior is worrying the former first-round draft pick.

Baker Mayfield's play on the field
Mayfield took over as the Browns' quarterback in Week 3 last season after Tyrod Taylor went down with an injury, and he became the starter the following week. He performed well in his rookie season but has taken a step backward this season.

In his first 21 games — 20 starts — in the NFL, through Week 7 of 2019, he has completed more than 61% of his passes for more than 5,400 yards and 33 touchdowns, with 26 interceptions. The Browns are 8-12 in his starts, which doesn't sound great until you realize the franchise won a total of four games from 2015-2017, including a winless campaign in the last year in that stretch.

Browns not living up to expectations this season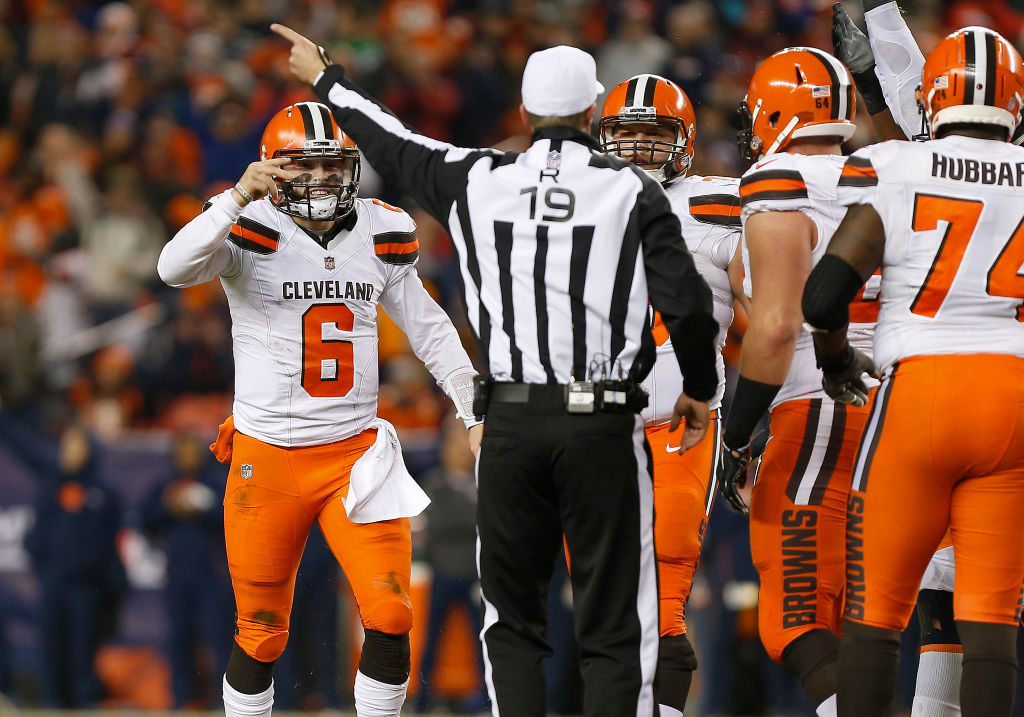 Many people had high expectations for the Browns entering 2019, with Mayfield coming into his second season in the league and the team giving him help by trading for Odell Beckham in the offseason. But things haven't worked out, as the defense has struggled and Mayfield has regressed after his first season in the NFL.

He leads all quarterbacks with 12 interceptions through the first seven weeks of the season. At 2-5, the Browns find themselves a distant third place in the AFC North, behind the 5-2 Ravens. Some people were talking about the Browns finally ending their playoff drought this season — some even thought they could make the Super Bowl this season — but that is looking unlikely to happen. The Browns are looking like they might be lucky to end the season at .500, which wouldn't be good enough to secure a spot in the postseason.

Ryan Leaf sees some of himself in Mayfield
In an interview on The Rich Eisen Show, Ryan Leaf discussed that he sees some of himself in Mayfield with the struggles that the young quarterback and his team are going through. He talked about being a "brash, arrogant kind of guy" who was talking trash after winning his first two games in the league, then putting up what he called the "worst football game of my existence" in Kansas City. Leaf admits to not handling that situation properly because he didn't live up to his poor performance, say it was his fault, and do what he can to improve his game.

He sees a similarity with the way Mayfield handles poor play and losses.
Leaf talked about seeing Mayfield blaming the officials for "some of their calls" after the Browns' four-point loss to the Seahawks earlier this season. Leaf says that is "problematic" because "as a quarterback, you want to be able to stand up in front of everybody and take personal accountability." Mayfield was fined $12,500 for publicly calling out the officiating in that game.