NFL: Why Cam Newton is a Different Kind of MVP Candidate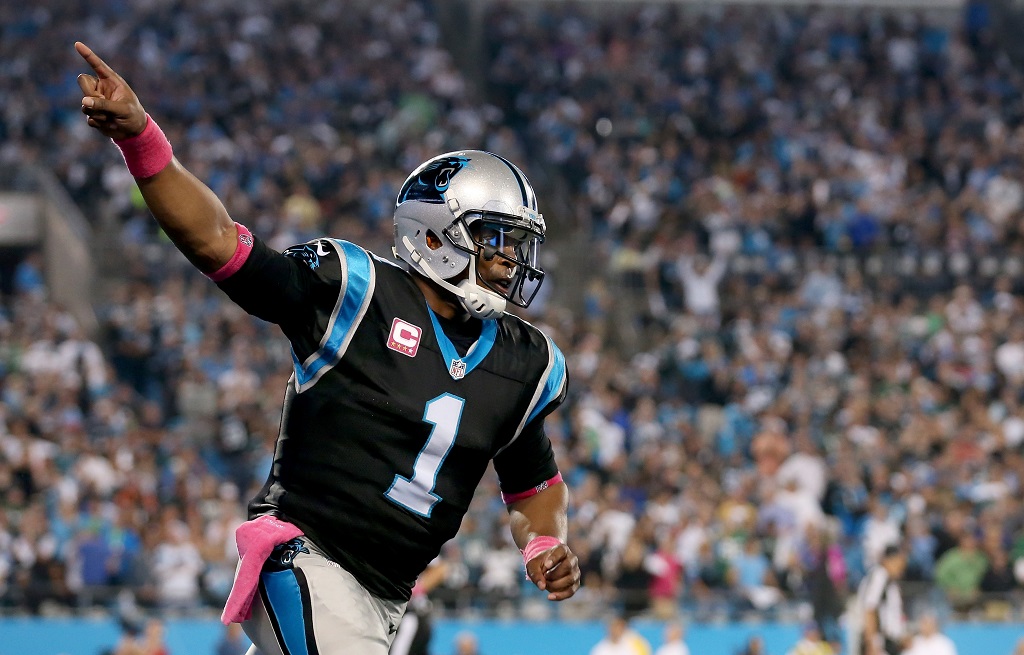 Cam Newton isn't Aaron Rodgers or Tom Brady, and he's unlikely to post any passing numbers even close to what Peyton Manning did in his prime. Taking all that into account, Newton is still, 100%, an MVP candidate as we move into Week 8 of the 2015 NFL season.
While the NFL leaders in touchdown passes are Brady and Carson Palmer with 16, Newton has nine touchdown passes and seven interceptions. His overall quarterback rating through seven weeks? Well, it's just 78.4. If you want to compare that to other names in the league, Andy Dalton has a rating of 116.1, Rodgers is at 115.9, Brady is at 113.2, and Palmer is at 108.9. Basically, Newton is nowhere near these players in any of these passing categories.
This is exactly why Newton is a different type of MVP candidate. He's unlike any player we've seen in recent history, because he's just such a dominant force. Most importantly, Newton's play simply results in his team winning games. Cam Newton is a proven winner, and the 6-0 start to 2015 for the Carolina Panthers proves that.
Newton's success not measured by personal numbers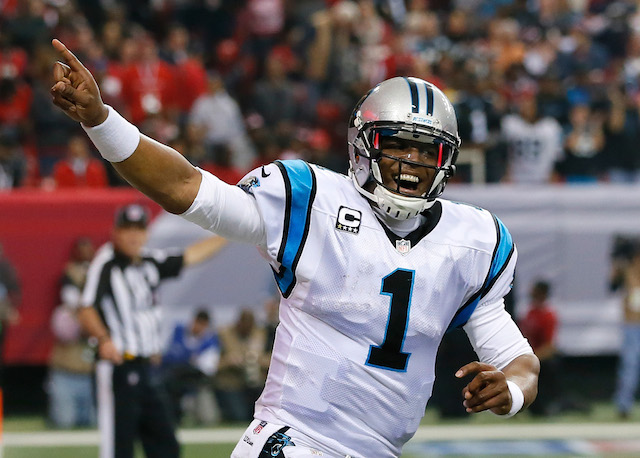 People once again praised Newton after Carolina's 27-16 victory over the Philadelphia Eagles. What were the takeaways from that game? Newton completed just 58.3 percent of his passes with one touchdown and three interceptions. He also rushed four times for 20 yards and another touchdown. The thing is, Newton got the job done and took advantage of what the Eagles gave him.
You can't go off just the personal numbers when you look at what Newton has done throughout his NFL career. If you do, you'll find that he's completed 59.2 percent of his passes for 91 touchdowns and 61 interceptions. He's also rushed for a total of 2,816 yards and 37 (yes, 37) rushing touchdowns. Newton does a little bit of everything, and even if it's not pretty all the time, he wins games.
Newton's most impressive stats? Well, they include an undefeated start in 2015 and back-to-back NFC South crowns in 2013 and 2014. Newton's stats are about the team, not just his own personal accomplishments. Unfortunately for Newton, the MVP award is for the most valuable player, specifically about statistics, not just about leading your team to big victories.
Newton's realistic MVP chances in 2015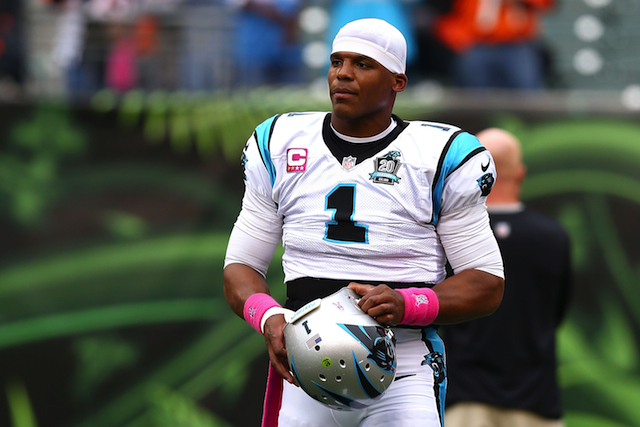 While many are pushing to make Newton a serious contender in the MVP race, it's tough to put him up against his competition, largely because they're also winning games at a rapid rate. Look at Newton's numbers in comparison to Brady, Rodgers, Dalton, and Palmer through seven weeks:
Brady: 68.9 completion percentage, 2,054 yards, 16 touchdowns, 1 interception
Rodgers: 68.1 completion percentage, 1,491 yards, 15 touchdowns, 2 interceptions
Dalton: 67.4 completion percentage, 1,761 yards, 14 touchdowns, 2 interceptions
Palmer: 65.3 completion percentage, 2,012 yards, 16 touchdowns, 5 interceptions
Newton: 55.8 completion percentage, 1,275 yards, 9 touchdowns, 7 interceptions
Obviously, on paper, it looks like Newton shouldn't even be slightly considered. The issue is, all of those quarterbacks are likely going to lead their teams to impressive records and postseason play. Yes, Newton has rushed for 245 yards and four touchdowns as well, but even with that, we may not be looking at enough to make Newton a serious MVP candidate.
How Newton can push for the 2015 MVP Award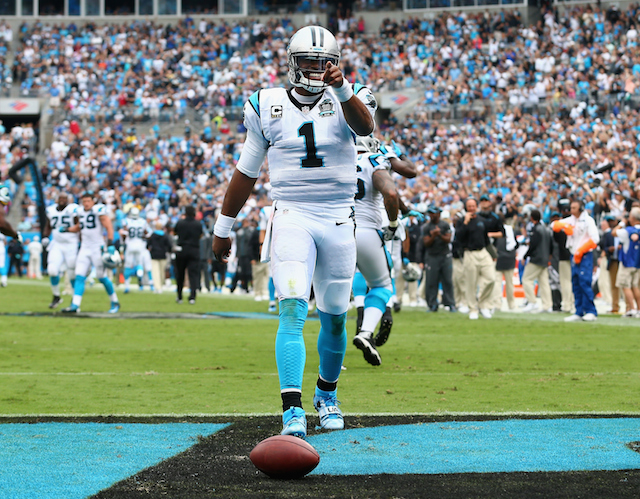 Well, for starters, Newton and the Panthers need to keep doing the most important thing they've done in 2015 so far: win games. When you look at Carolina's schedule, they have a few big games coming up against the Indianapolis Colts and Green Bay Packers. Now, if Newton can lead the Panthers to victories over both Andrew Luck and Rodgers, it's obviously going to grab a whole lot of attention from the public.
A few weeks after that, there's a game that's not on the radar of many, when the Panthers take on the Dallas Cowboys on Thanksgiving. What stands out about this game is that Newton will face another great quarterback in Tony Romo, who will be back from his broken collarbone.
So, when you look at Carolina's schedule, there are big games, and they wrap up the season with four of their final five being divisional games, including two against the Atlanta Falcons, who have only one loss to this point in 2015.
Now, aside from winning games, for Newton, it's going to be about avoiding turning the ball over, while also dominating with both his arm and his legs. Newton's ability to beat teams with his legs is what can really keep him in the mix for the MVP race against some ridiculous competition. It won't be an easy task for Newton, not by a long shot, but if he can play smart football, as well as run a bit wild for the rest of 2015, we could be looking at a serious contender.
Oh, and most importantly, those pesky Panthers need to take down their third NFC South title in a row, or else Newton's push for an MVP will likely fall short.
All statistics courtesy of Pro Football Reference.